It's time to think Thanksgiving day recipes and I'd love to share some of our family recipes with you. Every year I add a few more so hopefully this list will give you some of our favorites and help you create new ones!
Thanksgiving is getting close and it's time to make some of my favorite Thanksgiving Day recipes. Manservant will smoke his turkey and hopefully we will be blessed with leftovers. So have a seat. Grab a cup of coffee and figure out your Thanksgiving Day menu. There is no time like the present.
Maybe you will find a new favorite here, or a new way to make one of yours, whatever it may be I wish you a great holiday with lots of family, lots of food, and lots of blessings. This is the time to be grateful and I am grateful for all of you.
If you want to get a head start on setting a pretty table, just check this post out.
Thanksgiving Day Recipes for the morning of:
I don't know about you but I don't usually want everyone in the kitchen while I'm finishing up for the Thanksgiving meal. Though I don't always get my wish (check this post on shakshuka out) I do try to put out a few things that can be taken into the den while watching the Macy's Thanksgiving Day parade.
These Maple Glazed Scones definitely work!
As do these pumpkin scones with bourbon glaze.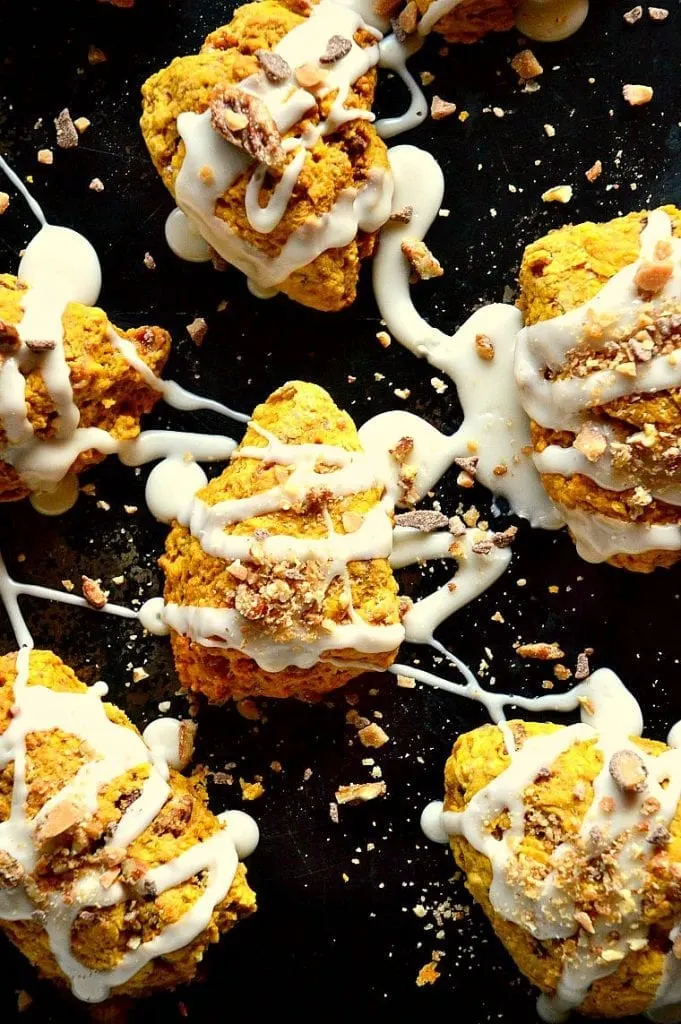 If you need something a little more filling and also seasonal this Baked Pumpkin Oatmeal will surely keep everyone full until dinnertime. Just mix it up and bake it in a dish.
And if you want something more substantial this make ahead egg casserole would work also. Granola is also good for company, especially when it's homemade.
Pumpkin Brown Sugar Muffins are a major win!
Thanksgiving Day Appetizers:
I admit I have a weak spot for appetizers. I usually serve too many. And then you know what happens…everyone gets full and can't eat the main meal. But Thanksgiving is the holiday of gluttony so just maybe it's Okay for once.
Our table always includes an artichoke dip. I think my mom's Artichoke Dip is made for Thanksgiving. Three ingredients plus dippers and you are done.
After all on Thanksgiving we need to keep some things simple. Artichoke dip has been on my table since I was probably 10 years old and there is no need to replace it now!
From Artichoke Dip to Onion Dip, well I couldn't leave this one out! I do love the kind from the container in the refrigerator section but OMG, this one is my all time favorite. Pass the potato chips!
So enough dips. Pimento Cheese with green chiles is always a winner and this spicy-but not too spicy-version is always a hit!
Of course there are plenty more to choose from under my Recipes tab up above.
There are things like pumpkin hummus
Spicy Sage and Cornmeal Crackers
And this brie and blue, no bake, cheese cake is elegant and easy to prepare!
Another option besides lots of appetizers is starting with a more elegant bowl of soup. This pumpkin chipotle soup is a winner and super simple to make!
Thanksgiving Day Recipes
Turkey can kind of make me crazy because there are so many ways to make it. To tell you the truth, I've never made a turkey in the oven. My dad passed on the secrets of smoking a turkey many years ago to Manservant and therefore it is one thing I don't worry about on Thanksgiving. He smokes a mighty fine turkey and maybe one day I'll write it down for you!
In the meantime I can tell you that this savoury turkey pie is a crowd pleaser and is really simple to make. Complete with cranberries and sweet potatoes in the luscious layers, this is a great alternative to a big bird! Only have a small crew that like white meat?
Well then check out this whiskey glazed turkey breast.
Thanksgiving Day Recipes for Cranberries
But on to the more important things…like side dishes. I prefer to think of them as front and center because personally I like them better than turkey. Though I must admit that cranberries do taste mighty good with a bite of turkey in the mouth! The all time family favorite is this frozen cranberry mold.
It wouldn't be Thanksgiving without these. Sometimes I make them in little muffin molds for individual servings. However you make them, these are a winner and are one of the most popular recipes at THIC this time of year.
Need Cranberry Sauce? This Southwestern version with tequila is really good! Want something light and fresh in the way of cranberries? These candied jewels of cranberries and caramelized oranges work as both a side dish and also are perfect for a light dessert. Top a pound cake with these or even tomorrow morning's yogurt.
And last , but not least is this cranberry, apple green salad. Totally good!
Potatoes and Other Side Dishes for Thanksgiving
Here is Manservant's favorite dressing, Southwest style with tamales and cornbread and raisins. He eats leftovers with a fried egg on top for breakfast!
My mother always made this classic Pepperidge Farm stuffing. So good. especially the crispy edges!
And don't forget this Beer, Bacon And Cheese Stuffing. Perfect with smoked turkey!
Cheesy Baked Pineapple is a weird sounding side dish, but I promise it is good. Many like it with ham, but since I'm not a ham eater I eat this with turkey!
Now onto potatoes. You can't go wrong with mashed, and though I don't have a recipe on the blog just remember your milk, cream and butter should be warm when you mix them into the warm potatoes. Another option, and a decadent one is this scalloped truffle potato casserole.
Not being gravy folks we always loved this!
My pommes anna recipe would also be fun to serve not only because it tastes good, but because who doesn't love their own stack of potatoes?
Make Ahead Frozen Duchess Potatoes
Another twist instead of potatoes might be this squash dish. I love squash and this silky smooth puree with browned butter and crispy sage leaves is outstanding.
A new classic is this toasted quinoa, dates and pumpkin mixture that I threw together last year. Love the toasted quinoa and besides this looks so pretty, doesn't it?
Roasted Carrots with Hazelnuts
Sweet Potatoes? Topped with streusel, these were sure tasty!
Bread is kind of a no brainer. I have a great recipe for whipped cream biscuits. Yeah, these are great!
However in my family we fight for the last one of these gorgeous maple challah rolls. These are glorious and also make perfect little slider buns for turkey leftovers.
Need Pumpkin Bread? Well of course you do and here are 8 things you can do with it also!
Love this hearty salad, too. Perfect for those who don't eat turkey. Check out this farro and kale salad with a browned butter vinaigrette.
This one can tolerate sitting on the buffet for awhile without getting soggy, which makes this perfect for any party.
Maple Vinaigrette Kale Salad with Apples and Pecans
Thanksgiving Day Dessert
So that leaves the best for last. We can't finish without dessert. Need just a little bite? Try these maple glazed cookies.
Then there are these decadent maple chomeur puddings
and instead of pecan pie I always make these little shortbread walnut or pecan bars.
Trust me this is so the way to go! And for pies? I always have to have something chocolate so sometimes we do this.
Yes chocolate and oatmeal go together very well.
And if you haven't had enough cranberries this cranberry crostata is easy to make and tastes good too! But you know that already right?
If you want something pumpkin, these pumpkin butter bars are like way better than pie. Just sayin'!
But you may also like my
pumpkin kringle
which could be breakfast or dessert.
So that about covers it until next year. Hopefully however, these suggestions will help you create some new food traditions for your favorite folks. Check out my recipes tab and as usual I am always grateful when you share my recipes on social media. I am a small little blogger and do what I can to get the word out! Thanks for reading and being such great friends. I am very thankful for all of you!
Please Pin and Share!