Cinnamon roll cinnabons are a copycat of the famous mall cinnabon. These decadent cinnamon rolls, cinnabon style, which means loaded with cream cheese frosting, are decadent and addicting! 

When I grew up the only kind of yeast dough in the house was from a can. You know, the rap on the counter, pop 'n fresh kind. Now granted, there was a lot of fun when it was your turn to rap that container against the counter. In fact, it always made my heart skip a beat when it exploded while spilling its contents. But somehow I remember never truly loving what came out. There was something artificial in there that just didn't make me crave the interior. I will say that while baking the aroma was intoxicating and anything hot out of the oven is fine with me-it just never quite grabbed me.
And then I went to college where I had many a night of the beer drinking kind. The kind that ended when the bars closed, and we ended up at some little hole in the wall cafe that stayed open all night. The kind of night that ended eating hot, huge, gooey cinnamon rolls, slathered with sweet white icing, that were good to share between four people, but better between two. The kind of cinnamon roll that soaked up all that beer so you could easily sleep until noon the next day. Not bad for a night, not necessarily good for the freshman 15. But that was a long time ago. And today, well, I find it's better waking up to a cinnamon roll. I guess that way you have the entire day to work it off. So easy to rationalize isn't it?
In any case, cinnamon rolls are a good way to make people happy. Who needs beer when you can eat a cinnamon roll? Well, I guess we could argue that. They sure make a hangover a bit easier. But the cinnamon roll I'm talking about are those that can be made for brunch or a special breakfast;  you know the family kind. The kind where everyone loves waking up (even with a hangover) just because the house smells so good.  I'm not talking about spending hours in the kitchen. This is a quick recipe made with frozen bread dough. The hardest thing to do is to remember to thaw the damn dough. (Just write yourself a little sticky note and stick it to the freezer. THAW DOUGH! )
This is a great recipe to have on hand for those after prom mornings, graduation brunches, mother's day, father's day kind of events. These are also great for gifts. Teachers especially appreciate them for teacher appreciation week. (They still do that, don't they?) People will be amazed at what came out of your oven.
If you are so inclined let them rise overnight in the refrigerator, which means all you have to do is bake them the next morning. Be aware, there are differences in cinnamon. I am now a convert to Saigon cinnamon that I buy at the Savory Spice Shop  in Denver. I am told  it is their best selling spice. Taste it and you will see why.
These copycat cinnamon roll cinnabons taste just like you get at the mall. My kids love these and I admit I do too. But not going to the mall? Whip these up and surprise someone this weekend. Make their day. Well, go ahead. Make yours, too. Just remember to thaw the damn dough.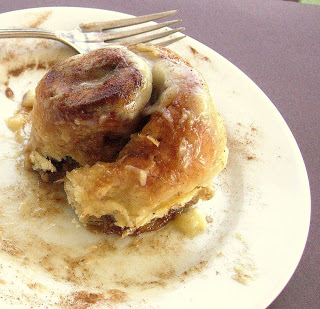 A Few More To Try: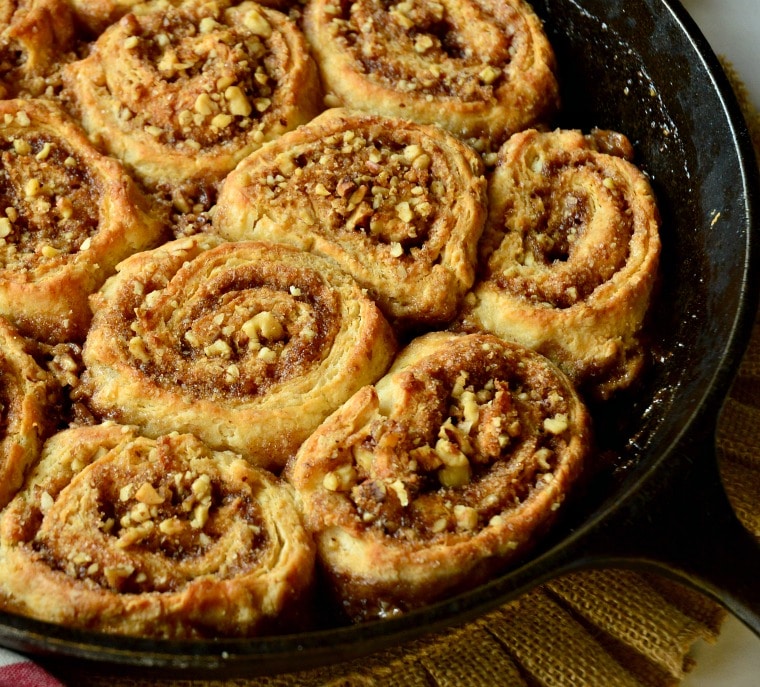 Please Pin and Share:
Print
---
Description
Cinnamon roll cinnabons are the copycat of the famous mall cinnabon. These decadent cinnamon rolls, cinnabon style which means loaded with cream cheese frosting are decadent and addicting! 
---
Scale
Ingredients
3 loaves frozen bread dough (I use Rhodes and thaw it overnight in the fridge.)
Dusting flour
Filling:
3 c dark brown sugar
1 1/2 c melted butter
3 T cinnamon
Icing:
2 sticks softened butter
2 cups powdered sugar
2/3 c cream cheese
2t vanilla
---
Instructions
Mix sugar and cinnamon together.
Using one loaf of dough at a time, roll on floured counter to a rectangle of 15 x 7 inches. Spread liberally with melted butter. Sprinkle with 1/3 of cinnamon mixture. (If you want to add raisins, nuts, chocolate or even pumpkin pie filling, you can do that now, too.)
Starting at the long edge, roll up like a jelly roll. Cut this long roll in half. Then cut each half in half. Then cut those halves in half. The idea is that you should have 8 fairly equal cinnamon rolls. Now take those slices and place them in a circle in an 8 or 9 inch  greased cake pan. (Do this 2 more times).
(If you want them to rise overnight cover them with plastic wrap and let them rise in refrigerator. Take them out 1/2 hour before you want to bake them so they will come to room temperature.) If you are baking right away they do need to rise for about an hour in a warm place.
Then brush with any extra melted butter you may have and bake them at 400 degrees for about 15 minutes or until they are pretty and gold.
While they are baking prepare your icing.
Mix icing ingredients in food processor or mixer until fluffy and light. Spread icing on rolls while they are still warm. These may be frozen after icing. Just thaw and heat gently in the microwave to warm a bit.
Best eaten while warm with or without a beer.
---