New Mexican Green Chile, of which I prefer Hatch chiles, is amazing. Spicy and fresh roasted green chiles make this chile unbeatable.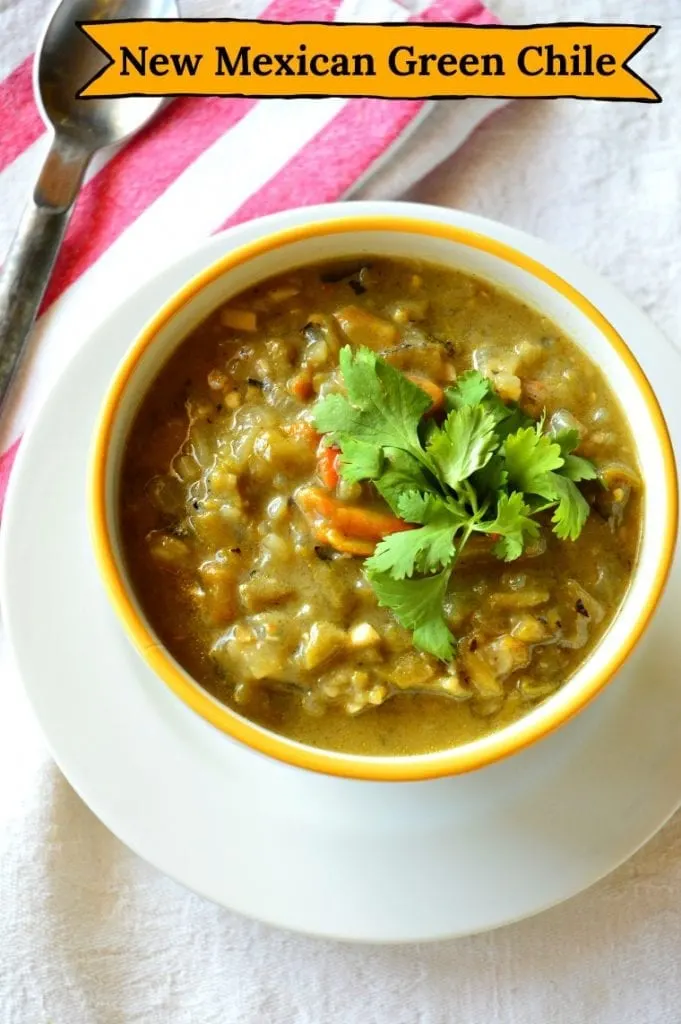 Green chile is one food that always causes a debate. Especially in Colorado. Where does one find the best green chile?
Is it vegetarian or with pork? Does it use Hatch chiles or other varieties? Is it spicy?
Does it use cornstarch or flour? And what about tomatoes? So many questions and enough to give one a giant headache.
Let's start dispelling some myths. I like Hatch chiles. Hatch chiles are just chiles that are grown in Hatch, New Mexico.
Somehow, perhaps because of their climate, these chiles are spicy sweet with a smoky overtone. This is what I'm familiar with.
Depending on the variety of chile grown, they can be spicy or not so spicy.
I can assure you that if you go to the chile stands on South Federal you will find many varieties of chiles.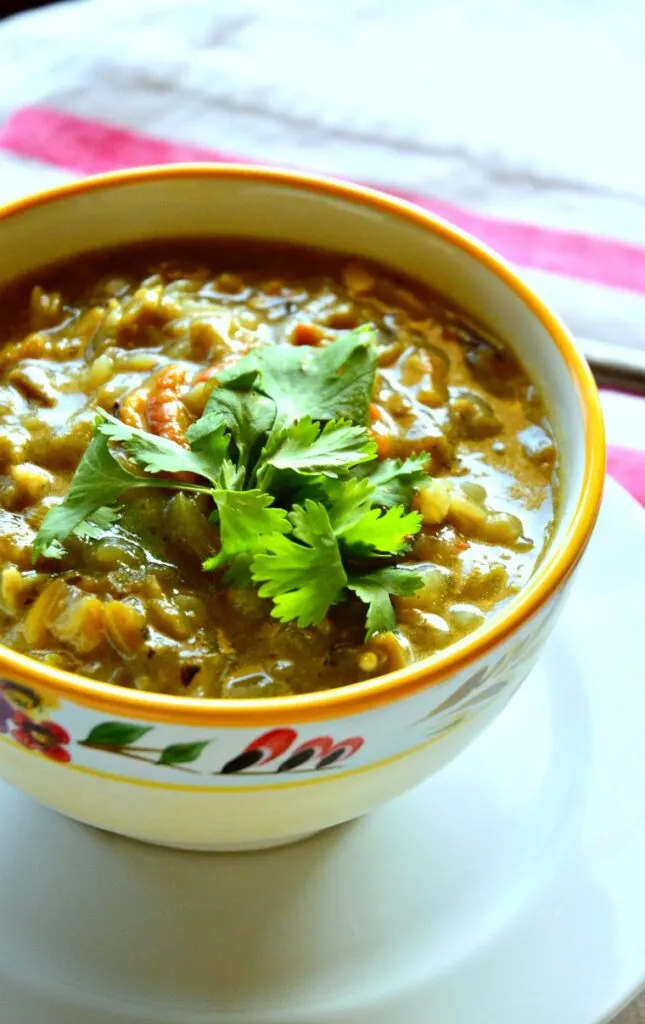 Though I do love Pueblo chiles, grown in Pueblo, Colorado I like making green chile with Hatch chiles, because Pueblo chiles have great flavor but a thicker skin.
I believe I make my green chile New Mexican style.
A few notes here: I do not use pork in my chile. I may or may not use chicken broth.
I do not use tomatoes and if you spy a red color in my photos it is because some green chiles are picked riper than others. This makes them turn red!
I prefer unadulterated chile. In other words, I just want to taste the chile!
This green chile recipe can be used as a green chile sauce on enchiladas or tamales and it can also be eaten straight up with perhaps a flour tortilla on the side.
It can be made thicker or thinner depending on what you are using it for. Merely add more broth or water.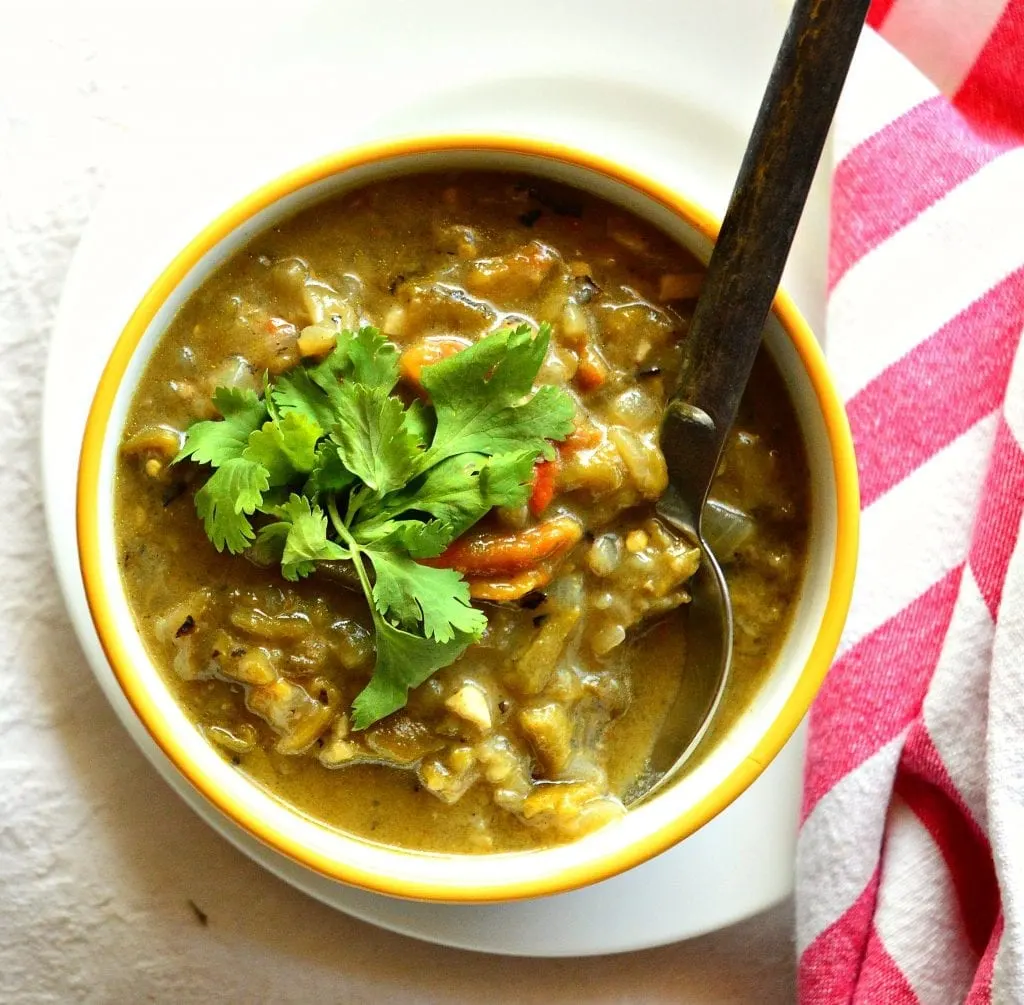 Fall is the time for green chilies. If you aren't from the WEST, then you may not be aware of that.
Green chilies are harvested in the fall after they have had plenty of time to grow and get plump, shiny and delicious.
Depending on what variety you buy determines how spicy they will be.
I prefer a mild Hatch green chile from Hatch, New Mexico.
Plus I like to add about 25% hot chilies, also from Hatch, and that way I control the spiciness of my chile.
Some people like it really HOT so they make their chili using the spicy variety.
This is my way of warning you to watch out before you taste an unknown chile!
I buy my green chile off the street in bushels from vendors that have driven up from New Mexico.
They actually roast them while you watch which creates that specific chile smell, which to me spells fall.
Really, you should carry your own tortillas so you can wrap one up and eat it right there. Man, they are soooo good.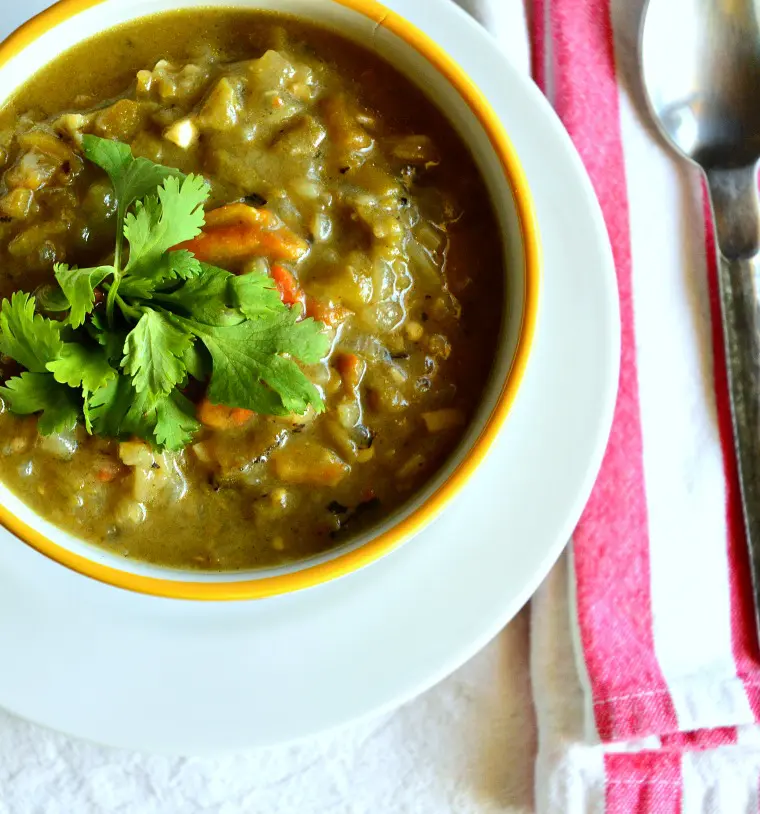 (The reason you roast them is to take off the skin of the pepper, which can be quite thick.
If you want, you can do it on a grill, but it saves a step to have someone do it for you.
After they are roasted, you still have to take the skin off, but without the roasting it would be next to impossible.
After the chiles are roasted they are placed in a big plastic garbage bag to steam. This enables one to get the skins off easily.
But IMO, the best way to roast chiles:
is in an air fryer. I kid you not. If you don't have someone to roast them for you, the air fryer makes a fast job of it.
Load your basket. Turn it to high and watch carefully because once the skins are wrinkled they are ready to be placed in your plastic bag to steam.
I'd buy an air fryer just for this!
It took me a few seasons to really get my chile the way I like it.
Many people add tomatoes or cubes of pork, but like I said I prefer the taste of pure unadulterated chile.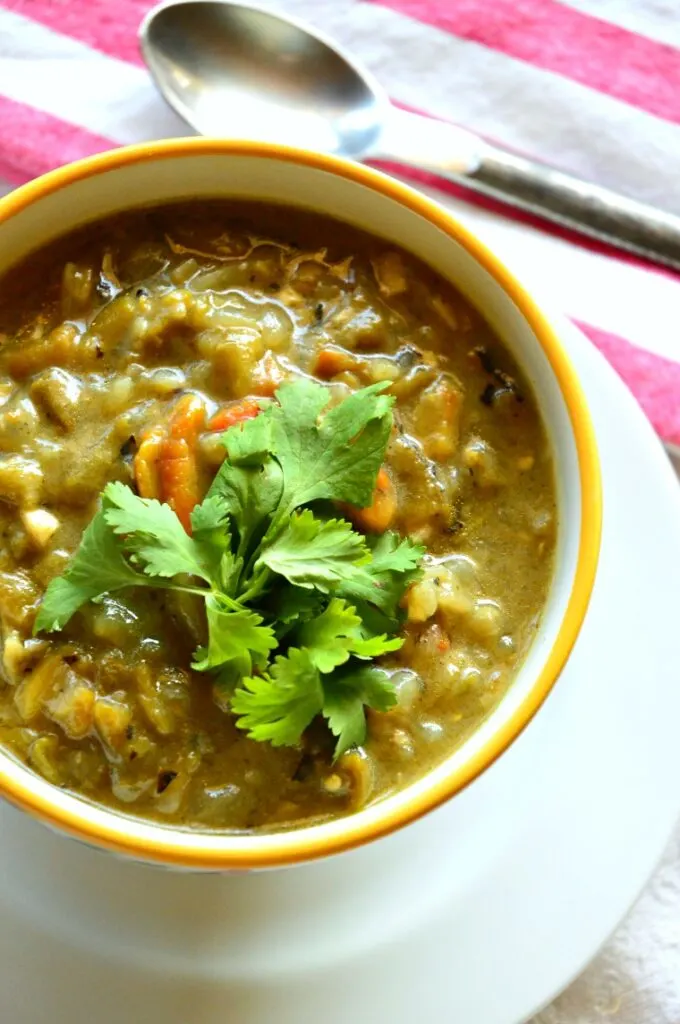 Chile is quite simple to make once the formula is right.
Many books say that what I make is a green chile sauce, however you can use it not just as a sauce, but as a soup like any other.
The thickness of the chili is determined by you. Thickening can be done with a bit of flour mixed with water and stirred into a warm broth.
Stir it well so that it doesn't turn into cooked lumps of flour. Let it cook a bit and it will thicken.
To make a green chile sauce, well that is if you don't want this rustic, glorious texture, merely use an immersion blender to puree the green chile mixture.
I have never done this, but this creates a more delicate sauce.
Or cook it longer and let it simmer covered until it softens up and you have a more creamy texture.
You may want to put it through a strainer, because you are bound to have some of the roasted peel in there. Ad you could stir in some heavy cream for a really luxurious green chile sauce.
However those things never bothered me, so I totally do not do this!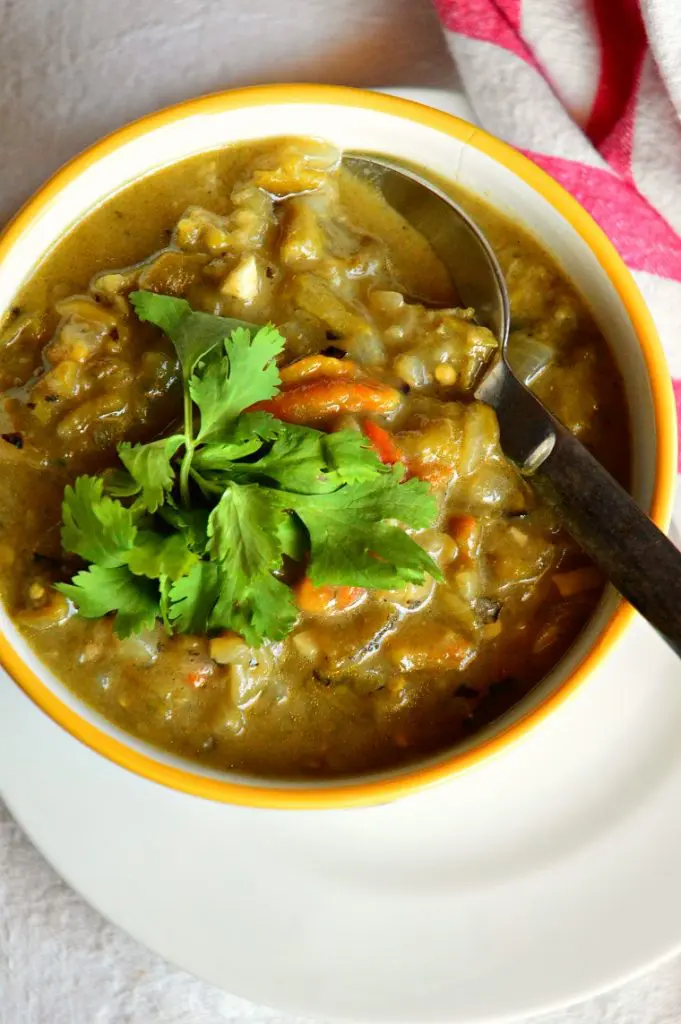 How to peel a roasted green chile:
After they have steamed, hold the chile by the stem and slide your fingers from the top down to the tip.
Some are roasted more than others and I have found that there is a skill to roasting peppers.
Too much roasting means too much skin has come off. Too little and the chiles are not as tender.
You may need to use a sharp paring knife to get some pieces off, but a little bit never bothered me.
Once they are peeled, slice off the stem, make a slit on one side of the chile and open the chile up flat. Then slide your paring knife down the chile to remove the seeds and membrane.
How to freeze green chiles:
Roasted green chiles are easily frozen in plastic zip lock bags. They do not need to be peeled first to freeze them.
Place about 10 chiles in each bag and squeeze out as much air as possible.
I find this is about how much I use when I need them. If I need more I defrost two bags!
Like I said. Fall is green chile season to me.
Feel free to give me comments on how you make your green chile. I know there are families out there that still have Grandma's recipe.
I did not have that luxury and merely came up with my green chile recipe through trial and error.
I'd love to hear from all of you on your favorite green chile. After all, I do have a half bushel sitting in the freezer!
Need a few more green chile recipes? Check out some of these:
The Famous Denver Burger with Green Chile
Please Pin and Share: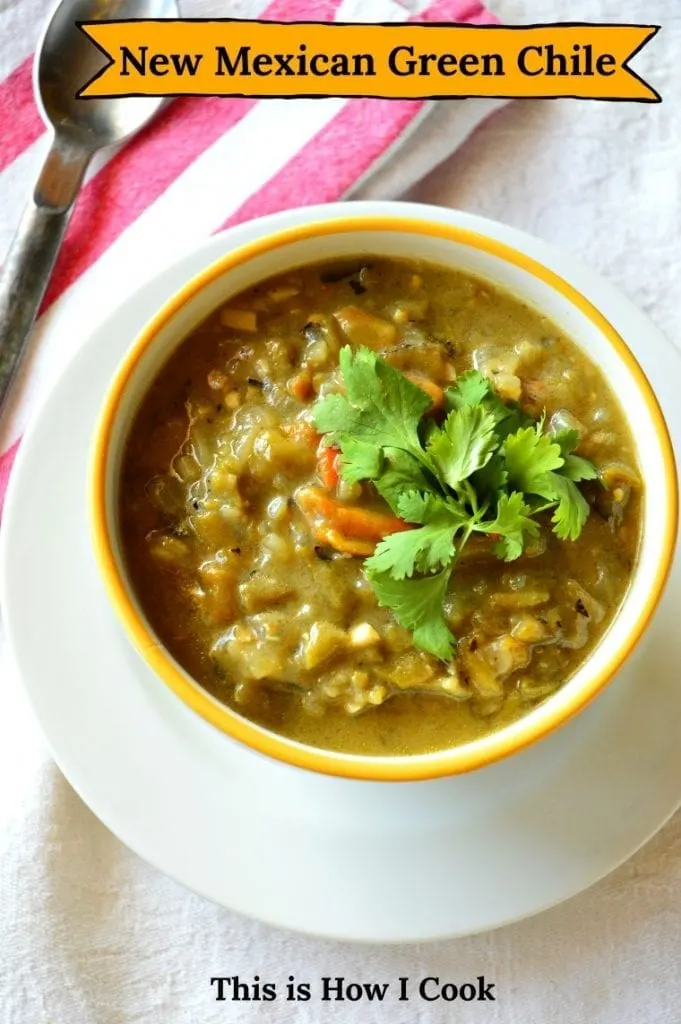 Print
Green Chile New Mexican Style
Author:

Abbe Odenwalder

Prep Time:

15 Minutes*

Cook Time:

30-45 Minutes

Total Time:

60 Minutes

Yield:

About

4

servings

1

x

Category:

Chile/Soup

Method:

Stove Top

Cuisine:

New Mexican American
---
Description
New Mexican Green Chile, of which I prefer Hatch chiles is amazing. Spicy and fresh roasted this chile can't be beat.
---
3 T vegetable oil

1 large onion chopped (At least 1 c)

3 garlic cloves minced

2 T flour

1 1/ 2 c roasted, peeled and seeded, chopped mild green chiles or use 2 c of your choice of chile

½ c roasted, peeled and seeded, chopped hot green chili

1/2 t ground cumin

Pinch of Mexican oregano

2 c chicken stock (I make this with Better Than Bouillon) Just mix a good spoonful into the hot water or directly into hot soup.

1 t salt – you may want to test as the bouillon does give it a nice degree of saltiness
---
Instructions
Heat oil and add onion. Cook about 5 minutes and add garlic.
Cook another minute and stir in flour. Cook for 1-2 minutes stirring so flour doesn't burn and also so that it cooks and you don't get a floury taste.
Add chilies. Pour in stock and seasonings. Taste for salt and adjust if necessary.
Bring to boil over medium heat and cook for about 15 to 30 minutes on a low simmer covered.
If you want it thicker add more broth or water. This can cook for longer if you want your chile a softer texture.
---
Notes
Chile can also be pureed with an immersion blender if you want a smoother sauce.
Keywords: green chile, green chile recipe, green chile hatch, green chile sauce,