This post may contain affiliate links. Please see our disclosure policy.
These salty, cheese quesadillas are perfect party fare. Make ahead, reheat in 5 minutes and guaranteed to be a party pleaser!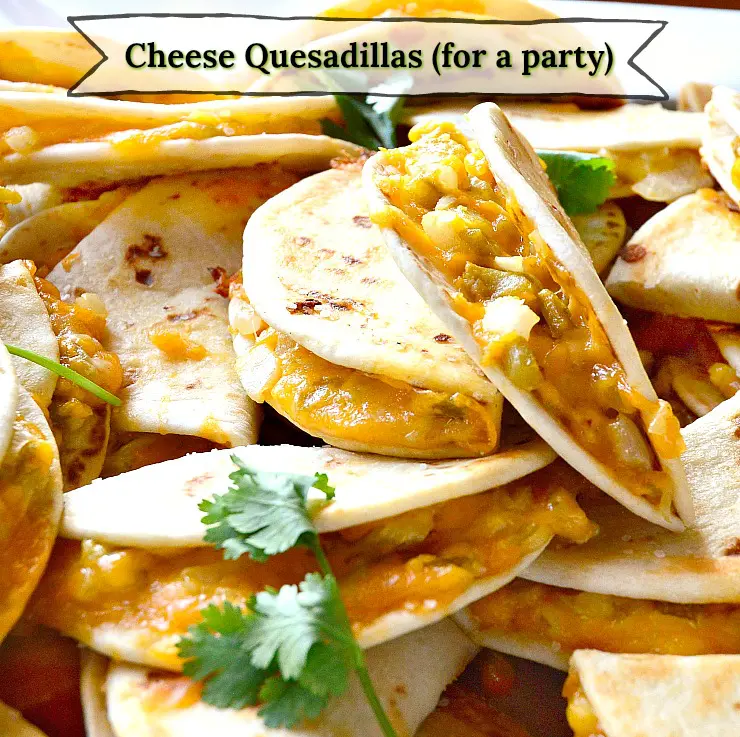 (This is an updated post from 2017.)
This post for cheese quesadillas is the most popular post on my blog. Perfect for enjoying while watching a game, I figured it was high time I updated this!
Cheese quesadillas are a winner with everyone and always have been. These salted tortillas filled with gooey cheese, chiles and minced onions are a real crowd pleaser.
I started making these in my college days and it seems I've never stopped!
What is a quesadilla?
Essentially, a quesadilla is a flour tortilla that is filled with cheese and then cooked on a griddle. They can be served open or folded. An assortment of veggies could be added along with other proteins, but I prefer mine just about straight up!
There are many versions of quesadillas and I listed a few at the end of this post. Be sure to take a look at my favorite cheese quesadilla recipes!
What makes these cheese quesadillas different from others?
Salt. Salt takes these quesadillas to a different dimension.
Salting the quesadillas adds flavor, which when you think of it is what makes salty snacks so good. Whether it's potato chips, or popcorn, or Fritos, salt is a key component.
And then there's butter. Many quesadillas use oil, but I think butter adds more flavor. I use butter on my baking sheets and bake my quesadillas rather than cook them in a skillet or on a griddle. And yes, they turn out crisp!
What size of tortilla should be used?
Find 4″ street taco sized tortillas to make these perfect for a party. Even though they are small enough to serve in their entirety, I cut them into two and serve them without salsa, which keeps things easy for entertaining.
They don't need salsa as these cheesy quesadillas become quite crispy and with their salty exterior, they're better than eating a crispy tortilla chip.
Except in this case they are filled with cheese, green chile and onion. But it's the salt addition that give these cheese quesadillas that extra special touch!
These quesadillas are perfect party food!
Perfect for a party, these mini cheese quesadillas really don't take long to make. I grate all the cheese in the food processor, and then stir in the onions and chilies. Please grate your own cheese. It is so much better.
My cheese quesadilla recipe can be made with any cheese, but please choose one that melts well. I prefer Cheddar and Monterey Jack cheese for quesadillas, but truly use what you like.
Tortillas come 12 to a package so that makes 24 wedges after being cut in half. Yes, I can do math! I made 4 packages, so that worked out to 96 mini cheese quesadilla crisps!
It took me an hour to make these, but I don't think that's so bad considering how many I made. They are easily reheated as you need them and everyone, including the kiddos, love them!
Perfect for any occasion, you will hope for leftovers with these!
It isn't often enough that one gets to welcome a baby to this world. What a fun time we had enjoying little Aiden. Before we know it he'll be walking! But let's backtrack a moment.
Over Labor Day one of my closest friends, who happens to be the grandma, asked if I would mind hosting a sip and see. I had never heard of a sip and see until a few years ago.
An old Southern tradition I'm told, to welcome the baby; a little sip, a little see and everyone is happy! It's not really a shower, though some did bring gifts.
Zoe and I settled on a "welcome to the world" theme. The menu was fun to plan. Our event was held from 1-3 which didn't make it lunch, so that simplified things a bit.
The menu was fun and we gathered it from all our favorite places in Denver.
You can bet the quesadillas disappeared fast.
Please Pin and Share!
I love sheet pans and these got pretty good reviews. Perfect for sheet pan dinners or for baking quesadillas, I think everyone should have a few in their kitchen.
My absolute favorite tool in the kitchen is my kitchen shears. I use them for cutting up chicken, slicing a pizza and cutting quesadillas into wedges.
Print
Quesadilla Crisps
Author:

Abbe Odenwalder

Prep Time:

30 Minutes

Cook Time:

15 Minutes

Total Time:

45 Minutes

Yield:

48

Wedges

1

x

Category:

Appetizer

Method:

Bake

Cuisine:

Mexican
---
Description
These cheesy, salty, quesadilla crisps are perfect party fare. Make ahead, reheat in 5 minutes and guaranteed to be a party pleaser!
---
2 packages of "street taco" sized tortillas

4 c grated cheese (I used cheddar and jalapeno jack)

2 4 oz cans diced green chilies, drained

1/2 c diced onion

4 T melted butter

Coarse Kosher salt
---
Instructions
Preheat oven to 425. In a large bowl combine cheese, chilies and onion. Mix well.
Using a pastry brush, brush a large sheet pan with melted butter. Sprinkle generously with 2 t coarse salt. Place 7-8 4″ tortillas on sheet.
Place 1 heaping tablespoon of cheese mixture on each tortilla. Spread over surface evenly.
Bake for 5 minutes or until cheese has melted. Remove from oven and fold in half, pressing sides gently together. Remove from sheet pan and let cool if serving later. Repeat until all tortillas are used. Store in refrigerator if reheating later.
If reheating, remove from fridge and let come to room temperature. Preheat oven to 350. Place quesadillas on sheet pan in a single layer. Heat for about 5 minutes. Slice in half, (I use a scissors) when removed from oven. Serve warm.
---
Notes
Makes 48 wedges if you cut in half.
Keywords: cheese quesadillas, cheese quesadilla recipe, cheese for quesadillas, recipe for cheese quesadillas
More Quesadillas: