"These cheesy,salty quesadilla crisps are perfect party fare. Make ahead and reheat in 5 minutes and guaranteed to be a party pleaser!"
It isn't often enough that one gets to welcome a baby to this world. What a fun time we had enjoying little Aiden. Before we know it he'll be walking! But let's backtrack a moment. Over Labor Day one of my closest friends, who happens to be the grandma, asked if I would mind hosting a sip and see. I had never heard of a sip and see until a few years ago. An old Southern tradition, I'm told, to welcome the baby; a little sip, a little see and everyone is happy! It's not really a shower, though some did bring gifts. And we did have a photo backdrop courtesy of Zoe!
Zoe and I settled on a "welcome to the world" theme. The menu was fun to plan. Our event was held from 1-3 which didn't make it lunch, so that simplified things a bit. Of course I hardly took any photos and those I did were with my phone which has an awful camera! In any case I think you get the idea.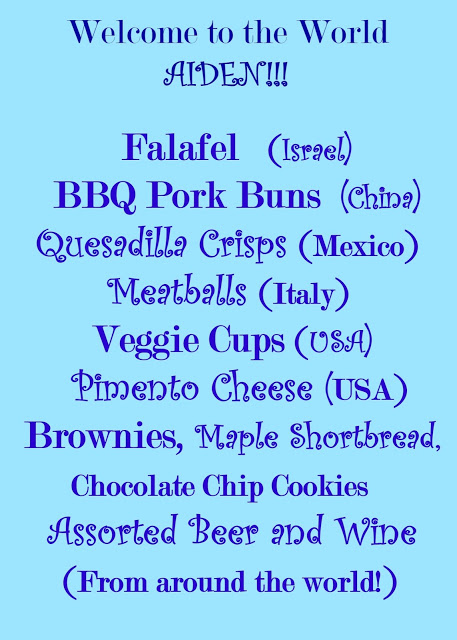 I kept it simple and purchased the falafel and BBQ buns. Folks were most fascinated by the buns with many thinking they were rolls, until we coaxed them to take a bite. Almost sorry we did because we had few left over. Those that were we placed a poached egg on top and had them for Sunday morning breakfast. Well worth it to seek out your favorite Chinese dim sum place to purchase these. I've been buying them since the kids were young and I still am happy to say that the same place is still in business! Here's to you
King's Land
!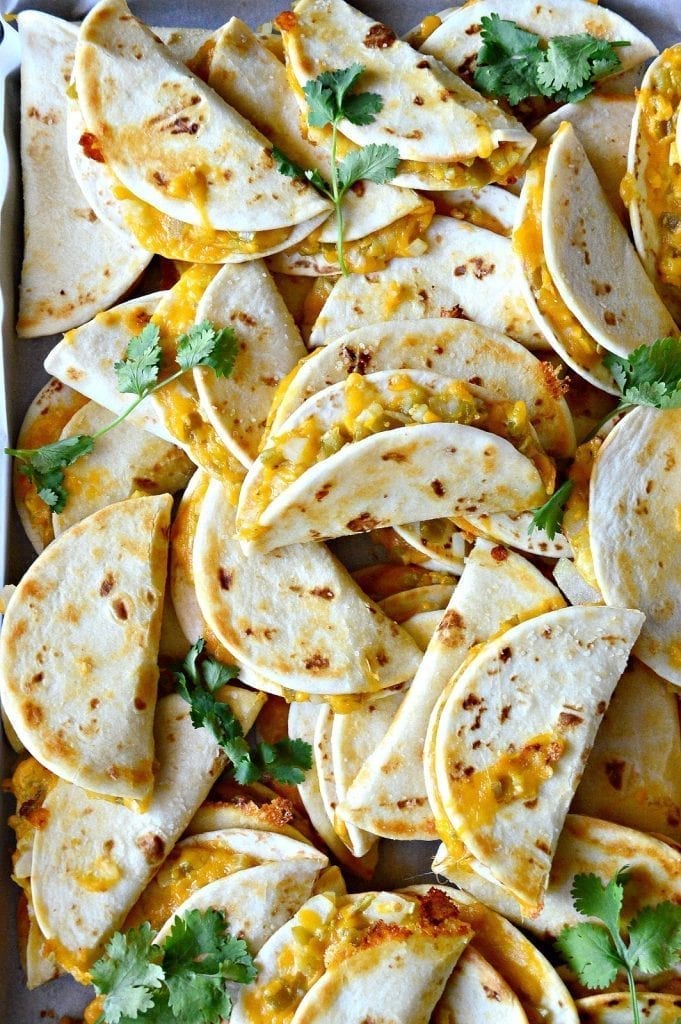 My quesadilla crisps were also a winner-but they always are. Being able to find 4″ street taco tortillas really makes these perfect for a party. I cut them into two and serve them without salsa which keeps things easy. Truly they don't need salsa as these quesadillas become crispy and with their salty exterior it is almost like eating a crispy tortilla chip except filled with cheese, green chile and onion. Honestly, I picked up the salt thing many moons ago and that is what gives these that extra special touch!
Perfect for a party these quesadillas really didn't take long to make. I grated all the cheese in the food processor, and then mixed in the onions and chilies. The tortillas came 12 to a package so that made 24 wedges. Yes, I can do math! I made 4 packages, so that worked out to 96 cheesy little quesadilla crisps! It took me an hour to do these but I don't think that's so bad considering how many it made. They are easily reheated as you need them and everyone including the kiddos love them! Perfect for a Halloween party, but really perfect for just about any occasion. You will hope for leftovers with these!
More Party Pleasers:
Please Pin and Share! (I love it when you love my recipes!)
These cheesy, salty, quesadilla crisps are perfect party fare. Make ahead and reheat in 5 minutes and guaranteed to be a party pleaser!
Ingredients
2 packages of "street taco" sized tortillas
4 c grated cheese (I used cheddar)
2 4 oz cans diced green chilies, drained
1/2 c diced onion
4 T melted butter
Coarse Kosher salt
Directions
Preheat oven to 425. In a large bowl combine cheese, chilies and onion. Mix well.
Using a pastry brush, brush a large sheet pan with melted butter. Sprinkle generously with 2 t coarse salt. Place 7-8 4″ tortillas on sheet.
Place 1 heaping tablespoon of cheese mixture on each tortilla. Spread over surface evenly.
Bake for 5 minutes or until cheese has melted. Remove from oven and fold in half, pressing sides gently together. Remove from sheet pan and let cool if serving later. Repeat until all tortillas are used. Store in refrigerator if reheating later.
If reheating, remove from fridge and let come to room temperature. Preheat oven to 350. Place quesadillas on sheet pan in a single layer. Heat for about 5 minutes. Slice in half, (I use a scissors) when removed from oven. Serve warm.
.recipe-inner{text-align:left;max-width:620px;border:6px double #009BFF;padding:20px;background:#f2f2f2;margin: 40px auto;font-family:Lato, sans-serif;}#recipe .recipe-name{font-size: 21px;}#recipe .info{font-size:13px;text-transform:capitalize;border-bottom:2px solid #000;padding-bottom:7px;margin-bottom:20px}.info:after{content:";display:table;clear:both}#recipe .info span:first-child{margin-right:30px}#printbutton{border:0;margin:0;color:#fff;float:right;background:#555; padding:5px;border-radius:3px;cursor:pointer}#recipe .time{text-transform:uppercase;font-size:12px;text-align:center;background:#fff;padding:15px 0;margin-bottom:20px}#recipe .time span:not(:last-child){margin-right:12px}#recipe .time span:not(:last-child):after{content:";display:inline-block;height:10px;width:1px;background:#000;vertical-align:middle;margin-left:12px}#recipe .summary{line-height:1.7;font-style:italic}.ingredients{line-height:1.7;clear:both}.ingredients h3,.instructions h3,.notes h3{font-size:20px !important;font-weight:400 !important;margin-bottom:0;color:#000;text-transform: uppercase;}.ingredients ul{margin:0!important;margin-top:5px !important;}.instructions li{margin-bottom:15px !important;line-height:1.6;text-align:left;}.ingredients li{text-align:left}#recipe .instructions{margin-top: 30px;}#recipe .instructions ol,#recipe .instructions ol li {list-style:decimal !important;}#recipe .instructions ol{padding-left:39px;margin:0!important;margin-top:6px !important;}.posturl{border-top:1px solid #ccc;padding-top:10px;}.ing-section{padding-left:20px;margin: 10px 0;}.ing-section > span{font-weight:700}.recipe-credit{font-size:13px;border-top: 1px solid #ccc;padding:10px;text-align:center;background:#ffffff;margin:-20px;margin-top:15px;}.recipe-credit a{color:blue;text-decoration:none;}.copyright-statement{font-size: 13px;font-style:italic;border-top: 1px solid #ccc;margin-top:15px;padding-top:15px;line-height:1.6;}.notes pre{font-size: 15px;margin: 10px 0;padding-left: 20px;font-family: inherit;line-height: 1.7;white-space: pre-line;}.notes h3{margin: 0}#recipe .image{text-align:center;margin-bottom:25px;margin-right:20px;float:left}#recipe .image img{max-width:250px}#recipe .recipe-name{line-height:1.6;text-transform:uppercase;margin-top:0;letter-spacing:1px;text-align:left}#recipe .summary{line-height:1.7;font-style:italic}#recipe .time{background:#fff;clear:both;border:1px solid #d7d7d7}function printDiv(a){var b=document.getElementById(a);newWin=window.open(",'printwin');var c=newWin.document.createElement('style');c.innerHTML='html{font-family:sans-serif}img{display:none;}#printbutton,.recipe-credit{visibility:hidden;display:none;}.info{text-align:center;text-transform:capitalize}.recipe-name{text-align:center}.info span{margin-right:20px}.time{text-align:center;padding:10px;border-top:1px dashed #000;border-bottom:1px dashed #000;}.time span{margin-right:20px}.adunit,.adunitlabel,.adunitwrapper{display:none!important}';newWin.document.getElementsByTagName('head')[0].appendChild(c);newWin.document.getElementsByTagName('body')[0].innerHTML = b.innerHTML;newWin.print();}