Need a great turkey breast dry rub recipe? It's key to making a good turkey breast. For that matter, a dry rub makes any part of the turkey go from good to great!
A key component to making a great Thanksgiving turkey breast is to have a great turkey breast dry rub recipe.
Whether you are making a whole turkey, a smoked turkey or any kind of turkey part, the perfect blend of spices is what makes it so good.
Well, that and keeping the turkey moist. No one likes a dry turkey!
But the good news is that a great turkey rub not only adds loads of flavor it helps keep the turkey moist.
Bet you may not have realized that, huh?
Why dry brine?
This turkey rub recipe can be compared to dry brining. Salt in the dry brine changes the protein structure in the meat and allows the turkey to release moisture which keeps your turkey nice and moist.
A wet rub or brine contains liquid and though I have tried them, I much prefer dry brining for flavor and ease of preparation.
I love a good rub and though this was used for turkey seasoning it would also be amazing on chicken, pork or even fish.
Yes, I know you can buy a rub but it's so much fun mixing up a homemade spice rub.
It also makes perfect gifts!
Start with a paper towel and dry your bird. Then use olive oil to rub into the skin which adds flavor and moisture.
Using turkey tenderloins for this recipe, I was able to roll the tenderloins into the seasoning, but if using a large turkey you will need to rub the spice mix all over the bird.
Whatever you do, be sure to coat the turkey liberally. More seasoning equals more flavor in my book.
Have extra seasoning leftover? I stir it into the dressing or even use it in my sweet potato casserole. Though that is personal preference!
How To Make a Dry Rub
This rub begins in a small bowl, but as you see I love using paper plates in my kitchen.
Everyone loves garlic powder and brown sugar, don't they?
Adding in some onion powder, black pepper and a pinch of cayenne pepper, gives this some extra depth, too.
But it's the blend of savory spices that give this homemade turkey rub recipe something extra.
I love thyme and sage and even Italian seasoning, but the sage butter I rubbed on just before my turkey was finished put this over the top!
Sage is still in my garden and each fall it is one of my favorite fresh herbs to use at Thanksgiving.
Have you ever fried sage leaves in butter? Well, you should!
Whether making a roast turkey or turkey tenderloins, which is what I did, an instant-read thermometer is essential.
One of the best things about using a turkey breast is the flavor the skin of the turkey adds.
Brush turkey breast with olive oil or using your hands rub the oil into the skin of turkey.
Make sure to cover the skin of the turkey breast well with the seasoning which will insure flavorful meat.
Place turkey on a rimmed baking sheet and place in refrigerator overnight for maximum flavor.
How do I keep my turkey skin crispy?
For crispy skin, do not cover with plastic wrap! Do not cover at all! Just let air dry in the fridge!
Before roasting, let the turkey come to room temperature before placing in oven, breast side up.
Though it is said that a bone in turkey has more flavor, if cooking for a small group, it is so much easier to bake a boneless breast.
A rolled turkey breast is also an option and the nice thing is that you can stuff them-kind of like a turkey porchetta!
Use the pan juices to baste the turkey but if there isn't much feel free to add 1/2 c chicken broth or water to the roasting pan to help scrape up the fond.
This is deglazing the pan and makes a great sauce for the turkey if you aren't inclined to make gravy.
Remember this recipe is all about the perfect blend of spice and herbs. Feel free to sub in one for another. Don't like rosemary? Use more sage or more thyme.
Create your own herb rub. As a child I used to watch my dad seasoning the outside of the turkey.
I do believe he took out everything from my mom's spice cabinet and coated the whole bird with whatever he could think of.
He hated cumin and really didn't like rosemary but whatever he did, that smoked turkey was the best ever.
Yes, my dad was making the best dry rub and I'm sure he never knew it!
Use my rub recipe as a guide to create your own ultimate poultry seasoning.
I know you can do it!
Need a Few More?
Another Chicken Rub with Chile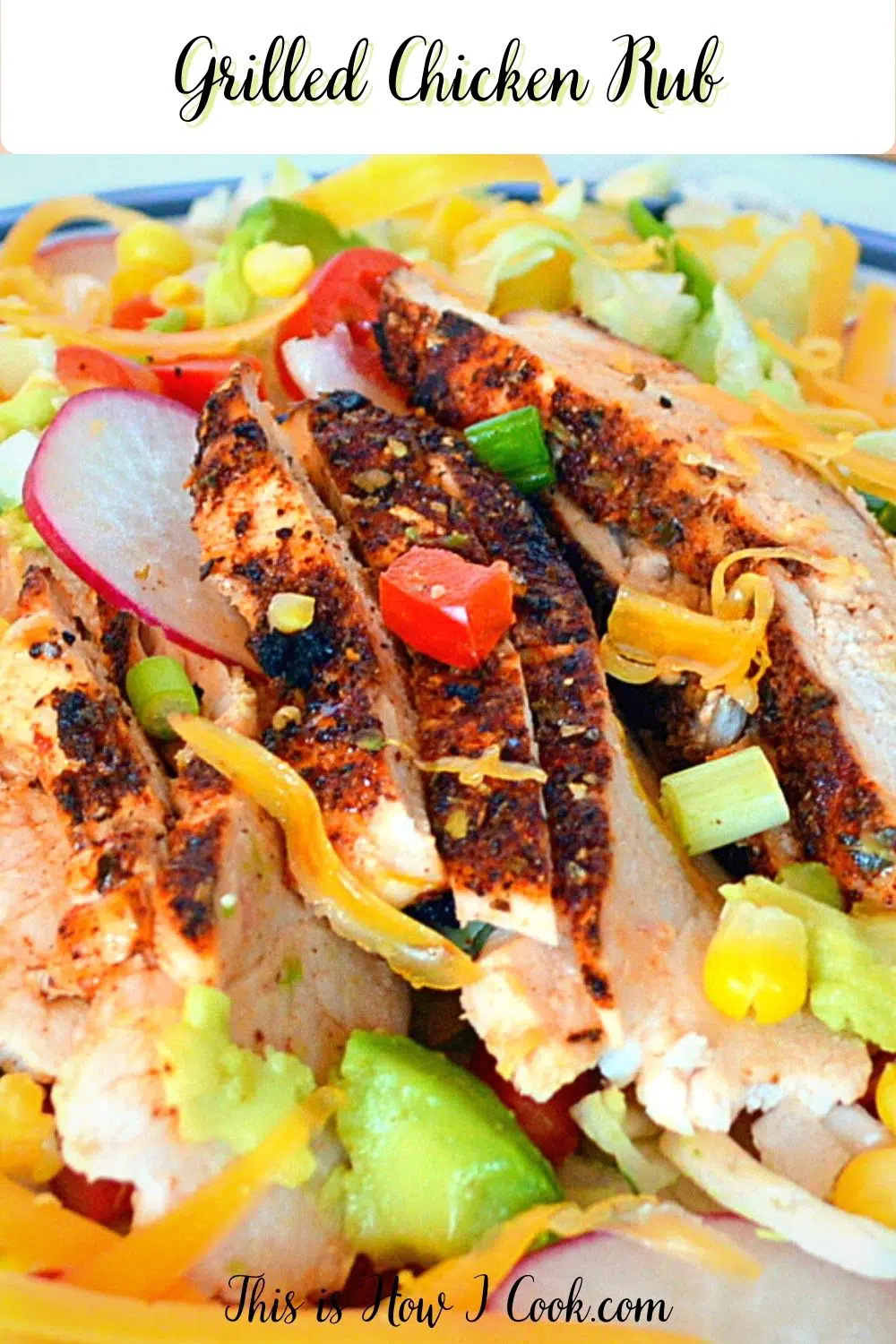 I'd Love it if You'd Follow me and Pin and Share!
Print
Turkey Breast Rub Recipe
Author:

Abbe Odenwalder

Prep Time:

10 Minutes

Total Time:

10 Minutes

Yield:

Enough for

1

Turkey Breast

1

x

Category:

Spice Rubs

Cuisine:

American
---
Description
A good rub recipe adds so much favor. This turkey breast seasoning does just that!
---
1 T brown sugar
1 T smoked paprika
1 t onion powder
1 t each rosemary, rubbed thyme, Italian seasoning
1 t coarse salt
1 t fresh ground black pepper
1 t garlic powder
Olive oil for rubbing on the turkey
4 T melted butter
2 T chopped fresh sage
---
Instructions
Combine all of the above and mix well.
Dry the turkey breast or your choice of turkey parts with paper towel. Brush on olive oil or use your hands to oil the bird.
Rub seasonings liberally all over the turkey breast. Even under the skin.
Bake and baste as required by recipe.
Melt butter and add chopped fresh sage. About 10 minutes before your choice of turkey is finished baking, brush with sage butter. Brush again when removed from oven, while combined with turkey drippings.
Be sure to check the temperature of the meat to make sure your turkey is cooked properly.
---
Notes
Feel free to interchange other herbs and spices.
I used smoked olive oil which also added extra flavor. Garlic olive oil also adds something extra.
Use extra seasoning as gifts or use in other food such as sweet potatoes and stuffing!
Double or triple this recipe if making a whole bird.
Keywords: turkey breast rub recipe, seasonings for a turkey breast, rub for smoked turkey, poultry rub recipe, turkey breast dry rub recipe