This post may contain affiliate links. Please see our disclosure policy.
Chopped kale salad with a maple vinaigrette, pecans and apples is a great alternative to coleslaw. Manservant didn't believe me until he tried this!
A chopped kale salad may not seem like something to get excited about, but when I made this for friends and family, everyone loved it. Zoe decided that after Thanksgiving, we needed some healthy food to go with our turkey sliders. I'm not joking.
Those sliders with cheese and green chili were good. But the kale salad had everyone coming back for seconds. Even Manservant who's always told me that he'd much rather have a spinach salad than kale came back for more. I do though, understand where he is coming from.
However if you treat your kale right and give it some love, you just might convert those non believers. I know I did. Chopped kale salad with apples and nuts and pomegranates, cranberries or dried cherries, tossed with this incredible maple balsamic vinaigrette is totally loveable.
If you've read many of my posts regarding salads, I'm sure you've seen this maple balsamic vinaigrette pop up before. Well, let me tell you a secret. It's worth it. I actually buy the maple balsamic vinegar near here at a totally outstanding olive oil and vinegar shop. I'm not being paid to say this stuff. I just love it.
So what exactly makes a good kale salad? A really good massage and lots of chopping. The kale, that is. I chose to use a redbor or Red Russian kale. Pretty and ruffly and purple, this kale would also make part of a great centerpiece.
How to Make a Chopped Kale Salad Taste Good:
Begin by cutting out the giant rib from the center of the kale leaf. Stack the leaves, roll them up and slice or julienne until the pieces are fairly fine. Then chop them quite fine.
Now time for a massage. Not for me. For the kale. When tossing a kale salad, you really want to get those chopped kale leaves soaked with dressing. But don't add too much. You can always add more before serving.
Experiment with different types of kale. Some are stronger and earthier than others. Most kales are best while they are young and some become sweeter after a frost. Some like lacinato, have a bitter overtone and do great with citrus.
So why kale?
Kale is considered a nutrient dense food. Loaded with Vitamin A, K and C; there are also 3 grams of protein in every cup. There is more Vitamin C in 1 cup of kale than in an orange. To read more on kale, check this out.
Besides health benefits, my favorite is that a kale salad keeps for a few days. It doesn't start spewing out moisture like my close friend, Mr. Cabbage. Kale knows how to keep it together!
A chopped kale salad is a great change from coleslaw. In fact, there are some, who might think it is coleslaw. No need to spill the beans. Or kale, that is!
Want to help Australia?
On another note, I received a note from my friend Savvy, who helps me with technical issues, on the blog today, regarding the horrible fires in Australia. Those poor koalas and kangaroos have been on my mind, not to mention the people that are having to go through this. I was in Australia over thirty years ago. What a beautiful country with wonderful people. If you are so inclined like I was; this is one way to help.
Where can I get this maple vinegar?
I buy my maple vinegar at a store here in Denver called EVOO that sells it. If you want to shop on Amazon, this looks similar. I love salad tongs and these are great! A great salad bowl? I prefer something simple like this white one.
I'd love it if you shared and pinned!
Print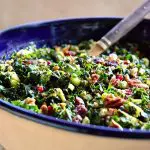 Chopped Kale Salad with Apples, Pecans and Maple Vinaigrette
Author:

Abbe Odenwalder

Prep Time:

20 Minutes

Cook Time:

O Minutes

Total Time:

20 Minutes

Yield:

About

10

side dish servings

1

x

Category:

Salad

Method:

Chop

Cuisine:

American
---
Description
Chopped kale salad with a maple vinaigrette, pecans and apples is a great alternative to coleslaw.
---
2 bunches kale (I used redbor) which should be about 8 c chopped

2 apples, sliced and diced (I slice the apple in apple shaped slices. Then I stack the slices and cut them into squares.)

1 bunch scallions, chopped fine

4 oz container pomegranate seeds or dried cranberries

4 oz crumbled feta

1 c chopped toasted pecans

Vinaigrette
3 cloves minced garlic

1 T Dijon mustard

1/3 c maple balsamic vinegar

Salt and Pepper

2/3 c olive oil plus 3 T
---
Instructions
Begin by making the vinaigrette.
Combine garlic, mustard, maple vinegar and salt and pepper in a large measuring cup. Whisk to combine.
Slowly drizzle in olive oil until, an emulsion is formed.
Place kale in a large salad bowl.
Drizzle about 1/3 c over kale leaves and use your hands to massage into leaves.
Add rest of salad ingredients together to the bowl with the kale, reserving a few pecans, apples, pomegranates or cranberries, and cheese for sprinkling on top.
Toss with more dressing if needed and add more salt or pepper to taste.
---
Notes
Different types of kale taste differently. Taste a few and figure out what you like.
Keywords: chopped kale salad, chopped kale salad recipe, chopped kale salad with cranberries, sweet chopped kale salad,
A Few More: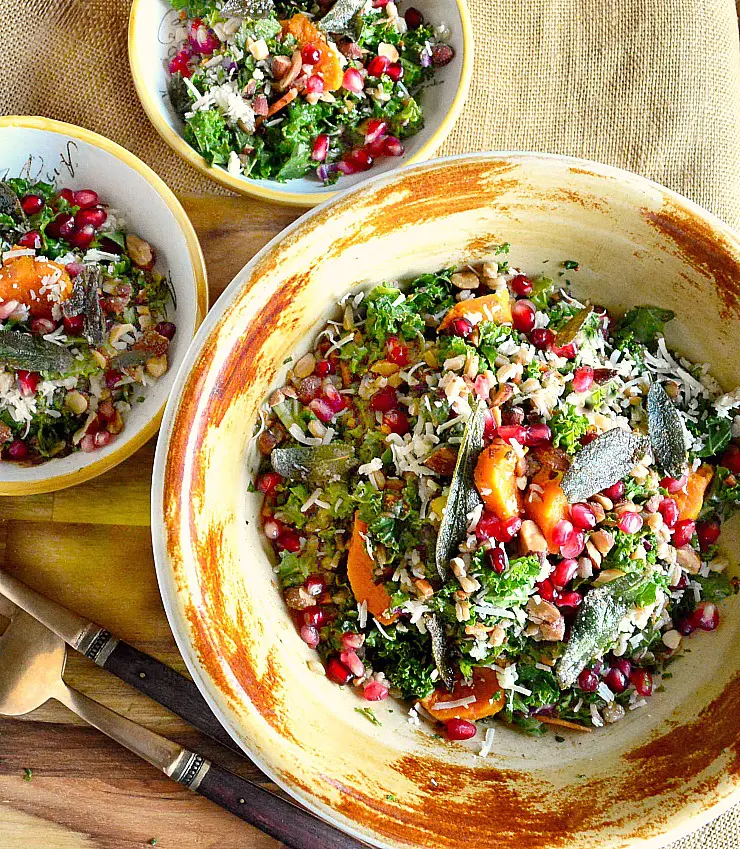 Hearts of Palm, Avocado and Orange Salad