Somehow Thanksgiving has come, just as it does every year. This year though, it seems to have descended upon me quite quickly. I think it was our weather. Denver has had a pretty good Fall and it just didn't seem to be getting seasonal. Today was 60 degrees and tomorrow will be about the same. Wednesday though may start to bite us in the butt, but that's OK. I'm kind of ready to start hibernation!
This year my Thanksgiving will be a bit quiet. Though I am invited to my very close friend's home, where I have celebrated many Thanksgivings, it still doesn't seem the same without being surrounded by my kids and husband. Though I have celebrated with my parents, it was never a regular thing. So I'm a bit melancholy and even though I decorated for autumn, I'll probably start getting out the menorahs this week because Zoe will arrive next week, and I can't wait!
And that leads into this crostata. I've been making this for years and it is a fall favorite. I don't think I've ever served it for Thanksgiving, though it is a perfect dessert for it. Toasted pecans and cranberries are perfect to round out a great holiday meal and this isn't too rich for a finale! It is easy to put together and to make ahead.
Though one can make a walnut crust dough, which I admit I did, to be honest I like this better with a traditional pie crust. The original recipe called for the walnut pie crust but I found it quite thick and I don't think the flavors of the crostata filling shined through. Why am I telling you this? I'm telling you, because this is perfect with a premade crust. I've always done that in the past and why I changed it up, I don't know!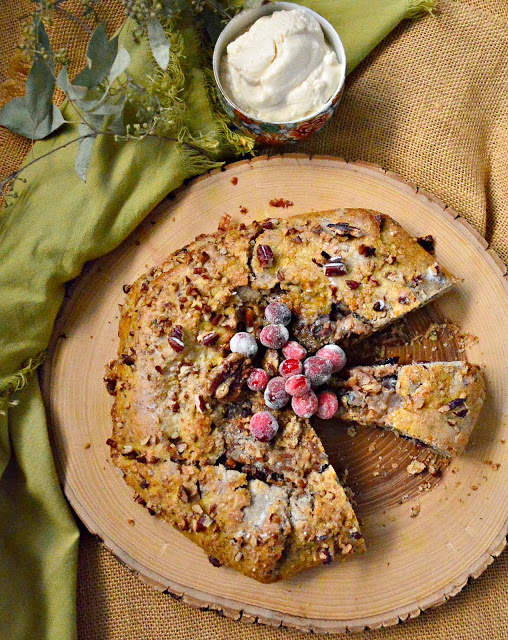 Where might you find a great premade crust? I know you know the answer to this! Yes, Whole Foods sells Immaculate pie crusts in the refrigerator section. The beauty of this crostata is in its simplicity. So keep it simple, OK? The filling requires heavy cream and I buy a large container so I can whip some up for the topping. I added some maple syrup to it which was perfect for this! I also topped it with some sugared cranberries and a few maple glazed pecans.
Needless to say Manservant was happy to take a few slices for the road. I feel for him this trip. He is actually going around the world. He is going first to Dubai, and though I've heard awesome things about it, I am sure glad to be here in my warm and cozy home. Then it is back to Korea, and then finally home, where Zoe and I will be waiting. I'm thankful for that!
Needless to say, I'll be keeping it easy this year. I hope you do too. Save some time by filling in with the great food that Whole Foods has to offer. Now is the time to spend with family.Trust me-I know.
Cranberry and Toasted Pecan Crostata
Serves 4-6
Time to make: About 15 minutes active – 2 hours and 10 minutes chilling – 30 minutes bake time
Ingredients:
1 prepared pie crust (I buy them rolled in the box)
Filling:
1 c heavy cream
1/4 c sugar plus 1 T for top of crostata
1 c dried cranberries
1 1/2 c toasted walnuts or pecans plus 2 T chopped for top of crostata
1/4 t cinnamon
1/2 t vanilla or maple extract
Directions:
Heat the cream and sugar in a saucepan over medium heat. When hot, stir and dissolve the sugar. Bring to a boil then adjust the heat and allow to simmer for 6 minutes.Remove from heat and add the cranberries,nuts, cinnamon and extract. Stir to combine.
Line a 9″ pie pan with plastic wrap. Transfer the filling to the pie pan, spreading the mixture to the edges. Chill until ready to assemble.
When mixture is chilled, preheat oven to 375. Roll out the dough according to package directions and place on a sheet of parchment paper. Invert the chilled cranberry and nut mixture onto the pie crust. Fold up edges of pie dough around the filling, leaving a 4″ window of filling. Refrigerate for 10 minutes.
In a small bowl whisk an egg yolk. Brush over the crostata. Sprinkle with nuts, then sprinkle with 1 T of sugar. Place crostata while still on parchment onto a baking sheet. Place in oven and bake for 30-45 minutes or until golden. Serve with whipped cream or ice cream. Cool for about 15 minutes before serving.
More to Try: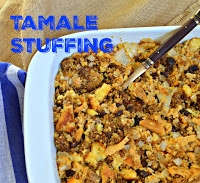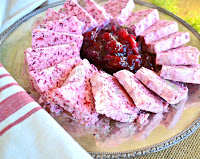 To Pin for Later: