"Truffle Scalloped Potatoes are perfect for celebrations! So easy to make and full of flavor from truffle oil and truffle salt, these are worthy of any occasion."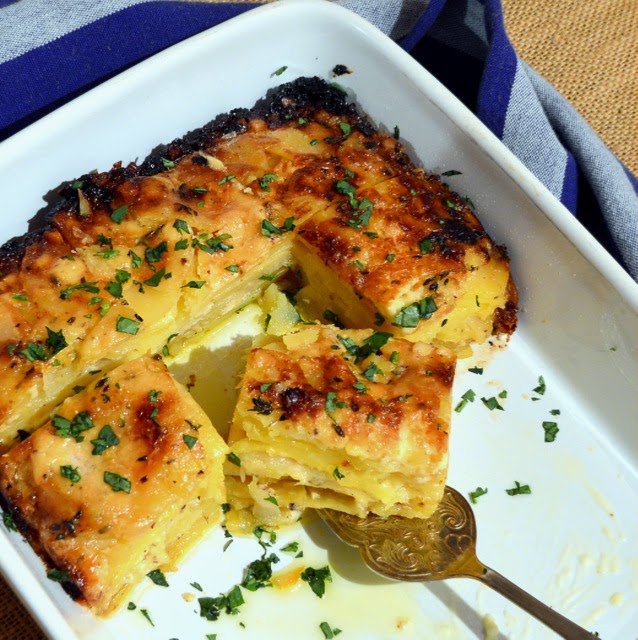 Truffle scalloped potatoes are good. I know because I just had some for breakfast. And I had some for dinner last night. And some for dinner three nights before that. With all that time with homemade scalloped potatoes you would think I could get a good photo of them, but the light of winter just doesn't want to cooperate.
I made these good scalloped potatoes homemade to serve to friends who had lots to celebrate. One daughter just became engaged, the other just got into college and my friend was having a birthday. But we are saving the birthday for another day; after all, kids come first! I didn't want to be in the kitchen and missing out on the celebration so a simple, do ahead meal was on my agenda. And that meal included scalloped potatoes. (But you knew that didn't you?)
And wine. Lots of good wine that kept us busy from 7 until midnight. I love nights like that. Which, of course, is another reason to make scalloped potatoes. Since you make them ahead, you don't have to worry about leaving out an ingredient, which is something to consider when you plan on drinking a lot of wine. All you have to do is cut these into squares and no one minds if the squares are crooked. Ahem!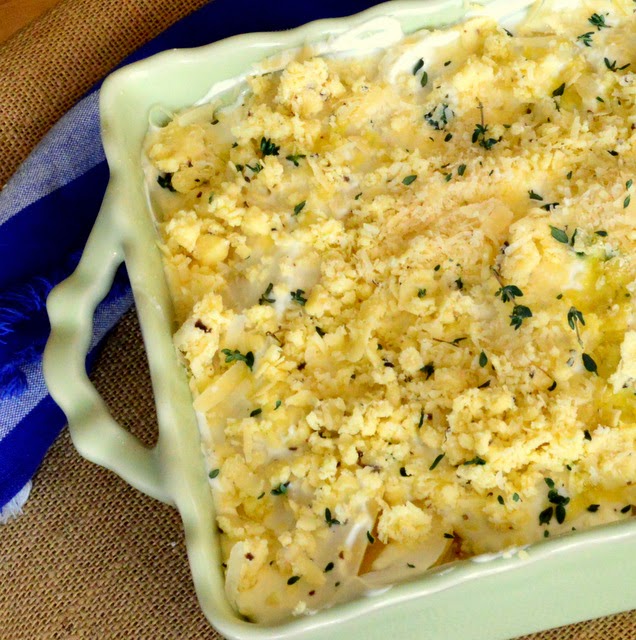 I don't make scalloped potatoes very often but there are times they come in quite handy. They can be made ahead and reheated, but they stay warm for a long time if you cover them with foil. Which makes these scalloped and truffle potatoes a perfect dish for your Thanksgiving table. I know one has to contend with those who want the mashed variety. And the sweet variety; but honestly make this easy for yourself. Make these so you can drink the wine. AND smell the roses.
Lots of scalloped potato recipes call for heating milk. Some skinny recipes call for using chicken broth. Some call for parboiling the potatoes. Mine calls for none of this. Other than peeling and slicing the potatoes, this one is pretty easy. I use a mandoline of the cheap variety. I love it and it works well. Mine is made by Kyocera and is plastic with a ceramic blade that is easily changed to four different thicknesses with no need to set up.
So let's get to it, shall we? This recipe does call for creme fraiche which is generally found at Trader Joe's and other groceries unless a restaurant comes and buys out their stock. Don't ask me how I know. In which case creme fraiche is really easy to make. Just take 2 cups of heavy cream and stir in 2 T buttermilk. Let sit overnight covered. In the morning you should have a delightfully thick mixture that tastes better than sour cream.
Oh. Lots of little notes for this recipe. You can leave out all the truffle stuff, but since this was a celebration, I went for it. Now that didn't include buying a truffle, which would be lots of fun, but I did use truffle oil, truffle cheese and truffle salt. If I'd wanted I could have also placed a layer of sauteed mushrooms in the middle, but I don't believe in overload. Now who am I kidding?! And last but not least, this is where I buy my truffle salt.
Print
Truffle Scalloped Potatoes
Author:

Prep Time:

25 Minutes

Cook Time:

60 Minutes

Total Time:

1 hour 25 minutes

Yield:

8

-

10

servings

1

x

Category:

Side Dish

Method:

Baking

Cuisine:

American
---
8 oz English cheddar Italian truffle cheese, grated
2 1/2 lbs peeled, Yellow Finn potatoes, sliced into 1/8″ slices
1 onion, sliced as above
Truffle salt and pepper
1 1/2 c creme fraiche
3 T truffle oil
1 T fresh thyme
---
Instructions
Grease a 10 x 7 or a 13 x 9 baking dish with oil or butter. Preheat oven to 400.
Peel and slice potatoes and onion. Take 1/2 of potatoes and place evenly into bottom of pan. Sprinkle with truffle salt and pepper and some fresh thyme. Top with 1/2 of the creme fraiche. Spread it on. Top with 1/2 of the truffle cheese. Drizzle with 1 T of truffle oil. Top with sliced onion.
Now take the rest of the potatoes and place evenly on top of the onion. Sprinkle with truffle salt and pepper and thyme. Top with the rest of the creme fraiche. Top with the rest of the truffle cheese. Drizzle with 1 T of truffle oil.
Place pan in oven for 30 minutes uncovered. Then reduce temperature to 350 for 30 more minutes. If potatoes start to brown too much, cover with foil. Check potatoes for doneness by sticking a knife into them. If knife inserts easily then potatoes should be cooked through.
Drizzle with last tablespoon of truffle oil before serving and a little more truffle salt. If you keep this covered and are worried that the mixture needs more moisture, pour on a little extra heavy cream. It will easily be absorbed by the potatoes.
Now have a glass of wine and celebrate!
---
Keywords: scalloped potatoes


Other November Dishes:
Pumpkin Brown Sugar Muffins
Mushroom Lover's Pastry
Smoky Pumpkin Hummus
Hot Brown Sandwich
Tamale Stuffing with Chorizo
Frozen Cranberry Salad
Fresh Cranberry and Apple Salad
Tequila Cranberry Sauce
Waldorf Salad
Brown Sugar Spice Cake with Caramel Glaze
Gingerbread Pear Upside Down Skillet Cake
Whipped Cream Biscuits
Maple Glazed Challah Rolls


Please Pin and Share: