This classic Southern buttermilk biscuits recipe is everything a biscuit should be. Flaky and tender and totally worth it!
I debated and debated about a cornbread recipe or this Southern buttermilk biscuits recipe.
I love both but I just can't resist a hot, flaky, buttery biscuit straight from the oven.
This is another recipe from Cheryl Day and her Treasury of Southern Baking.
I just can't get enough. So stop reading if biscuits just aren't your thang, but really? that would be hard for me to take.
These homemade buttermilk biscuits are soft and flaky and almost a mile high.
Perfect with butter and honey or a slice of ham or turkey in the middle-these homemade biscuits, I think, were designed for my mother.
My mother is the one in front of you in the drive-through lane at McDonald's ordering the biscuits.
Trust me Mom. These are way better.
These Southern biscuits, that are fluffy biscuits, are like the best biscuit ever.
I do love my heavy cream biscuits, but these remind me of those poppin' fresh biscuits that make your heart rise to the top of you head when you smack that blue can open.
Truly this is the perfect biscuit. Have I convinced you yet?
They take some time to make and you do have to get your hands dirty, but once you peel this golden brown biscuit into layers, you will bask in their glory.
Not just for an experienced baker, the detailed instructions in the recipe, will work even if this is the first time making biscuits.
Let's get to it, shall we?
How To Make the Best Southern buttermilk biscuits recipe:
Preheat the oven and prepare a baking sheet with parchment paper.
In a large bowl combine the dry ingredients.
Use a pastry cutter cut in 3 sticks of cold unsalted butter or just grate it in with a cheese grater. (Secret tip for another use of a pastry blender: use it to break up ground meat while you are browning the meat!)
I've done both, but for this recipe I like getting my hands dirty in the biscuit dough.
Add some cold buttermilk to the dry ingredients and please make sure you are using a large bowl.
Now smush it all together until the flour is coated with butter and make a big mass with it.
It won't be perfect yet, but turn it out onto a floured surface and using the heal of your hand, repeat until there are no more dry bits of flour.
In Colorado where it is dry I've often had to add a bit more buttermilk to make a good mass.
Most importantly, do not overmix. It is the butter that melts that creates the layers in the biscuit.
Get out your favorite rolling pin and follow the directions carefully in the recipe below.
You may even want a ruler! But do what it says and I promise you will have the best biscuits ever.
After you've folded, it is time to get out your 2 1/4 inch biscuit cutter and cut these by stamping down the cutter.
Do not twist or your biscuits won't rise as high. Place on the prepared baking sheet about 1 inch apart.
Brush with the melted butter and sprinkle with some flaky salt before baking.
I know this may seem like a lot of work, but it just feels so good!
What is the secret to light, fluffy biscuits?
Cake flour is a soft flour which contributes to the lightness of the biscuit.
Mixing the cold butter into the flour also guarantees the biscuits are nice and airy.
Stay away from that food processor because this is an old-fashioned southern-style buttermilk biscuits recipe!
No special White Lily flour in these. Just regular old cake flour, which contributes to the softness of this flaky biscuit.
Also some all-purpose flour, some fine sea salt, a touch of sugar and the magic of baking powder and baking soda.
Buttermilk adds tanginess and contributes to the tenderness of this biscuit. Make sure it is cold.
Use the best unsalted butter you can buy.
I know the recipe seems long, but it tells you in depth how to fold and fold again to make the best southern biscuit recipe ever.
This southern classic produces the best tender biscuit and I'm not kidding, y'all!
My mother-in-law would have adored this Southern staple.
What to do with Southern buttermilk biscuits?
These delicious biscuits are great with a drizzle of honey or some strawberry jam, but a true biscuit lover will eat them right out of the hot oven.
But wait a minute…anyone for sausage gravy? I admit that is one thing I haven't quite wrapped my head around!
Leftovers are perfect for breakfast sandwiches or they can be frozen and baked as needed.
But if you don't want to do that, I did make this great snack mix-also a Cheryl Day recipe with my leftover biscuits.
It's perfect with cocktails!
I'm not going to tell you again that this is a great biscuit.
I expect you to remember!
Need Some More?
Best Gravy (Drippings Not Required!)
Cheryl Day's Salted Caramel Cake
Gluten Free Buttermilk Cornbread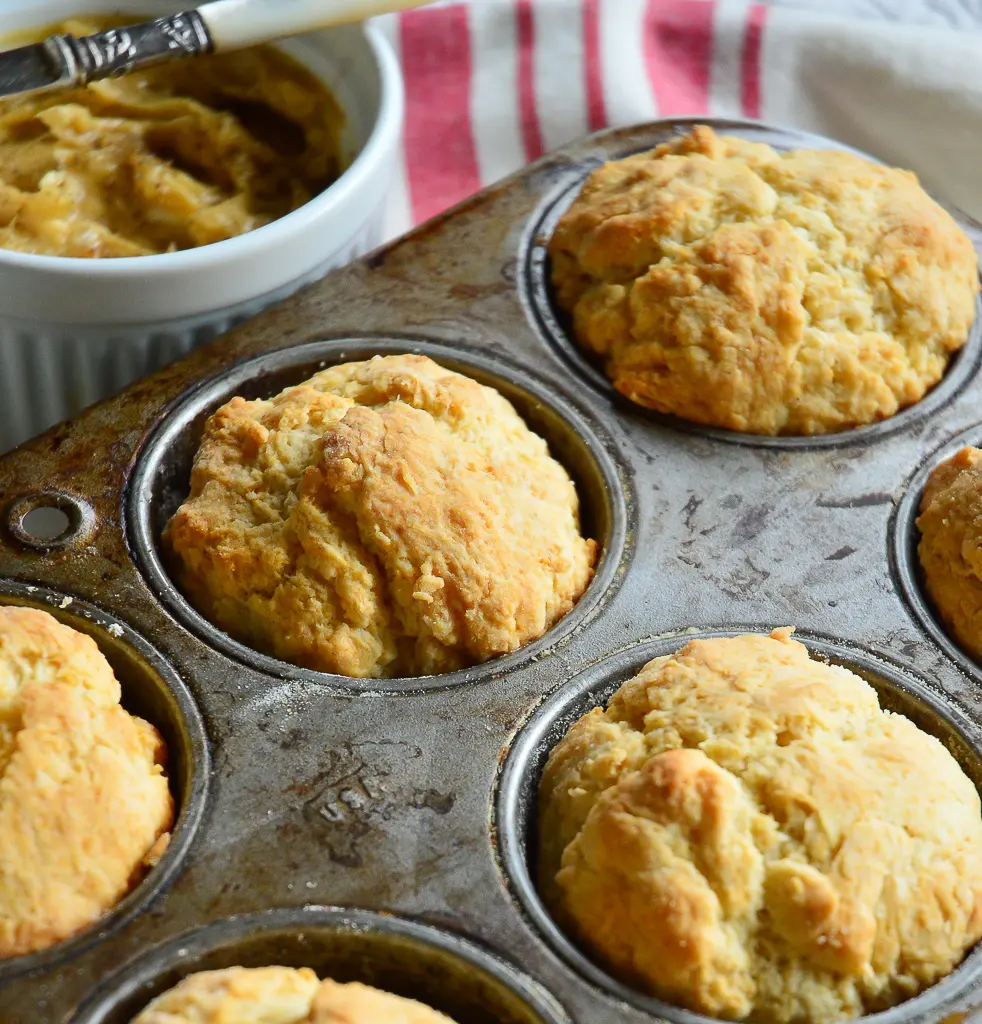 Print
Flaky Southern Biscuits
Author:

Abbe Odenwalder

Prep Time:

30 Minutes

Cook Time:

30 Minutes

Total Time:

1 hour

Yield:

12

-

16

Servings

1

x

Category:

Bread

Cuisine:

American
---
Description
These flaky and tender, Southern style buttermilk biscuits are so worth it. With their crispy golden brown tops, and their inner fluffy goodness, these are meant to be devoured.
---
1 1/2 c cake flour
4 cups unbleached all-purpose flour
4 t fine sea salt
3 1/2 t baking powder
1 1/2 t sugar
1/2 t baking soda
3 sticks unsalted butter cut into 1/2" cubes
4 T unsalted butter melted, for brushing
2 c buttermilk
Flaky sea salt for sprinkling
---
Instructions
Position a rack in the middle of the oven and preheat the oven to 375 degrees. Line a baking sheet with parchment.
In a large mixing bowl, whisk together both flours, salt , baking powder, sugar and baking soda. Add the cold butter cubes and toss to coat. Cut the butter in with a pastry blender or pinch the cubes with your fingertips, smearing them into the flour. You should have various sizes of butter from coarse shaggy patches to pea-sized chunks. Give the ingredients a good toss with your hands to make sure they are all covered with flour.
Make a well in the center and pour in the cold buttermilk. Use your hands and mix into a shaggy dough. Place the dough on a clean work surface. The dough should still be crumbly. Using the heal of your hand, smear the butter into the flour to build the flaky layers. Repeat until there are no more dry bits of flour remaining and the dough comes together in a mass.
Colorado is dry so if you live at high altitude do not be afraid to stir in more buttermilk to bring the dough together. Just don't overdue it!
Flour a rolling pin and lightly dust your work surface with flour. Roll the dough into a 12 by 14″ rectangle with the long side towards you. Begin by folding into thirds starting from the right side. Fold one side toward the middle and the other side over it. Press together. Rotate 90 degrees and roll out again into a rectangle then fold the dough in half from the top down pressing the layers together. Roll the dough out again into a rectangle and fold it in half once more, pressing the layers together. Then using a bench scraper or a sharp knife, cut the dough in half and stack the bottom half on the top half and press the layers together. Dust the top of the dough lightly with flour and roll the dough out again into a rectangle about 1 " thick.
Dip the edges of the biscuit cutter into flour and punch out the biscuits. Do not twist or your biscuits will not rise as high! Make sure to dip the cutter in the flour for each cut. Gather your scraps into a mass, roll them out again and cut some more. They may not be as pretty but they will taste marvelous.
Place bicuits about 1″ apart on the baking sheet.
Biscuit dough can be frozen directly on a baking sheet until solid. Bake directly from the freezer and add an extra 5 -7 minutes on to the baking time. Fresh biscuits can be baked immediately or refrigerated for one hour before baking.
Brush the tops with butter and sprinkle with flaky salt. Bake, rotating the pan halfway through for 25 – 30 minutes, until golden brown. These are best served hot out of the oven.
Leftovers can be stored in an airtight container for up to 1 day. To reheat place the biscuits on a wire rack in a preheated 350 degree oven for 5 to 6 minutes.
---
Notes
To freeze leftover biscuits, wrap in foil and place in a large ziplock bag. To reheat, place the foil wrapped biscuits in a 350 degree oven and bake for 18 to 20 minutes, then carefully open the foil and bake for an additional 5 minutes.
Keywords: southern style biscuits, southern buttermilk biscuits recipe, southern buttermilk biscuits, buttermilk biscuits recipe,