Pepperidge Farm Stuffing with sage and onion was classic Thanksgiving fare in my impressionable years. In fact, it wouldn't have been Thanksgiving without it!
There are some things that never change and Pepperidge Farm stuffing with sage and onion is one of them.
Growing up Mom always made Pepperidge Farm stuffing, even though it was dressing, and it was only when I left home and met Manservant that I started making our beloved tamale stuffing.
Mom arrives Tuesday for Thanksgiving and I decided this year to stick with the classics.
Yes, that would be Pepperidge Farm! My mother even offered to make it!
SO, what's the difference between stuffing and dressing?
Stuffing is what goes in the bird and dressing is what stays out.
Dressing is cooked in a pan and is outside of the turkey.
So technicalities aside, I always call this well seasoned bread mixture stuffing, because when I think of dressing I think of salad.
And we all know that salad is the least important part of the traditional Thanksgiving feast!
I've seen lots of reviews of store bought stuffing. I'll be honest.
I do love StoveTop cornbread stuffing but my childhood years lie with Pepperidge Farm stuffing.
Homemade stuffing is also at the top of my list, but let's get real here.
Sometimes we all need a break and even though stuffing is pretty easy to make, everyone needs a shortcut. This year, this Pepperidge Farm stuffing is mine!
How To Make Pepperidge Farm Stuffing:
So a few notes to the cook: My mom always bought the big bag. We always buy the stuffing cubed.
She always sautes celery, mushrooms and onion to add in and she bakes this uncovered in the oven because we prefer our stuffing crispy.
Yes, you can add sausage but good Jewish households never added sausage.
But feel free to stir in raisins or cranberries or fennel or apricots, or apples. Stuffing is so about you!
If you like your sage stuffing moist, well, that's what gravy is for!
Just remember that if you have an old bag in the pantry, get a fresh one for the new season.
Herbs and seasonings lose their flavor as they get older.
Want to really jazz your stuffing up? Add these fried in browned butter sage leaves as a garnish and everyone goes crazy. (They come with a great squash recipe!)
They might even ignore the stuffing!
I always bake my stuffing in a 13 x 9 pan but feel free to use whatever size pan you like. We like ours crispy and if I pack it into a smaller pan it remains moist.
Stuffing can also be baked in muffin cups and then served individually. That way everyone gets a little crispy and a little moist and no one fights for the corners and sides!
Why is dressing the key to turkey?
The answer lies in the first bite. Manservant is very good at smoking turkey.
But every now and then if you are a white meat lover like I am, you sometimes get a dry bite. Hmmm.
That's when a bite of turkey and stuffing make things so much more palatable. Just saying!
And top that turkey and stuffing with gravy and no one can tell that the turkey might not be too moist!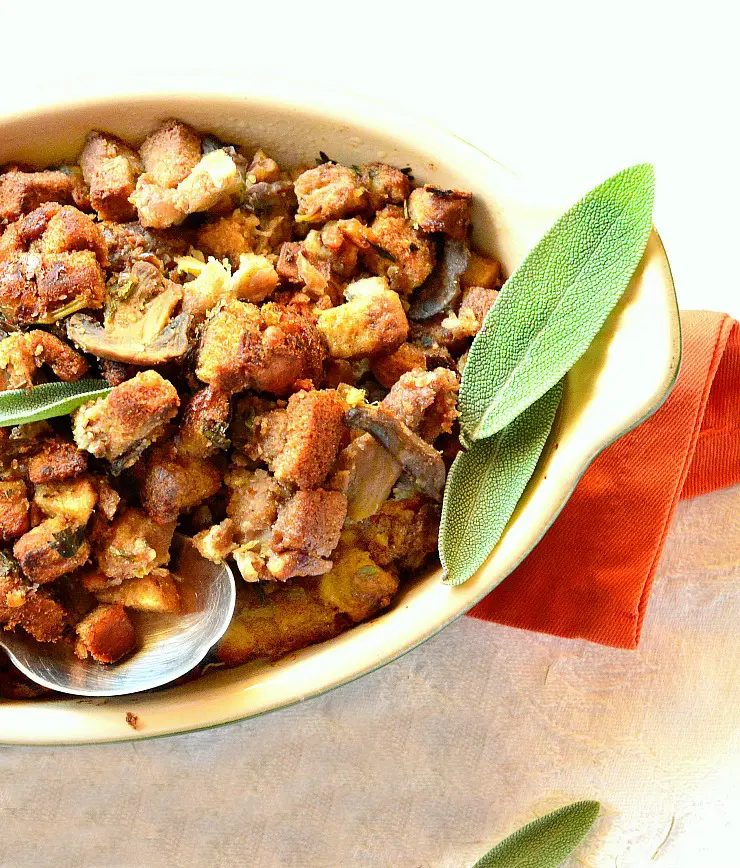 Stuffing is also the key to the morning after breakfast.
Heat that stuff up and plop on a fried egg. Get the fork and dive in.
This is one reason I make stuffing throughout the year. Yep, breakfast with stuffin' is a winner.
You can even make stuffing patties like I did in this delish Kentucky hot brown "sandwich."
Eating stuffing straight from the fridge is also something I've been known to do.
So whether you call it stuffing or dressing, use cornbread or whole wheat, sausage or not, I hope you agree that stuffing is the key to turkey.
As for the best way to make it, I'll leave that up to you!
Please Pin and Share!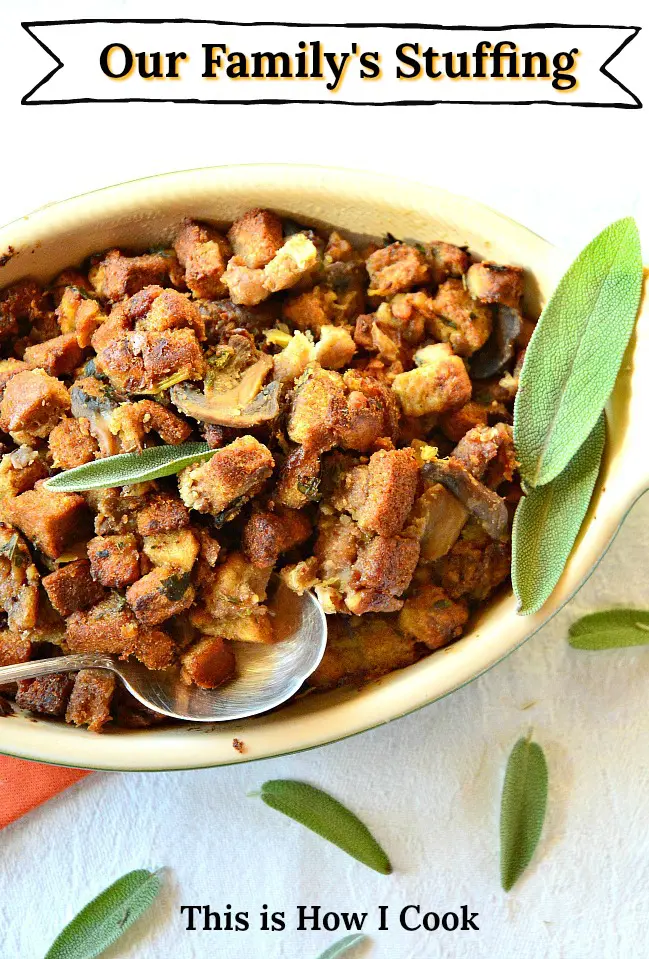 Print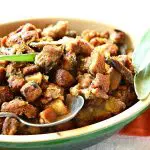 Pepperidge Farm Stuffing with Sage
Author:

Abbe

Prep Time:

20 Minutes

Cook Time:

30-60 Minutes

Total Time:

80 Minutes

Yield:

8

Servings

1

x

Category:

Side Dish

Method:

Stove Top/Bake

Cuisine:

American
---
Description
Pepperidge Farm stuffing is the key to a great dinner. Always a hit and a time saver!
---
1 12 oz bag Sage and Onion Pepperidge Farm Cubed Stuffing

4 T butter

1 1/4 c diced onion

1 c chopped celery

8 oz sliced mushrooms

2 c chicken broth (I use Better Than Bouillon and mix my own)

1/4 c minced fresh Italian parsley

1 t poultry seasoning

1 T butter (to dot over the top of the pan)
---
Instructions
Preheat oven to 350. Butter a 13 x 9 pan.
Heat 4 T butter in a large skillet. Add onion, celery and mushrooms. Feel free add in some dried, but reconstituted mushrooms also. They give great flavor.
Saute until softened.
Heat chicken stock until boiling in a large pot. Add stuffing and sauteed vegetables, poultry seasoning and parsley. Stir well. Spread into pan. Dot with butter.
Bake a minimum of 30 minutes for moist stuffing. If stuffing is cooked and you want to keep it warm, for moist stuffing it should be covered. For crispy stuffing bake at least 1 hour uncovered.
To make ahead: Cover unbaked stuffing mixture in pan. Refrigerate for up to one day. Bake as directed but add time if stuffing is not at room temperature.
---
Keywords: Pepperidge Farm stuffing, Pepperidge Farm stuffing recipes, recipes for Pepperidge Farm stuffing, Pepperidge Farm stuffing recipe, Pepperidge Farm stuffing mix
Need a Few More Thanksgiving Ideas?
My cranberries are always a hit!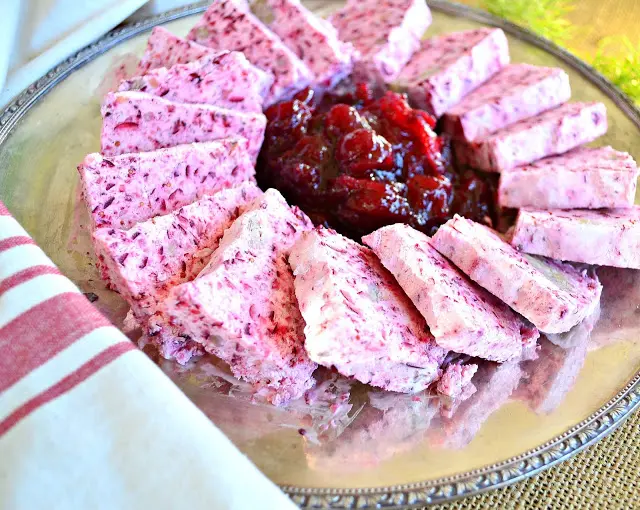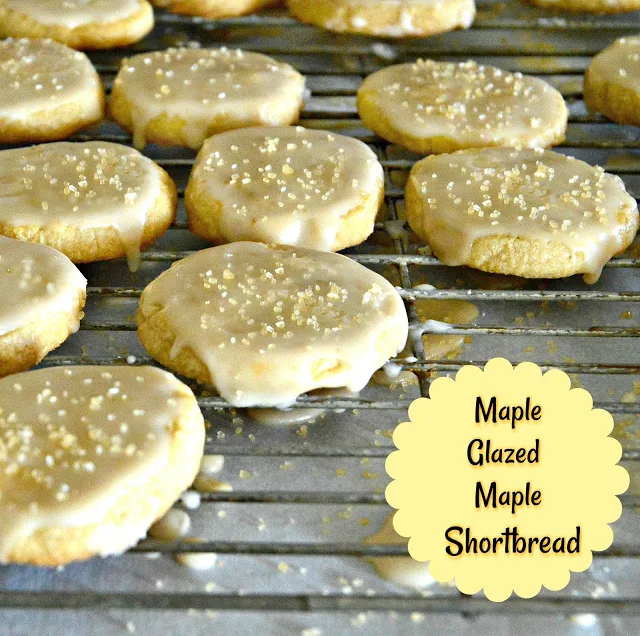 I even added more!