Moist and full of flavor, these scones are better than any I've tasted. If you like maple and you like scones, these are the maple scone for you!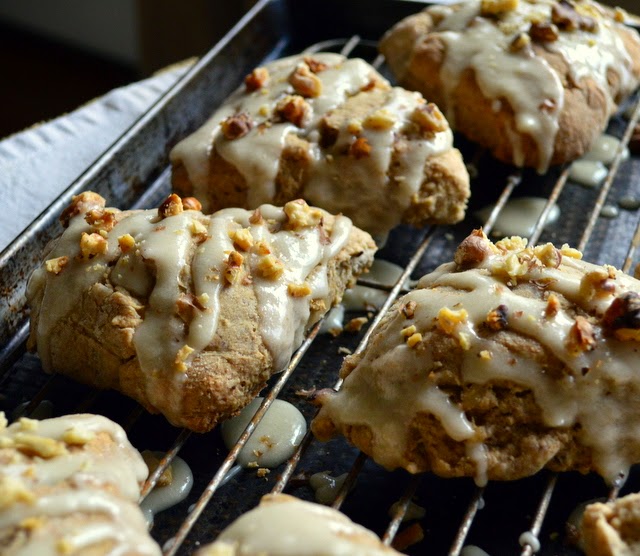 One of the fun things about writing a blog is reading other blogs. I really don't have enough time to read as many as I'd like, because there are so many good ones out there. Yes, many people are just looking for THE recipe, but after awhile if one reads a blog you get to feel like you know someone. You get a feel for their tastes and what they like to cook or what they have fun doing. One starts to feel connected, which explains why I never get to read as many as I want. It takes me a long time just to read the ones I follow regularly. I always try to share a bit of my life on my blog because I think that makes it seem more interesting, but if you are just coming for the recipe, that's OK, too. Of course, I also write because one day I hope my kids will be reading these bits and pieces and sharing them with their kids! (Well, that is if they ever have kids!)
Many people think that one has to invent their own recipe to post it, but I really don't agree with this. I think a good recipe is like a great painting. Share it with the world and the world will be a better place. Not everyone has the time to search for a good recipe, so I look at blogging as a way to help others out. Just like I've always believed that getting 2-3 good recipes out of a cookbook is worth it, I also believe that finding a blogger because I like what they post, is worth it too. Cookbooks are my friend in the kitchen, just as bloggers have become my friends also. I love to see the creativity, the photos and the personality of the blogger in what I read.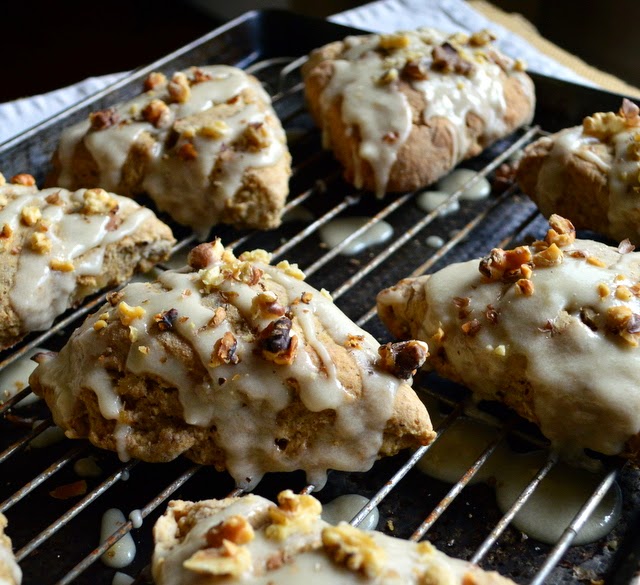 There are so many recipes out there that it is hard to sort through them all. If I can find a blogger or a book that helps make it easier, than that is good news for me. Once I discovered Pinterest, I started pinning lots of recipes that I hope to try one day. Just like all the great books, I want to read in my lifetime, there are many outstanding recipes I hope to cook. Pinterest is one way I keep track and gain many new ideas. Follow me if you want and see what I like. I'm not a huge pinner, but it has become my own bulletin board, so to speak!
Last year I found this recipe for maple scones on "The View from Great Island". I pinned it to save and bake because I love maple and I love scones. I used to order the maple scones from Starbuck's, but I really don't frequent there anymore, and besides they were always just OK. If I remember correctly, they were kind of dry and dense and crumbly, in a messy kind of way.
Well, thanks goodness for Sue! Sue's maple scones are everything I would want in a scone. They are moist, but not too moist. They are light, but not too light. And they are easy to make. The glaze is incredible and the toasted walnuts give these scones a fabulous texture! Plus they taste unbearably good. These are huge and it is hard to stop with just one.
These were a hit in my home around Thanksgiving and since Manservant and I were the only ones home, that means I ate them all! Dangerous stuff,these scones. I did manage to stick a few in the freezer for when Zoe comes home. Now I can't wait for Sunday morning! Give them a try and go visit Sue. She has a fun blog and posts a variety of creative things. Plus, her photos are like WAY better than mine!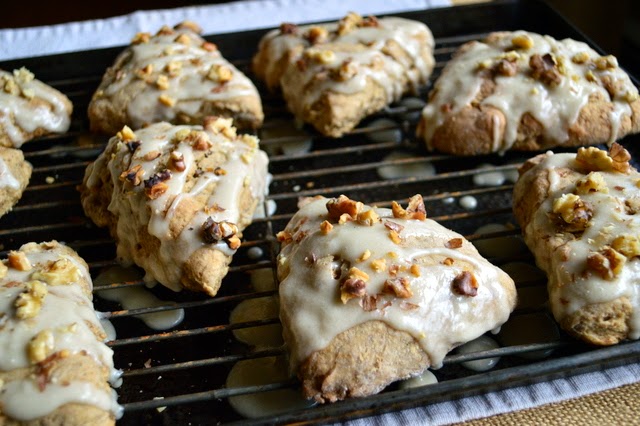 Maple Glazed Maple Walnut Scones (Adapted from The View From Great Island)
Makes 12
Time to make: About 40 minutes and 20 minutes for baking
Ingredients:
1 1/4 c flour
1/2 c whole wheat flour
1/2 c oats
1/2 t salt
2 t baking powder
1 t baking soda
1/3 c sugar
1/4 c brown or maple sugar (I used brown)
1 stick cold butter, cut into chunks
1 large egg
2/3 c buttermilk
2 T maple syrup
1 t real maple extract (Target has this and it is good)
1 c toasted walnuts
Glaze:
1 largish cup of powdered sugar
2 T maple syrup
1/2 t maple extract
A few tablespoons of milk or cream
Directions:
Using a food processor, place flour, oats, salt, baking powder, baking soda and sugars into bowl of processor. Pulse to combine. While motor is running, drop in chunks of cold butter. Now throw in the toasted, but cooled walnuts, and briefly pulse. In a measuring cup, lightly beat the egg, then add the maple syrup and extracts. Then add enough cold buttermilk to bring the liquid to one cup. With motor running, pour the liquid slowly into the bowl of the processor until mixture starts to form a wet, moist ball.
On a well floured counter, scrape out the wet dough and bring together with floured hands into a large round or square, flouring both sides well. Divide in two and using your hands pat each into a 6-8″ disc. These should be thick. Cut each round into 6 triangles. Place on a baking sheet lined with parchment or a Silpat and chill dough for about 20 minutes.
Preheat oven to 400. Place baking sheet in oven and bake for about 18-20 minutes until scones are lightly browned and firm on top.
While scones are baking, prepare glaze. Combine powdered sugar, maple extract and syrup and mix together with a whisk. Stir in 1 T of milk or cream at a time, until glaze is of a drizzling or spreadable consistency. Let scones cool and drizzle away! Garnish with a few extra walnuts if you'd like.
Please Pin and Share!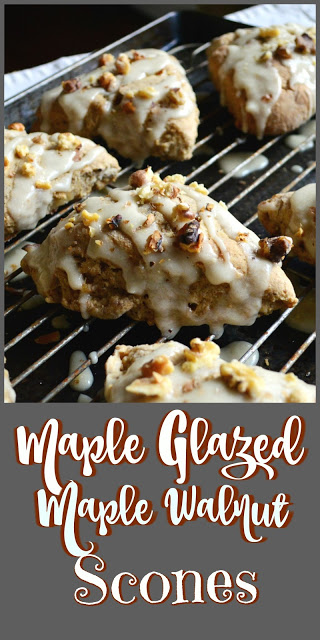 More December Food:
Gingerbread Waffles
Liege Waffles
Not My Mamas Chicken Pot Pie
Chicken, Artichoke, Mushroom Casserole
Spritz Cookies
Shortbread Cookie Cut Outs
British Scones
Chocolate Krantz Cake or Babka
Double Chocolate Mocha Macadamia Bark
Browned Butter Cream Cheese Apricot Rugelach
Soft Chocolate Crackles with Mint M and M's
World Peace Cookies
Latke 1 or Latke 2
Sweet Potato Latkes