Moist and full of flavor, these maple walnut cones are better than any I've tasted. If you like maple and you like scones, these maple glazed, maple walnut scones are for you!
(This is an updated post from December, 2014)
I used to order the maplewalnut scones from Starbuck's, but I really don't frequent there anymore, and besides they were always just OK. If I remember correctly, they were kind of dry and dense and crumbly, in a messy kind of way.
Last year I found a recipe for maple scones on "The View from Great Island." I pinned it to save and bake because I love maple and I love scones.
Well, thanks goodness for Sue! Sue's maple scones are everything I would want in a scone.
They are moist, but not too moist. They are light, but not too light. And they are easy to make.
The maple glaze is incredible and the toasted walnuts give these scones a fabulous texture!
Plus they taste unbearably good. These are huge and it is hard to stop with just one.
Sue uses oat flour in her maple scone recipe.
Oat flour is easy to make by simply grinding oats in the food processor until they are fine. They also sell it in the grocery.
My take was a bit different because I used oats as is, and mixed in some whole wheat flour which gives these scones a very wholesome, earthy taste.
These were a hit in my home around Thanksgiving and since Manservant and I were the only ones home, that means I ate them all! Dangerous stuff, these maple glazed maple scones.
Scones are not overly sweet which is why this maple glaze compliments them perfectly. Baking powder helps them to rise and keeps them from being too dense.
Buttermilk helps the scones stay tender, but cream or milk can also be used.
Don't have buttermilk? Simply add one tablespoon of white vinegar to almost eight ounces of milk. Stir and let stand 5 minutes and it is ready to use!
Try to find real maple extract. It is so worth it especially if you are a maple lover. And don't use too much. In this case, too much may make the scones taste bitter.
One of the fun things about writing a blog is reading other blogs. I really don't have enough time to read as many as I'd like, because there are so many good ones out there.
Yes, many people are just looking for THE recipe, but after awhile if one reads a blog, you get to feel like you know someone. You get a feel for their tastes and what they like to cook or what they have fun doing.
One starts to feel connected, which explains why I never get to read as many as I want. It takes me a long time just to read the ones I follow regularly.
I always try to share a bit of my life on my blog because I think that makes it seem more interesting, but if you are just coming for the recipe, that's OK, too.
In fact, if you don't want to read what I write, you can just click the jump to recipe at the top of the page and skip over all my gibberish!
Of course, I also write because one day I hope my kids will be reading these bits and pieces and sharing them with their kids! (Well, that is if they ever have kids!)
Many people think that one has to invent their own recipe to post it, but I really don't agree with this. I think a good recipe is like a great painting. Share it with the world and the world will be a better place.
Not everyone has the time to search for a good recipe, so I look at blogging as a way to help others out. Just like I've always believed that getting 2-3 good recipes out of a cookbook is worth it; I also believe that finding a blogger because I like what they post, is worth it too.
There are so many recipes out there that it is hard to sort through them all. If I can find a blogger or a cook book that helps make it easier, than that is good news for me.
Once I discovered Pinterest, I started pinning lots of recipes that I hope to try one day. Just like all the great books, I want to read in my lifetime, there are many outstanding recipes I hope to cook.
Pinterest is a great way to keep track and get new ideas for every subject one can possibly think of. Follow me and check it out!
Now it's time to enjoy these scones. They are worth it. And if you have a chance, stop by and say hi to Sue, too!
More Scones?
(These are the classic scone and very different from the maple. They are very popular, too!)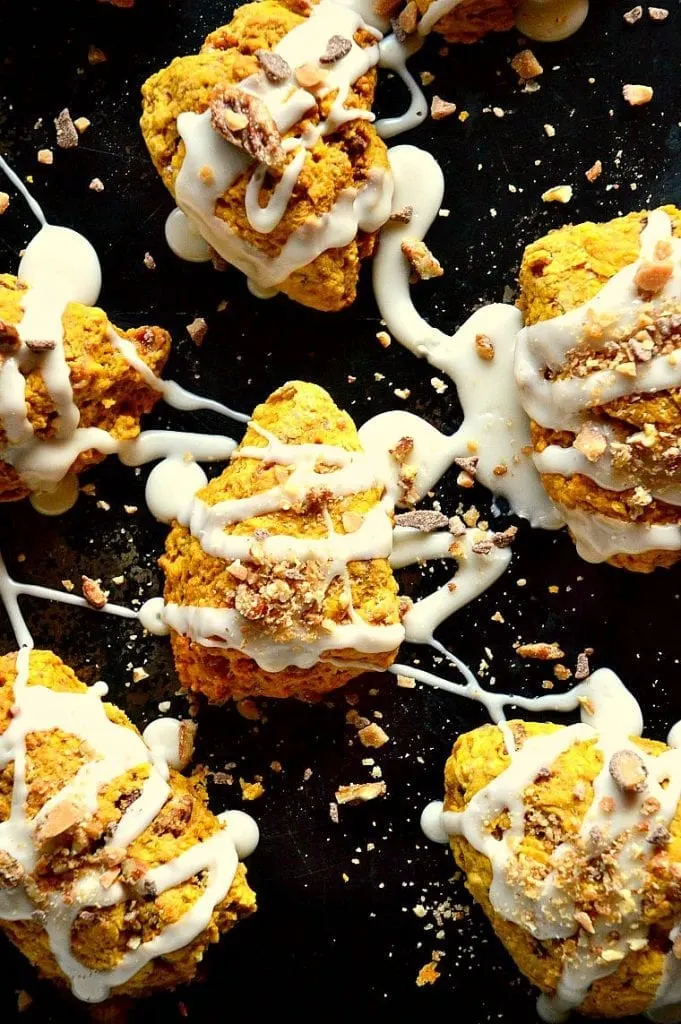 More Goodies:
Chocolate Krantz Cake or Babka
Double Chocolate Mocha Macadamia Bark
Browned Butter Cream Cheese Apricot Rugelach
Soft Chocolate Crackles with Mint M and M's
World Peace Cookies
Please Pin and Share:
This post may contain affiliate links. Please see our disclosure policy.
Print
Maple Glazed Maple Walnut Scones
Author:

Abbe Odenwalder

Prep Time:

40 Minutes

Cook Time:

20 Minutes

Total Time:

1 hour

Yield:

1

2

1

x

Category:

Bread

Method:

Baking

Cuisine:

American
---
Description
These moist maple scones are a hit in our home. Glazed with a maple glaze and garnished with toasted walnuts, they are a good anytime treat.
---
1 1/4 c flour
1/2 c whole wheat flour
1/2 c oats
1/2 t salt
2 t baking powder
1 t baking soda
1/3 c sugar
1/4 c brown or maple sugar (I used brown)
1 stick cold butter, cut into chunks
1 large egg
2/3 c buttermilk
2 T maple syrup
1 t real maple extract (Target has this and it is good)
1 c toasted walnuts, cooled
Glaze:
1 largish cup of powdered sugar
2 T maple syrup
1/2 t maple extract
A few tablespoons of milk or cream
---
Instructions
Using a food processor, place flour, oats, salt, baking powder, baking soda and sugars into bowl of processor. Pulse briefly to combine. While motor is running, drop in chunks of cold butter. Now throw in the toasted, but cooled walnuts, and briefly pulse.
In a measuring cup, lightly beat the egg, then add the maple syrup and extracts. Then add enough cold buttermilk to bring the liquid to one cup. (You may not need all the buttermilk. But here in Colorado where it is very dry, I sometimes use it all.) With motor running, pour the liquid slowly into the bowl of the processor until mixture starts to form a wet, moist ball. Once mixture has formed a ball, stop adding buttermilk! You may need to scrape some of the dough off of the sides of the ball using floured hands.
On a well floured counter, scrape out the wet dough and bring together with floured hands into a large round or square, flouring both sides well. If you need to add a bit more flour, feel free because it is important to get the right consistency.
Divide in two and using your hands pat each into a 6-8″ disc. These should be thick. Thin scones become crispy and no one likes a crispy dry scone! Cut each round into 6 or 8 triangles.
Place on a baking sheet lined with parchment or a Silpat and chill dough for about 20 minutes.
Preheat oven to 400. Place baking sheet in oven and bake for about 18-20 minutes until scones are lightly browned and firm on top.
While scones are baking, prepare glaze.
Combine powdered sugar, maple extract and syrup and mix together with a whisk. Stir in 1 T of milk or cream at a time, until glaze is of a drizzling or spreadable consistency.
Let scones cool and drizzle away! Garnish with a few extra walnuts if you'd like.
---
Notes
Adapted from The View from Great Island
I buy my real maple extract from Target or it can be found at specialty markets.
To make buttermilk, add 1 T white vinegar to almost 1 cup of milk. Stir and let sit 5 minutes.
Keywords: Maple walnut Scones, Maple Scones Recipe, Maple Oat Scone, Maple Glaze for Scones, Maple Oatmeal Scones