Salsa macha is a Mexican condiment. Though it is a salsa, this chili oil is intended for drizzling-not dipping with tortilla chips. I must say I think this was the best recipe to come out of our Thanksgiving this year! Similar, but with different flavors this could be compared to a chili crunch or an Asian chili sauce. So, so good!
Salsa Macha is best compared to Chinese chili paste or chili garlic oil.
It is an extraordinary salsa that is best used for adding flavor to food. Just as you would use chili oil, one could use this.
From the area of Veracruz this macha salsa is made with nuts, seeds and chiles.
This version, which I luckily found on Food 52, is made with pecans, garlic, chiles and sesame seeds.
Ordinarily it is made with peanuts, but my guess is most any nut could be used.
Additionally, this recipe adds dried cranberries which help balance out the umami flavors.
Definitely not traditional, this salsa macha recetas is truly the bomb.
You can understand why I was attracted to this for our Thanksgiving table. Pecans. Check! Cranberries. Check!
And combine those with chiles, garlic and sesame seeds and woohoo! This is the perfect drizzle for a smoked turkey.
An oil based sauce this flavorful concoction is sure to become more popular and I bet it will be used in similar ways as one would use Chinese chili oil.
Filled with lots of crunchy goop, one could use that, the oil, or both, to drizzle on quesadillas, avocado toast, or just a simple roast chicken.
Hmm. Grilled shrimp or veggies would benefit, too!
Not as spicy as you might guess, this chili oil is sure to please. We used it on our sweet potatoes and smoked turkey!
Since this is now the time for gifting, this addictive sauce would make a perfect gift for most anyone.
Add in some glazed pecans, and you have a gift that anyone would envy.
How do you make Salsa Macha?
Making this salsa macha recipe is as easy as combining oil, garlic and pecans in a large saucepan and cooking over medium heat until the garlic is golden brown and the oil lightly bubbles.
Be careful not to burn the garlic though, so low and slow is the way to go.
Once this step is done, transfer the garlic and nuts to a heat-proof metal bowl.
Add the chiles to the hot oil until they turn slightly red, which only takes about 30-60 seconds.
Remove those and place in the bowl with the nuts and garlic. Pour sesame seeds into the oil and let those sit until you are ready to make your sauce.
From there it's a matter of adding the chile garlic nut mixture to your food processor bowl along with some salt, bay leaves and oregano and combining those until everything is coarsely chopped.
Then slowly drizzle in the sesame oil through the feed tube until your mixture is more finely chopped.
Last, but not least, add the cranberries and pulse to combine. Transfer to a jar and store at room temperature for up to 5 days. After that chill in the fridge.
I guarantee this will sit in the real estate in my fridge next to the Chinese garlic chili paste and the Trader Joes chili crunch and I bet this one gets used first. It is that good!
Several recipes add vinegar. Some use olive oil and others use brown sugar. Yes, there are countless ways to make this and I can't wait to try all of them out.
What chilies should you use in Salsa Macha?
I used guajillo chilies, sometimes labeled chile ristra, in this. They are a mild chile with a hint of sweetness and used in many Mexican dishes.
For heat I used chili arbols, the tiny red chiles that can be seeded if you like less heat.
Could you use anchos or chipotle? Yes, you could.
I've also seen cocoa nibs added and since I have some in the pantry, I just may do that next time.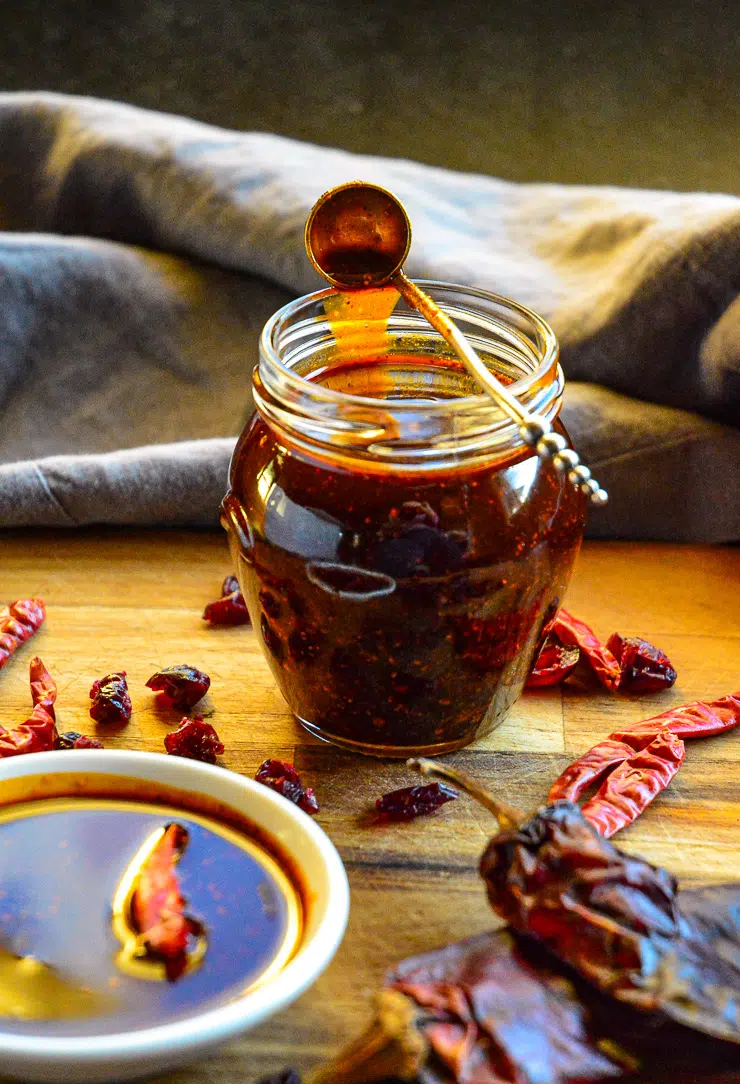 No dried cranberries? Not necessary at all and you could use dried blueberries or raisins, though I would use less, since they are sweeter.
Get ready to have fun with this salsa macha recetas, or brave salsa, as one might say this translates too. And though I looked up the meaning of the name, none of them seemed quite clear so I'll just leave it at that.
Salsa macha is my new favorite condiment. Dipping sauce. Chile crunch. Enjoy.
Need a Few More?
I'd Love It If You'd Follow Me on Pinterest and Pin and Share!
Print
Salsa Macha with Cranberries and Pecans
Author:

Abbe Odenwalder

Prep Time:

10 Minutes

Cook Time:

10 Minutes

Total Time:

20 Minutes

Yield:

2 cups

1

x

Category:

Sauce

Method:

Stove Top

Cuisine:

Mexican
---
Description
Salsa Macha is the Mexican alternative to Asian chili sauces. If you like chili sauce, this is one you shouldn't miss!
---
1 1/2 c Canola oil
5 peeled garlic cloves
3/4 pecans
8 chilies guajillo, stemmed and seeded
3 chiles de arbol. stemmed and seeded if you don't want heat
2 T raw white sesame seeds
1 1/2 t Kosher salt
2 dried bay leaves, crumbled
1 t dried oregano, marjoram or thyme
1/2 c dried cranberries, sweetened
---
Instructions
Heat 1 1/2 c oil, garlic and pecans in a large saucepan over medium low, until garlic is golden brown and oil slightly bubbly. Remove from heat and use a slotted spoon to transfer garlic and nuts to a heatproof bowl.
With the saucepan off the heat, toss the dried chilies into the oil until the oil turns slightly red and the chilies are fragrant and brick-red colored, about 30 seconds to a minute. Transfer chilies to garlic nut mixture bowl and let cool 5 minutes.
Add sesame seeds to hot oil and let sit until ready to use.
Puree garlic-chile mixture, 1 1/2 t salt, bay leaves and oregano in the food processor until coarsely ground. With motor running, slowly drizzle in sesame oil mixture until all oil has been added and chilies and nuts are finely chopped.
Add cranberries and pulse to combine. Transfer to a jar, seal and store at room temperature for up to 5 days. After 5 days, chill in the fridge.
---
Notes
Feel free to use different chiles or nuts.
Keywords: salsa macha, salsa macha recetas, salsa macha recipe, chili oil