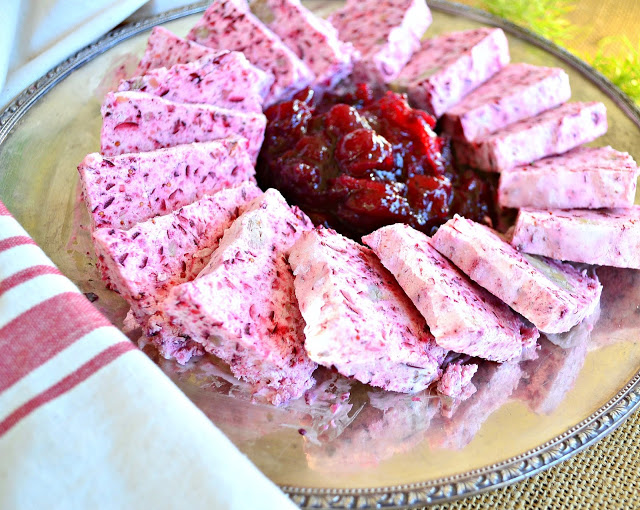 I'm supposed to be cleaning the house today. Needless to say my day just isn't working out as planned. Instead of cleaning, I'm thinking about cranberries, which makes me think about Thanksgiving, and then my brain wanders off to thoughts of the Macy's Thanksgiving's Day Parade. Then I remember about how quiet my house will be this year. Yeah, I know some years are like that and it is to be expected, but it just doesn't make it any easier now does it?
So, back to cranberries. Our home has been featuring these cranberries since I wandered off to college a long, time ago. I found these in a food processor cookbook but that cookbook fell apart some years back. In fact, I can't even find the original recipe. I suppose I could if I searched long enough; after all I am supposed to be cleaning house.
Now I'm just a teensy bit embarrassed about the pictures you will soon see. Yes, I usually cook with very fresh, wholesome ingredients but way back when Cool Whip was cheaper than heavy cream, and still is. (You could whip your own heavy cream and add a touch more sugar to balance out not having the sweet Cool Whip. Of course that would also take more time and an extra appliance.) Yeah, it is hard to change a good thing and this is GOOD. It always seems to counterbalance the heavy starches of a Thanksgiving meal. I suppose you could serve it as dessert but for us it was always considered a salad for our Thanksgiving meal. I guess we moved up in the world from Jello; though I know my father probably still wishes it would grace his plate.
Secret Ingredients
This is about as easy as it gets, as long as you have a food processor. And it does need to be made ahead of time so that it can freeze-which is a good thing because it means one thing out of the way. I did have the pleasure of making this yesterday for the Thanksgiving dinner for the older CASA kids. They had a great time feasting, though I did notice that cranberries didn't grace many plates. Mac and cheese seemed to be the star food for them. But that's OK-because I just took my cranberries home and put them back in the freezer and now there are some for me!
Print
Frozen Cranberry Salad
Author:

Total Time:

15 minutes

Yield:

12

-

16

1

x
---
1

bag fresh cranberries

1 1/2

c sugar

8 oz

cream cheese

½

c walnuts or pecans, chopped

8 oz

can crushed pineapple-drained

½

of a regular sized container Cool Whip or about

3 cups

, though this is personal preference. If you want it creamier you can add more.
---
Instructions
Chop cranberries finely in food processor.  Empty into a big bowl.  Add sugar to cranberries and stir well.  Chop nuts in processor. Add to cranberries. Cream cream cheese in processor and add to bowl. Stir in pineapple. Add Cool Whip and now look at your beautiful pink concoction.
Freeze in lightly greased with Pam or canola oil, or 1- 9 x 5  or 2- 8 x 4 loaf pans. When ready to serve, let thaw for about 10 minutes before unmolding. Slice into pretty slices OR you can also freeze this in cupcake liners in a muffin pan. Then you already have individual portions.
---
More to try:
Cranberry Chipotle Wonton Cups
Smoky Pumpkin Hummus
Hot Brown Sandwich
Pumpkin Chipotle Soup
Tamale Stuffing
Truffled Scalloped Potatoes
Fresh Cranberry and Apple Salad
Cranberries with Tequila and Orange Bitters
Pecan Shortbread Bars
Maple Pecan Cream Cheese Poundcake
Maple Glazed Challah Rolls
2017 Thanksgiving Favorites