This post may contain affiliate links. Please see my disclosure policy.
When it comes to pimento cheese recipes this peppadew and green chile version is over the top good. If you want something to disappear fast, than this is your magic ticket!
(This is an updated post from 2013)
Yes, I took liberty on the myriad number of pimento cheese recipes out there and came up with this. This pimento less cheese that looks like pimento cheese but is really peppadew cheese, well, it is might tasty. Perhaps it's the Hatch chiles that I bought fresh roasted over on Federal Blvd. (Yes, they took a long time to peel and seed, but hopefully they will get us through the winter. (A half bushel didn't make it through last year, so we upped our game.) But maybe it's the peppadews. Then again it could be the garlic and the jalapeno cheese mixed with the sharp Cheddar. I can't tell you. BUT…I can tell you that this pimento cheese recipe is good.
Pimento cheese recipes were not on my radar when I was young. I recall seeing it in a plastic tub at the grocery and well, it just never looked that good. In fact, it didn't look good to me at all, but I didn't eat much cheese as a tyke. American cheese was standard in our home and I never took to it, so cheese and I weren't close friends for a long while. Then I married a guy from Texas and started hearing about Mom's pimento cheese, but even then, he didn't sway me.
Well, to make things short, which you know I'm not very good at, I decided to reach out and see what all the fuss was about. It began at Costco where they have their own version of pimento cheese, which is quite good. However you always have to choose three tubs of any variety and I don't like to do that. Cheese is dangerous stuff to have around. Especially when you are watching your figure…so to speak.
Finally I decided it was time to venture into Southern territory and Fall is the perfect time to make this pimento cheese recipe where peppadews sub in for pimentos. Or not. And not wanting to buy three tubs of cheese meant making my own. Manservant was thrilled. After all, jalapeno cheese and green chiles are two of his favorite ingredients. So if you are looking for new pimento cheese recipes, please try this!
What exactly is a peppadew?
Peppadews are described as a cross between a tomato and a pepper, however it is actually a spicy, piquant pepper discovered in South Africa in 1993. After growing for 6 – 8 weeks these spicy peppers are then picked, de-seeded and bottled in a unique sweet brine mixture. This gives them that incredible sweet and spicy profile.
Peppadews look like pimentos when mixed into this recipe but they give this recipe some extra zip. However no peppadews? No worries! Pimentos are just fine. Other than making the cheese red, I couldn't ever figure out the addition of pimentos. I could never really taste them, though they did make the cheese look pretty. Peppadews lend a spicy sweetness that I really enjoy. Plus they are from South Africa and I love South Africa. And I miss South Africa, but don't get me started…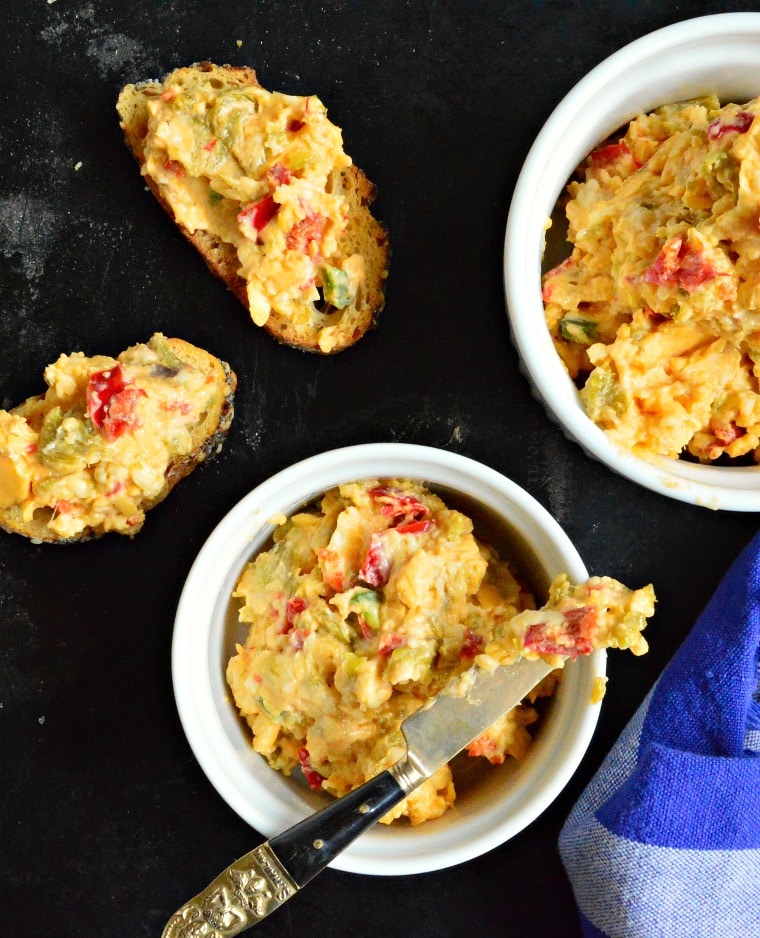 Pimento Cheese Recipes:
There are a zillion! Pimento cheese is often referred to as "caviar of the South" or "pate of the South" and pimento cheese sandwiches are one of the most popular food items at the Master's Tournament in Augusta, Georgia. So… pimento cheese is famous and this pimento cheese recipe should make it to the Master's! If I say so myself…
What to do with this green chile peppadew/pimento cheese? Well it's easily plopped on a tortilla for a quick and awesome quesadilla. Or plopped on a burger to make a great cheese burger. It is great mixed into eggs, or as is on a cracker, chips of any variety and don't get me started with the thought of grilled cheese. Or on a BLT. Or mixed into mac and cheese. Or stuffed into peppers or even peppadews! Pimento cheese sandwiches are a classic as is stirring this savory spread into grits. My mind is overflowing which it has done a lot of lately…
Peppadew green chile cheese has a nice ring to it. If you are looking for pimento cheese recipes, this is a good one. Enjoy with a beer. With a margarita. With bacon. With crackers. With a football game. With your fingers. Just sayin'!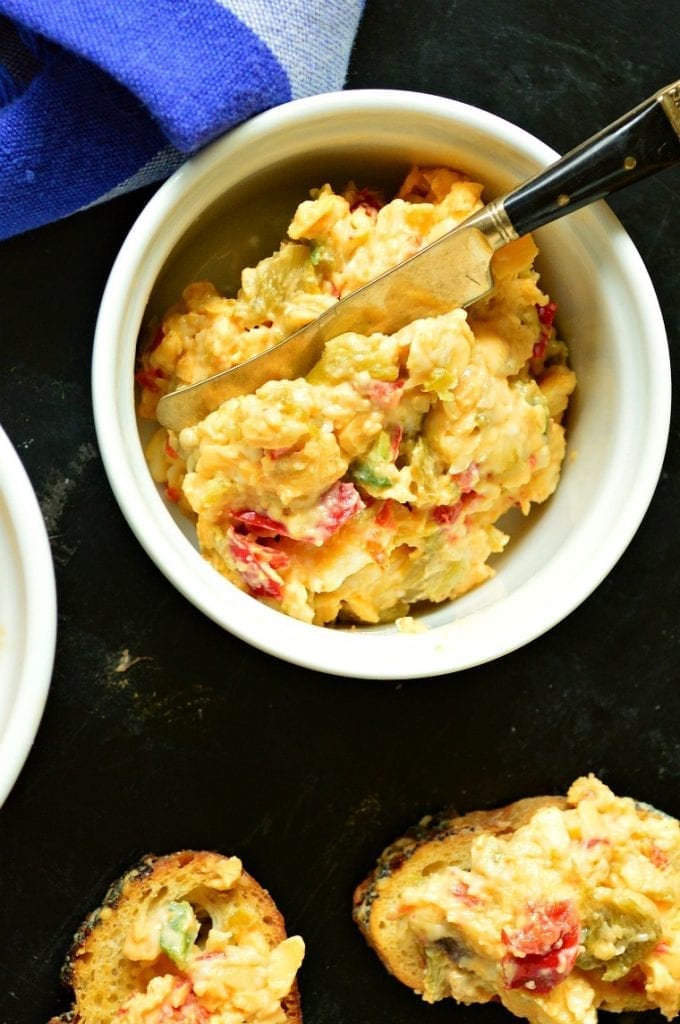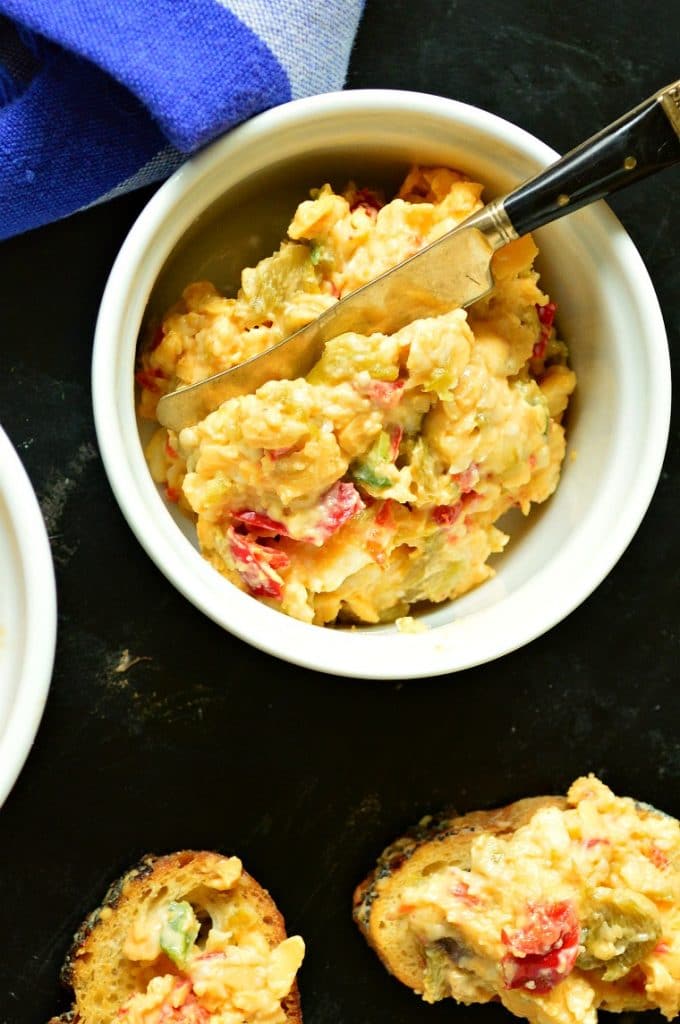 Please Pin and Share:
I'm partnering with Amazon to help keep this site afloat. I may earn a small commission at no cost to you, which I use to help pay for costs of keeping this blog going.
Cooking Crap Utensils I have:
So a word about graters. I still use a very old fashioned one like the first one. For hard cheese and lemons I use the second. If I wanted to upgrade, I suppose I could get the third. But honestly, I was amazed at the price of a new Cuisinart. I still have the one I got married with that was probably double this price back then. I think it might be time for a new one!
Print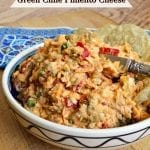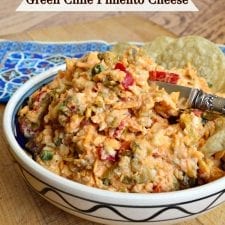 Pimento Cheese with Peppadews and Green Chiles
Author:

Prep Time:

15 Minutes

Total Time:

15 minutes

Yield:

2 cups

1

x

Category:

Appetizer

Cuisine:

American
---
Description
When it comes to pimento cheese recipes this peppadew and green chile version is over the top good. This will disappear fast!
---
8 oz freshly grated Cheddar
8 oz freshly grated jalapeno jack
1 c chopped green chilies or 1-2 4 oz cans (to your liking) Well drained
1/4 c chopped minced onion
1/2 c chopped, drained peppadews or pimentos
1/2 t smoked paprika
1/2 t garlic powder
2 t Worcestershire
1 jalapeno, seeded and finely chopped (but if you want more spice leave some seeds in)
1/2 to 3/4 c mayonnaise (This depends on how spreadable you want this)
---
Instructions
Throw it all in a bowl. Mix it up gently with a large spatula. Let it sit as long as you can, to let the flavors meld together. I do not mix this in a food processor because I am always worried it may turn out too gummy. If you do, beware to not over mix.
Always serve at room temperature. It tastes so much better than cold! However it keeps well in the refrigerator.
---
Keywords: pimento cheese recipes, pimento cheese spread, peppadew cheese, peppadews, Pimento green chile cheese, pimento cheese, easy pimento cheese recipe, easy pimento cheese.