Everyone need a perfect fall salad and I think this is it! Farro is one of my favorite grains with its chewy texture and mild taste, some might even compare it to barley. I love adding it to salads, especially those that don't contain protein, because farro provides protein, whole grains and lots of fiber. We all need that in our diet.
I also am a fan of kale and though I know some aren't, there are ways to make it more likeable. For starters one can buy baby kale, but I buy bagged kale and chop it finely. Some say to massage the dressing into the kale but I find if it is fine enough there is no need. One advantage of using kale in salads is that leftover salad doesn't wilt. In other words the salad keeps overnight, even if previously tossed with dressing.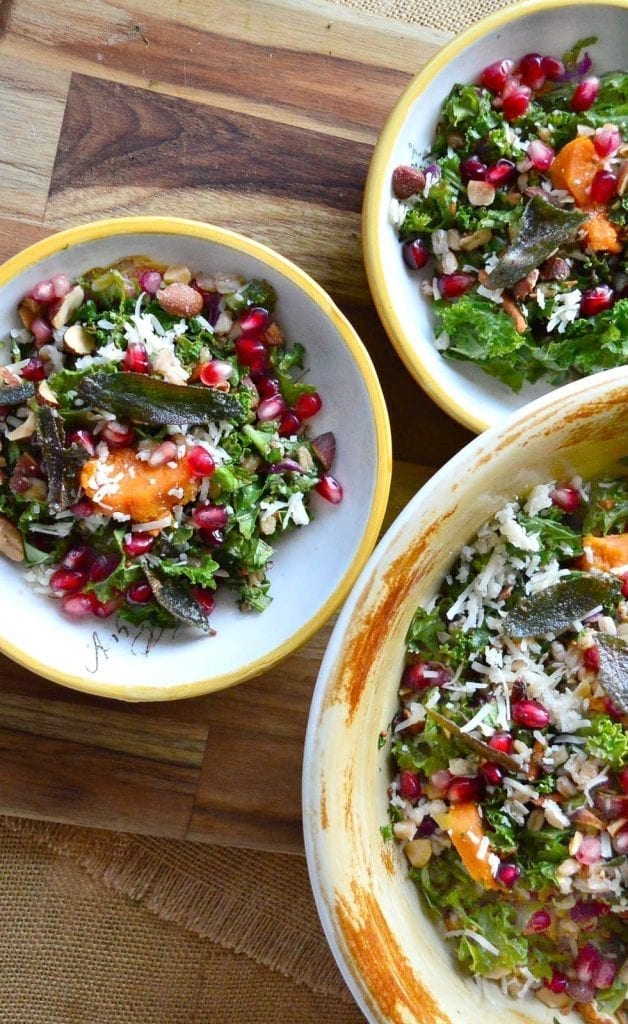 Squash is one of my fall favorites so I added some steamed squash to give this salad some sweet goodness. One of my favorite tricks to cook squash simply is to slice it lengthwise down the middle, scoop out the seeds, flip it over onto a lined baking sheet and pop it into an oven set to 375. Cook until you can easily stick a fork into it.
But my favorite part of this amazing fall salad is the vinaigrette. Most of us, me included, think of vinaigrette's as containing oil. Yes, most do, but in this case I subbed in browned butter which makes this delectable indeed. And of course adding fresh sage leaves to the browned butter and frying them crisp makes me want to just spoon said butter right into my mouth! I love this sagey, sweet, rich vinaigrette and can't wait to use it directly on other roasted vegetables.
This salad belongs to cool fall nights. Topped with pomegranate seeds or even cranberries, some smoked almonds and yes, the sage flavored butter; well this fall salad is dressed to impress. I accessorized with some Toscano black pepper cheese, but feel free to use your favorite. Add in some grilled chicken or yes…some crisp bacon if you must, but either way this salad surely will be the most popular one on the runway!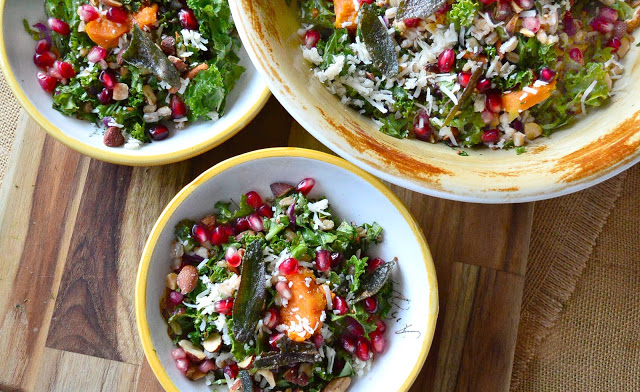 Farro and Kale Salad with a Sage Browned Butter Vinaigrette
Serves 2-4 Depending on if using as a main or side dish
Time To Make: About 30 minutes
Ingredients:
Dressing:
4 T butter
20 sage leaves approximately
1 T balsamic or sherry vinegar
2 T stone ground mustard
1 T maple syrup
2 T finely chopped shallots
Salt and fresh pepper to taste
Salad:
4 c finely chopped kale
1 c cooked farro (according to package instructions; I cook mine in chicken broth)
3/4 c roasted or steamed squash
1/4 c chopped smoked almonds
2 oz grated cheese
Handful of pomegranate seeds or dried cranberries
Directions:
Melt butter in a sauce pan over medium heat. When it is melted add in sage leaves. Butter will sputter and foam as it turns golden brown. Watch as it turns golden, as you don't want this to burn. Yes, the milk solids will settle to the bottom of the pan and that is OK. Also carefully watch your sage leaves. They cook quickly and you don't want those to burn either. I also flip them to crisp both sides. Take them out as cooked and sprinkle with salt. (These are a delectable snack!) Set aside.
Pour butter into a measuring cup and whisk in vinegar, mustard and maple syrup. Stir in shallots and season with salt and pepper. Set aside.
Combine kale, farro and squash and toss well. Add vinaigrette and toss salad. (I only used 1/2 of the vinaigrette, but that is up to you.) Garnish with almonds, cheese, pomegranate seeds or cranberries and finally your delicious fried sage leaves. Serve on a cool fall night!
Others to try:
Farro Summer Salad Browned Butter Squash Red Wine Chicken with Pumpkin

Please Pin and Share: