Who doesn't love a soft roll slathered with butter? These easy yeast rolls don't even require kneading!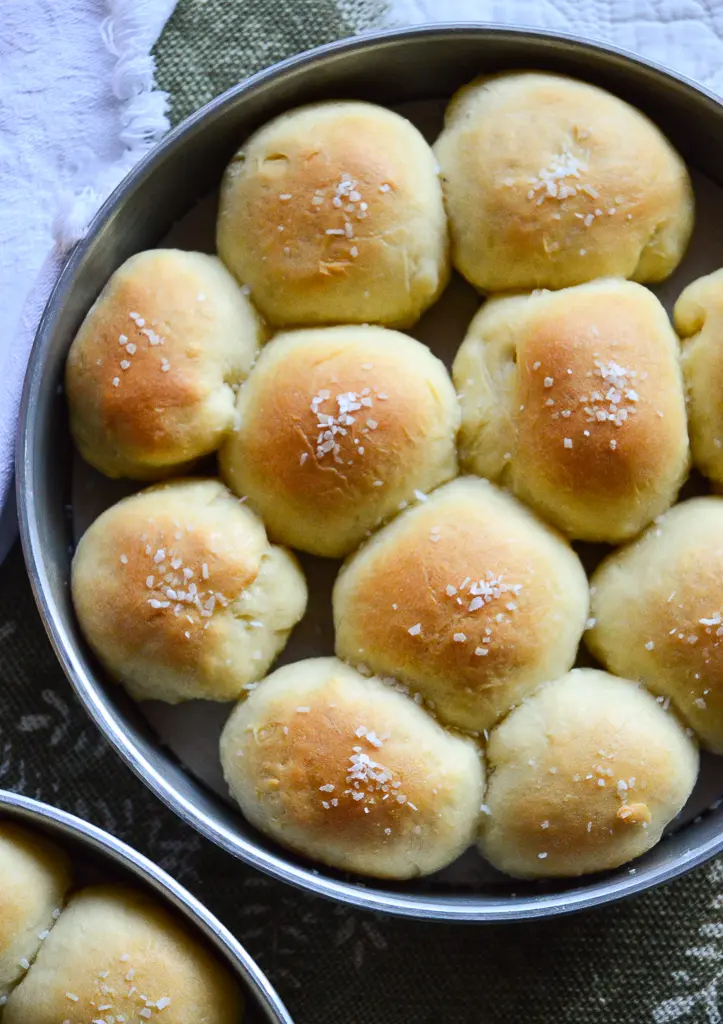 Easy yeast rolls are a special treat. Actually they don't need to be because these rolls don't require kneading and they make a whole bunch!
So what's stopping you?
I promise this is an easy yeast roll for beginners, even if you've never worked with yeast before, making these rolls is a slam dunk. I wish someone could tell me that about candy thermometers!
These soft, fluffy rolls are the perfect vehicle for lots of butter and honey, or thin slices of leftover turkey. Your choice!
Though I have a great mixer that I affectionately call Fanny, these rolls can also be made easily without one.
They begin with yeast. You can buy the active dry yeast that comes in the little packets of three that always seem to be on the top shelf in the baking aisle.
Make sure the date on the back shows one that has a long time until expiration. Nothing ruins a yeast dough recipe more than expired yeast. Think flat, hard, rolls. Yuck!
From there all that's needed is flour, butter, sugar and eggs. Plus a touch of salt.
I always use unbleached flour. I don't see the need to have more chemicals when something can be made naturally.
However bleached all purpose flour is fine and is said to produce softer, and fluffier products. I guess maybe I should try it again, but I've been using unbleached for so long!
Use large eggs. In fact, I always use large eggs because most every recipe that I know of is based on using large eggs. The other day my neighbor gifted me with fresh eggs from "her girls" so I am sure that's why these rolls are so good!
Butter. Real butter. And now the shelves are filled with so many varieties of even richer butter. I almost always use unsalted butter, because then I can add my own salt to taste but honestly, I've never tested this.
The good thing is that salted butter actually has a longer shelf because of the added salt, so unsalted butter is fresher!
If you happen to find a good price on butter, it can be frozen just fine! I so love butter. Perhaps it is because my mother always bought margarine!
Growing up we never had bread on the table. I happen to love bread and perhaps eat it a bit too often!
Baking bread is very therapeutic to me and I love it when I have the chance. The good thing about these no knead dinner rolls is that there is very little hands on time.
There are lots of ways to shape rolls, but I just kept these basic. In case you want to do something fancier, take a look at these.
This is an easy recipe for easy dinner rolls but the other marvelous thing about this recipe, is that you can make these into cinnamon rolls, too.
Just roll the dough out and fill with your favorite filling. Yes, this dough is versatile.
However if you are now craving cinnamon rolls that taste just like cinnabons, this recipe uses frozen bread dough and it is good. Like very good.
Portion this yeast dough however you want, but I used 3 9″ cake pans and next time would portion the dough into 27 pieces, which makes a fair number of rolls, I would say.
Want them smaller? That's OK also. Just decide ahead of time what you are aiming for.
This recipe said it made 50 rolls and I'm really not sure how they came up with that…which is why I always test my recipes!
Be prepared for an amazing aroma to fill your home when baking these simple yeast rolls. They smell better than any perfume I know of. If I could bottle it I would, but then we would probably all get fat!
Other Great Rolls and Biscuits!
Maple Glazed Challah Rolls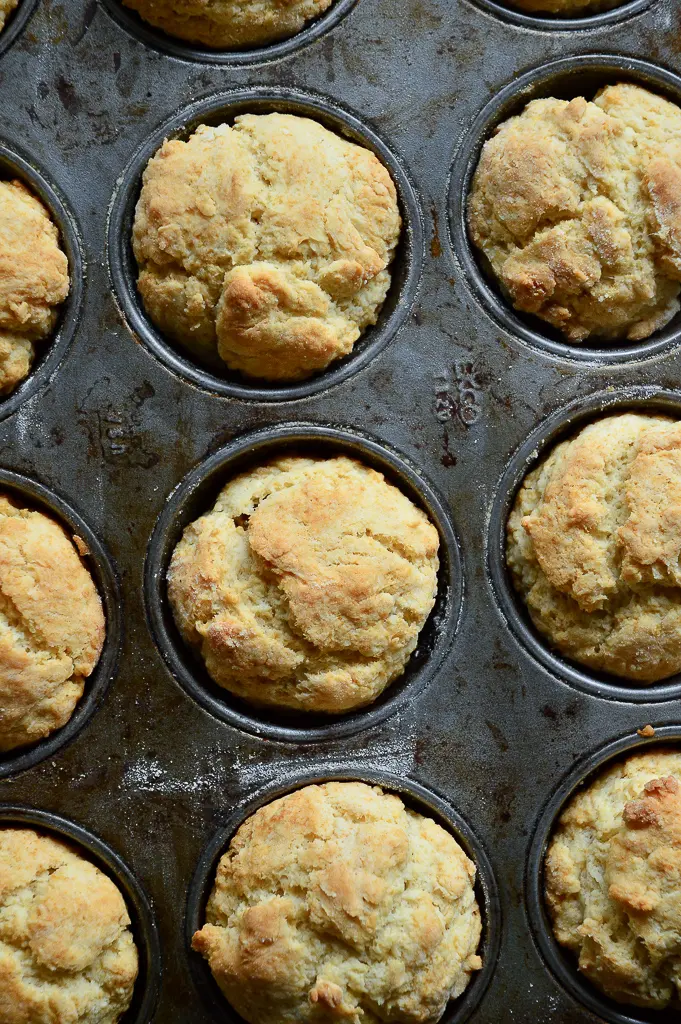 As an Amazon associate I earn commissions from qualified purchases at no cost to you. Please see my disclosure policy for further info.
When it comes to baking I love cake pans with removable bottoms. Though they don't make the ones I have, these are similar except they are deeper and are only 8″, rather than 9″. One can also use a springform pan if you like.
I do like a bench scraper when working with yeast dough.
And then there is Fanny. She's been around 40 years but I'm afraid is reaching her lifetime limits so I have my eye on this! If anyone is reading this, I prefer blue and boy! that clear bowl is so cool!
Have you missed Geordie? He always has his eye on the prize!
Print
Easy No Knead Yeast Rolls
Author:

Abbe Odenwalder

Prep Time:

20 Minutes

Cook Time:

20 Minutes

Total Time:

40 Minutes*

Yield:

27

Rolls

1

x

Category:

Bread

Method:

Baking

Cuisine:

American
---
Description
These easy yeast rolls don't require kneading and turn out fluffy and good!
---
3 eggs

3 T sugar

1 package active dry yeast

1 t table salt

1 c warm water

1/2 c cold butter plus more melted butter for brushing on rolls after they are baked.

4 c flour

Coarse salt for tops of rolls
---
Instructions
Dissolve yeast in 1 c warm water and allow to stand 5 minutes. I use a mini whisk to stir it together otherwise all the yeast tends to stand on top of the water.
In an electric mixer beat eggs until light in color. Add sugar, salt and dissolved yeast. Mix briefly to combine.
Add cold butter diced into little pieces. I slice it down the middle, turn it and slice it again and then slice it into slices. This should give you 4 tiny cubes every time you slice!
Gradually add in flour with the mixer on and using the dough hook. Keep the mixer on low and if your flour tends to go everywhere you may want to cover it with a clean dish towel while you add it. (This can also be done by hand.)
When it is well combined, shape it with floured hands and place back in bowl and cover with plastic wrap. Let rise in a warm place for two hours. I have a nice sunny window for this!
When risen, turn out onto a floured board and shape as desired. I buttered 3 9″ cake pans and shaped my dough into 27 rolls.
Let rise again covered with a clean dish towel for one hour.
Preheat oven to 350 and bake until lightly browned, about 15 to 20 minutes.
Brush with melted butter upon removal from oven and sprinkle with coarse salt.
Best served warm.
---
Notes
I froze these and plan on reheating them at 300 degrees, loosely wrapped in foil, directly on the oven rack, for about 20 to 25 minutes or until very warm!
*Does not include 3 hours rise time
Keywords: easy yeast rolls, no knead dinner rolls, recipe for easy dinner rolls, easy yeast roll for beginners