This post may contain affiliate links. Please see my disclosure policy.
Pecan Pie Bread Pudding made with corn syrup just like the real pie, is topped with a brown sugar crumble and gilded with caramel sauce. Give me this over pie any day!
Pecan pie bread pudding has recently become a new favorite of mine. And if Manservant's vote counts, I think it has become one of his, too. He adores pecan pie, but honestly it has never been one of my faves so I usually avoid it for those special fall occasions.
Well, this pecan pie bread pudding recipe has certainly changed my attitude about anything pecan pie related!
No, pecan pie bread pudding is not pie. Without a doubt it is bread pudding. But I've never made a bread pudding that basically has pecan pie filling poured over the top of it. Yes, please.
Pecan Pie Bread Pudding
Making this decadent dessert is as simple as cutting up a brioche loaf and tossing it with the requisite eggs and cream. But instead of sugar, this recipe uses dark corn syrup. Now I know corn syrup is on a lot of folk's lists as a no-no, but I figure once a year is worth it.
But hang in there with me. The best is yet to come, right? My pecan pie bread pudding is topped with a 3 ingredient brown sugar crumble that honestly, had me eating it straight out of the bowl. I do love me some brown sugar!
And then just to gild the lily further, after this sugary, pecan laden bread pudding comes out of the oven, it's time to drizzle with a caramel sauce made from … you guessed it…more dark corn syrup. You think you know dark corn syrup?
Hmmm. My guess is this pecan caramel sauce just might change your mind.
Our Thanksgiving Day crew was kind of on a sugar high after this dessert and hardly anyone had a bite of the pie I had Alex Odie make. And that's the way the pie crumbles, I guess!
With Christmas coming up, I am suggesting that this pecan pie bread pudding just might be the dessert you are looking for. Its do ahead capabilities and its rich, warm goodness, make this pecan pie bread pudding a keeper.

A few things I used to make this recipe:
When it comes to casserole dishes, I prefer those with handles. Stick with white because it goes with all dishes. Emile Henry is one of my faves, especially when it comes to pie plates. Now that I know they make casserole dishes, I may just have to treat myself.
For a standard metal 13 x 9 pan I rely on Calpahalon. This one has stood the test of time.
And when it comes to pecans, well short of picking them off the ground in Texas, I rely on these:
Need a Few More Decadent Ideas?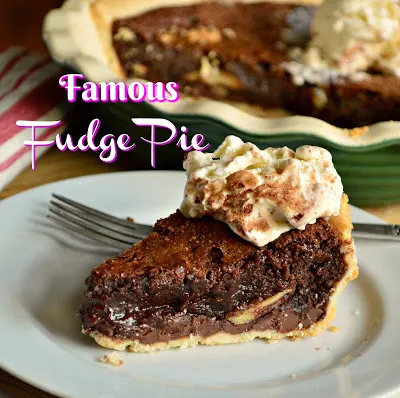 Please Pin and Share:
Print
Pecan Pie Bread Pudding
Author:

Abbe

Prep Time:

25 Minutes

Cook Time:

30 Minutes

Total Time:

55 Minutes

Yield:

8

-

1

2

1

x

Category:

Dessert

Method:

Baking

Cuisine:

American
---
Description
This pecan bread pudding is better than pie but made with almost the same ingredients. And no pie crust!
---
1 c whole milk

1 c heavy cream

1 c sugar

5 large eggs at room temperature

6 T dark corn syrup

12 1″ thick slices white bread, challah or brioche (1 loaf is what I used)

Butter for the baking dish

Brown Sugar Crumble
1 c finely chopped toasted pecans

3 c packed dark brown sugar

4 T melted butter

Pecan Caramel
1 c finely chopped toasted pecans

1 1/2 c dark brown sugar

1 1/2 c dark corn syrup

5 T unsalted butter, cut into tablespoon sized pieces

To Serve: Whipped Cream, or Ice Cream of your choice
---
Instructions
In a large bowl whisk together the milk, heavy cream, sugar, eggs and corn syrup until well combined.
Cut the bread into cubes and add them to the milk mixture. Stir until fully coated. Let the bread soak in the refrigerator for up to two days for max flavor.
Preheat oven to 375 with the oven rack in middle position. Butter a 9 x 13 baking dish and pour in the bread mixture. Sprinkle with the brown sugar crumble.
*Bake for 35 – 40 minutes or until the bread pudding is golden brown and bubbling. Let cool slightly. (I put this in the oven while we ere eating dinner.)
Brown Sugar Praline Crumble:
Preheat the oven to 300. Scatter 2 c of pecans on a baking sheet. (This is for the crumble and the caramel sauce.) Bake for 5 -7 minutes or until you can smell the pecans. Cool completely. (As an aside: feel free to toast a lot of pecans. They will always get eaten.)
Once the pecans are toasted, chop them finely. Reserve 1 c for the caramel topping. Combine the other cup with the brown sugar and melted butter and mix until the mixture resembles a crumble topping. Reserve until bread pudding is ready to go into oven.
Pecan Caramel:
In a medium sauce pan, combine the brown sugar and dark corn syrup. Bring the mixture to a boil over medium heat, whisking until the sugar is dissolved. Remove the saucepan from the heat and whisk in the butter 1 tablespoon at a time. Stir the pecans into the caramel and cover to keep warm. Mixture can also be placed in a large measuring cup and reheated in the microwave on low power until warm.
To assemble: Scoop pudding onto a bowl or plate and serve with whipped cream or ice cream of your choice.
---
Notes
Thank you Leite's Culinaria for this recipe. They suggest making your own bourbon ice cream to serve with this. Though that sounds awesome, I ran out of time and stuck with vanilla or pumpkin from Trader Joes.
Don't want to make the caramel sauce? Buy a good one and add pecans. Add some bourbon too, while you are at it.
In fact, bourbon and cinnamon would also be great added to the bread pudding mixture, too.
Mixture can also be made in individual ramekins.
This recipe is originally from Marc Forgione.
Keywords: pecan pie bread pudding, bread pudding, pecan bread pudding, recipe for pecan bread pudding, praline pecan bread pudding