A good Turkey breast brine recipe adds flavor and moisture to the turkey breast. Since turkey breast is white meat it tends to dry out more than dark meat. I always choose a wet brine for white meat, because I want a tender turkey. Just a little extra insurance!
I don't know if you do this, but when Thanksgiving approaches and turkey is at the store, I just can't resist.
So it was last weekend I spotted a fresh turkey breast at Trader Joe's.
With friends coming over I decided to make a quick version of Thanksgiving, which led me to this great wet brine recipe that produced a really flavorful turkey.
Whether you choose to wet brine or dry brine is up to you, but this simple brine, made from Bubbie's pickle juice, turned out to be an awesome turkey breast recipe.
I often use leftover brine to brine fresh cucumbers or onions, so that way I never have to throw out the delicious pickle juice.
It is so easy to wet brine a small turkey breast and using pickle brine makes this one delicious turkey breast.
With just the two of us, this makes enough turkey breast for dinner and then enough is leftover for the next day's sandwich.
Who says turkey is just for Thanksgiving?
Wet Brine VS. Dry Brine VS. Marinade
A wet brine is composed of salt, water or other liquid, and seasonings.
A marinade is primarily just for flavor.
Marinating only effects the outer surface of the turkey, whereas brining gets more to the inner meat.
However it does take longer but that way the meat has flavor all over, not just on the exterior.
A wet brine also helps plump the bird and keep it moist.
The salt in the brine keeps the muscle fibers from contracting.
As the turkey cooks it reduces the amount of moisture expelled, which results in a juicy turkey.
Turkey breasts have a tendency to become dry, so in this case I thought a liquid brine solution might be a good way to go.
You may not realize that many a Thanksgiving turkey purchased from the grocery store is already brined.
That's the solution that is injected into the turkey to help keep it moist.
Honestly, I don't buy those turkeys. I would rather make my own brine mixture, whether wet or dry, because that way I can control my own flavors.
Truthfully though, I always order a fresh turkey that is free of any solution-which reminds me I need to get that done soon!
However dry brines are packed with flavor too, but it is the salt in any brine that is the magic.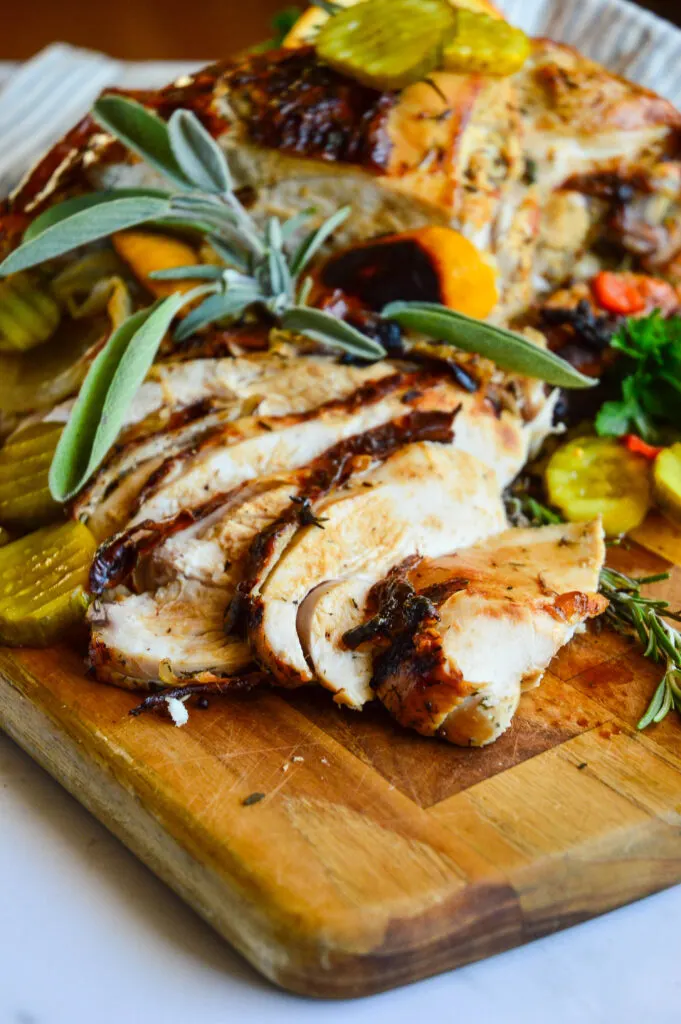 Which Turkey Breast Brine Recipe is the best?
Dry brining definitely has advantages, as if often comes down to how much space you have in the fridge.
In the case of my little turkey breast it doesn't matter.
But when it comes to the BIG turkey for Thanksgiving dinner, then you need to find a lot of real estate for a wet brined turkey.
The raw turkey must be covered with enough brine to cover the whole bird and that requires planning.
We've been known to use ice chests for this.
I often place the entire turkey in a giant clean trash bag with the wet brine.
I then take the bag and place it in an ice chest which saves room in the fridge.
It works well in Colorado because it is usually cold enough to then place the ice chest outside on the deck.
Just to be safe, I add some bags of ice on the side of the turkey.
A dry brined turkey, because it doesn't need liquid, can usually be accomodated in my fridge.
When it comes to juicy turkey breast, I choose to wet brine.
When it's the whole bird, I choose to dry brine.
Hope that helps!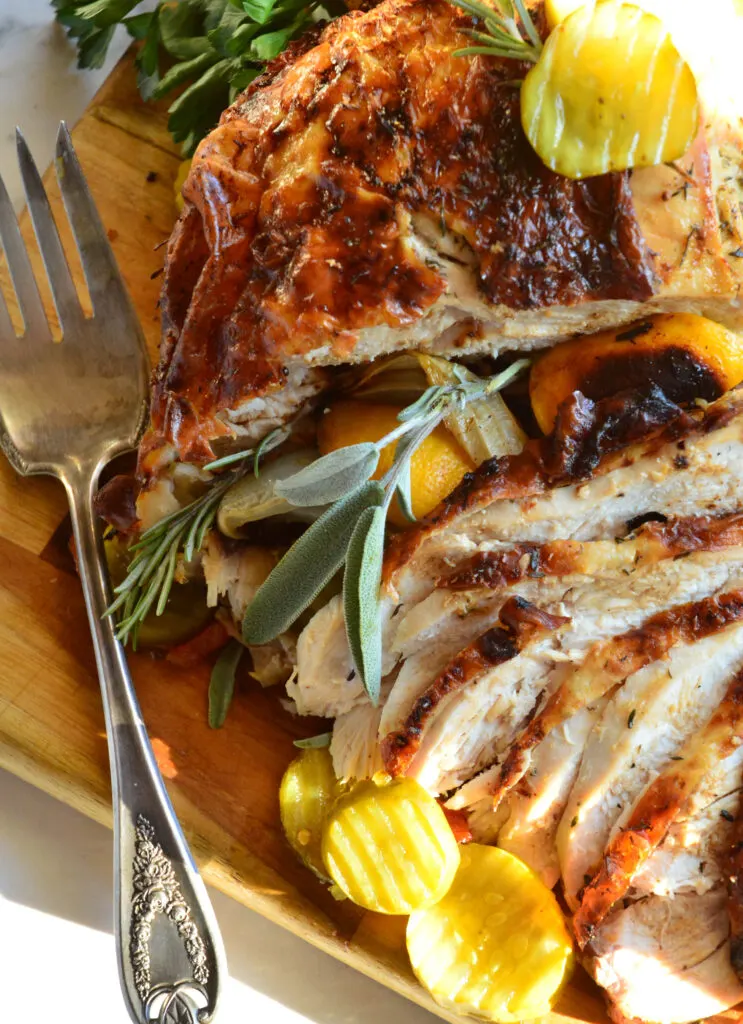 So with all that settled, let's get this bone-in turkey breast brine recipe started, shall we?
I love Bubbie's pickles. Recently they sent me a lovely gift pack complete with a cookbook!
Not only do I have a soft spot for cookbooks I have a soft spot for Bubbies'.
I had one once and though she died when I was young, I have no doubt my Bubbie probably made pickles at some point, too!
And full disclosure-I am not being paid to write this post, however products were provided.
I thought this would be a great way to utilize the delicious pickle brine that almost always is thrown away with the jar.
And since Bubbie has a recipe on the website for the whole bird, I thought I would adapt it to my simple turkey breast.
I have no doubt that any pickle brand will do as long as they aren't too sweet.
The key is you must love the pickles, because you will taste the flavor in your turkey.
To begin this easy turkey brine recipe either use a large pot or a large gallon resealable plastic bag which became my brining bag.
For a 3 lb bone-in turkey breast I used 1 cup of pickle brine from Bubbie's spicy bread and butter chips.
To that I added 1 cup cold water, 2 tablespoons of kosher salt and 2 T of Dill Pickle salt, which I found at Trader Joes.
Then for good measure I stirred in 1 and 1/2 tablespoons of brown sugar.
Just to add some extra flavor I added a 1/2 teaspoon of mustard seeds, black peppercorns and celery seeds.
Place turkey breast bag with brine in a large bowl.
Just in case it gets punctured, you don't want the bag leaking everywhere.
Refrigerate for 12 to 24 hours.
When ready to roast, take out of the fridge and bring to room temperature.
​Preheat the oven to 425.
Get out your roasting pan and dry the turkey breast with paper towels.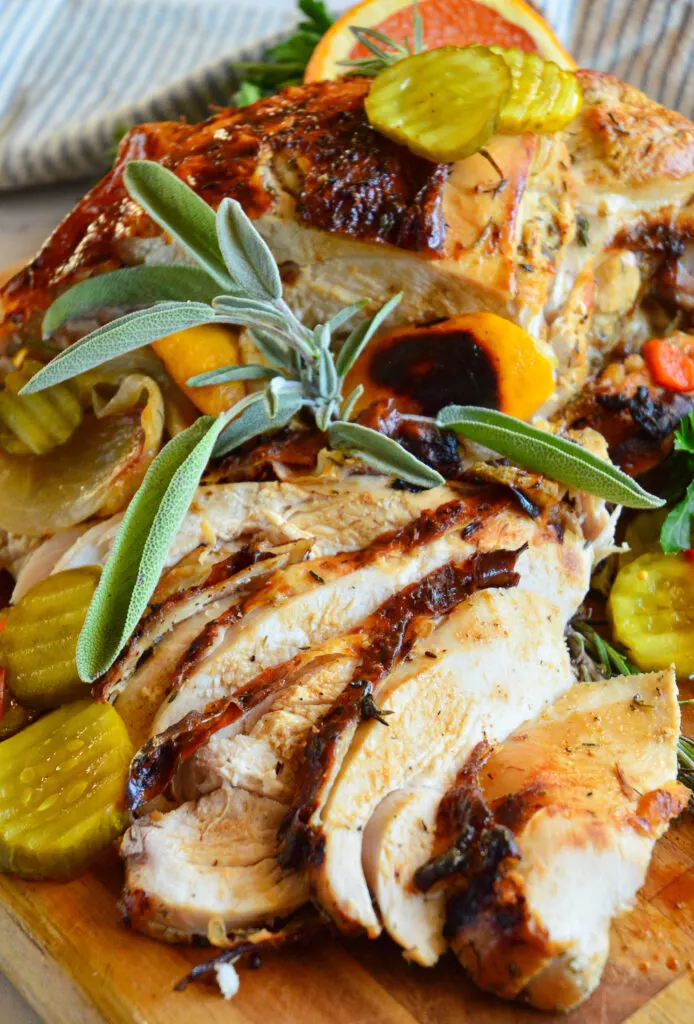 Make a bed for the brined turkey breast to lie on using lots of fresh herbs, such as dill, parsley, thyme and rosemary and 6 to 8 cloves of peeled garlic.
Add a quartered onion, a lemon and an orange.
Carefully loosen the skin on the turkey breast and rub 1 stick of butter not only under the skin of the turkey, but also over its top and bottom.
A buttered turkey is a good turkey.
The aroma of the butter melting with the turkey makes your mouth water.
Place the turkey breast side up on top of the herbs, veggies and fruit.
Cooking time is about 45 minutes, but be sure to check periodically until the internal temperature of the breast reaches 160 degrees using an instant-read meat thermometer inserted into the deepest part of the breast.
Remove from oven and let rest about 10 minutes before serving.
This delicious turkey breast was praised by my friend who really loved the pickle taste.
The wet brine produced tender breast meat and who could have guessed that pickles would make this the best turkey brine recipe I know of?
If you are really loving pickles and want to amp up that pickle flavor, make some pickle salsa to serve on the side.
And whatever you do, try out this fun recipe from Bubbie's.
I can honestly say it's the best pickle brined turkey breast brine recipe I know of!
(Say that 5 times!)
Need Some More?
This post contains affiliate links for which I may or may not earn a small commission at no cost to you.
Print
Turkey Breast Brine Recipe
Author:

Abbe Odenwalder

Prep Time:

15 Minutes*

Cook Time:

45 Minutes

Total Time:

0 hours

Yield:

4

-

6

Servings

1

x

Category:

Main Course

Cuisine:

American
---
Description
Who would have thought that pickle brine could produce a flavorful, perfectly spiced, moist turkey breast?
---
3 –4 lb fresh bone-in turkey breast
1 c pickle brine (your choice, but choose one you like and isn't too sweet)
1 c water
2 T kosher salt
2 T Dill pickle salt or use more kosher salt
1 1/2 T brown sugar
1/2 t mustard seeds
1/2 t black peppercorns
1/2 t celery seeds
To Bake The Turkey Breast:
1 quartered onion
1 quartered lemon or orange or some of both
5 cloves of peeled garlic
1 stick butter
Fresh herbs such as thyme, rosemary, dill, Italian parsley
---
Instructions
To make the brine:
Combine pickle juice, cold water, kosher salt, dill pickle salt and brown sugar in a gallon sized zip lock bag. Add mustard seeds, black peppercorns, and celery seeds. Make sure mixture is well combined and then add the turkey breast until fully submerged. Place bag in a large bowl and place in refrigerator for 12 to 24 hours.
When ready to bake preheat oven to 425.
Remove turkey breast from the brine and dry well. Gently loosen skin from breasts and rub softened butter under skin and all over outside of breasts and bottom, season liberally with salt and pepper.
Scatter thyme and rosemary sprigs and crushed garlic cloves, onions and lemon or orange over a large rimmed baking sheet and arrange turkey breasts, skin side up, on top.
Roast turkey breasts, turning halfway through, until skin is crisp and golden brown and an instant-read thermometer reaches 160 degrees when inserted into the thickest part of the breasts. You will want to cook the turkey breasts to a lower internal temperature than when cooking the whole bird. Bake for 45 – 55 minutes.
Transfer turkey breasts to a platter and let rest 10 minutes, before carving.
Serve turkey breasts with pan dripping.
---
Notes
Thanks Bubbie's for this great recipe! And great pickles!
*Does not include brining time.
Keywords: turkey breast brine recipe, pickle brine turkey, brine for turkey breast, wet brine turkey, wet brined for turkey