An overnight breakfast casserole is the best way to start a weekend. Try this Mexican version and I dare you to say, it's not!
I love a good overnight breakfast casserole. You know? Those that take about 15 minutes to assemble and then you put them in the fridge and bake them in the morning.
This easy breakfast casserole begins with defrosted hash browns, and is then layered with sausage and onions, some green chiles and cheese. Pour on the egg mixture and it is ready for the fridge!
What a way to start the day! I make this Mexican egg dish when I have more than two to feed. However I could make it for just the two of us, as it reheats quite nicely in the microwave.
Weekends call for relaxation in my book. Of course, this applies when there is no gardening or laundry, so for me this weekend doesn't qualify. In fact, I can't remember when it did!
Making this egg casserole is one way to keep things simple. Breakfast often gets overlooked and I think that's just too bad.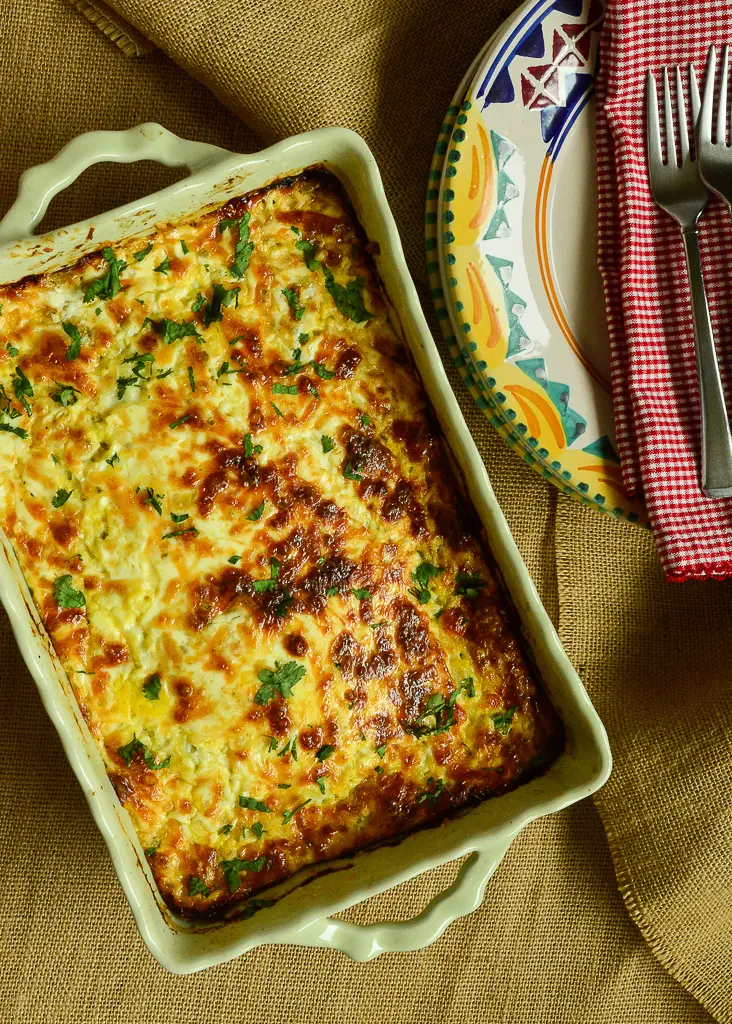 Breakfast helps set the tone of the weekend and when the kids were young we always had at least one big breakfast scheduled.
Actually, looking back, I think we did it because it was one way to guarantee them waking up before noon.
Hey, it worked, and most of the time they were half asleep, but in a pretty good mood.
During their high school years I used to make this breakfast casserole, because it seemed upon waking there were always a few more souls in our house.
I also made it when there were a lot more souls, for events like prom and homecoming.
Our house was quite popular back then and it probably has to do with the fact that our lower level opens to the outside. I am sure there was plenty of sneaking in and out during the late night hours.
Well, it has been a long time since I made this, but it still lives up to its reputation. It is easy and quick and upon waking only requires a preheated oven.
What should you serve with a breakfast casserole?
With luck I have cinnamon rolls in the freezer to serve with it. But buttered tortillas work nicely with this Mexican version.
Bacon is always good, too and a bowl of fruit is the perfect compliment.
A variety of salsas adds a great dimension to this simple casserole. One could even put out sliced avocados, chopped scallions and sliced olives so that everyone could create their own version.
And if you don't want salsa, red chile or green chile is perfect for this!
Feel free to switch chorizo to Italian sausage or breakfast sausage. Leave out the green chiles and add roasted red peppers. Try a different cheese. This easy breakfast casserole can be customized to your taste.
This is a satisfying and simple breakfast. Trust me. 15 kids will devour this in an instant, without even swallowing.
More Breakfast Casserole Recipes
Overnight Egg Casserole with Salami
Overnight Lox and Bagels Casserole
Print
Overnight Mexican Egg Casserole
Author:

Abbe Odenwalder

Prep Time:

15 Minutes

Cook Time:

50 - 60 Minutes

Total Time:

75 Minutes

Yield:

8

-

12

depending on size of pan

1

x

Category:

Breakfast

Method:

Oven/Stove Top

Cuisine:

American
---
Description
This simple overnight breakfast casserole is a great way to start your day. Customize to your own taste and enjoy the simplicity of this tasty dish.
---
4 c frozen, shredded hash browns or O'Brien cubes (Buy the large bag, but you may not use them all.)
3 – 4 c of shredded cheese (I used a combo of cheddar and pepper jack)
2 – 4 oz cans of diced green chilies (drained)
1 lb chorizo or sausage of your choice, cooked and drained (Depending on the size of pan, you may not use this all)
1 c diced onions, cooked with the chorizo
8 eggs
1 c half and half or milk
1/4 c heavy cream
3/4 c sour cream or plain yogurt
3/4 t of garlic powder
1 t of Lawry's seasoning salt
---
Instructions
Butter the casserole dish.
Take your potatoes of choice and put about a 1 and 1/2″ layer of frozen potatoes in the pan.
Sprinkle with 1/2 of the grated cheese.
Spread green chilies on top of cheese.
Put mixture of cooked chorizo/onion on top of the chilies. Sprinkle remaining cheese on top of that.
Beat eggs, half and half or milk, cream, sour cream or yogurt, and seasonings. Whisk well. Pour over casserole layers. If layers are not covered with liquid, feel free to pour more milk or cream over the top. (You just want the layers covered.)
Now cover with wrap and place in the refrigerator overnight.
The next morning, take pan out of fridge.
Preheat oven to 375. Bake 50-60 minutes until golden. Remove from oven and let sit for 5 minutes. This can be served with salsa and sour cream or green or red chile.
---
Notes
I made this for the four of us in an 11 x 7 pan which is about 6 servings. If you want to make this in a 13 x 9 pan just add 4 more eggs and 4-6 T more of milk.
Keywords: overnight breakfast casserole, breakfast casserole recipes, breakfast casserole with sausage, breakfast casserole easy, breakfast casserole Mexican, breakfast casserole recipe hashbrowns, breakfast casserole
Other great Breakfast Dishes: