Want to know how to cook a boneless rib roast? This special roast is so easy to make and makes the house smell incredible!
Want to know how to cook a boneless rib roast?
It's not hard!
Special occasions are always the perfect time to purchase a special cut of meat.
And I don't know about you, but I don't want to screw up cooking this flavorful roast.
Is a prime rib roast the same as a boneless ribeye roast?
A prime rib roast is the same as a boneless ribeye roast, only the bones have been cut away.
I find cooking a boneless ribeye roast much easier than a standing rib.
If you want a prime rib roast, this is the same cut, but no bones and it cooks faster!
Sorry, Rover!
And with any luck this easy boneless rib roast recipe will leave you enough leftovers to slice for sandwiches.
I grew up eating a beef rib roast probably once a week.
Since my grandfather had a small grocery store and a fresh meat market, a juicy ribeye roast was taken for granted.
Well, those days are long gone, but I can still smell the aroma of the roast and though I don't eat meat anymore, that was one of the best smells that ever came out of my mom's kitchen!
It is easy to cook a rib roast and this recipe doesn't even require a roasting pan.
That is if you make this along with my mom's oven baked rice which I still adore.
When it comes to side dishes, I have to admit that her rice, to me, stands above the roast.
Baked with the roast and lots of schmaltz, duck fat or olive oil, this rice gets crispy on the edges and is soft on the interior.
It's worth the price of admission even without the roast!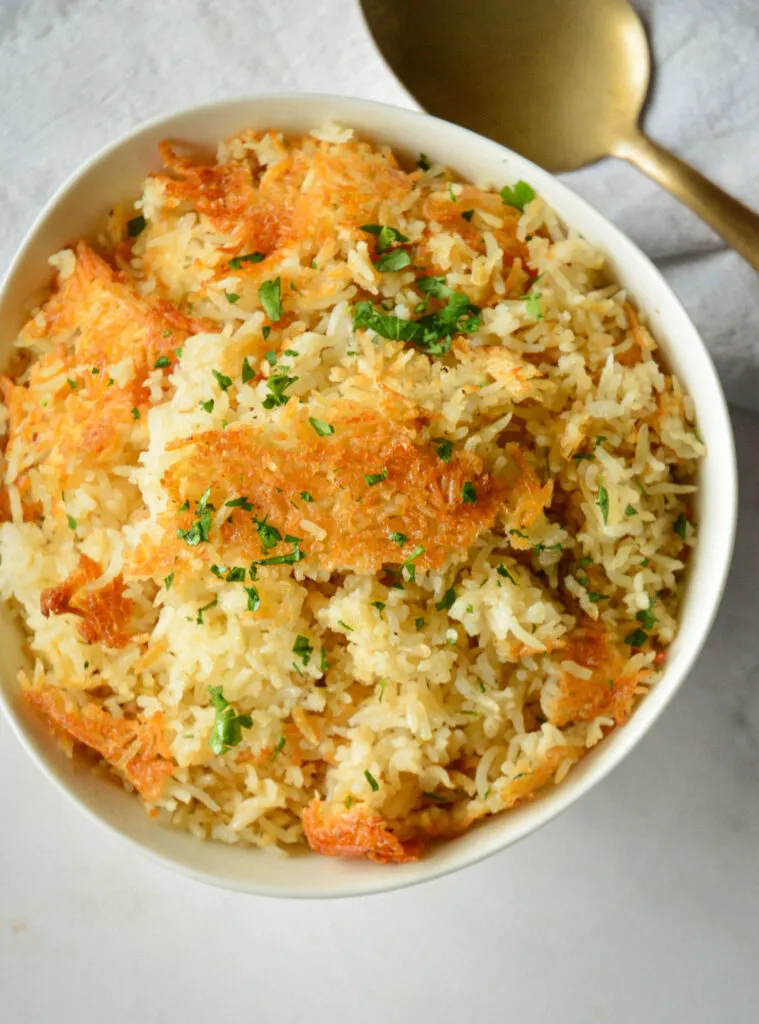 I place the roast on a roasting rack directly on the oven rack above the pan holding my mother's famous rice.
If you choose not to do that, you will require a pan, though even then I place the roast on a metal rack in a greased baking dish, so that the dish catches the drippings.
That way you can serve this beauty au jus style!
Buy the best cut of beef you can afford.
Always make it choice and if you are lucky enough to find a prime roast with generous marbling I can guarantee a perfect rib roast!
How to Cook a Boneless Rib Roast:
Always know the size of your roast because cook time is determined by the size of your roast.
The rule of thumb is to figure about 20 minutes per pound of meat.
If you are making a small 3 lb roast then it won't take more than an hour in your oven, assuming your oven keeps a correct temperature.
Which is why I always recommend a meat thermometer.
I prefer an analog instant-read thermometer.
Many prefer a thermometer with batteries, but I am not a gadget person and this one seems to work good enough for me.
For best results I always dry the meat with paper towels so that the seasoning will stick.
(When I ate meat, my favorite part of the roast was the end slice, becasue it contained all of the seasoning.)
To season a boneless rib eye roast liberally sprinkle every part of the outside of the roast with kosher salt, black pepper, and garlic powder.
Place it on a metal rack that will sit directly on the oven rack or make sure the metal rack will fit into the roasting pan.
Preheat the oven to 450 degrees.
A high temperature is used so the roast sears on the outside and takes on color.
Once the roast is room temperature and the oven pre-heated, place the roast in the oven, fat side up, for 15 minutes.
At that point turn the oven temperature down to 325 and roast 20 minutes to the pound.
As soon as your meat has cooked the required time, insert the thermometer into the thickest part of the roast and check for your desired temperature.
What is the right temperature to cook a boneless rib roast?
The internal temperature of the beef should read 135 – 140 degrees for medium rare and 140 – 150 for medium doneness before serving.
However when you remove the roast from the oven the temperature should be about 10 degrees below the temperatures above! I am telling you this twice so you don't screw up!
Remember the internal temperature will rise about 5-10 degrees while resting, so be sure to remove the roast from the oven about 10 degrees before it is done.
Let the roast rest for 15 minutes, tented with aluminum foil, before serving.
Place the roast on a cutting board, preferably one that has a groove.
Using a sharp carving knife, slice into thin or thick slices-everyone has their own preference.
This boneless prime rib roast recipe is a simple recipe with simple ingredients that delivers.
Now do you believe me that it's so easy to cook a boneless rib roast?
This roast makes a perfect holiday dinner and leftovers can be kept in an airtight container.
My Grandma Fanny mad this roast for my mom. My mom made this roast for us. And I make this roast for my kids.
Tradition? You betcha!
Had I made it to the 8th episode of The Great American Recipe, I would have made this boneless prime rib recipe.
And if any of you had radar eyes you would have seen this photo of my dad carving a roast on the shelf behind me.
Ah, how I miss those days!
(This is a new post, but the 2012 original post for this recipe which contains words from my mom is here.)
Still hungry?
Print
How To Cook a Boneless Rib Roast
Author:

Abbe Odenwalder

Prep Time:

10 Minutes

Cook Time:

Varies

Total Time:

50 minute

Category:

Main Course

Cuisine:

American
---
Description
My mom often made a boneless rib eye roast with her special baked rice. Want to know how she did it?
---
1 boneless rib roast 3 lbs or more recommended as it it hard to cook anything smaller)
1 T each of Fresh Ground Black Pepper, Kosher Salt, Garlic Powder
Fresh garlic (optional)
---
Instructions
Preheat oven to 450.
Prepare your roast by bringing it to room temperature and drying the moisture on the roast with a paper towel.
Combine the salt, pepper and garlic powder. If using the fresh garlic, cut tiny slits in the roast and place a sliver of garlic in each slit. Now place the seasonings on a flat pan and press all sides of the roast into the seasonings.
Place on a metal baking rack in a greased roasting pan-unless you are cooking this with the baked rice, in which case you will place it one the center oven rack directly above the pan of rice.
Roast for 15 minutes and then reduce oven temperature to 325. Continue baking roast until it has roasted for a total of 20 minutes per pound (make sure you know the weight of your roast).
Insert an instant read meat thermometer into the thickest part of the roast. It should read 125 to 130 for medium rare. For medium it should read 130 to 140. Remove from oven when desired temperature is shown. Immediately tent with foil and allow meat to rest for 15 minutes before slicing.
---
Notes
Cooking time will vary depending on the size of the roast. Oven temperature remains the same.
Keywords: how to cook a boneless rib roast, boneless rib roast, rib roast cooking time, boneless prime rib, how to cook boneless prime rib