Spicy, sage and cornmeal crackers are an ideal choice to serve with a variety of cheeses. These crunchy, gritty, yes gritty, are a venue cheese has never seen before. Then again, either have I. Traditional crackers these aren't. They aren't made for a soft, spreadable cheese, but are splendid for dipping or a nice slice of sharp gouda. Wensleydale cranberry cheese is one of my holiday favorites and no–they didn't pay me to say this, but it is perfect with these crackers.
I know you might be thinking why bother with crackers? There are a multitude of varieties on the grocer's shelves to choose from. So why make the effort to bake home made? All I can say is that these sounded good. And they looked pretty. I'm big on pretty lately. And as a matter of fact one can't find these crackers in stores. No sireeee. Plus these gritty, chewy crumbly crackers felt festive and looked like Thanksgiving-whatever Thanksgiving looks like. Man, I am all over the place tonight.
Need a hostess gift? These crackers and a wedge of cheese would be splendid. And different. Please whatever you do, don't bring flowers. I love flowers more than the next guy, but I hate it when I'm having guests and someone arrives with a bouquet. That means stopping what I'm doing, finding a vase and arranging flowers in said vase. At least come with a plant, for God's sake.
One more thing. Don't bring wine that you want me to serve. I've no doubt that what you will bring is a great wine, but trust me, I've chosen the wines I feel would best suit the dinner. So unless I know your taste well enough, I kind of got it covered. Candles. Candles are a nice gift. I love candles; the real ones. But please not the scented kind. Unless of course they are the really expensive kind that smell good. God, I seem so unappreciative, don't I? Truth is, I'm really not. It's just that as a hostess and a chef, I do have standards to uphold, do I not?
I love a nice bottle of olive oil or vinegar. Or spices. Or chocolate. I adore something I can savor the next day. Something I don't have to share. I love something home made. Hmmm. These crackers are home made. And a wedge of cheese helps complete the deal. And yes, these can easily be thrown in a bag with a ribbon. Trust me. Your host will feel charmed. Your host will feel cared for. And if by chance said host wants to serve these, they would make a good starter and a perfect finish. Especially with that bottle of wine that someone is sure to bring!
These spicy sage, cornmeal crackers are seedy and salty and buttery. They are crumbly and chewy. And can be eaten with or without cheese. The dough can be frozen and thawed before baking. They make a perfect hostess gift. Or a perfect gift for your guests.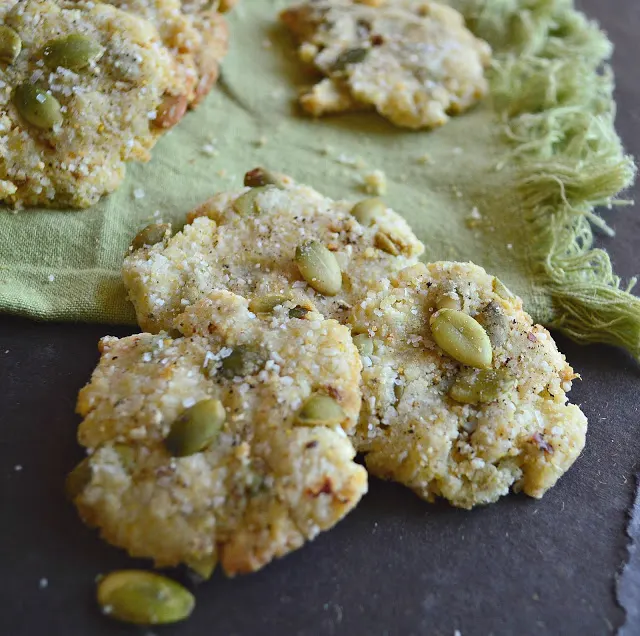 Yield: About 30 CrackersAuthor: Abbe Odenwalder
Print Recipe
SPICY, SAGE AND CORNMEAL CRACKERS
PREP TIME: 30 MINSCOOK TIME: 15 MINSTOTAL TIME: 45 MINS
INGREDIENTS:
1/2 c fine yellow cornmeal
1/2 c fine 5 minute white grits or another 1/2 c of cornmeal
3/4 c flour
2 t kosher salt
2 t sugar
3/4 t crushed red pepper
3/4 t dried sage
6 T chilled or frozen unsalted butter
3-6 T milk
Olive oil or browned butter for brushing the tops of crackers
Kosher salt or Maldon salt to sprinkle
1/2 c raw pumpkin seeds
INSTRUCTIONS:
Preheat oven to 350. Combine the cornmeal with the flour, pumpkin seeds, salt, sugar, crushed red pepper and sage. Work in the butter with pastry blender or your fingers. Mix in the milk, pressing the dough, with your hands to form a ball. (Denver is very dry, so I needed more milk.) Refrigerate until chilled; about 1 hour. (At this point I froze my dough. I thawed it out a few days later and then formed it into balls.)
Pinch off 1″ pieces of dough and roll into balls. Arrange balls on a parchment lined baking sheet and press into 2″ flattened rounds. If the pumpkin seeds come off, press back into dough, in a decorative patten if you like. Brush lightly with browned butter or olive oil and sprinkle lightly with salt.
Bake for 10-15 minutes, or until edges are browned and golden. Let cool , then transfer to a serving plate. Serve warm or at room temperature. Store airtight. These can also be reheated at 300 degrees for a few minutes before serving. They can also be frozen after they are baked
Please Pin and Share! After all, it is Thanksgiving!
Smoky Pumpkin Hummus Lemon Thyme Biscotti Crackers Pumpkin Kringle