This easy Thanksgiving pumpkin trifle is made with pumpkin bread. But use what you have on hand, to make this fun and easy pumpkin dessert.
This easy Thanksgiving pumpkin trifle recipe is made with pumpkin bread.
And no. You don't need to make the pumpkin bread. Get a loaf from the store if you choose.
It has a pumpkin cream cheese layer and a brown sugar whipped cream layer.
The pumpkin bread layers are brushed with bourbon and because I like pecans, I added those also.
I might have added some chocolate toffee in the form of toffee bits for a bit of crunch. Well, I did add some. It is really good.
And then I just couldn't help myself, but before I served this I kind of drizzled a little salted caramel sauce over the top.
Yeah. This is a really simple no bake recipe that is very over the top.
I remember my mother making my dad a trifle on his birthday-which was Christmas Day.
We always had lots of people over so a big, giant trifle served the crowd.
I don't remember how she made hers, but I am guessing it was with Sara Lee pound cake.
Not a bad thing to make this with.
So you might be wondering since a trifle dish is large and is glass with tall sides-kind of like this- what happened to mine-which in actuality might be called parfaits.
So there are just two of us. And I thought individual servings much more appropriate for testing this.
Ideas for the cake layers in your pumpkin trifle dessert:
There are a million trifle recipes out there, but since I love pumpkin bread, that was what I used.
Sponge cake, spice cake, pound cake, angel food cake, gingerbread; any are perfect for this recipe.
In fact you can even use cookies, such as gingersnaps or biscoff or graham crackers.
What to layer your pumpkin trifle with?
Many like to layer their trifle with a pudding mixture, but I used a cream cheese mixture spiced with pumpkin pie spice and pumpkin pie filling.
A little maple syrup and brown sugar added in worked pretty well, too.
But think-butterscotch pudding or vanilla pudding spiked with bourbon or rum would totally rock.
And hey-who doesn't like to rock?
Then using heavy cream, brown sugar and vanilla extract I made my other topping which made this Thanksgiving trifle a very festive dessert.
Yes, you could even use Cool Whip.
I've been known to use it in this! And it's one of the most popular recipes here at TIHIC this time of year!
The best part of this perfect Thanksgiving dessert is that you can really use what you have on hand.
How To make a Thanksgiving trifle:
In a large bowl, using a hand mixer, combine 8 oz of room temperature cream cheese with 1 cup of pumpkin pie filling.
Mix until no lumps remain. Add in some pumpkin pie seasonings to jazz it up and a little maple syrup and brown sugar for sweetness.
Then it's time to mix up your heavy cream mixture.
That is if you aren't using Cool Whip!
Whip one cup of heavy whipping cream with 2 tablespoons of brown sugar and 1/2 t of vanilla extract.
Cut the pumpkin bread into 1″ slices and then cut the slices into 1″ strips.
In the bottom of a large glass bowl or in my case – 4 coupe glasses – place a dollop of whipped cream.
Top that with some pumpkin bread and then brush it with bourbon. Or coffee. Or rum! Top that with the pumpkin filling mixture.
Sprinkle on some glazed pecan pieces.
Add more pumpkin bread. Brush again.
Add some of the brown sugar heavy cream mixture. Sprinkle that with toffee.
Another layer of pumpkin bread brushed, top with pumpkin and then some whipped cream and a drizzle of caramel sauce.
Of course a few more sprinkles of pecans and toffee on top tastes pretty good, too!
If you screw up the order, it doesn't matter. It will still taste amazing!
By the way, this tastes even better the next day, so just stick a piece of plastic wrap over the top and refrigerate.
Perfect for your holiday table during the holiday season!
This pumpkin spice trifle with its beautiful layers is a spectacular dessert.
Light enough to serve after Thanksgiving dinner, this pumpkin dessert would go well with pecan pie.
That is if you need two delicious desserts!
Need Some More?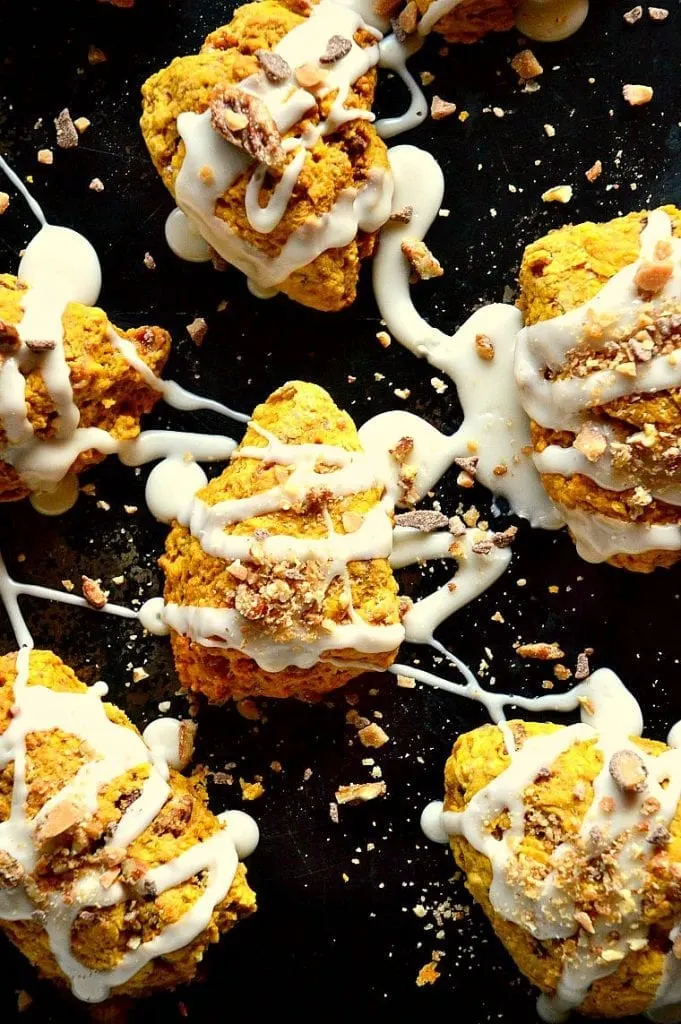 Print
Thanksgiving Pumpkin Trifle Recipe
Author:

Abbe Odenwalder

Prep Time:

25 Minutes

Total Time:

25 Minutes

Yield:

4

Servings

1

x

Category:

Dessert

Cuisine:

American
---
Description
Pumpkin trifle is a fabulous dessert and can be made many ways. Take your choice of fillings or cake and come up with your own delious concoction.
---
1 loaf of pumpkin bread (bought or homemade about 6″ x 3″)
Pumpkin Filling:
8 oz room temperature cream cheese
1 c pumpkin pie filling
1/2 t fresh ginger or ginger powder
3/4 T cinnamon
1/4 t nutmeg, ground cloves and allspice
2 T maple syrup
2 T brown sugar
Pinch salt
Brown Sugar Whipped Cream
1 c cold heavy cream
2 T brown sugar
1/2 t vanilla extract
Bourbon for brushing (about 2 T)
Garnishes:
1/3 c glazed pecans
1/3 c toffee chips or crushed English toffee
Salted Caramel Sauce (optional)
---
Instructions
Begin by choosing your trifle dish. Do you want glasses or a large glass bowl?
Cut the pumpkin bread into 1″ slices. Cut the slices into 1″ strips. If you are using a large bowl you may just want to use the bread cut into cubes.
Make the pumpkin pie layer by adding the cream cheese and pumpkin pie filling to a large bowl. Using a handhels mixer, blend the cream cheese and filling until there are no lumps. Stir in the pupmkin pie seasonings and the brown sugar and maple syrup to sweeten.
Make the whipped cream in a medium bowl. If it is chilled so much the better. Whip the cream until soft peaks form, then stir in the brown sugar and vanilla and beat until the cream is somewhat stiff. Don't overbeat.
Layers:
Place a dollop of the heavy cream in the bottom of your serving dish. Add a lyer of pumpkin bread. Brush with bourbon if using. Dollop on a layer of the pumpkin filling. Sprinkle with pecans.
Do this again except use the heavy cream and toffee.
The third layer is more pumpkin bread brushed with bourbon, topped with pumpkin and whipped cream, sprinkle on more pecans and toffee and drizzle with caramel sauce.
---
Notes
This recipe serves 4 but you will have some pumpkin bread leftover and some pumpkin filling. Of course, this depends on how thick you want your layers.
Keywords: pumpkin trifle, pumpkin trifle dessert, pumpkin trifle recipe, pumpkin dessert,