Sofrito Chicken is another name for chicken, potatoes and garlic. Add a touch of lemon and you have the perfect winter comfort food.
Sofrito chicken, Sephardic style, is perfect for a cold winter's day. This lemon chicken with potatoes and garlic contains two of my very favorite foods!
Sephardic style is more a way of cooking rather than a mixture of ingredients. Does that make sense? Sofrito is a method associated with Latin cooking and it usually involves sauteed aromatic ingredients like onions and garlic, that are then braised.
Sofreit is a Spanish word which means to fry lightly. It involves slow cooking on the top of the stove with only oil and very little liquid. The slow braising and steaming of the meat or chicken, results in a tender, soothing dish.
This slow braising allows a dish to be kept warm on the stove for a very long time. It allows for someone who keeps Kosher to have warm food on Shabbat and still adhere to the Jewish law of not working on the Sabbath. No need to turn on the stove, which is considered work, to heat a meal. The stove can be kept warm and this dish with it!
This recipe from the Jerusalem cookbook uses onions, garlic and potatoes. Yippee! It was a good recipe but I thought it needed a bit more flavor. Though it contains 25 cloves of garlic, they are cooked unpeeled. The garlic becomes soft and sweet and perfect with each bite of chicken. But a bit more seasoning in the way of smoked paprika and chile flakes really helped amp the flavor of this sofrito chicken way up.
This is an updated post from 2013.
Baby, it's been cold outside. Today we are finally going to reach a high of 20 degrees. It will feel like summer, after what we've been through. Mind you, it's not like living in the Midwest. We, at least, have sunshine, which manages to give me a false hope that it is warm outside. That is until I poke my nose out the door and discover that it still hasn't warmed up.
You see my desk is on the North side of the house. The thermostat is on the South side of the house. I work in the coldest room of the house! Now the dogs know better. They lie in the living room where the sun comes barreling through the big picture window and makes the wood floors warm and sunny.
They have a perfect spot for dreaming all day long. The living room is where my bread dough rises. The living room is where my few plants grow. The living room is where we hardly ever live!
I get cold sitting at my desk. So when seeking nourishment I require food that keeps me warm. I want food that makes the kitchen warm, too. Our kitchen gets really cold also, which does not allow us to linger long after dinner. Really, we do the dishes fast! (Long ago when remodeling we removed some heater vents to knock out a wall in the kitchen. Do you think the contractor might have mentioned the fact that we didn't have enough heater vents?) Well, you get the picture.
So, I made sofrito chicken. Perfect for a cold winter day!
A few things I used when making this chicken:
A Dutch oven is perfect when it comes to making this chicken. I rely on my Le Creuset which is one of my favorites in the kitchen. Yes, it's an investment but you will have it forever! And if you've never bought an Ottolenghi cookbook, this is a great one to start with.
Please Pin and Share:
This post may contain affiliate links. Please see my disclosure policy.
Sofrito Chicken
Author:

Abbe Odenwalder

Prep Time:

30 Minutes*

Cook Time:

1 hour 15 Minutes

Total Time:

1 hour 45 minutes

Yield:

4

-

6

Servings

1

x

Category:

Main Course

Method:

Braising

Cuisine:

Jewish
---
Description
Sofrito Chicken is another name for chicken, potatoes and garlic. Add a touch of lemon and you have the perfect winter comfort food.
---
1 T sunflower or canola oil

1 small whole chicken, about 3.5 pounds (I cut the backbone out and then cut through the breast bone so I could have two halves of chicken)

2 lemons

2 onions – 1 quartered and 1 chopped

2 chopped garlic cloves

1 t sweet paprika

1 t smoked paprika

1/4 t sugar

1/2 t salt

1/2 t Aleppo pepper or 1/4 t chile flakes

Freshly ground pepper

1 bay leaf

1 2/3 lbs of Yukon Gold potatoes, peeled and cut into 3/4 inch dice

25 unpeeled cloves of garlic

Oil for frying potatoes
---
Instructions
Salt chicken and marinate in juice of 1 lemon for a few hours or overnight.
Mix paprikas, sugar, salt, chile pepper and some black pepper (to taste) in a small bowl.
When ready to cook, heat oil in Dutch oven over medium heat. Saute the chopped onion until translucent. Add the garlic cloves and saute about 30 seconds more. Add the bay leaf. Place the chicken flat in pot, skin side down and sear for about 5 minutes until golden brown.
Season all over with seasoning mix. Squirt juice of 1/2 lemon on top. Turn the chicken over so that the skin side faces up, add the quartered onion to the pot and cover with a lid. Decrease the heat to low and cook for 1 hour. Lift the lid every now and then to see if there is about 1/4 inch liquid in the bottom of the pot. If necessary add a bit of chicken stock to keep the chicken from sticking. (I did not have to add liquid.)
While chicken is cooking, heat oil over a medium high heat, in a large skillet. Fill the skillet to a depth of about 3/4 inch. Fry the chopped potatoes and unpeeled cloves of garlic in two batches, for about 6 minutes per batch, or until they crisp up and take on some color. Using a slotted spoon, lift potatoes from the oil and drain on paper towels. Season with salt. Fry second batch and repeat.
After the chicken has cooked for an hour, lift it from the pot and spoon in the potatoes and garlic. Return the chicken to the pot, placing it on top of the potatoes for the remainder of the cooking time, about 30 minutes. The chicken should be almost falling off the bone and the potatoes should be soaked in the cooking liquid. Drizzle with the juice from the remaining half of the lemon. Check for seasoning. You may need more salt and pepper.
---
Notes
I served this with roasted carrots. Prepare your carrots and place in an oiled pan. Drizzle with olive oil. Season with salt and rosemary. Bake in a 400 degree oven for about 30 minutes. Turn about the halfway point so they get golden on all sides. Cook until fork tender. These are delicious!
*Does not include the marinating time.
Thank you (Yottam Ottolenghi and Sami Tamimi, Jerusalem)
Keywords: sofrito chicken, sofrito chicken recipe, chicken sofrito, sofrito with chicken
A Few More:
Olive Bar Chicken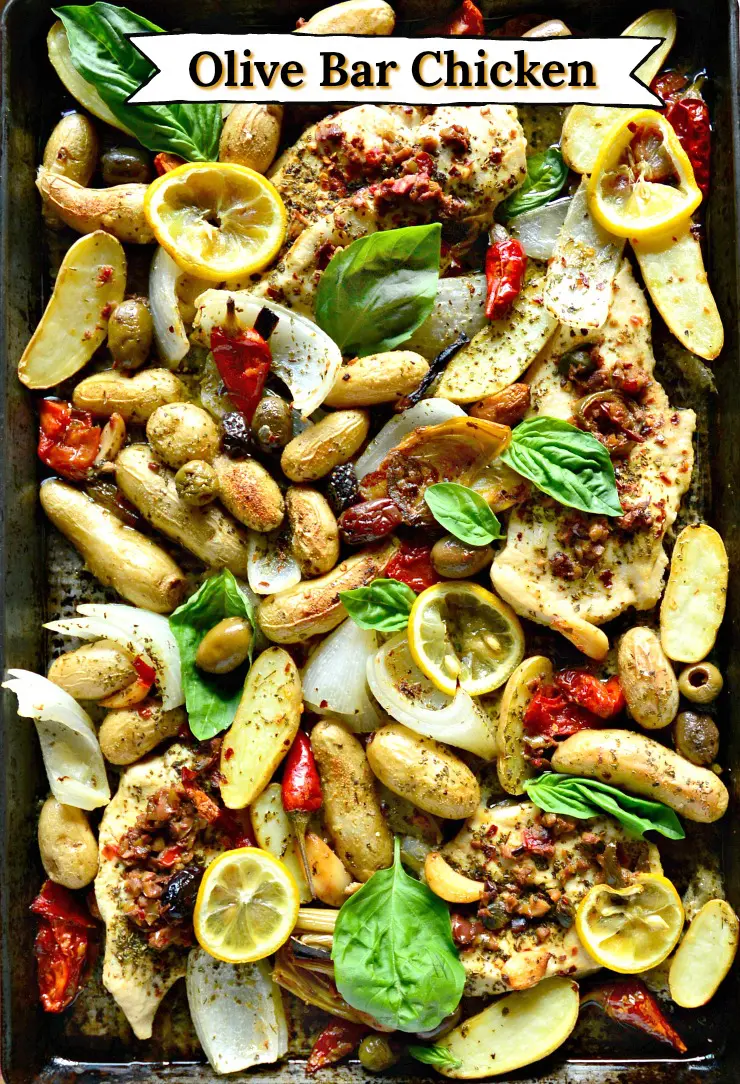 Other Winter Treats
Gingerbread Waffles
German Apple Pancake
Belgian Liege WafflesCranberry
Chipotle Wonton Cups
Mushroom Lover's Pastry
Onion Dip
3 Ingredient Artichoke Dip
Smoked Trout Pate
Savory Sweet Potato Latkes
Not My Mama's Chicken Pot Pie
Chicken, Artichoke, Mushroom Casserole
Porcini Mushroom Lasagna
My Mother's Brisket
Boneless Rib Roast and Baked Rice
Hot Brown Sandwich
Sweet and Hot Green Onion Mustard
Frozen Cranberry Salad
Fresh Cranberry and Apple Salad

Shortbread Nut Bars
Spritz Cookies
Fool's Toffee
World Peace Cookies
Chocolate Icebox Toffee Cookies
Shortbread Cookie Cut Outs
Double Chocolate Mocha Macadamia Bark
Chocolate Peanut Butter Bites
Marshmallows
Chocolate Krantz Cake or Babka