Fool's Saltine Toffee is not English Toffee, is easily made in 15 minutes and tastes divine!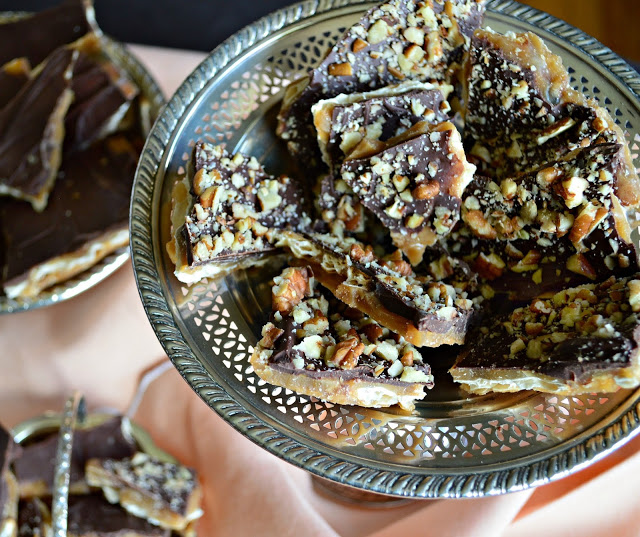 "Since tomorrow is National Cookie Day I thought you deserved something sweet. I published this recipe for Fool's Saltine Toffee 4 years ago, but I have given you some updated photos. It is a good one and since Zoe is here visiting, I'm sure we will be making a batch. Enjoy."
Thirty years is a long time. Some years go faster than others. Some keep you wishing that they were already over. Some you wish you could repeat.
You may wonder where this is going. Well, I'm one of those food bloggers that push the average age of food bloggers up-kind of way up.
And this week I made it to thirty years of marriage. A milestone in my book. I should have something to say about that, huh?
I suppose if it had been an easy year, I might not reflect so much; but this year has been hard. Financially things are challenging, but like so many we are weathering the storm.
In fact, the last 10 years have been tough and I am truly amazed we are still here; together, and in our home. Things have not only been financially rough, but we've had other hurdles to cross, too.
And in my mind we will be jumping them for a long time. Now my husband is an optimist and he thinks we will be OK soon. I hope he's right. Oh, I hope he's right.
Thirty years ago things were wonderful and the world was our oyster. Today, two perfect pearls later, things may not be so wonderful, but our pearls are still perfect and I am oh, SO proud of them.When I wonder what my contribution might be to our crazy world I have little doubt that we have given it something enormous, something special, something perfect and beautiful. But we all say that about our children, don't we? (Well, if you don't, you should.)
Getting married is the easy part. It's the after that can become hard and it is the commitment we have to them and to each other that has caused us to endure so long.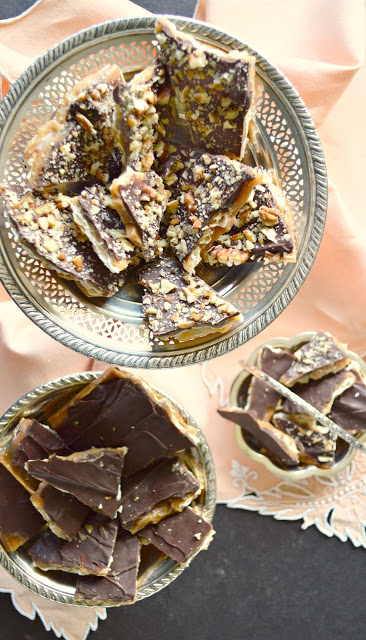 Marriage to me is like the mountains. You have the peaks and you have the valleys.
Well, the valleys can be beautiful but it is the peaks you have to climb to get in and out of the valley. Let me be honest here.
There are times I thought I could just walk away but I knew that my decision impacted others and that was just a risk I wasn't willing to take.
My husband hasn't been perfect but than I guess neither have I. However we love each other and are dedicated to each other and God willing, we still will have enough time to find our way together-happily ever after.
The world becomes very small when you are struggling. Struggles are not things that others want to hear about. Especially when it has been so long.
But I am here to say that WE are still here. Together. Not perfect, but together. We've made it this far and we haven't given up. We marked the occasion with three glasses of wine—- each. At a place where we had a Groupon.
It was cheap and good thing, because other than the wine it wasn't very good. Good luck to them, too!
We went next door to get a hot dog but they told us they had just closed. We ended up eating Chinese food that was just OK, but we were together and we made an occasion that we will remember and thirty years is worth remembering-isn't it?
Maybe next year we can be in Hawaii or Italy or Napa but this year-well-it was OK to still just be here.
And that brings me to food. Something sweet, something simple.
Marriage is so complicated that I didn't want to stress my brain out further. And so I made these.
They were sent to me long ago by the person who I baked Onion Lover's Twist Challah with, and they have been in my repertoire since. A good thirty years.
My kids love Fool's Saltine Toffee, as does my husband. They are perfect for gifts and you can make them several ways.
I use saltines, but you could also use graham crackers or matzah, which is what I do in the spring. You can top them with milk chocolate or dark chocolate and add nuts if you want.
Some people call them Fool's Toffee, which I guess is what marriage makes you feel like some days. And you break it into pieces like real toffee, so it too, is a little rough around the edges. Like life. Sometimes the smoothest path is full of stones.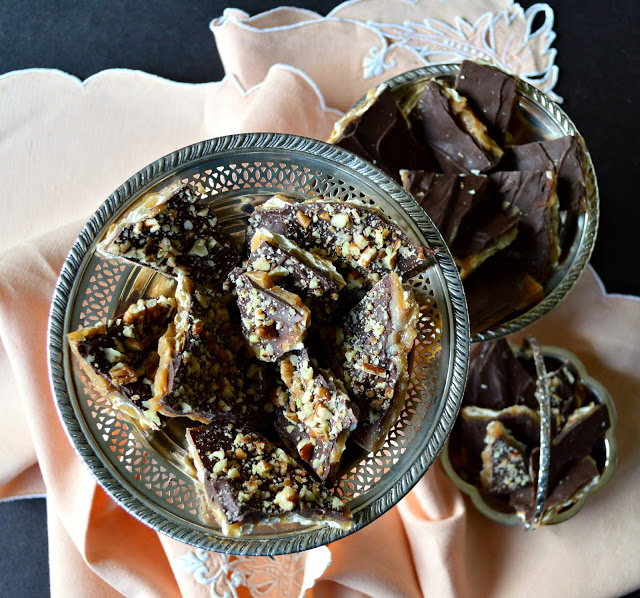 More to Try:
Gazebo Chocolate Toffee Ice Box Cookies
Soft Chocolate Crackles with Mint M and M's
Mandel Bread or Jewish Biscotti
Please Pin and Share! (This makes great gifts!)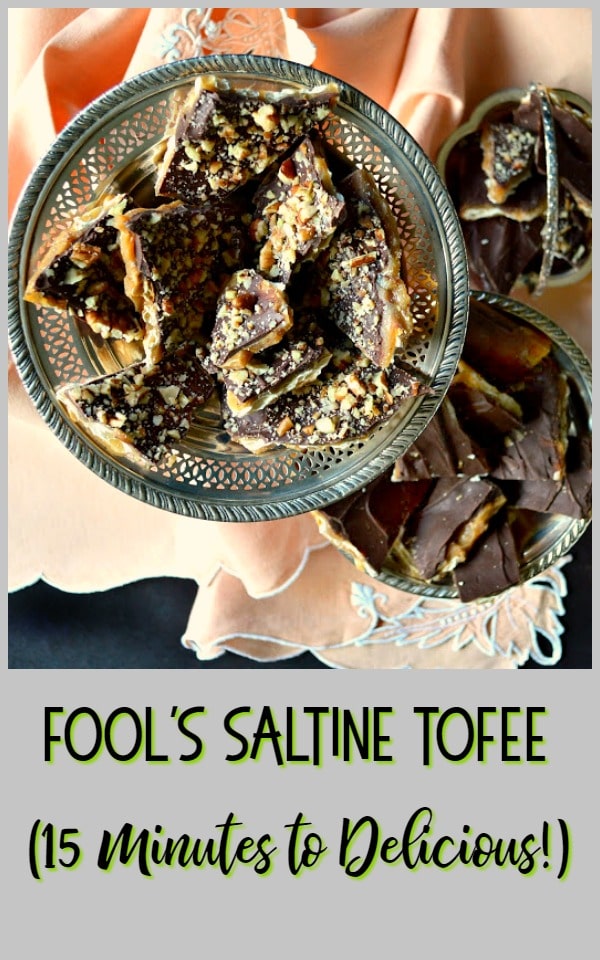 Print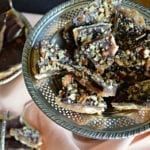 Fool's Saltine Toffee
Author:

Prep Time:

10 Minutes

Cook Time:

5 Minutes

Total Time:

15 Minutes

Yield:

1

15 x 10 Pan

1

x

Category:

Candy

Method:

Baking

Cuisine:

American
---
2 sticks butter
1 c packed dark brown sugar
1 t vanilla
pinch of salt

12 oz chocolate chips
1/2 c nuts finely chopped (optional)
36 Saltines or Matzo
---
Instructions
Preheat oven to 375.
Line a 15 x 10 pan with foil. Butter lightly. Line with saltines or matzoh.
Bring butter and sugar to a boil over medium high heat. Boil for 4 minutes. Take off heat and stir in vanilla and salt. It will bubble. Make sure mixture is well mixed and cohesive. I usually beat this with a whisk to make sure everything is incorporated.
Pour butter mixture over saltines evenly. Bake for 5 minutes.It will bubble, but do not let this burn! Take out of oven and immediately cover with chocolate chips. As they melt, spread them evenly over your toffee. Top with finely chopped nuts if you choose. Refrigerate until cool. Break into pieces.
Take a bite and remember how sweet life is.
---
Keywords: Candy, Cookies and Bars, Dessert, Baking, Toffee,