This is the best shortbread cookie for decorating. And just 5 ingredients. They are tender and flaky and roll out so well. I've been making them for years. Now it's your turn!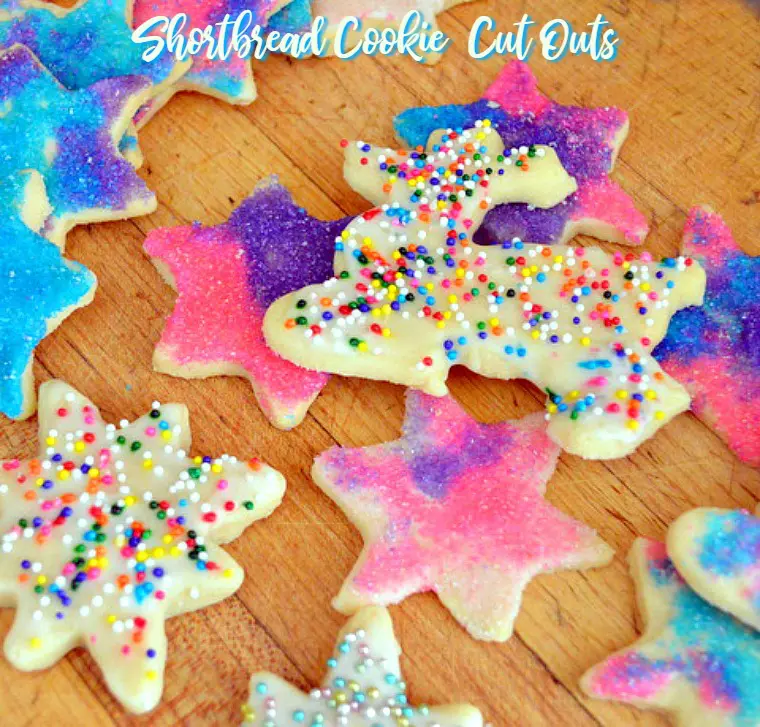 It's this time of year when I get out my best shortbread cookie recipe for decorating.
I can sit inside at the kitchen table and watch the TV tuned to the Food Network. I can watch them baking cookies and know that mine are better.
But for many years I did not think I could use a rolling pin.
It never failed that my cookies would stick or break apart or be too cold to rollout.
Until… I found this recipe. It works. And these are good tasting shortbread cookies.
Shortbread cookies differ from sugar cookies in that they don't have eggs or leavening.
It's the butter that flavors these buttery shortbread cookies so make sure to buy the best butter you can.
Now get out your cookie cutters and your cookie sheets and let's make some shortbread dough.
These just ight become your new favorite Christmas cookie recipe yet!
So go find some pretty holiday sprinkles at a cake decorating store or just go to TJ Maxx and hope they have some.
Sparkly sugar though in festive colors, is what I aim for-no piping bag for me.
A simple royal icing made with egg white, confectioners' sugar and vanilla extract helps make these the best Christmas shortbread cookies I know.
You can eat them as is without decorating, but some consider that the fun part.
You could roll them in a log shape, slice them and then glaze them if you want. Or not.
You could pat them into a big round about ½" thick and use a fork to prick the round into sections. These would be called petticoat tails.
It is a fairly traditional shortbread and I love shortbread because it really is such a simple cookie to bake.
I also love shortbread because you can create a different flavor in each batch. Using brown sugar gives them a caramel flavor.
Adding pistachios and cranberries taste are perfect during Christmas time.
Shortbread is traditionally made with one part sugar, two parts butter and 3 parts flour.
Classic shortbread cookies have a crumbly texture but do firm up after cooling.
How To Make Shortbread Cookies:
To make these simple shortbread cookies, begin with unsalted butter that is at room temperature. (Some call this sweet butter.)
Then, in your stand mixer, using the paddle attachment, beat butter and powdered sugar.
Cream several minutes until butter is very light and fluffy.
Add all purpose flour and stir in the salt. (To measure flour, I stir it well with a fork to aerate it. Then gently scoop it into a dry measuring cup to measure.)
You may want to drape a clean towel over your mixer, so that flour doesn't fly everywhere. And be sure to start on the low speed.
Add to the butter mixture until you can form the dough into a ball with your hands.
Alternatively you could form the dough into two logs, if you don't want to roll and cut into shapes.
Place your dough in plastic wrap and let chill in the refrigerator for several hours before rolling.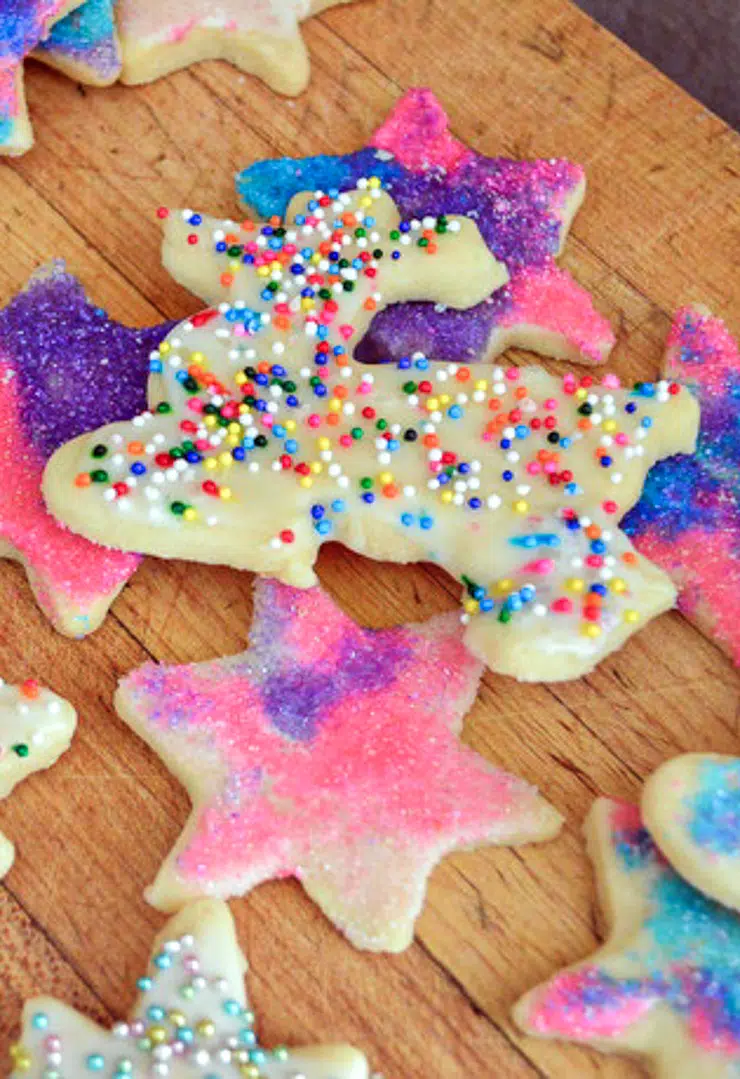 When ready to roll dough, line your cookie sheets with parchment paper.
On a lightly floured surface roll out the dough to a 3/8″ thickness with a floured rolling pin.
If this is the first time baking these, make sure not to roll them too thin. I do use a ruler, to make sure!
Using your favorite cookie cutters, cut into shapes and place each on a cookie sheet.
As long as you chill the dough these really do not spread, so no need to place cookies far apart on the sheet pan. Just make sure they aren't touching.
Place in the refrigerator about 45 minutes before baking. If it is cold outside, let the dough chill out there. Just watch for dogs or squirrels!
Bake cookies at 325 for about 15 minutes. They should not be golden, like most cookie recipes.
How I Decorate my Cookies:
While cookies are baking, prepare the royal icing by mixing the egg white with the confectioners' sugar, with a whisk until no lumps remain.
I usually run the sugar through a wire mesh strainer to help get the lumps out, but if you have a sifter, that will work, too.
After the baked cookies have cooled on a wire rack, I simply turn the cookie upside down into the confectioners' sugar glaze.
Let the excess drip off and then dip the cookie upside down into the sugar you prefer.
Tie dyed patterns can be achieved by putting one half of the cookie into different colored sugars.
Let cookies dry on a wire rack and then they can be stored in an airtight container.
These keep several weeks for me if little hands don't eat them all.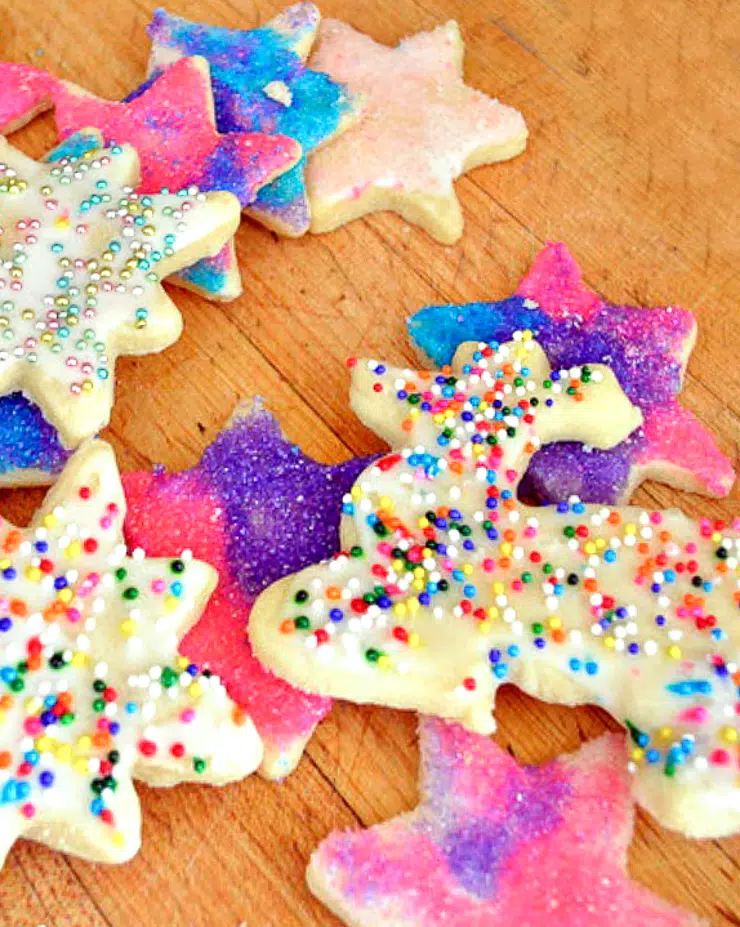 Where do shortbread cookies come from?
The name shortbread is derived from the word shortening and hence evolved into shortbread.
They come from Scotland, where they are a classic Scottish dessert and were refined by Mary, Queen of Scots.
In Scotland it is traditional to eat these on New Years Eve, which is derived from the custom of eating Yule cakes in the 1200's.
I have made these for years and in our home they are known as Hanukkah cookies.
My daughter just called for the recipe. I feel obliged to give it to her as she helped for many moons to decorate them.
Of course she didn't sweep the sugar off the floor, but that's OK.
It's comforting to know that a tradition is passing on. One that apparently has survived for hundreds of years.
I love homemade shortbread cookies and know they are perfect for the holiday season.
Yes, it is a damn good cookie. Call them what you want. Christmas cookies. Holiday cookies. Hanukkah cookies. Or just shortbread cookies.
Some might call them perfect cookies for decorating, but honestly they are also good undecorated!
So get into the holiday spirit and know you may find yourself starting a new tradition.
Need Some More?
Cranberry Pistachio Shortbread
Maple Shortbread with Maple Glaze
I'd Love if if you'd Follow Me on Pinterest and Pin and Share!
(This is an updated recipe post with updated directions , but old photos from 2012.)
Print
Shortbread Cookie Cut Outs
Author:

Abbe Odenwalder

Prep Time:

15 Minutes*

Cook Time:

18 Minutes

Total Time:

33 Minutes

Yield:

About

3

dozen

1

x

Category:

Cookies

Method:

Baking

Cuisine:

American
---
Description
The best shortbread cookie decorating recipe, I know! These simple shortbread cookies are easy to roll out and taste so good!
---
3/4 lb sweet butter softened (three sticks) If your butter is really chilled each
stick can be put in the microwave for about 10 seconds to soften it.
1 c confectioners sugar
3 c unbleached all purpose flour
1/2 t salt (If you have salted butter you may not want to add salt)
1/2 t vanilla
Royal Icing
1 large egg white
1 c confectioners sugar
---
Instructions
Cream butter and confectioners sugar together until light.
Sift flour and salt together and add to creamed mixture. Add vanilla and blend well.
Gather dough into ball or make two logs, and wrap in saran wrap or wax paper. Chill in fridge for 4-6 hours.
Roll out chilled dough to 3/8" thickness on a floured surface with a floured rolling pin. Cut out cookies with your favorite cookie cutter. If you are not icing these sprinkle them with granulated sugar. Place cut out cookies on ungreased cookie sheets and refrigerate for 45 minutes before baking. (If it is cold outside, I just place them on the deck!)
Preheat oven to 325 degrees.
Bake for 15-20 minutes depending on how thick you made your cookies. They should be pale and not brown at all. Makes at least 3 dozen.
Royal Icing
Blend powdered sugar and egg white with a mini whisk in a 2 c measuring cup. You should not have any lumps. It helps to sift your sugar or to stir it well with a fork. You may dye this or leave it as
is. I usually leave it white and then frost each cookie one at a time, and then dipping into the colored sugars as I go.
---
Notes
Make sure to let dough chill.
Cookie yield depends on size of cookie cutters and the thickness rolled.
*Prep Time does not include chilling, rolling or decorating time.
Thanks Silver Palette
Keywords: shortbread cookies, shortbread, shortbread cookie recipe, Christmas cookies recipes, Christmas cookie shortbread