This foolproof Jewish Brisket always produces great results. It certainly proves that following a recipe works!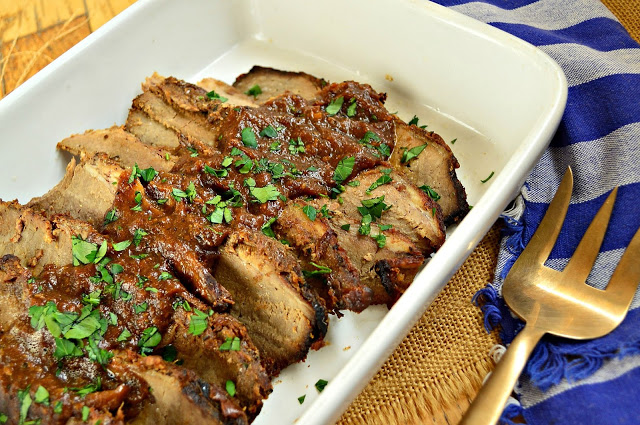 (This post was written December 27, 2011. I think it was the 5th post I published. The recipe remains as good today, as it did then. Here are some new pics, but the writing remains the same.)
There are many things one can say about brisket, but dull is not one of them. Brisket is a piece of meat that just keeps on giving. Think about it. You've got your bbq, your stews, your Jewish versions, and you can even grind it into hamburger. And soup. Well, you see what I mean. In our house brisket, well Jewish brisket, was always the most talked, debated? about subject of the dinner table. Was it sliced correctly (no, not usually), whose fault was it, (usually dad's, because my mother didn't have faults), was it dry, (no, usually mushy and stringy due to being sliced wrong). Well, hopefully you get the picture.
Thus I think it is easy to say, that this Jewish version of brisket-may only have 5 people eating it, but there are 6 opinions offered on how to slice and bake it correctly. Was it the onion soup version, the tomato soup version, the Coca Cola version or was it just made up? Potatoes or carrots or both, and what about celery? Yes, brisket, is always something to look forward too. And just for the record my mother assures me, that she now has a wonderful Jewish brisket recipe from Williams Sonoma. Go figure. Where was it when we were kids?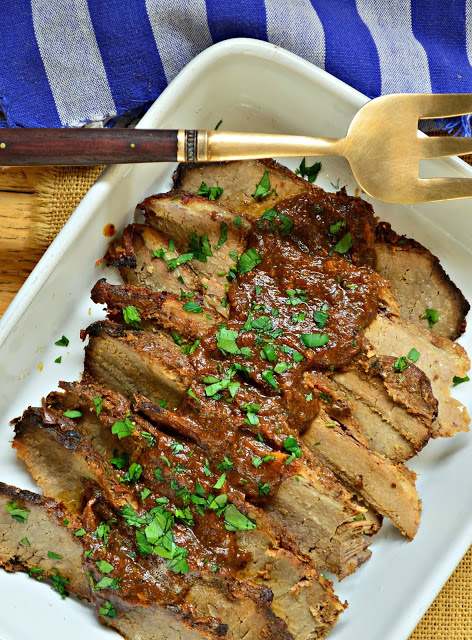 And that brings me to Hanukkah. Yes, the festival of lights. The night where the house smells like oil and one hopes that the smell of brisket masks the odor of your personal fast food restaurant. Hence also the need for cinnamon applesauce. This year it happened to be the night of my birthday, so we were lucky enough to add a chocolate cake to the mix. Which somehow leads us back to the Jewish brisket, which is made a day before the big celebration (OK no guessing, it wasn't THAT big.)
3 Tips on Making Brisket
1. It is important to plan ahead when you make brisket. Brisket is easier to slice after it has been chilled and of course it leaves less to do, when you are frying all those latkes. It also gives you an opportunity to get out the electric knife. Yahoo! So please…make the brisket the day before!
2. Slicing a brisket can be tricky. Always slice the brisket against the grain. Always. Or it falls apart into strings. And yes, the grain can change directions, so be aware.
3. My mother never made gravy to go with brisket. She always just poured the pan juices over the top. That has changed in our family. We always serve our brisket with gravy. This isn't a traditional gravy. It is merely all the onions and pan juices blended together with an immersion blender. How simple is that? And if by chance you overcooked your brisket, this onion umami will save it!
Now hopefully you are thinking what I'm thinking; how to avoid all those brisket dilemmas? In my house I felt the need for a consistent and uncomplicated brisket. One that was soothing to eat and heavenly to smell. Something that would fill my senses with warmth and goodness and love. (Yeah, getting a little sappy here) Well, I needed a new brisket recipe-one that would always turn out the same, taste the same and not cause the cook tsuris (trouble). And for that recipe (which I discovered when my children were just five), I have Ruth Riechel to thank. Yes, December, 2005 Gourmet, My Mother's Brisket, saved this mother's life. That good, that easy, and that satisfying. Don't change it, just eat it. You'll thank me, I promise.
Please Pin and Share the Brisket:
Print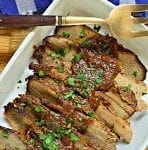 Jewish Brisket with Onion Gravy or My Mother's Brisket (but not really)
Author:

Abbe Odenwalder

Prep Time:

30 Minutes

Cook Time:

4.5 hours

Total Time:

5 hours

Yield:

8

-

10

Servings

1

x

Category:

Main Course

Method:

Oven

Cuisine:

Jewish
---
Description
Jewish Brisket with Onion Gravy turns out perfect every time!
---
1 5-6 lb brisket, well trimmed (fatty briskets are for BBQ)

1 t salt divided

1 t pepper divided (I usually add more, because it is good when it is peppery)

Garlic powder to sprinkle

3 T oil, divided

3 large onions, sliced

4 cloves garlic minced

1 t paprika
---
Instructions
Pat brisket dry and season with 1/2 t salt and pepper and garlic powder. It is really hard to over season brisket. Place 1 T oil in Dutch oven and heat in a preheated 375 oven for 10 minutes. Place brisket in oil, fat side up and bake uncovered for 30 minutes.
Saute onions in remaining oil in a large skillet, until softened and beginning to turn golden. Reduce heat to medium and cook until deep golden and caramelized, about 20 minutes, stirring occasionally. Add garlic, paprika, and remaining salt and pepper and cook 1 minute. Stir in 3 cups of water and bring to a boil. Spoon over brisket. Place lid on Dutch oven leaving it a bit ajar. Bake for about 3 1/2 hours until tender. Add more water if necessary during cooking, but this has never happened to me.
Remove from oven and let cool for 1 hour. Remove brisket from sauce, scraping any clinging onions back into the sauce. Wrap brisket in foil and refrigerate overnight. Pour gravy from pan into a 4 cup measuring cup. Fat will rise to top overnight. Remove. The next day use an immersion blender to puree gravy until smooth. You should have at least 3 cups, if not add more water.
The next day slice brisket into thin slices, if possible, with an electric knife. Make sure to slice against the grain or your brisket will be stringy. Place some gravy into the bottom of a pan and then place brisket on top of that. Cover with rest of gravy and then seal pan with foil. Bake in a preheated 350 oven for 30 minutes. This will serve 8-10 people.
---
Notes
Most of the above times are not active cooking times.
Please eave a day for the brisket to chill overnight.
Keywords: Jewish brisket, best brisket recipe, Jewish brisket recipe, holiday brisket, amazing brisket recipe, my mother's brisket, brisket
P.S. I must apologize for my original pictures. I had about 16 people waiting to eat this brisket hovering over me while I was trying to get a few pictures. I finally decided that brisket is not really pretty. It just tastes really, really good. I also can confirm that there were not any leftovers.