This post may contain affiliate links. For more information, please see my disclosure policy.
World Peace Cookies are a French chocolate shortbread cookie made famous by Dorie Greenspan and Pierre Herme. Buttery, salty and sandy, these cookies are always a hit in our home.
World peace cookies are sable cookies which are famous in France. Sables, (pronounced sa-blays) should be made with the best butter you can find as butter is the predominant ingredient.
Here in the US, we would say these are more of a shortbread cookie. Shortbread cookies have a very high ratio of butter to sugar, compared to "just" a sugar or butter cookie. When making these cookies make sure to cream the butter really well, until light, creamy and soft.
Once the butter and sugar is creamed well, it is a matter of adding the dry ingredients. You will see now why sable means sand. Yes, this mixture starts to resemble sand.
Though it may look dry, as you beat it, it will start to come together. As soon as it does, stir in the chocolate chips of your choice.
I don't really care what they are called but this sable shortbread cookie with a pronounced salty, chocolate flavor is invitingly good. I'm just guessing, but these world peace cookies may be the chocolate chip cookie of France!
World Peace Cookies were given this name when Dorie Greenspan (the chef that created them) gave them to a friend who commented that they were so good that if everyone gave them to each other maybe it would create world peace. I vote for this and for these cookies.
(This is an updated post from 2012)
I'm so excited I can feel my heart pounding. Something I have wanted to do for so, so long is finally happening.
Thanks to two parents that decided to give me an especially nice, very meaningful, most awesome, generous and loving birthday/Hanukkah gift rolled into one, I am going to be taking a trip far, far away. (I like those double adjectives, don't I?)
I have never been away from home for this long as an adult. It's kind of scary. Who will feed my dogs? Who will cook? Who will answer when the kids call home? I know; once I'm gone I'll be OK.
Manservant is capable and I know he'll appreciate me more when I return. (Well, he better.)
This is actually very liberating. I'm ready to feel free for awhile and lose my head and not worry. I need to believe that everything will still be here when I return. I need to believe that everything will even be better when I return. It damn well better be.
Over the ocean I am going to see friends who are really family, that I haven't seen for thirty years. (That is a scary number.) I never thought it would have been this long, but life often gets in the way of the things you want most. I've missed them for a very long time.
I'm still thinking their kids are wee ones but now their kids have kids too. A lot of kids; 21 to be exact. Thirty years ago they had 5 with one on the way. My how time flies.
I'm going to have to learn a lot of new names. Now that I'm old I hope my brain can still keep up.
I'll be gone for three weeks without a computer. That means no email. No blogging. And I'm kind of liking this blogging thing.
Blogging means I can talk to myself and people won't think I'm crazy. It lets me get my words out when I have no one to talk too and lets me think that maybe someone is really listening.
I will have a phone so I can stay in touch. Thirty years ago I didn't have a phone and was gone for over three months. My how times have changed. I actually used to write letters and send them airmail.
Israel, here I come. While I'm gone make lots of cookies and pass them out. Eat one for each country you wish peace for. Actually eat all of them and wish for world peace.
God knows the world could use some and especially in that neck of the woods.
Dang, I'm so excited my cheeks hurt from smiling too much.
Time to do just as my son says when he hangs up the phone, "Peace, man."
---
And now a jump back to the end of 2019. It's been a crazy year. Manservant just flew off to visit his dad and I'm here reflecting on all that has been.
Tomorrow would have been my dad's 88th birthday. As much as he loved a good chocolate chip cookie and a good light chocolate cake, along with jello and mac and cheese, my guess is he would have loved these cookies too.
World peace cookies have such a kind connotation. Through kindness maybe we can find world peace. Christmas and Dad's birthday sure seem like a good time to start being a bit more mindful of those around us.
Have a cookie and think about it. Peace, man. Stay cool.
A few things I use when baking:
For chocolate chips, I do love these giant dark chocolate chips. they can be chopped smaller if needed and they can also be eaten by the handful. I know. To much information!
When it comes to sea salt flakes, these are my go to. I've been known to sprinkle some of these on top of cookies, too. A bit pricey, but they last a long time.
Need a great knife to chop your own chocolate? These are my favorite knives. And this one is in a two piece set, which is a really good deal. I think I'm going to tell Manservant!
Pin some kindness. Share World Peace:
Print
World Peace Cookies
Author:

Abbe

Prep Time:

15 Minutes

Cook Time:

12 Minutes

Total Time:

27 minutes

Yield:

24

-

36

Cookies

1

x

Category:

Cookies

Method:

Baking

Cuisine:

American
---
Description
World Peace Cookies are a French chocolate shortbread cookie made famous by Dorie Greenspan and Pierre Herme. Buttery, salty and sandy, these cookies are always a hit in our home.
---
1 1/4 cups

all-purpose flour

1/3 cup

unsweetened cocoa powder

1/2 teaspoon

baking soda

1

stick plus 3 tablespoons (

11 tablespoons

) unsalted butter, at room temperature

2/3 cup

(packed) light brown sugar

1/4 cup

sugar

1/2 teaspoon

fleur de sel or

1/4 teaspoon

fine sea salt

1 teaspoon

vanilla extract

5 ounces

bittersweet chocolate, chopped into chips, or a generous 3/4 cup store-bought mini chocolate chips or I used Trader Joe's semisweet chunks (I ran out of chips over the holiday baking frenzy so I used toffee chips.)
Colored Sugar or Sprinkles, optional
---
Instructions
Sift the flour, cocoa and baking soda together.
Working with a stand mixer, preferably fitted with a paddle attachment, or with a hand mixer in a large bowl, beat the butter on medium speed until soft and creamy. Err on the side of a long beat time and really cream this well!
Add both sugars, the salt and vanilla extract and beat for 2 minutes more.
Turn off the mixer. Pour in the flour, drape a kitchen towel over the stand mixer to protect yourself and your kitchen from flying flour and pulse the mixer at low speed about 5 times, a second or two each time. Take a peek — if there is still a lot of flour on the surface of the dough, pulse a couple of times more; if not, remove the towel.
Continuing at low speed, mix for about 30 seconds more, just until the flour disappears into the dough — for the best texture, work the dough as little as possible once the flour is added, and don't be concerned if the dough looks a little crumbly. You may even use your hands to smush it all together!
Toss in the chocolate pieces and mix only to incorporate.
Turn the dough out onto a work surface, gather it together and divide it in half. Working with one half at a time, shape the dough into logs that are 1 1/2 inches in diameter. If you want to add sugar or chocolate sprinkles roll the dough in the sugar now. Wrap the logs in plastic wrap and refrigerate them for at least 3 hours.
(The dough can be refrigerated for up to 3 days or frozen for up to 2 months. If you've frozen the dough, you needn't defrost it before baking — just slice the logs into cookies and bake the cookies 1 minute longer.)
GETTING READY TO BAKE: Center a rack in the oven and preheat the oven to 325 degrees F. Line two baking sheets with parchment or silicone mats.
Working with a sharp thin knife, slice the logs into rounds that are 1/2 inch thick. (The rounds are likely to crack as you're cutting them — don't be concerned, just squeeze the bits back onto each cookie.) Arrange the rounds on the baking sheets, leaving about 1 inch between them.
Bake the cookies one sheet at a time for 12 minutes — they won't look done, nor will they be firm, but that's just the way they should be. Transfer the baking sheet to a cooling rack and let the cookies rest until they are only just warm, at which point you can serve them or let them reach room temperature.
---
Keywords: world peace cookies, world peace cookies recipe, world peace cookies dorie greenspan, recipe for world peace cookies
And a few more:
Drop Style Chocolate Shortbread Sables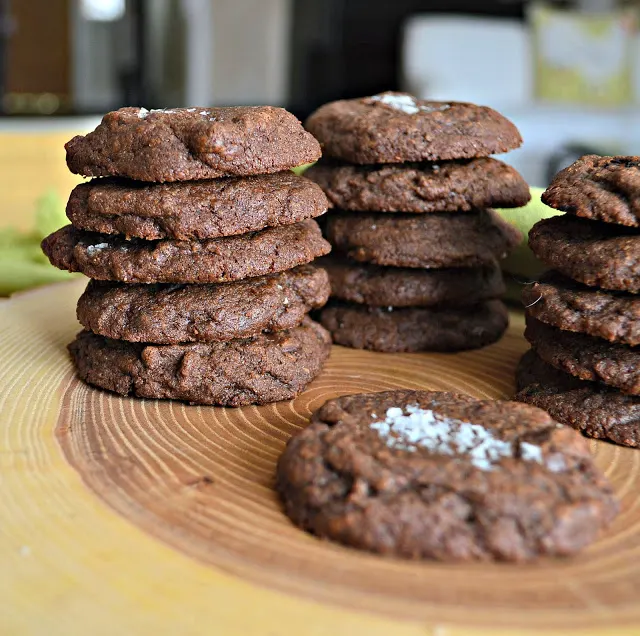 Baker's Brew Shortbread Cookies