Olive Bar Chicken has become a favorite of ours. Assembled in 15 minutes, baked in less than 40, this chicken dinner is fabulous. Salty and savory and full of garlic and oregano; this olive bar chicken is a lifesaver!
Honestly, if you are anything like me when 5PM rolls around I'm like what's for dinner. You might think that because I can cook I have this all planned out, but usually I don't. And with summer arriving I'm so much more laid back, that dinner just escapes me. That is until I'm hungry. And then it's like let's see what's in the fridge. Often in the summer I'm outside watering at 5PM and cooking is so not on my agenda…which is where this Olive Bar chicken comes to play! We love it. It's kind of like where have you been all my life olive bar chicken? My kids would have loved this!
Really I don't know when olive bars were added into grocery stores. I remember them from Whole Foods first and then they appeared at my regular Kroger/King Sooper stores. So truthfully I don't think there were olive bars when my kids were at home. Thank goodness there are now. By filling up the pint size with your choice of olives you have a meal fit for a king-or queen. (UH…that would be me!) Don't worry about just filling this with olives. Throw in some garlic and some marinated tomatoes and artichokes if you want. Just fill that puppy to the brim. Of course if you have a refrigerator of jars you can probably find other things to throw in too…in which case you may not need a full pint.
Now head over to produce and buy 1 lb of itty bitty potatoes. I buy mine at Trader Joe's and they really are called that. It doesn't matter what you call them just make sure they are teeny. You can slice them in half if they are on the larger size. Pick up an onion too, while you are at it! Now get package of boneless chicken breasts and head on home. This is the olive bar chicken dinner. Well, you could add a salad if you want!
Olive bar chicken is amazing because it also lets you clear out your fridge! I always throw in anything that is in a jar in the fridge. Well, maybe not peanut butter. I don't think olive bar chicken can handle that. But it can handle marinated artichokes, capers, Calabrian peppers, sundried tomatoes, and pepperoncini. Really Mom, this recipe is made for you! It is perfect for cleaning out the fridge. You may not even have to go to the olive bar. In fact this recipe could also be named,"cleaning out the fridge chicken!"
So get to work…if you can call it that. This Olive Bar Chicken is a perfect dinner made very fast. I would serve this to my kids. I would serve this to company. I would serve this to the king and queen. (UH! That would be me!) I would just serve this…and soon!
A Few More Sheet Pan Meals:
Caprese Chicken Sheet Pan Meal from Big Bear's Wife
Sheet Pan Pancakes from Belly Full
Pesto Salmon Sheet Pan Dinner from Cupcakes and Kale Chips
Some Other Greats:
Print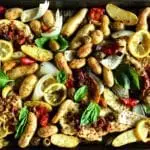 How To Make Olive Bar Chicken
Author:

Abbe Odenwalder

Prep Time:

15 Minutes

Cook Time:

30-40 Minutes

Total Time:

55 Minutes

Yield:

4

Servings

1

x

Category:

Main Course

Method:

Baking

Cuisine:

American
---
Description
Olive Bar Chicken has become a favorite of ours. This sheet pan dinner is assembled in 15 minutes and baked in less than 40! This chicken dinner is fabulous. Salty and savory and full of garlic and oregano; this olive bar sheet pan chicken dinner is a lifesaver!
---
2 chicken breasts (about 1 1/2 lbs) butterflied if thick

1 pint from the olive bar (I usually buy some chopped olive mixture to smear on the chicken breasts also. And include a bit of brine in your choices. Garlic Cloves are also nice.)

1 lb teeny tiny potatoes (leave some whole and slice others lengthwise just to keep things pretty! If they are larger, cut them into smaller pieces)

1 medium sized onion cut into wedges

From the fridge if you have: Calabrian Peppers, Roasted Peppers, Capers, Pepperoncini, Artichokes, Jalapenos, Etc.

Garlic Powder, Oregano, Red Pepper Chili Flakes, Bay Leaves

2 T Olive oil

Lemon Slices, Fresh Basil
---
Instructions
If you have time, it is nice to marinate butterflied chicken breasts in the brine and oil from the olives. If not, no worries!
Preheat oven to 375.
Take a large sheet pan and toss potatoes, chicken and onion in 2 T olive oil. Add olives and whatever items you have chosen. This should equal about 1 pint but feel free to add more if you would like, being careful not to overload the pan. Keep it in one layer with a bit of space between everything. Sprinkle chicken liberally with garlic powder, and oregano, and salt and pepper. If you bought the crushed olive paste, smear that on top of the chicken. Apply chili flakes to all according to your taste. Add some bay leaves and some slices of lemon.
Bake for about 40 minutes or until chicken is done. This depends on how thick your chicken is. Check at about 2o minutes. Also turn potatoes as needed. If there is too much liquid on the sheet pan, drain some off so that the potatoes brown.
Garnish with fresh basil leaves.
---
Keywords: sheet pan chicken dinner
I love it when you pin and share!