Chocolate Peanut Butter Bites are better than a Reese's Peanut Butter Cup. They only have 6 ingredients,

require no baking and

are made in 15 minutes. The recipe makes a lot. The more the better, I say!
Chocolate Peanut Butter Bites are one of my family's favorite treats. To be honest, I have two candy vices. Well, probably I have a lot more. But if you put me in the checkout line at the grocery, on a day with no willpower, I might just snag a Hershey bar with almonds or a Reese's peanut butter cup. They always seem to make the moment go better. Additionally, they always remind me of other moments from my childhood where candy seemed to have a magical effect.
I remember the day my brother called me to my mother's bedroom and showed me where he found her secret candy stash. He must have seen her putting it there-I don't know how else he would have known that a giant Hershey's Bar was hiding in her lingerie drawer. I don't know if I was more surprised to see it, or more surprised at the size of it. I mean no one ever brought me one that big. I think she quickly discovered it missing and then found a new hiding place in the back of the freezer. Ah, well… we all have our vices.
Candy memory #2 happened on Sunday mornings. My Papa always showed up Sunday morning after Sunday school and would always arrive with a bag of Hershey's miniatures. He said that way everyone would have something they liked. Of course he was right. I think that's when I discovered good old Mr. Goodbar. And that special dark chocolate.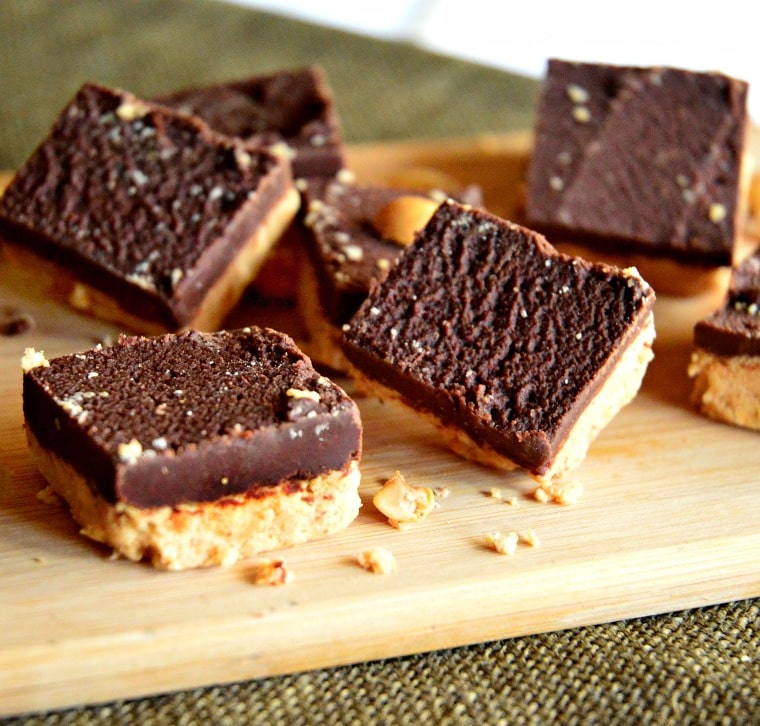 Chocolate Peanut Butter Bites
Now I don't really eat much candy and it is only during the holiday season that I make these addictively good chocolate peanut butter bites. They aren't quite Reese's, but they do seem to be digested quite fast by whoever is in my home. The best part is they require no baking and I can pronounce all the ingredients they contain. These aren't protein balls or energy balls; they are just good, old fashioned peanut butter bites with a layer of chocolate to round everything out!
Everyone loves them and if you are a chocolate peanut butter lover like me than I know you will too! Check them out. Your Reese's lovers will be quite pleased.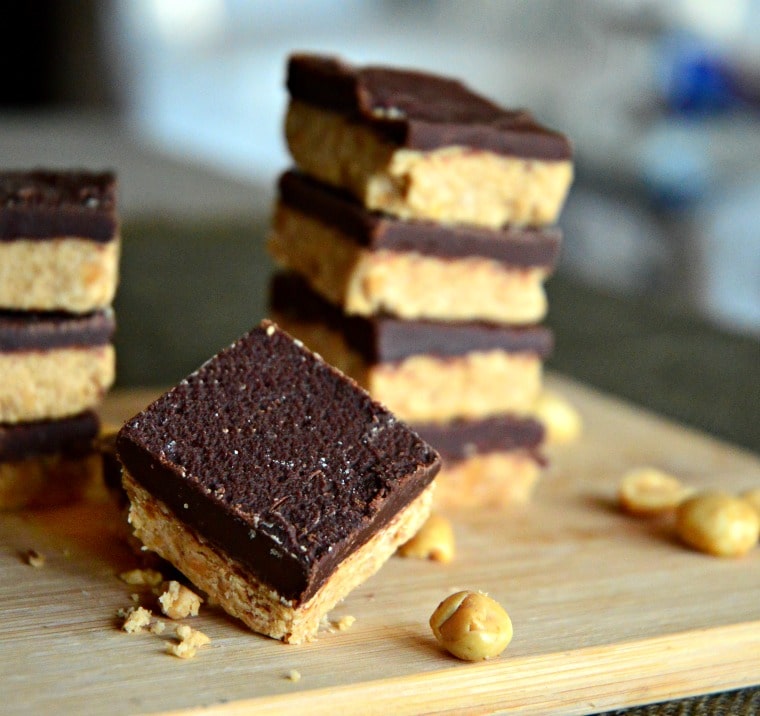 Need some more chocolate and peanut butter desserts?

Peanut Butter and Fudge Ripple Ice Cream from Saving Room for Dessert sounds fabulous. My friend Holly, from a Baker's House, made this 3 ingredient

chocolate

peanut butter fudge

that sounds divine! And I have lots of peanut butter chocolate desserts. Totally surprised me!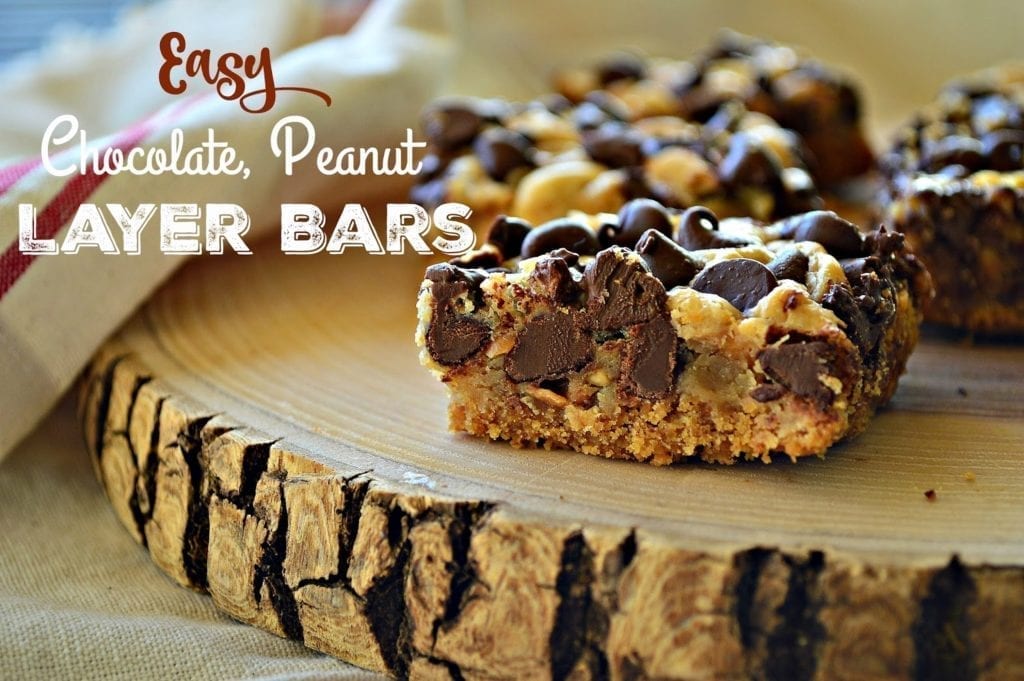 Please Pin and Share!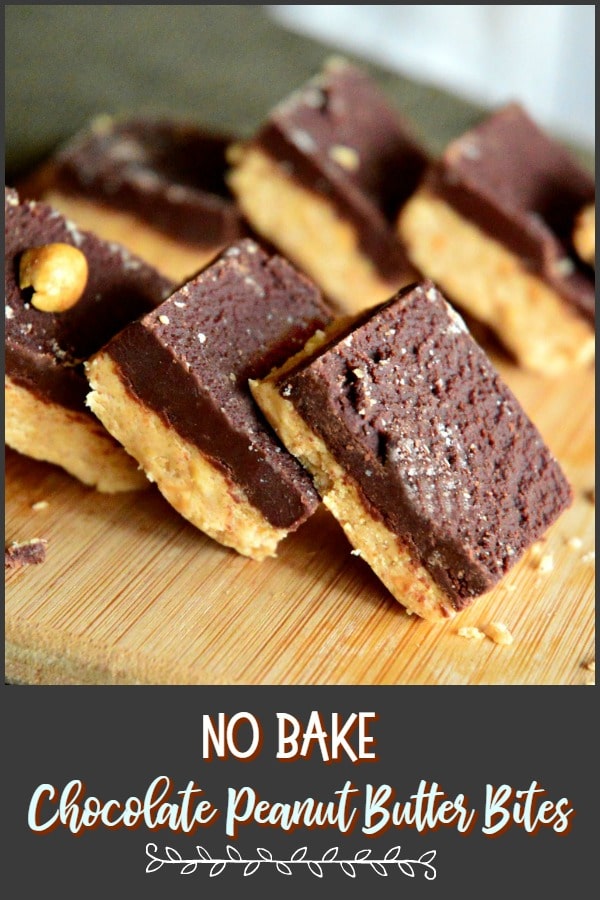 (This post was originally published in December, 2012)
Print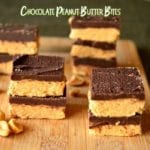 Chocolate Peanut Butter Bites and Other Vices
---
¾ c brown sugar
1 pound confectioners sugar
8 T or 1 stick butter
2 c peanut butter (I use crunchy)
1 c unsalted peanuts (I only use these if I am using creamy peanut butter) (optional)
12 oz semisweet chocolate
1T butter
---
Instructions
Mix first 5 ingredients together. I use my hands to smush it good. Pat it into an ungreased jelly roll pan about 15×10 inches and 1 inch deep. Flatten top with a rolling pin.
Melt chocolate chips and butter in microwave. I use power 7 for 1 minute and then stir with wooden spoon. Then I do this in thirty second intervals until it is smooth and shiny. Spread chocolate on peanut butter mixture.
Chill and then cut into squares. You can serve these chilled, or at room temperature. They make a lot to serve the peanut butter lover in your life!
---