After 7 episodes it's time to bid adieu to The Great American Recipe PBS. What an honor it was to share my story and recipes with PBS viewers. It is with sadness that I kiss it goodbye. But it's not all tears… I am grateful to have met and made new friends and created memories I will cherish forever. YOLO!
And so it is that all things must come to an end.
My time on The Great American Recipe PBS managed to last 7 episodes.
It was an unexpected journey and often those are the best kind.
I finally took the path less travelled and how happy that made me.
This was one I never anticipated walking on and it culminated in many unexpected surprises.
The best part is truly hearing from those that watched and supported me.
People I hadn't heard from in years wrote and many wrote that I never knew. How fun is that?
I have to admit that I'm not a huge TV viewer and have never felt the need to reach out to those I've watched, so I can't tell you how much it means to receive such lovely comments.
Thank you from my entire heart!
And now let's continue the recap:
The Great American Recipe PBS Episode 5-Part 1
Memorable Moments:
Though I wanted to put latkes in this segment, the producer wanted them in the second part of this episode.
That was tough for me, as it seems everyone has their own way of making latkes.
All ways are similar, but everyone seems to have their own spin. But let's back up a moment.
I agreed to do Shrimp Creole with Jambalaya Rice-another favorite from my Mississippi mother-in-law.
It is a great, easy dish that it just so happens Manservant made for his Dad's 92nd birthday, which he celebrated in Texas last week.
It is an easy and tasty dish; perfect for a weeknight or company. The judges liked it, but not as much as I hoped.
The Great American Recipe PBS Episode 5-Part 2
Cheers to the Holidays:
Then it was on to latkes. I had wanted to make our favorite Thanksgiving tamale stuffing and frozen cranberries but was told they preferred I make latkes.
I aim to please, so I made latkes!
Personally I love eating latkes, but not making latkes.
I also apparently make them differently than one of the judges, which did not make them a favorite, as said judge never heard of this version.
I use a food processor and grate the potatoes with the onions and then almost puree them.
After squeezing out the liquid I add some matzo meal and eggs.
I've also made them countless other ways as you can see here.
Perhaps I should have made them another way, but I made my version of traditional.
These were served on a holiday buffet and I found out after the fact that the judges didn't receive a hot taste.
Perhaps a misunderstanding on my part, but needless to say I was quite disappointed.
I don't know about you, but when I make latkes someone fries them and someone serves them.
They don't sit on a buffet where they become soggy.
The judges thought my oil wasn't hot enough, but I really don't think that was it.
I think latkes sitting around getting cold makes them soggy, (but I'm just a home cook and not a chef!)
Always serve latkes fresh out of the frying pan!
The Great American Recipe PBS Episode 6-Part 1
My Personal Fave:
I've always raved about ziti al fresco and I'd make it every night if I could.
However this rich and luscious dish would blow my calorie budget for a week, so I tend to make it on special occasions.
It's a great recipe to make as the ingredients needed are almost always on hand.
Cream, Italian sausage, fresh basil, and sundried tomatoes are one of my favorite combinations.
Everyone loves this pasta dish; even the judges.
This was the part of the show where we made someone else's recipe.
It was fun and I made Relle's; a traditional loco moco burger dish that is commonly served in Hawaii.
It was easy to make and I spiced it up a bit, which is not something that Relle does.
Given that I don't eat beef, I think I did a respectable job, but I was told I packed my patties too tight.
Ah well. If I make this again, I'll be sure not to pack tightly!
In the meantime, Khela was making my spicy ziti al fresco which wowed the judges.
She won with my recipe, and though I could have used a win on the scorecard, I'm glad it was a hit.
The Great American Recipe PBS Episode 6 – Part 2
Recipe DNA:
Ilse's mocha nut cake, which is beloved by my family, was not a hit with the judges.
They felt it too sweet, with too much frosting.
Frankly, when we were kids, the frosting was our favorite part.
Kind of sad when a family recipe isn't a winner.
That's OK. I've always felt that being on The Great American Recipe is a bit subjective.
Kind of like when your high school English teacher didn't like the subject of your essay!
In the meantime, I received this comment last Saturday from someone who decided to make this, even after that great review from the judges.
This is what she wrote: And I did not pay her to write this, LOL!
With all due respect to the judges, they were WRONG. The cake, while tender with a terrific nutty bite, is not sweet: it needs the sweet of the frosting. In fact, I ended up doubling the frosting (well, I kept the powdered sugar at 2.5 cups) to get full coverage, and it was **perfect**, Abbe. It was also incredibly easy + quick.
I ended up not making it for the dinner party, instead making it for our "goodbye" dinner for our eldest (back to uni). Well, my youngest + I didn't (couldn't) wait, instead had a healthy slice for afternoon snack; his (physical) therapist joined us and I'm telling you she about lost her mind how delicious it is. My youngest, who cannot speak, repeatedly leaned toward the hand I use to feed him, ready for his next bite! That kid is sooo smart, and his mother's son.
Instead of matzo meal I used almond flour. Instead of packets of cocoa mix I used the appropriate amount of tinned Ghiradelli Double Chocolate Premium Hot Chocolate mix.
Most years we go to a friend's house for Passover and I will be bringing this. And probably making it multiple times before then, just for eating!
Abbe + Ilse for the win!
And in a totally spontaneous move, my two cousins in Santa Fe drove up the day after this episode aired, to see me and just to eat this cake.
They were here 24 hours and managed to eat cake, my noodle kugel and a breakfast burrito, before they left the next day.
During that time I received a message from my good friend in Albuquerque who said, "I want to try Ilse's mocha cake."
Well, my cousins Cindy and Mickey obliged her and took the cake with them back down I25 to Santa Fe and then to Albuquerque.
They did a pass off to Lori somewhere on the highway, who texted me she had it for her Friday breakfast.
OMG. She loved it. The icing and the nuts.
What a story, right?
Which goes to show that you like what you like and even amazing judges might be mistaken!
And yes, the judges were quite kind throughout-even though I may not have always agreed with them!
(It is hard knowing exactly where one stands on this production because we never received our scores. Should we have asked? I believe we should have!)
I must admit that at this point in the The Great American Recipe PBS, I was beginning to feel a bit defeated.
This is hard work and I am not accustomed to someone not liking what I cook.
No, I'm not telling you everyone has to love my food, but as a homecook I think I do an above average job.
Given that we had a day off at this point, which was our last episode before the finale, I must admit to feeling a bit sorry for myself.
I considered calling in sick (LOL) but decided I couldn't let my fellow cast members down.
So on with the show! Besides my dad didn't raise me to be a quitter!
So on to my final episode.
The Great American Recipe PBS Episode 7 Part 1:
It Takes A Village:
This was a tough one for me because we were supposed to make a dish that a friend or family member taught us that became one of the best things we ever ate.
No one has ever really taught me how to cook, but I still make a chicken casserole that was brought to our home when I was 16 years old, by a family friend, Susie.
My father had been in the hospital in Kankakee and at the same time I was in one in Chicago and my poor mom was beside herself.
This close friend brought over an old-fashioned casserole with mushrooms, artichokes and capers that I still make today.
I've made it for New Year's Eve and even made it for my mom when she was sick.
I don't know if it was all that hospital food that made this taste so good, but clearly it was more than that, given that I still have it in my repertoire today.
No, I didn't make it in the original casserole form for the judges, but I adapted it for the skillet which makes this quicker to prepare.
The judges liked it and it's funny, but I've received more requests for this recipe than any other on the show!
The Great American Recipe PBS Episode 7 Part 2:
Life Changing Meal:
Soft shell crab was a meal I will never forget.
I ate it the first time I ever went to a Vietnamese restaurant and my life has never been the same since.
Vietnamese food is fresh and filled with flavors that are different than Chinese, Thai or Japanese food.
Loaded with French influences, this cuisine is one I heartily embrace.
The judges said it was my best dish yet.
Thank you Tiffany Derry and Leah Cohen!
Kind of funny since I was there to showcase my Jewish dishes.
Just goes to show that what we call our comfort food, may not be comfort food to those who didn't grow up with it.
And even for those who did, kugel and other things were not my kids favorite foods either.
But soft shell crab? Well, I could eat this every day.
This episode was more intended though to announce the three finalists and somehow, though my crabs were near the top, I think they got lost in the shuffle.
However…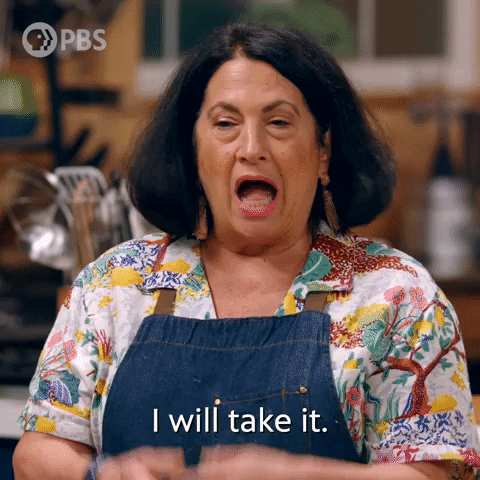 Who made it to the finals on The Great American Recipe PBS Season 2?
We all felt that Brad and Salmah would make it to the finals.
The question was who would be the third.
Leanna, Mrs. Island Breeze, was a great choice and her cooking appealed to everyone.
I would have loved to have been in Leanna's place, but it wasn't up to me. (Sad Face)
(And by the way, I also, have a great recipe for crab cakes, lasagna soup and fried chicken!)
Not having Graham Elliot there for the final decision making in Episode 7 was unexpected, and he was missed.
But what a great show it was. Full of surprises and how glad I am that I was a part of it.
It may be hard for people to believe, but we truly supported each other and I believe we will for years to come.
Our friendships were created under unique circumstances.
It may be that to the producers of the show, we were just the cast, but to each other we were friends.
Just goes to show that competitions don't always have to create enemies!
Want to try some of these great recipes?
PBS has a cookbook for Season 2 where you can find 100 recipes celebrating the Great American Recipe.
This post contains affiliate links from which I may or may not earn a small commission at no cost to you.
Other Posts on The Great American Recipe:
The Great American Recipe – PBS