Soft shell crabs are Spring food. They are rich, luscious, slightly sweet and so good, you will wish you could find them more often.
(This is an updated post from 2016)
Soft shell crabs are one of my most treasured foods, so it really isn't fair that I'm sharing these with you.
It isn't because I don't want to share. It is because soft shell crabs are hard to find and though the season is just beginning, they usually can only be found at specialty markets.
You might be able to find frozen soft shells-I've never tried them-but I can guarantee that Vietnamese restaurants must be buying them frozen, because they serve soft shell crabs year round.
Why are they called soft shell crabs?
Soft shell crabs are crabs that are in the process of shedding their shells as they grow a new, larger shell. They must be removed from the water before the new shell hardens. This happens every three to five days during the growth season from April to September.
My love affair with these sweet and luscious crabs began many years ago – pre kid – is how I remember it. We first discovered Vietnamese food in a sketchy part of town that really isn't so sketchy anymore; it's actually quite colorful.
I remember reading a restaurant review about a great new joint serving Vietnamese delicacies. Since we lived in the mountains at the time, and drove by this exit to get home, we figured we'd stop. Little did we know everyone else had stopped too.
In general, Manservant and I are not waiters. We are not the patient type; but being in a part of town we weren't yet familiar with, we decided to wait. Life has never been the same since.
Vietnamese soft shell crabs have a perfectly crunchy and light crust made with a beer batter. I love this recipe and use it every time I can get my hands on crabs.
However this batter would also work well with shrimp!
If you have never eaten Vietnamese food know that it is a world away from Chinese, Japanese or even Thai.
It has French influences and even uses butter in some sauces. Fresh ingredients are played up, which is one reason I adore Vietnamese cuisine.
This unique cuisine combines sweet and spicy, salty and sour elements, in a complex way.
As we stood in line at the restaurant; inching forward in this hole in the wall, we slowly found ourselves standing by the kitchen where we ogled every dish that passed under our noses.
We quickly discovered that soft shell crabs, piled high on platters with fresh greens and herbs were quite popular. They looked delectable and smelled addictively good.
Upon being seated in our cozy booth, we immediately placed our order for the crabs. Now crabs aren't cheap and still we splurged.
Of course crabs are still not cheap and our budget doesn't seem to have really changed, so they are still a splurge, but a worthy one.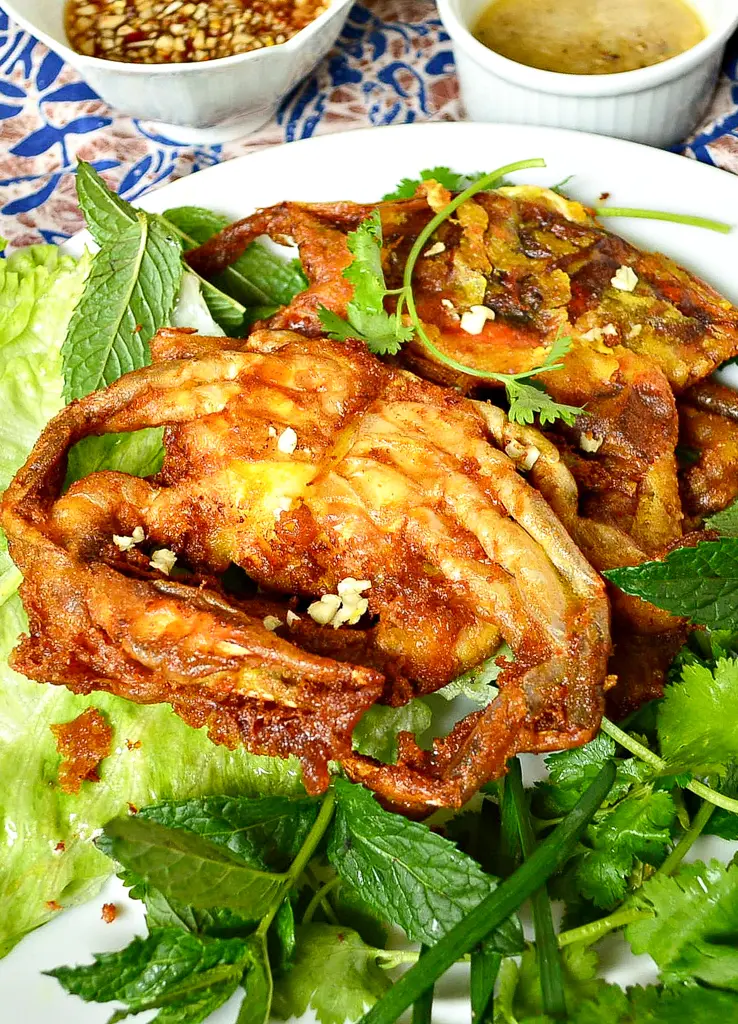 Succulent sweet crabs in a crunchy light batter, wrapped in soft leaf lettuce, filled with fresh herbs and dipped in a salty, spicy, sweet fish sauce is one of life's greatest pleasures. Yeah-they are even better than that. Whatever that may be.
So it wasn't too long ago when I found myself in the heart of Denver, near one of the city's more gourmet markets; the kind of place you go when you want special meat or fish or those hard to find ingredients.
I decided to stop in to see what I might find for dinner and spotted the sign for soft shell crabs. At $8.99 apiece one, well at least this one, has to stop and think how badly does one want said crab.
Realizing Manservant was abroad and probably eating at some fancy restaurant on his expense account, sealed the deal. I had them clean two, and went home and fried these up.
Need a good soft shell crab sandwich recipe?
If you feel the need for a good soft shell crab sandwich recipe, these would be divine stuffed into a bun. Or as part of a Vietnamese banh mi.
In fact, these beer battered soft shell crabs would make a divine soft shell crab sandwich recipe dolloped with tartar sauce or remoulade sauce and served on a soft French roll.
I served them Vietnamese style, which means wrapping them in a lettuce leaf with a variety of herbs. So good and so fresh and this is one way to make a somewhat healthy wrap!
Soft shells are easy to prepare. And fast. I suffered through the photo taking; I really didn't want too, but knowing I don't make soft shells often, I wanted to show the kids my idea of a proper last meal.
This was one quick photo shoot, because I didn't to want to rewarm these babes. I didn't want to lose the crunch or the heat. I wanted to savor the salt of the sea and the sweet white crab, as quickly as possible.
I just have one last thing to add. I wish I would have bought three.
Print
Vietnamese Soft Shell Crab
Author:

Abbe Odenwalder

Prep Time:

20 Minutes

Cook Time:

10 Minutes

Total Time:

30 Minutes

Yield:

4

Servings

1

x

Category:

Main course/appetizer

Method:

Fry

Cuisine:

Vietnamese
---
Description
Fried Soft Shell Crabs are a treat. Luscious and lavish, these crabs are divine!
---
4 Jumbo soft shell crabs, cleaned

2/3 c flour

1/2 c cornstarch

1 1/2 t baking powder

1 t ground turmeric

1/2 t kosher salt

1/8 t cayenne pepper

1 medium egg

1 t rice wine vinegar

1 12 oz bottle wheat beer (not a bitter beer)

Canola or peanut oil for frying

Nuoc Cham Sauce for Serving

Leaf Lettuce

Cilantro

Mint

Bean Sprouts
---
Instructions
Make sure your fishmonger cleans the crabs.
In a 2 c mixing cup, stir together the flour, cornstarch, baking powder, turmeric, salt and cayenne.
In a larger bowl, whisk together the egg, vinegar and 1/2 a bottle of the beer. Using a spatula, fold the flour into the beer mixture. It should have the consistency of thin pancake batter and may be a bit lumpy, so do not over mix. Add more beer if needed to achieve the desired consistency. Cover and refrigerate until ready to use.
Make your nuoc cham sauce and get your salad plate ready. I made an additional sauce of black pepper, lots of garlic and butter. That's pretty good, also!
When ready to fry, pour oil to a depth of 2 inches into a high sided skillet or wok. Heat oil over high heat to 375. Preheat oven to 250 if you want to keep these warm and cover a baking sheet or plate with paper towels.
Dip crab into batter and allow the excess to drip off. Holding the crab by the shell flaps, carefully lower the crab legs and body into the hot oil. Wait for a few seconds and then drop the entire crab into the oil. Repeat with other crabs. Cook for about 6 minutes until golden and crispy.
Drain on paper towels and keep warm in oven until all crabs are ready. Cut each crab in half and serve with sauce and salad plate. Or serve these on a burger bun or French bread!
To eat, wrap each half of the crab in a lettuce leaf, add some of the herbs, fold taco style and dip in sauce. Your life will never be the same!
---
Notes
Thank you Vietnamese Home Cooking.
Note: This batter would also be great for most any seafood!
Keywords: soft shell crab, recipe for soft shell crab, Vietnamese soft shell crab, when soft shell crab season, soft shell crab sandwich recipes