Ziti Al Fresco is a great penne pasta recipe, simply made with Italian sausage, sun dried tomatoes and cream. No need to bake this ziti/penne! Ready in about 15 minutes, this will soon become a family request!
This great penne pasta recipe meant Zoe was home.
Zoe's return meant Ziti Al Fresco. Beautiful, spicy, rich, warm and full of basil. The adjectives certainly suit Zoe except for the basil part!
Yes, my daughter is home. There is no better feeling. At least until my son gets home. That is the best feeling because it means we will all be together for a short while, until one of them leaves me again. I don't know if I'll ever get used to that.
When Zoe is home it means pasta. Lots and lots of pasta. I have no clue how she stays a size two. I didn't inherit that gene.
A long time ago, which in my world is pre-kid, there was a restaurant in Denver named Al Fresco. Located downtown; it was a fun and happenin' place.
Until one day it closed. I don't know why, but it is there no more. It served spectacular Italian food with little garlic rolls that I inhaled and devoured, before I could even look at the menu.
The menu included Shrimp Gamberoni that were also delish and it this Ziti Al Fresco. Between Manservant and myself it was required that one of us always had to order the ziti. My, oh my, I have never forgotten the ziti or the garlic rolls.
Al Fresco's closing led me to create my own Ziti Al Fresco. I haven't made it in a very long time and when you look at the ingredients you will see why.
Yes, it has horrible, luscious heavy cream as one of its prime components. My, oh my. But I knew my Zoe could take it.
With Ziti Al Fresco there is no need to make baked ziti. Loaded with Italian sausage this easy no bake ziti will quickly become a family favorite.
Manservant was in heaven as he ate. I don't know if he was smiling because Zoe was home, or because of the ziti. Either way, both are worth smiling about!
If you love the combo of sundried tomatoes and cream, by all means do not miss this recipe with chicken.
It's called Marry Me Chicken because it is sure to elicit many marriage proposals. Yes, it as good as this pasta!
Notes:
This was one of the first posts I published way back in 2011. It truly needed updating and since I made this for New Year's Eve I thought it time to take new photographs. It still is just as delicious and still puts a smile on Manservant's face. He has been known to eat this with just a spoon and skips the pasta!
Ziti or Penne?
And a word about the pasta. What is pictured is actually penne.
Ziti is a medium tube shaped pasta and penne is a heavier cylinder shaped like the end of a fountain pen, which is actually how it got the name penne, since this shape came about in the 1900's.
Both are suitable and since I couldn't find ziti, I used penne.
No worries. This simple penne pasta recipe is fabulous, with either!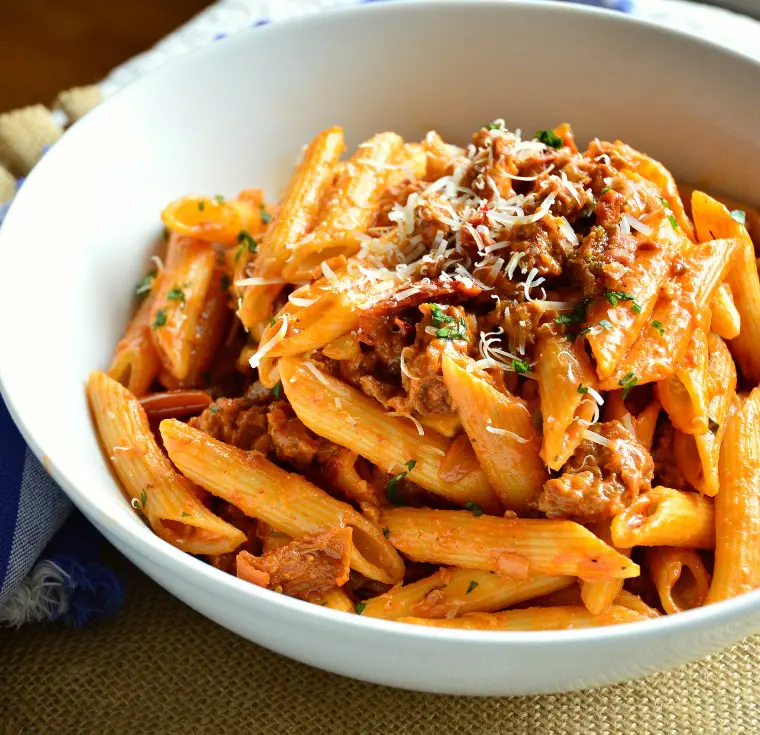 More Simple Pasta Ideas?
Please Pin and Share the Pasta!
Print
Ziti Al Fresco
Author:

Abbe Odenwalder

Prep Time:

5 Minutes

Cook Time:

10 Minutes

Total Time:

15 Minutes

Yield:

4

Servings

1

x

Category:

Main course

Method:

Stove Top

Cuisine:

Italian
---
Description
Ziti Al Fresco is simply made with Italian sausage, sun dried tomatoes and cream. No need to bake this ziti! Ready in about 15 minutes, this will quickly become a family favorite.
---
1 lb penne or ziti, cooked al dente in salted water
2 T olive oil
1 lb hot or sweet, very good bulk Italian sausage (If you need to you can always add some red pepper flakes to the sauce.)
1/2 large onion, chopped
3 cloves garlic
3 T red wine for deglazing
1/2 small can tomato paste
1 c heavy cream
1/3 c sun dried tomatoes sliced (in oil, and blotted dry)
1 pkg fresh basil, chopped
Salt and fresh pepper to taste
Fresh grated Parmigiano for serving
---
Instructions
Heat oil over medium high heat until hot. Add sausage and onions. Cook and break up sausage until almost no pink is showing. Add garlic and cook until sausage is cooked.
Use wine to deglaze pan then turn heat to medium low. Stir in tomato paste, then add heavy cream. Bring to a low simmer and whisk gently until tomato paste is blended in. The sauce will be thick. I usually stir in some pasta water to loosen up the sauce. You could also add more cream. Your choice!
Stir in sun dried tomatoes and simmer for a few minutes. When almost done, stir in the chopped basil.
Combine sauce with drained ziti. Sprinkle with parmigiano.
Now finish that bottle of wine you used to deglaze with and you will understand why you deglaze a pan with wine and why the chefs always say to never use a wine to cook with, that you wouldn't drink on its own!
---
Notes
Sauce can be kept warm on low heat.
Feel free to add some red pepper flakes if you want this spicier.
Sun Dried Tomatoes or Oven Dried Tomatoes? I prefer the sun dried. I think they have a richer taste. They usually cost more but IMO they are worth it.
Reserve some pasta water to loosen up the sauce.
Keywords: ziti, penne, ziti al fresco, baked penne, ziti recipe, baked ziti with Italian sausage, easy baked ziti, penne pasta recipe, penne recipe