This post may contain affiliate links. Please read our disclosure policy.
Noodle Kugel or noodle pudding is a common Jewish dish made from egg noodles, eggs, cottage cheese and sour cream. From there it just depends on the cook. I love this semi-sweet noodle kugel made to go with a dairy dinner.
Most noodle kugel recipes can be savory or sweet.I prefer a sweet noodle kugel and this is the noodle kugel recipe I prefer! Kugels can be served for dessert, or with the main course, and some eat it for breakfast. My mom always made a savory noodle kugel. It was a dairy kugel, which she always served with chicken. I know. BUT! We didn't keep kosher. Savory kugels are made without sugar. They can contain everything from onion soup mix to mushrooms, to caramelized onions, to zucchini. Savory kugels are good.
But…
Another but! I like mine better. I like them a little sweet. And though I would never serve a kugel for dessert, I do like them with a meal. They are great served with fish and I love reheating a slice for breakfast in the microwave, and then dolloping on raspberry or apricot jam. Mmmmm. Jewish comfort food at its finest.
So, who doesn't know what a kugel is?
A kugel is a pudding or casserole made from noodles. Unless it is made from potatoes. Ah, you see, that is the first question to ask when making a kugel. If one keeps kosher than a noodle kugel, which is made from dairy products, can't be served with meat, where as a potato kugel which is made from potatoes, eggs and oil could. Unless it is my Omi's potato kugel which does not contain eggs and is not for Passover. Do you see the mishegas (craziness in Yiddish), when it comes to explaining kugels?
Sometime last week the kugel popped up on my Facebook. Someone didn't know what it was. A day later, the daughter asked for my kugel recipe. Shocker, that she would. After all, she never liked kugel as a child. I used to always tell my children that just a taste would do, so they would taste, that is. I also told them that tastes can change and so it was always important to taste, to see if in fact, their tastes did change. This was viewed with skeptical eyes, but apparently tastes can change, as evidenced by this request.
Often one finds sweet kugels with every variety of fruit. This year I saw a recipe for a caramel apple kugel. And my friend posted a pineapple kugel very similar to my recipe, except with crushed pineapple. One year I made a Jerusalem kugel, which is a caramelized sugar and black pepper kugel, that is unique and outstanding. But this isn't what I often do. I make a semisweet kugel and serve it with dinner. In this case a roast chicken. Not kosher, I know!
Kugel is comfort food in a Jewish home. Well, at least it was in my home. Their are a zillion ways to make it and they are all good. It is the perfect company dish because it makes a lot. Since there are just two of us, I did freeze quite a bit for future meals. You can Google kugel and find recipes out the yin yang. They are simple and quick to make. They are kind of like a Jewish mac and cheese, which my friend Shulie so aptly compared them too.
When do you eat kugel?
Well, Saturday which was was the Jewish holiday of Yom Kippur, our day of atonement, is the perfect day. A serious day, spent sitting in temple atoning for our sins. Remember, I told you about Rosh Hashanah? Well, 10 days later is Yom Kippur. We fast from sun down to sun down, so it is common when breaking the fast, to serve breakfast type foods. Every year we get together with friends and eat lox and bagels, my frozen cheese souffle, tuna fish, fruit and plenty of dessert. One could also serve a simple blintz casserole or a noodle kugel. Yes, we have brinner!
Noodle kugel is also traditionally served for Shabbat on Friday night. It would be a great casserole to introduce to your family. Easy as boiling noodles and then mixing with butter, eggs, cream cheese, sour cream and cottage cheese, well this kugel is made for anyone that loves noodles. So there you have it. Noodle Kugel in a nutshell. Anyway you cut it, this is Jewish comfort food, at its best!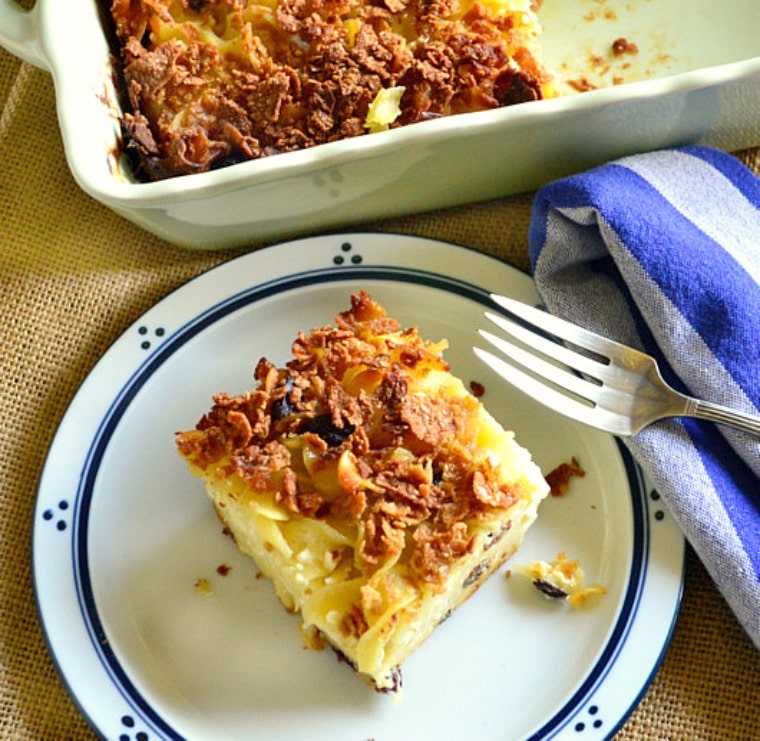 I'M PARTNERING WITH AMAZON TO HELP KEEP THIS SITE AFLOAT.
I MAY EARN A SMALL COMMISSION AT NO COST TO YOU, WHICH I USE TO HELP PAY FOR COSTS OF KEEPING THIS BLOG GOING.
I love rectangular baking dishes like these and one of my favorite pots to boil pasta in is one where the noodle basket lifts out of the water. No need to drain!
Please Pin and Share!
Print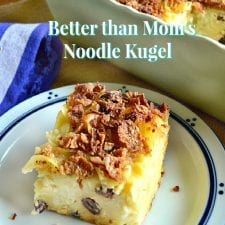 Not My Mama's Noodle Kugel or Finally, the Daughter Likes It!
Author:

Abbe Odenwalder

Prep Time:

20 Minutes

Cook Time:

60 Minutes

Total Time:

80 Minutes

Yield:

8

-

12

Servings

1

x

Category:

Side Dish

Method:

Baking/Boiling

Cuisine:

Jewish
---
Description
Sweet Noodle Kugel is our family's favorite! Made with eggs, sour cream, cream cheese and cottage cheese, it sure beats my mom's!
---
12 oz bag wide egg noodles

1 t salt for boiling water

6 T butter (divided)

4 oz cream cheese

1/3 to 1/2 c sugar

3 eggs

1 c sour cream

1 lb small curd cottage cheese

1 t vanilla

1/2 c raisins or other dried fruit, plumped in 1 c of hot water if fruit is dry (optional)

1/2 c to 1 c cereal, like cornflakes to crush for topping
---
Instructions
Boil noodles in salted water for no more than 7 minutes, because you will be baking this and do not want them overcooked. Drain and return to pot and toss with 3 T of the butter. This should melt!
Preheat oven to 350.
In a large bowl, by hand or with mixer, combine cream cheese, 3 T melted butter and sugar. Beat until somewhat smooth.
Add eggs, sour cream, cottage cheese, vanilla and dried fruit if using. Stir well, until all is combined. Add noodles and mix well.
Generously butter a 13 x 9 pan. You could also bake this in a smaller pan and have a thicker kugel. Scoop noodle mixture into prepared pan. Smooth top.
Crush cereal between hands over noodles, until the kugel has crushed cereal over the top of it. Dot with butter.
Bake for about an hour or until kugel feels firm and a knife inserted into the center comes out clean. A thicker kugel may take a few more minutes.
---
Keywords: noodle kugel, noodle kugel sweet, noodle kugel recipe, noodle kugel savory,