This Shrimp Creole recipe is a classic Creole dish. Satisfying, with a touch of spice, this easy shrimp dish could quickly became a habit.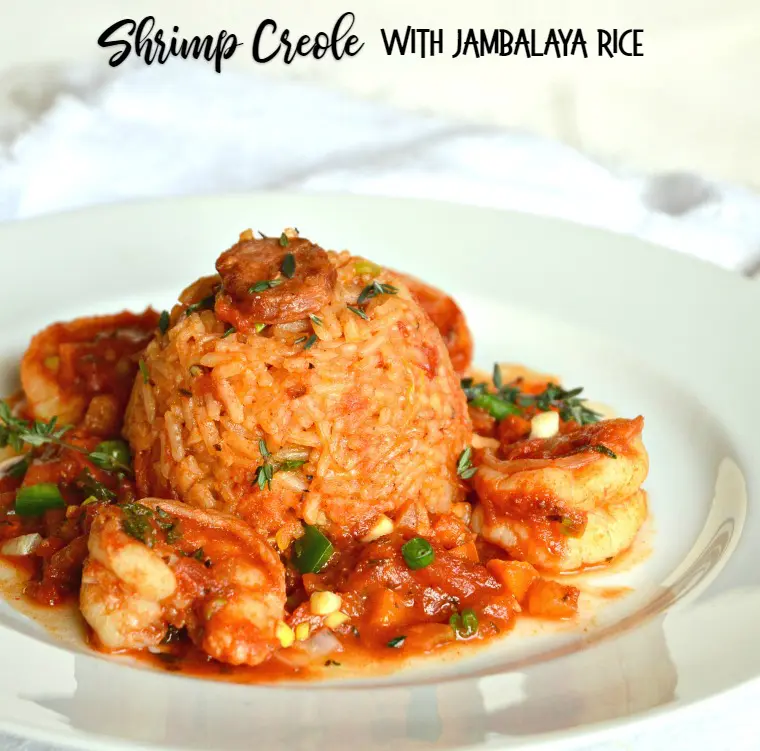 Shrimp Creole is a classic New Orleans recipe.
Most shrimp creole recipes contain the holy trinity of three ingredients that are essential to Louisiana cooking.
I've been cooking Cajun recipes since I discovered Paul Prudhomme back in the '80's.
It didn't hurt either that my mother in law used to shower me with Southern cookbooks, that I still consult to this day.
But this shrimp creole recipe isn't cajun cooking, or is it?
Well, no! This shrimp creole recipe is a Creole recipe because it contains tomatoes. Did you know that?
My mother in law was born and raised outside of New Orleans, and though that doesn't make me an expert, I can tell you the difference between Cajuns and Creoles.
Cajun were country folk. They were from Acadia, Canada and settled in Louisiana after they were forcibly removed from their homes in the 1700's.
Their customs and heritage was carried to Louisiana and they became known as Cajuns.
For more to the story read this short article written by Jay Ducote. The funny thing is that his surname is the last name of my cousin. There must be a connection, don't ya think?
Now Creoles were city folk. They were more cultured, don't ya know?
Creoles were descendants of the French, Spanish and Africans who lived in New Orleans.
They had better access to ingredients which is why they make their roux with butter, instead of oil like the Cajuns do.
This is also why they had tomatoes, which weren't found in Cajun country.
But on to this shrimp creole recipe.
Traditionally Shrimp Creole is served with steamed rice however I made jambalaya rice, which is kind of mixing the Cajun with the Creole. Jambalaya rice is generally baked, but I made mine on the stove top.
Since I was serving this with shrimp creole, I didn't add shrimp (which is commonly found in jambalaya) to it.
However I did add some Andouille sausage, because jambalaya just isn't jambalaya without sausage.
And if you don't want to make the jambalaya, just stick with steamed rice and forget you ever read this paragraph.
So how is Shrimp Creole sauce made?
This simple recipe begins with that holy trinity. Now I know there are a lot of green pepper haters out there and green pepper is part of this trinity. But listen up!
Just chop a red pepper and add a jalapeno, and you will approximate the flavor. (Even though I promise you won't mind the green pepper in this!)
Mix up some of my own Creole seasoning. There will be plenty left over to season some fish, chicken or rice with, so consider this Creole seasoning a bonus.
From there it's a matter of cooking your veggies, adding the seasoning and last but not least the tomatoes.
At this point you can stop and just add your shrimp when you are ready to serve dinner.
Some tips on making this recipe: If you are making both the shrimp and the jambalaya rice, make sure to chop the veggies for both recipes at the same time.
Read the recipes carefully and this will save you time. Both dishes come together fast.
I made my Creole sauce first, and then began the rice. When the rice was about 5 minutes from being finished, I added the shrimp to the warmed up sauce.
Timing is everything, don't ya know?
And now that it's Fat Tuesday. I suggest a little Mardi Gras in your life. Get up and dance y'all! (My kids were jammin and dancin' to this in 5th grade!)
More Mardi Gras Food:
Everyone needs a King Cake to celebrate with!
Gumbo? Yes, baby this Gumbo Yaya Rocks!
Now just Pin this recipe 'cause I know you want it!
Print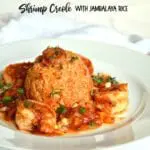 Shrimp Creole with Jambalaya Rice
Author:

Abbe Odenwalder

Prep Time:

45 Minutes

Cook Time:

20 Minutes

Total Time:

65 Minutes

Yield:

4

Servings

1

x

Category:

Main Course

Method:

Stove Top

Cuisine:

American
---
Description
Add a little Mardi Gras to your life with this classic shrimp creole recipe!
---
Shrimp Creole
1 T oil

1/3 c finely chopped onion

1/3 c finely chopped green pepper

1 seeded and diced jalapeno

1/3 c finely chopped celery

2 minced garlic cloves

1 –2 c stewed tomatoes (If you want this saucier then add it all)

1 T tomato paste

1/3 c shrimp stock, or clam juice, or more if you want this saucier

1 1/2 t Worcestershire sauce

1–2 t Louisiana hot sauce

3 t Creole seasoning

3 green onions minced

1 T fresh thyme

1 lb 16/20 count shrimp deveined and peeled

Jambalaya Rice
1 T oil

1/2 lb Andouille sausage

1/3 c chopped onion

1 1/2 T finely chopped celery

1 1/2 T finely chopped green pepper

1 large clove minced garlic

1 c raw white rice

2 c chicken broth, or water , but I also used the clam broth left from the above

1 T Louisiana hot pepper sauce

2 T Worcestershire sauce

1 c stewed tomatoes

1/4 c freshly shredded Parmesan cheese

2 green onions finely minced

Creole Seasoning to taste

Creole Seasoning
1 T coarse salt

1 T fresh ground black pepper

3/4 T cayenne pepper

1 1/2 T garlic powder

1 T onion powder

2 T paprika

2 T dried thyme leaves

1 1/2 T dried oregano
---
Instructions
For Creole Sauce:
Heat 1 T oil over medium high heat. Add onions, peppers, celery and garlic. Saute until onion is translucent.
Stir in tomatoes and tomato paste. Cook for about three minutes. Add stock, Worcestershire, hot sauce and Creole seasoning. Bring to a simmer. (At this point you can stop until you are ready to cook the shrimp.)
When ready to cook the shrimp, bring tomatoes back to a simmer. Add shrimp and cover with lid. Simmer for about 4-5 minutes or just until shrimp have turned pink, are curled up and done. Stir in green onions and thyme.
Serve over steamed rice or jambalaya rice.
Jambalaya Rice
Heat oil over medium heat and then add sausage, onions, celery and peppers. Saute until onion becomes translucent.
Add garlic and raw rice and cook until rice begins to toast lightly. Slowly add your broth mixed with the leftover clam juice from the shrimp. Bring to a boil and then cover and turn down to low. (Use a big pot so the rice doesn't boil over.)
After 15 minutes, stir in tomatoes, hot sauce and Worcestershire. Finish cooking with lid on for about another 5 – 10 minutes or until the rice is done to your liking. Stir in cheese, Creole seasonings and green onions after you remove from heat.
---
Keywords: shrimp creole, shrimp creole recipes, shrimp creole recipe, creole sauce, shrimp creole easy, shrimp creole new orleans, shrimp creole with rice, shrimp creole Louisiana
And Hey! Look who just turned 4!