Lasagna Soup tastes better than lasagna and it is served in a bowl. Full of ricotta and Parmesan and topped with mozzarella, this tomato based, sausage filled wonder is a favorite in our family!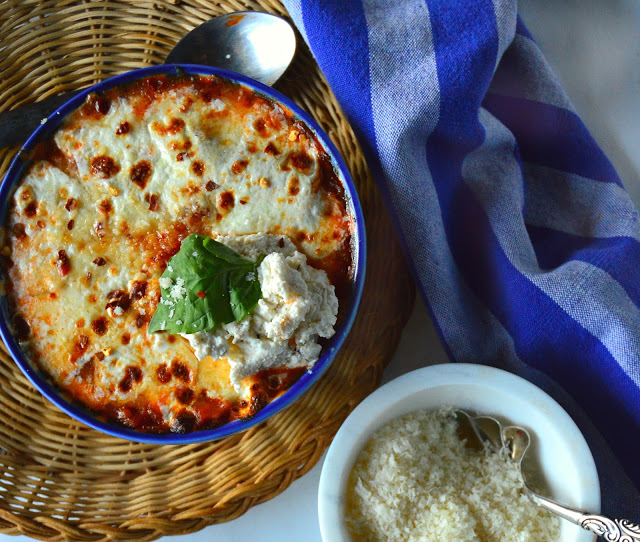 Lasagna soup. I hear it's a thing. Unfortunately, it takes me a long time to get the message.  But thanks to Biz at My Bizzy Kitchen, sometime last year it finally sunk in. It appears she's made this recipe over and over, she's even counted on her fingers how many times. One day I just decided I have to make this soup. From the moment I made it, I knew it really was a thing. And a very good thing indeed.
This amazingly simple soup has been around awhile. Biz found it here. I found it from Biz and adapted it slightly to our tastes. Frankly I think I prefer this over lasagna in pan form. I much prefer this lasagna in a hearty bowl size.Served with garlic bread and a green salad one has a meal. And even without the salad and bread, one has a meal. Zoe has fallen in love with it and always requests it when she comes home.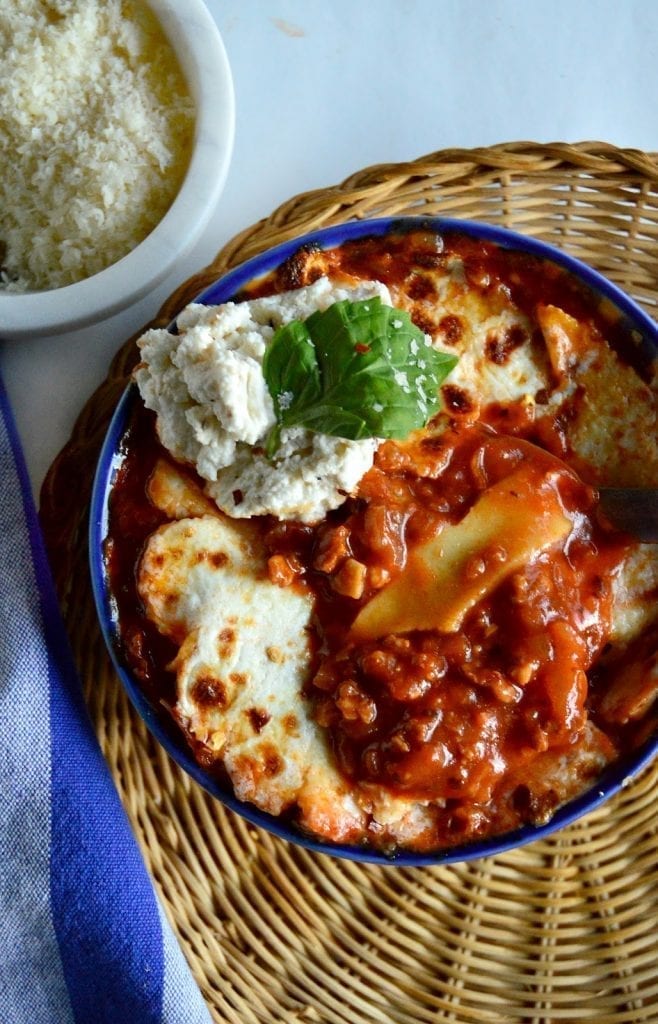 Three good things about lasagna soup…. It's easier to make than lasagna. It's quicker to make than lasagna. And it tastes good. I love to broil the mozzarella a la French onion soup style, but this is totally unnecessary. However it is fun to break through the stringy strands of molten cheese to reach the tomatoey sausage stuffed interior. Don't forget the fresh basil or the ricotta topping. This really adds to the richness of the soup, even though I wouldn't describe this soup as overly rich. Hearty, yes.
The next time you are in the mood for lasagna but to tired to make it, try this soup. The next time you feel like soup; try this soup. The next time you want to please a crowd and are maybe tired of chili; make this soup. Trust me on this.  Don't wait as long as I did to make it. Lasagna soup really hits the spot. And besides…it's a thing.
Here are a few other lasagna type things. After trying mofongo with Alex, now I can't wait to try this Puerto Rican plantain lasagna from The Noshery.  For company it might be fun to serve this lasagna dip from That Skinny Chick Can Bake. And I don't want to miss this trend. Dessert lasagna…I guess it's a thing too. Don't miss this peanut butter chocolate lasagna from Spend with Pennies. Just shoot me now!
A Few More of Mine:
Don't Lose This Recipe!
Please Pin and Share!
Print
Lasagna Soup. It's a Thing.
Author:

Prep Time:

20 Minutes

Cook Time:

35 Minutes

Total Time:

55 Minutes

Yield:

6

Servings

1

x

Category:

Soup

Method:

Stove Top

Cuisine:

Italian
---
Description
Lasagna Soup tastes better than lasagna and is served in a bowl. Full of ricotta and Parmesan and topped with mozzarella, this tomato based, sausage stuffed wonder is a favorite in our family!
---
2 t olive oil
14 oz hot or mild Italian sausage (I prefer the Boulder brand in Denver)
2 c chopped onions
3 garlic  cloves minced
2 t dried oregano
1/2 t crushed red pepper flakes or to your taste
2 T tomato paste
1 14 oz can tomato sauce
1 14 oz can diced tomatoes
2 14 oz cans water
2 bay leaves
6 no boil lasagna noodles OR 6 oz of macaroni (I prefer Barrilla. I run the noodles under hot water before putting them in the soup.)
Salt and Pepper
1/2 c fresh shredded basil
2 c shredded mozzarella or 6 oz fresh mozzarella in thin slices
1/2 c freshly grated Parmesan
Ricotta Topping
6 oz ricotta
1/2 c grated Parmesan
salt and pepper to taste
1 T basil pesto (optional) If you don't have fresh basil it is nice to mix this in here.
---
Instructions
Heat olive oil in a large pot over medium heat. Add sausage. Break it up as it cooks and browns.
Once sausage is browned, add onions and cook until soft, about 6 minutes. Add garlic, oregano and red pepper flakes. Cook for 1 minute.
Add tomato paste. Stir well and cook until the tomato paste turns a rusty brown-about 3-4 minutes.
Add both cans of tomatoes and sauce, bay leaves and water. Stir to combine. Bring to a boil. Reduce heat and simmer for 30 minutes. Break up the lasagna noodles and add to the soup, stirring so they won't stick together. These cook pretty fast and you don't want them to overcook. (If you prefer to cook them separately you can and then if you have leftovers your noodles won't get soggy.)
When lasagna noodles are cooked, this is ready to serve. I love this French onion soup style with a broiled mozzarella topping. To do this, lade the soup into  bowl. Top with shredded mozzarella-not the fresh variety-and place bowl in  broiler pan. Place pan on the top rack and under a hot broiler until cheese is browned. Or you could use a blow torch! When soup is golden, remove from broiler. Top with a few tablespoons of ricotta and garnish with basil.
For the simple version…ladle soup into bowl. Stir in some fresh basil. Top with shredded mozzarella and a scoop of ricotta. Garnish with more basil, black pepper and Parmesan.
---
Keywords: lasagna, lasagna soup, soup, Italian food