Something about the smell of spring always finds me needing crab cakes. It appears to be a biological urge related to my pregnancy, about 24 years ago. Yes, I know it sounds weird. I also "needed" McDonald's small cheeseburgers, that now I would probably throw up if I had a bite. The same street also found me at a Chinese restaurant needing sesame chicken. And I kid you not; that was the best sesame chicken I ever ate. Alas, that restaurant is a long time gone. Luckily, I have the recipe and make it when necessary. But today I'm feeling crab cakes.
No, Denver is not known for crab cakes. But the year I was pregnant found me doing a lot of travelling. Yes, I was doing as much as I could before being home with two babies. And I was charmed and feeling good. I couldn't stand the smell of breakfast, but anything after that was fair game. So, April of that year found me in DC and Baltimore where Manservant had a conference.
I remember I had a big red top with a white Peter Pan collar which made me a very stylish, very pregnant, woman. Definitely one that  was on a quest to find the best crab cake in the area. While Manservant was busy doing whatever it is manservants do, I was off tasting crab cakes. Really. I went to the market in Baltimore. I went to Annapolis. I went to where ever anyone told me I should go. Yes, I was on an adventure to digest as many crab cakes as I could before I had to fly back to Denver. After all, big red tops hide a lot! Presumably.
I like crab cakes. They aren't as messy as eating the crab with the shell. And they almost always come with French fries. They are easy to make, totally simple to eat and they are special. At least when you live in Denver. Shout out here, please. Do any of you East coasters take crab cakes for granted? I hope not. And don't even get me started on clam rolls or lobster. Those were devoured on another trip to Cape Cod and I wasn't even pregnant then.
So Trader Joe's opened across the street, about a mile down the road. (That totally makes sense, I know.) In Denver, this was a BIG deal. I am really not believing the traffic because of this. But anyway, I've never had a Trader Joe's to shop at, and I am still wondering what all the fuss is about. However, what I've bought from there is really good. And really cheap. For the most part. Maybe that is what all the fuss is about!  I just wish they would give their flowers water. Poor flowers.
Well, you know where I'm going with this. Trader Joe's had lump crab meat. And It was labeled Abbe's crab meat. Well, not really. But I do really feel it had my name on it. It was packaged by Chicken of the Sea and though it didn't come from Baltimore, it was pretty good. Not quite as salty sweet as the ocean, but in Denver we have learned to sacrifice. And I did sacrifice one 8oz can to make 4 good sized crab cakes which was enough for Manservant and me.
No, I didn't make the French fries. We are on a diet. Hush, I say. And are crab cakes dietetic? Well, I suppose that depends what kind of diet it is and my lips are sealed. Well, this diet requires a lot of protein and that's all I'm saying. After all, the best crab cakes are filled with crab, not breadcrumbs. This is an important fact when it comes to crab cakes. You get what you pay for, folks! Don't pay crab prices for bread! The crab monger in Baltimore told me this. And he told me how he makes crab cakes, which is basically what I do. At least the part I remember. After all, it was a long time ago…
This recipe is a fancy Baltimore crab cake. At least how I remember a Baltimore crab cake. I'd be happy to visit again to see if my memory serves me right! Always buy lump blue crab, if possible. You have to splurge a bit because you really want to be able to taste the crab and having big pieces of crab allows that. I have also bought good crab at Costco, and I'm telling you that because I know we are on a need to know basis here. Right?
I served my crab cakes on a cauliflower chutney. Weird, I know. But it was really good. I mean REALLY GOOD. I'll give you that recipe next. The spicy sweetness of the chutney really blended well with the richness of the crab. And besides the recipe was courtesy of the Tribeca Grill, so you know it has got to be good. Let's face it crab cakes are good on their own, on a brioche roll with tartar sauce, or even over mashed potatoes. From my experience there is no bad way to have a crab cake, UNLESS it is a bready crab cake. Horrors!
So let's get to it. Be ready to stuff your face with crab!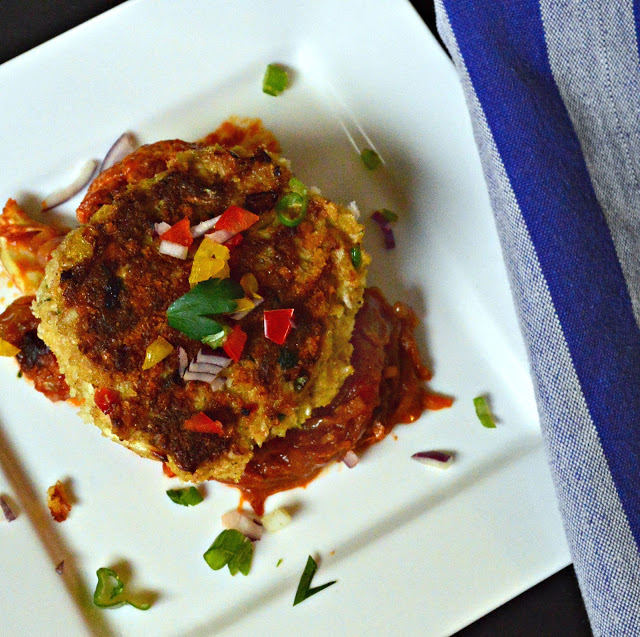 Old Bay Crab Cakes
Adapted From: Tribeca Grill
Yield: Serves 2
Ingredients:
8 oz lump crab meat
1 T finely diced red pepper (optional)
1 T finely diced yellow pepper (optional)
1 T finely diced red onion
1 T Old Bay seasoning (this is also great on fries or potato chips)
1 1/2 T mayonnaise
1/2 T yellow mustard
1/2 T dijon mustard
1 large egg
1/2 t Worcestershire sauce
1 t minced Italian parsley
1/2 c panko bread crumbs or cornmeal
In a mixing bowl, add peppers, onion, Old Bay, mayonnaise, mustards, egg, Worcestershire, parsley and 1/4 c panko bread crumbs. Mix well. Slowly fold in crab, trying hard not to break up the big pieces.
Form into 4 cakes. Dredge on all sides in the other 1/4 c of panko crumbs or cornmeal. I like that, too! Place on plate and chill in fridge for at least 20 minutes before cooking.
Heat 2 T oil in a nonstick skillet over medium high heat. When oil is hot, add the crab cakes and cook on one side until golden brown. Flip carefully and brown the other side. This usually takes about 5 minutes per side.
Serve this in the chutney which is coming next or serve on a nice soft toasted bun with fancy tartar or cocktail sauce. Or you can eat these without any accompaniments at all! These are out of this world. And remember, you should always trust a pregnant woman, even when she isn't pregnant!
Please Pin so you Don't Lose This Recipe!

More to try: