Pickled red onions are amazing as are these other two taco toppings!
Pickled red onions are amazing on just about anything, but put them on tacos and oh man…you've hit on what makes them so addictive. This simple ingredient makes tacos so above the norm.
Tacos are where it's at! It took me awhile to get on board, but let's just say I'm now shipshape! The fun thing about tacos, or quesadillas for that matter, is the variety of ways they can be topped.
Toppings are an art form and too many or too little or not the right kind, can take away from your creation. The balance of flavors is what makes a taco special.
Each bite should contribute to the next, to the point of not wanting to put that taco down, because each morsel tastes so massively good. Little bites full of big flavor, but also a giant mix of textures come into play, in what seems like just a simple taco!
Should I use corn or flour tortillas for tacos?
Tacos can be made with either corn or flour tortillas. I find the type I choose depends on the type of protein I'm using as a base to build the taco. From there a combo of spicy, sour, salty and even sweet ingredients are added to round out the flavor of the taco.
Then think texture or crispy, crunchy, creamy, as ways to add interest. Salsas add complexity and guacamole adds creamy, salty and savory. Ordering a taco at a taco joint may seem simple, but I guarantee there was a lot of thought put into that taco!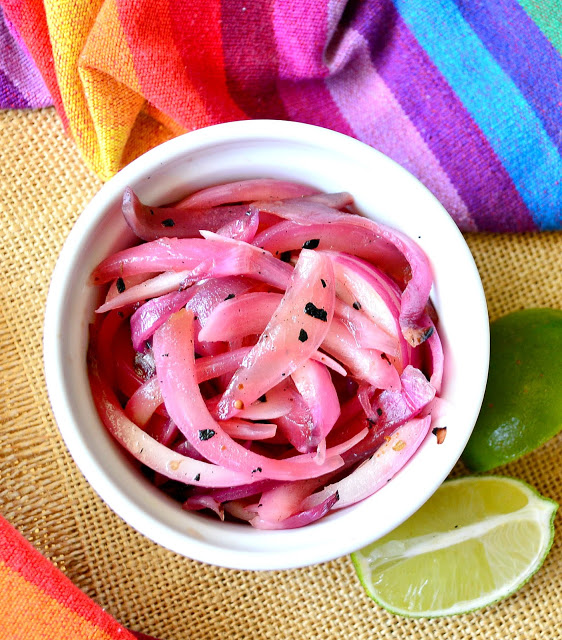 Below are a few simple taco toppings that I use to amp up the flavors of some of my favorite taco combinations. Use them also on burgers or sandwiches and anything else where you need a little extra! Alex love the pickled red onions on scrambled eggs. And then he tops them with avocado sauce.
However you choose to use these toppings, I can guarantee they will send you over the top!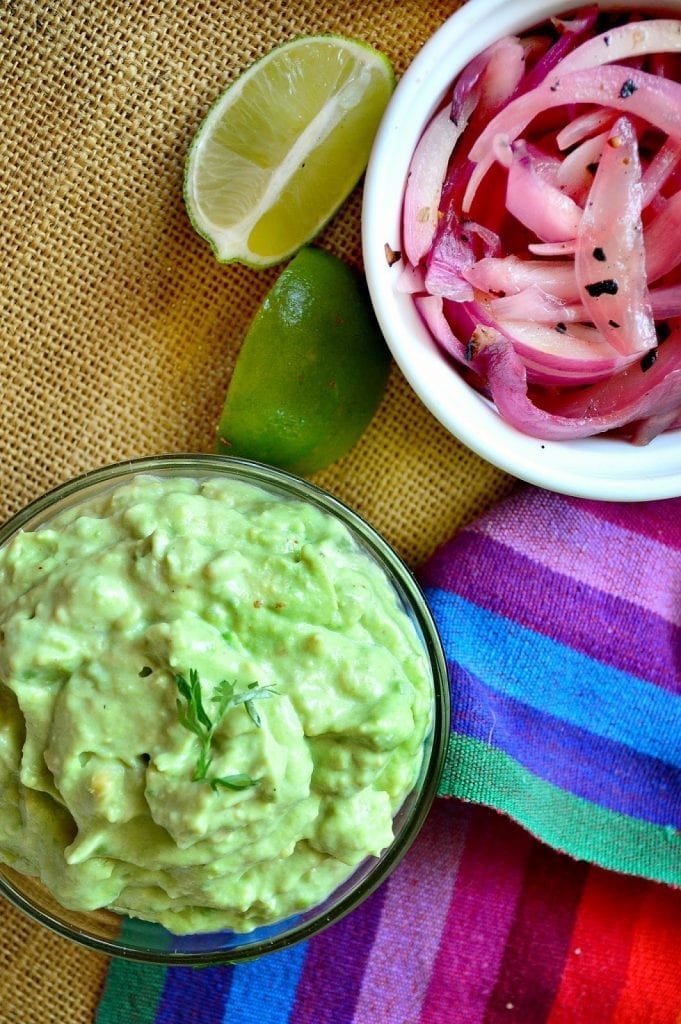 Please Pin and Share: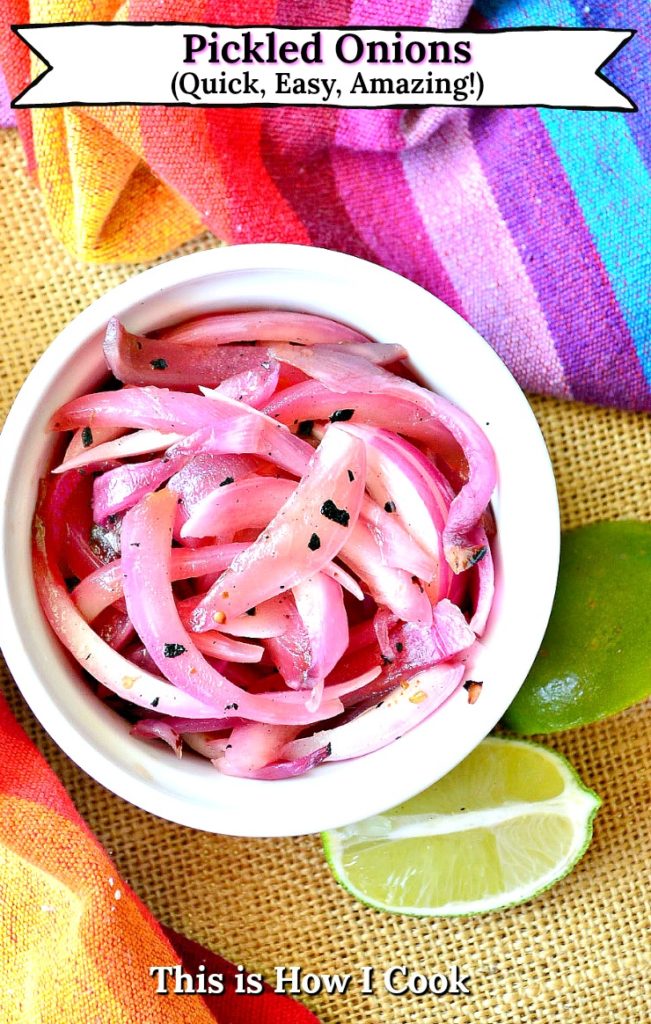 Print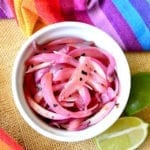 Pickled Red Onions and Other Taco Toppings
Author:

Prep Time:

30 Minutes

Cook Time:

Varies

Total Time:

30 Minutes

Yield:

Varies

Category:

Side Dishes

Method:

Varies

Cuisine:

American
---
Description
These three taco toppings also make great topping on most everything. Simple and flavorful, I think you will enjoy them all!
---
Avocado Sauce
Serves 4
Time to Make: About 10 minutes
Ingredients:
1 ripe avocado
2 T finely minced onion
2 T sour cream or Mexican crema
2–4 T heavy cream
1/4 t garlic powder
1/2 t salt
A few grinds of black pepper
Juice of 1/2 a lime
Pickled Red Onions
Serves 10
Time to Make: About 10 minutes active/ 20 minutes inactive
Ingredients:
1 large red onion peeled, but root end still attached.Cut into quarters without slicing through the root. Do not separate. Brush with some oil and sprinkle with salt.
3 T white vinegar
1 crushed garlic clove
Pinch of oregano
4 peppercorns
Pinch of salt
Grilled Cabbage
Serves 4–8
Time to Make: About 15 minutes active/ 20 minutes inactive
Ingredients:
1 head green cabbage
Olive Oil
Coarse Salt
Juice of 1 lime
Seasonings such as salt, smoked paprika, oregano, garlic powder, onion powder
---
Instructions
Avocado Sauce:
Mash avocado. Stir in all ingredients while mashing to a sauce consistency. You may want it chunky or smooth and that is your choice.
If you want it more of a thin sauce, add more cream. Add your seasonings to taste. Avocados need to be bold. This sauce is tangier than guacamole and really brings out the richness of the avocado!
Pickled Onions
Directions:
Preheat grill to medium high heat. Grill onion with bulb side down until blackened.
Now turn over and rest root end on grill and grill until that is blackened. It will start to spread like a flower opening. I only grill this partially, so that the onion retains some crispness. Take off fire and let cool.
Now cut off root stem and slice into thin slices.
Place onion, vinegar and seasonings in a pot. Bring to a boil. (I know it seems like you need more liquid, but you don't.) As soon as it boils, turn into a container and let stand until cooled. These are great on sandwiches of all kinds and of course tacos or quesadillas! They keep in the fridge a long time!
Grilled Cabbage
Slice cabbage into 3/4″ rounds. Brush both sides with oil. Season one side well with salt.
Combine lime juice with seasonings and brush on to cabbage. Use more seasonings if necessary to cover cabbage rounds.
Let sit for at least one hour or up to overnight. When ready to cook, preheat grill to medium high.
Place cabbage rounds on an oiled grill and grill until cooked, but not soft. If some of the cabbage strings fall off gather them up and place a pile of them on a grill tray and cook by tossing until browned.
Cabbage can be used as a taco topping or it can even be tossed with cole slaw dressing and served that way as a  taco topping or as a replacement for cole slaw.
---
Notes
Onions do not have to be grilled. They can be sliced and then placed in the pot to pickle. I think grilling gives them more flavor, but is totally optional.
Keywords: pickled red onions, pickled onions, grilled cabbage, avocado sauce, pickled red onions quick, pickled red onions recipe
Some More Great Mexican Recipes:
Mexican Shrimp Cocktail
Pico de Gallo
Pineapple and Chipotle Guacamole with Tequila
Nachos Al Pastor with Pineapple Salsa
How To Make Chorizo
Pulled Chicken Tinga Tostadas
Coconut Rum Tres Leches Cake