Peruvian Green Sauce is a jalapeno, cilantro, garlic lover's delight! I really must say that this is WAY BETTER than ketchup! I eat it on everything!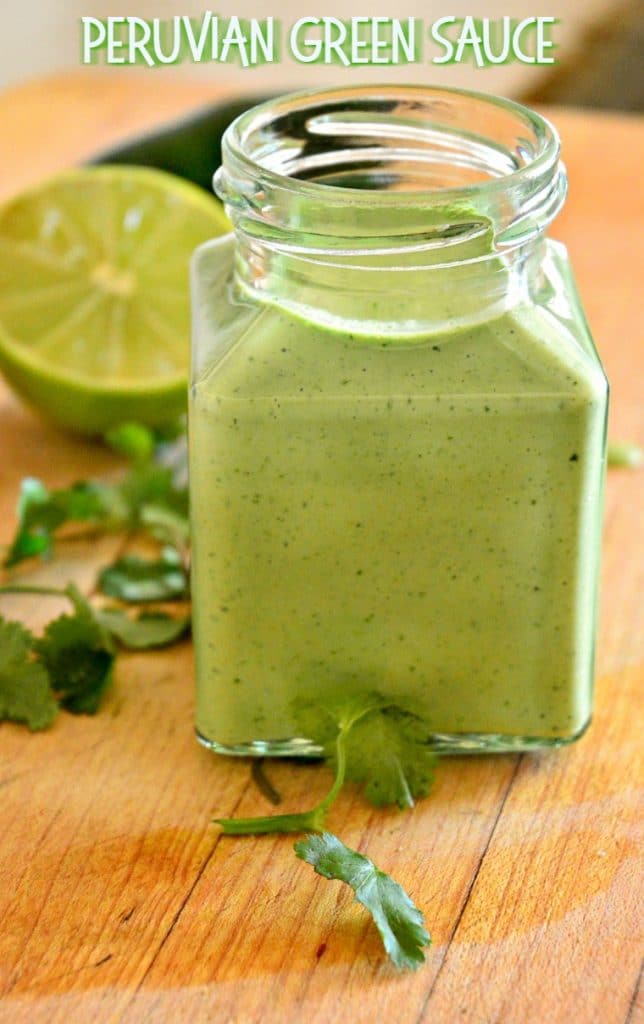 The last week has been a blur.  It took awhile to get things back to "normal" after coming home to paint dust and splatter. I cleaned each and every cabinet out and was happy with my work. Yes, I still have the refrigerator to do, but cabinets that haven't been cleaned inside in years, are finally clean again. No sooner had I finished, than Manservant came up the steps, announcing that Alex was coming home tomorrow. Which meant cleaning the rest of the house… Not that Alex would care, but it needed to get done. After all, Alex needs clean spaces to dump all his stuff!
Alex has a way of making each room know he's home. The laundry room held his clothes. The kitchen held his jacket and computer. Then the den held his computer. Then his room held his computer and his shorts. Then Zoe's room held him. He is still mattress-less in his room, because that is with him in Vail, until he brings it back. And the bathroom held his clothes, clean and dirty. Of course, the driveway held his car. Things sure have a way of filling up when he is around.
Finally he has a date for heading to China. All I can say is "Get ready China, because here he comes!" July 8th will find me shedding tears. So, after hopefully taking the beginning sommelier course in May (which he is wait listed for), he will finally be taking his show on the road; whatever that show may be. He plans to study more and hopefully find some  work in the wine business in Shanghai. I know he'll be working hard to get ready to go, after spending time in Moab, with a week of rafting and skiing. Right, honey?
So with Alex around we had an exciting Friday night. We started at The Source– a somewhat new happening spot in Denver. We went early, which was a good thing, and managed to partake of the weekly drink at The Proper Pour – a perfectly curated boutique wine/liquor shop that is there. They were mixing Negronis, and not having had one before, I didn't want to miss out. Manservant had a Negroni made with tequila and it was quite drinkable, I must say. (Manservant loved their tequila selection.) I had the classic and enjoyed that, too. If you are in Denver, it is a great store. We bought some tequila and the makings for our own Negronis.
From there we walked next door to the Belgian brewery that specialized in sour beers. I thought Alex might lose it when I asked why they were called sour beers. Well, I just wanted the scoop. And no, they weren't all that sour. So it wasn't a dumb question, and someone once told me there are no dumb questions. We had a good sampling and then it was over to La Comida for tacos and Margaritas. Yes'm, they are good. And they also have gorditas and quesadillas. And brunch… but we didn't stay THAT long.
It is kind of embarrassing to say, but we still needed dessert. Voodoo doughnuts arrived from Portland awhile ago, and I have always wanted to see what the fuss was about. After circling like hawks to find a parking spot, Manservant dropped us off. It was only 7:30 and there was already a line. I gave strict instructions to Manservant to find a legal parking spot, because on this part of Colfax, the tow trucks are like vultures. Welcome to Denver. Yes it is kind of sickening and over the top, but towers prey on cars and you.
Well, there was definitely voodoo in the air because after we snagged the doughnuts and Manservant was leading us back to the car, he spots a tow truck. And yes, the tow truck was towing the truck that was hiding our car. Two helpless sobbing girls didn't stop the vultures from preying. I felt Manservant's heart skip a beat as he got into our car and drove us away. OK, he says, there weren't any signs at that exact space. Ah, but there were "no parking signs" in the lot, I said. Not the best listener, my Manservant.
The doughnuts? Yes, they are divine. With plenty of flavors to try, we left some to sample for the next time we go back! The guy at the checkout counter explained all the varieties to us, before he tells us about the Arnold Palmer. Some kind of lemon and tea thing. Sure enough, that is what Manservant wants and then he assures us that this is what all the dads order. He threw in an extra mango filled doughnut that was great, but I preferred the cruller with chocolate and peanut butter and bananas. However, the the maple and bacon was pretty good,too! Next time more chocolate!
Peruvian Green Sauce
After that expedition, we ate pretty healthy! I decided to make Peruvian chicken, because I love their green hot sauce. This aji verde sauce makes everything taste good. The heat of the sauce is determined by how many seeds you leave in the jalapenos. Deseeding the jalapenos cuts down on the heat. Don't get this sauce confused with a Mexican green sauce, which contains tomatillos. Peruvian green sauce is perfect on fish, eggs, grilled meat, or as a dip. Spoon it on tacos or quesadillas, but maybe not over doughnuts!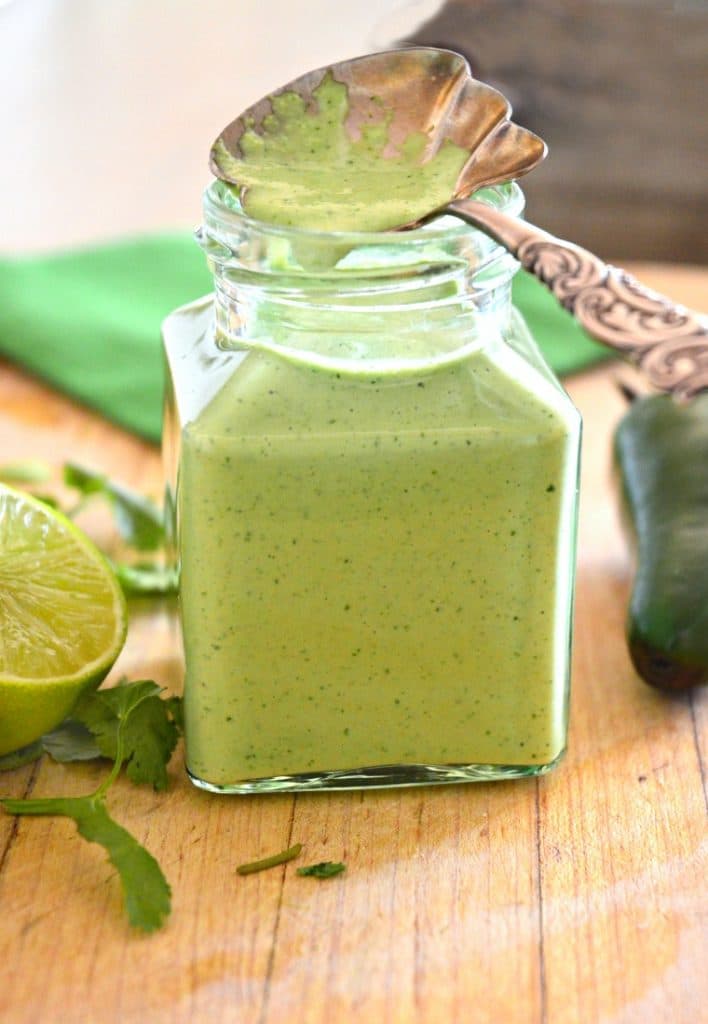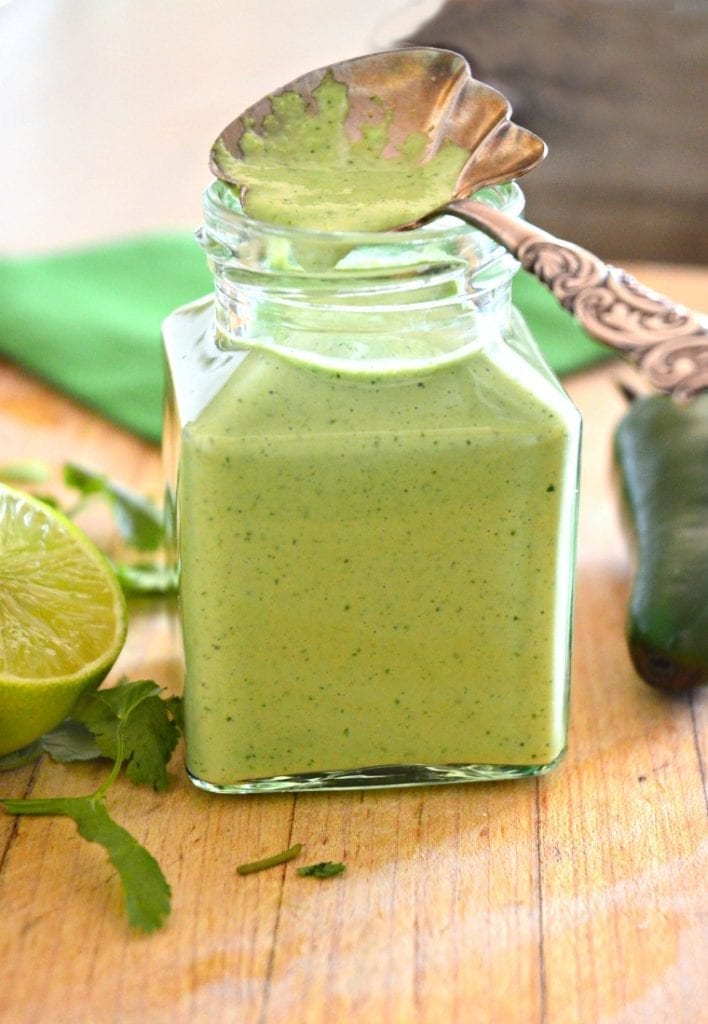 And the Peruvian chicken? Well, it was divine. Rubbing it with a hearty spice mixture and then slowly grilling it with a touch of smoke just made for the best chicken. Not sure if it is an authentic peruvian recipe, but it was delish! In the meantime, let's get to this Peruvian green sauce. I guarantee it will take less time to make it, than to read this post!
Peruvian Green Sauce is one of the most popular recipes on my blog. My friend Holly from A Baker's House made me this video so you can see how simple this sauce is too make! Don't believe me? Well, check this out!
Please Pin and Share the Sauce!
Print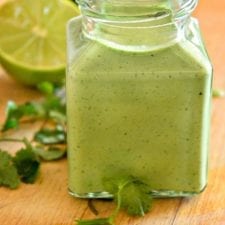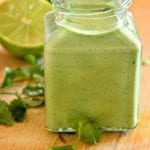 Peruvian Green Sauce
Author:

Prep Time:

15 Miutes

Total Time:

15 Minutes

Yield:

about 1 cup

Category:

Sauce

Method:

Food Processor

Cuisine:

Peruvian
---
Description
Peruvian Green Sauce is a jalapeno, cilantro, garlic lover's delight! I really must say that this is WAY BETTER than ketchup! I eat it on everything!
---
Ingredients
3 whole jalapeño chiles, (If you want a spicier sauce leave the seeds in!)
1 cup fresh cilantro leaves
2 medium cloves garlic
1/2 cup mayonnaise
1/4 cup sour cream
2 teaspoons fresh juice from 1 lime
1 teaspoon distilled white vinegar
Kosher salt and freshly ground black pepper
2 tablespoons extra virgin olive oil
---
Instructions
Combine all ingredients in a food processor, except for the olive oil. Blend, while pulsing and scraping down sides of bowl, until fully processed. With machine going, drizzle in olive oil to form an emulsion similar to mayonnaise. This will thicken upon being refrigerated, but is still not as thick as mayonnaise.
This should become a staple in your kitchen. It is THAT good!
---
Keywords: Peruvian Green Sauce