Pickled Jalapenos are so easy to make; what's holding you back? My garden overflowed with spicy jalapenos this year and making jars of fast and easy pickled jalapenos is the perfect way to bottle summer. Even if you buy your jalapenos from the store!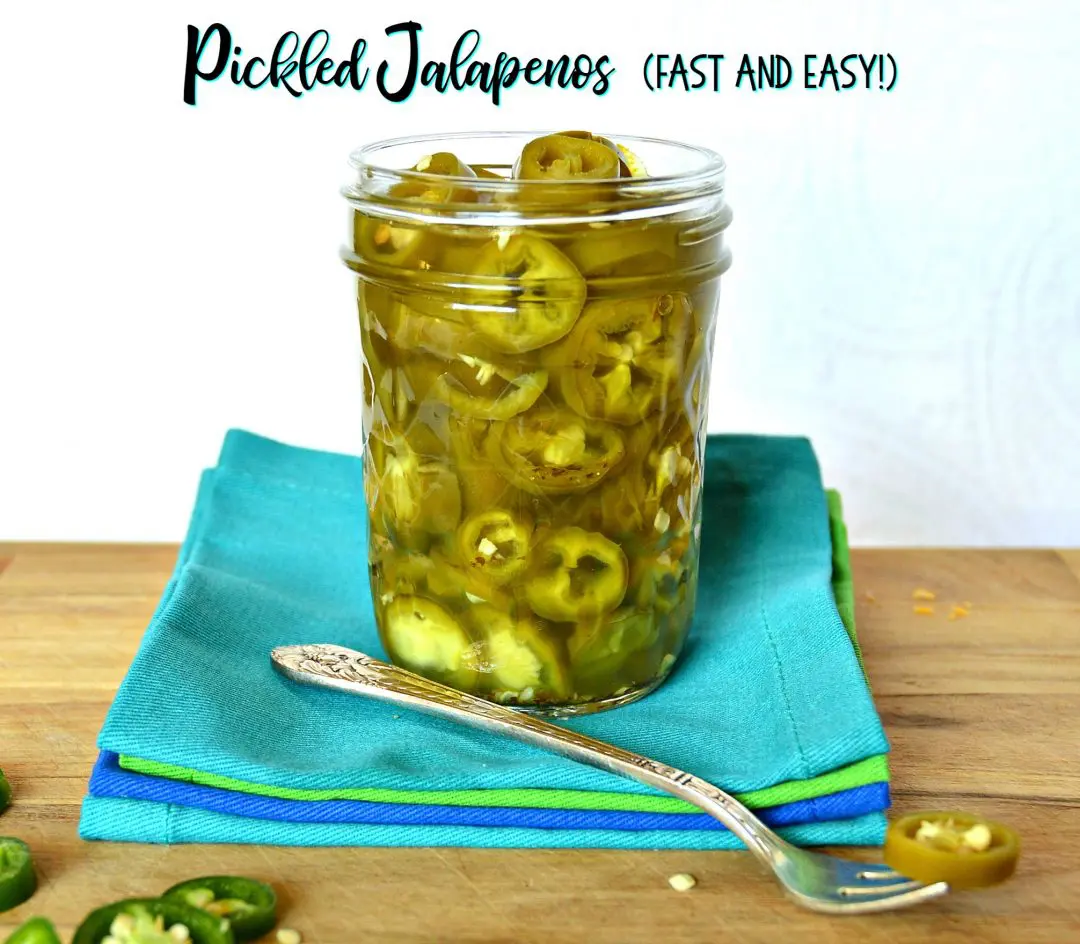 And now rounding out my seasonal garden report…jalapenos, specifically pickled jalapenos!!! These spicy little peppers prospered; meaning jalapenos have been in most everything I cooked this summer.
You can bet Manservant has not complained about this! Additionally having so many allowed me to make these fast and easy pickled jalapenos, which I hope will last through winter; though these little buggers are disappearing fast.
How to use Pickled Jalapenos:
I love putting them on sandwiches and quesadillas and pizza. They are a great change from pepperoncini.
They are also great in scrambled eggs, on bagels with cream cheese and about the only thing I don't recommend them on is dessert. Just sayin'!
These pickled jalapenos are made in 10 minutes, so who doesn't have time for that? They are like WAY BETTER than store bought.
As we keep eating the jalapeno slices, I just slice more and keep the jar topped off. This is the pickled jalapeno recipe that just keep on giving. No need to make more brine until you run out!
Are pickled jalapenos hot and spicy?
Still a tad crunchy and totally spicy, I recommend removing the veins and seeds if you are partial to heat. If jalapenos weren't in your garden this year I'd definitely buy them at the grocery, just so you can make a jar.
Perfect for gifting, no one need know how little effort is required. Try them. You won't be disappointed!
(This is an updated post from 2018.)
September has just flown by. It began with quite a scare and luckily is ending on a higher note. My dear daughter, while heading to the US Open over Labor Day ended up being hospitalized for an uncommon condition that came on suddenly.
It had all the symptoms of a heart attack, so you can bet that left me frantic and she was pretty scared, too. Too say the least!
The great news is she is recovering well and hopefully this will never reoccur, though they may never figure out what caused this.
Her heart is fine and as an otherwise healthy 28 year old, this is good news and to say I am grateful is an understatement.
Jewish holidays are also a large part of my September calendar. In between thinking we were flying out to be with Zoe (which thank goodness we didn't need to do…at least under an emergency situation), we were up in the air about how to observe this year.
Luckily we were able to keep our spot at our temple's camp in the mountains. The day was glorious with blue skies and yellow aspens and the most perfect temperature.
It helped steady us as we truly had been holding our breath for what seemed like months, even though it had only been about 10 days. Finally we were able to take a deep breath, sing God's glorious praises and pray to be included in the Book of Life once again. We needed that!
September also means harvesting, pickling, making sauce and jam and lots of yard work. You get the picture.
This year we were overwhelmed with apples, so I made a lot of applesauce. I also made tomato sauce from real tomatoes from my garden. LOL!
I'm not a huge gardener but I always like to try my hand, and Mother Nature never ceases to amaze me. Summer started out very hot in Denver and also seems to be ending on the same note. Well, that wasn't good for my tomatoes and we ended up shading them.
The heirlooms I planted just sizzled and died, but the sauce tomatoes did pretty good. Next year I intend to plant just slicing tomatoes. I decided buying good sauce in the market is much easier and for the most part I can't tell a huge difference in taste.
My zucchini was prolific early and then just seemed to die back after the initial heat wave we had. My cucumbers got too hot and didn't flower until about a month ago, but by then they were kind of gasping for water, I think. (And that's all I seemed to do was water…)
I did however have great success pickling 1 giant jar of pickles that taste just like Claussen's. Manservant asked me why I didn't just buy Claussen's, but you know…it's just not the same as making your own.
Green beans did great and we are even getting a bumper crop now. We had lots of eggplant early on and Manservant got tired of eating eggplant and I got tired of him NOT eating eggplant, it so it's a good thing they stopped producing at the end of July.
All that's left is trying to make grape jam from my grapes which performed quite admirably. Any recipes out there I should try?
It's been a prolific summer and my pantry is full. Regardless of whether you have a garden, please be sure to try these pickled jalapenos. Once they are in the fridge, you will never want to run out!
Need Some More?
Fun Recipes that pickled jalapenos would taste great with:
Please Pin and Share!
This post contains affiliate links from which I may or may not make a small commision.
I use jars like this! And who knew? I'd love these dissolveable labels! These amber colored jars are pretty cool, too!
Print
Fast and Easy Pickled Jalapenos
Author:

Abbe Odenwalder

Prep Time:

10 Minutes

Cook Time:

10 Minutes

Total Time:

20 Minutes

Yield:

About

1 1/2

-

2

Cups

1

x

Category:

Pickles, Appetizer

Method:

Stove Top

Cuisine:

Mexican/American
---
Description
Pickled Jalapenos are so easy to make. What's holding you back? Making jars of fast and easy pickled jalapenos is the perfect way to bottle summer.
---
3/4 c water

3/4 c distilled white vinegar

3 T sugar

1 T kosher salt

1 crushed clove of garlic

1/2 t oregano

10 – 15 large jalapenos, sliced into rings (seeded and deveined if you prefer not much spice)
---
Instructions
Combine water, vinegar, sugar, salt garlic and oregano in a saucepan over high heat. Bring mixture to a boil.
Add jalapenos and remove from heat. Let cool for 10 minutes.
Pack peppers into a quart jar, (at least that's what mine made). Cover with vinegar mixture until it reaches about 1/2″ from the top.
When cool, cover and refrigerate.
---
Notes
From Chef John at AllRecipes.
Keywords: jalapenos, pickled jalapenos, Pickles, recipe for pickled jalapenos, pickled jalapenos recipe, Mexican food, pickled jalapenos quick