Nachos Al Pastor or tacos are made with braised or grilled pork. Cooked with lots of seasonings and pineapple juice, this is my favorite taco. Or nacho!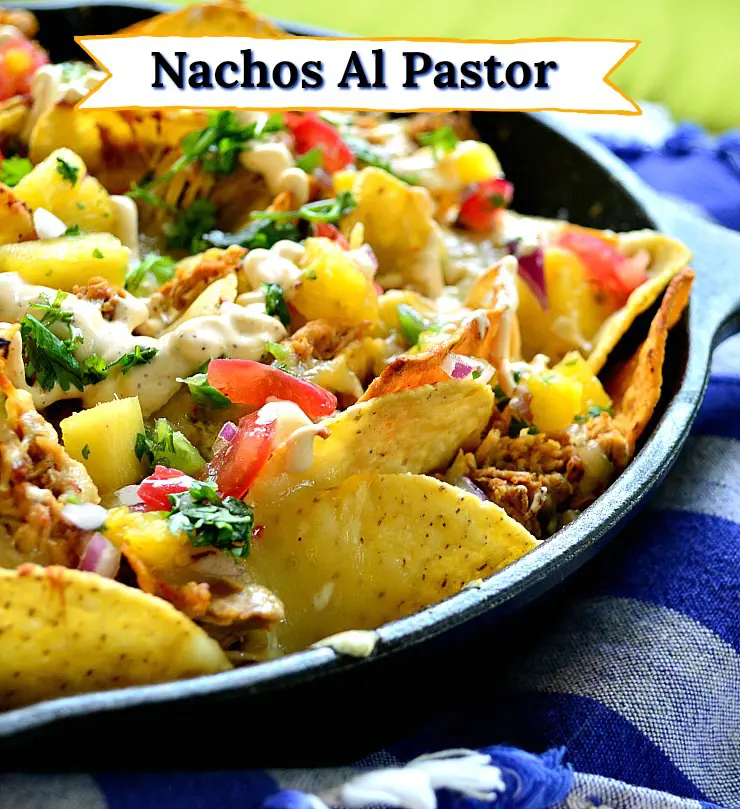 Nachos al pastor or Al pastor tacos are technically made with pork cooked on a spit, covered with a variety of seasonings.
They were brought to Mexico by Lebanese immigrants who commonly made lamb shawarma on a spit.
As traditions changed pork was substituted, but the seasonings used to season al pastor often contained cinnamon and other Middle Eastern spices.
Today it seems the one common ingredient in al pastor, besides the pork, is pineapple.
As a street food, pineapple is often served on top of your taco, which I think is what put al pastor on the map.
The al pastor recipe below contains pineapple juice in the braising liquid.
Additionally, a pineapple salsa really sends this taco into another hemisphere.
Wanting to simplify? Don't feel like making pineapple salsa? A thin wedge of pineapple on your taco would also do the trick.
No one really knows how pineapple got into the mix in the 1930's in Puebla, Mexico, but you can read about the mystery and al pastor tacos here.
Al pastor in Spanish means "shepherd style".
Cooked on a spit and over fire and in the past with lamb, certainly makes me think of a shepherd taking care of his flock.
But sometimes cooking outside isn't an option, which makes this braised pork cooked inside very appealing.
After the pork is braised, if you want to give the meat more of a crispy texture it is certainly acceptable to dry fry it in a hot skillet.
Whatever you decide to make, tacos or nachos or both, just make sure to try this recipe.
It's Zoe's favorite taco and mine, too. Enjoy!
Nachos Al Pastor
Though Al pastor is commonly found in a taco we saw no reason to that the Al pastor pork could not be used as a topping for al pastor nachos.
We were not wrong. Al pastor makes great nachos.
Just make sure the meat is not juicy or your tortilla chips will not be crisp.
This might be a good time to dry out the meat in a hot skillet.
Then top the nachos with it!
The rest of the post is from 2015.
Where do I start? Over the last few weeks of my untimely disappearance, I wish I could tell you I was kidnapped by a bunch of extremely handsome hunks, (much like my favorite in the Ralph Lauren ad) and taken to a desert island with white sand beaches where I was waited on hand and foot, given countless back and foot massages, and entertained quite lavishly.
Alas, that was not the case.
Instead I have been a caterer, mother, hostess, wife, driver,baker, dishwasher, cook, grocery shopper, photographer, gift buyer, gardener, flower arranger, maid and poop picker upper.
No; not in any particular order. My mind is too discombobulated to try that!
In the last several weeks that no one has missed me (SOBS!!!!), my faithful daughter flew home to help me give a bridal shower for her best friend.
This best friend lived across the street, in the cute yellow house, that was almost Zoe's second home.
Many good memories were created in the last 25 years between our two families, so it was with pleasure that we were able to honor Whitney, as the guest of honor.
This quickly morphed from a California Dreamin' shower to become a Mexican themed shower, but the wedding is being held in Costa Rica in January, which is close to Mexico and California, right?
(Needless to say I am now on the Costa Rican beach diet, that began with throwing out all unhealthy food from my refrigerator. But back to the shower.)
Thanks to Pinterest, Zoe had a particular way that she wanted this shower to be.
Let me say this. It was a fun shower, but I was the one in the kitchen.
I was the caterer and only a hostess for a few moments, until I was also told to take photos.
They had margaritas. I had a hot pad.
I wanted a taco BAR. She wanted passed taco baskets already made up;"like in a restaurant, Mom."
And she wanted two types of tacos which meant making 24 individual tacos and 12 Corn in a Cups.
She wanted chips in little baskets with individual cups of guacamole and queso! AND this was just for happy hour.
Well. They were happy.
Especially when it got to be pinata time and they found it was filled with cute little bottles of alcohol, lace panties, socks, and even candy!
I haven't even mentioned dessert.
Nor have I told you that to achieve this feat of showerdom, we needed to find little cardboard tubs to hold the taco chips in.
This was the hardest feat of all until I ran into my blogger friend Karen, who said go to 5 Guys and get the peanut baskets that are by the front door.
Thanks 5 Guys and thanks Karen. We only spent 2 days looking at numerous places to figure that out.
Nor have I told you about special ordering the tiny corn and flour tortillas to make the tiny tacos, because the tortillas in the grocery store were too big. Well; the princess thought so.
Raquelitas, located downtown with no name on the door, was willing to provide. Yes, I did have to buy 5 dozen tortillas each.
I think I need to open a retail establishment that specializes in tiny tortillas like they serve in restaurants. I would sell them in cardboard tubs like they have at 5 Guys.
Behold the menu. (My mind is still fuzzy, but I think this was it.)
I wish I had photos of the tacos in their cute little al pastor tacos baskets with the shot glass containing corn in the cup.
I wish I had a photo of me sipping a margarita. I wish I had a photo of me watching Whitney open her presents. (It was a bar shower.)
But I did get photos of the beautiful girls. The happy, young girls. The possibly tipsy girls…
And before you know it, I cleaned up and Zoe headed back to Philly.
In between our shower activities Zoe had plenty of time to fall in love with Geordie.
I must say we made a pretty good team, but next time I hope she reminds me to hire someone to help. What was I thinking?
In my current downtime I'm getting ready for the annual RV arrival and trying to find the true meaning of summer.
The folly is coming along and Geordie is growing.
My last post was number 300 and I never ever thought I would be doing anything for this long.
Well. I guess This is How I Cook!
Please Pin and Share:
Other great food to try!
Pineapple Chipotle Guacamole
Elote Corn
Red Chile and a Breakfast Sandwich
Migas Scrambled Eggs
Italian Nachos
Coconut Rum Tres Leches Cake
Print
Tacos or Nachos Al Pastor with Pineapple Salsa
Author:

Abbe Odenwalder

Prep Time:

45 Minutes

Cook Time:

4 Hours

Total Time:

About 5 Hours

Yield:

About

25

mini tacos

1

x

Category:

Main Course

Method:

Braise

Cuisine:

Mexican
---
Description
Tacos or nachos al pastor are made with braised or grilled pork. Cooked with lots of seasonings and pineapple juice, this is my favorite taco. Or nacho.
---
Al Pastor:
Serves: About 25 tacos or more

Time To make: About 20 minutes to prepare/About 4 hours to cook

Ingredients:

5.5 lbs of boneless pork tenderloin
3 t kosher salt

2 t oregano

3 t cumin

2 t coarsely ground black pepper

6 t chili powder or I used 3 t ancho chile powder and 3 t chipotle chile powder

1 7 oz can chipotles in adobo

4 c of fresh pineapple, diced

1 c chopped red onion

8 cloves of garlic

4 T fresh lime juice

2 T apple cider vinegar

1–2 12 oz bottles of Mexican beer

Pineapple Salsa

Makes enough for about 12 tacos and 1 batch of nachos.

Time to make: About 15 minutes

Ingredients:

1/2 of a pineapple, chopped into fairly small pieces

1/2 of a small red onion, finely diced

1 jalapeno, seeded and diced

1/4 c chopped cilantro

1 pinch of salt or to taste

1 tomato chopped

Chipotle Drizzle Sauce (Perfect for tacos and nachos and even sandwiches!)

Time to Make: About 5 minutes

Ingredients:

1/2 c mayonnaise

1/3 c sour cream or Greek yogurt

Juice of 1/2 of lime

1/2–1 t of chipotle or ancho chile powder

To Serve:
Tortillas for tacos, your preference

Tortilla chips for nachos, your preference

Grated Cheese, about 2 cups for nachos

Cilantro, Scallions, Shredded Cabbage for garnish
---
Instructions
Al Pastor:
Combine salt, oregano, cumin, pepper and chili powders in a small bowl. Rub the mixture into the tenderloins and place in a Dutch oven.
In a food processor place 1 can of chipotles, diced pineapple, red onion, garlic, lime juice and vinegar. Process until smooth. Pour this mixture over tenderloin. Now pour the beer over the top. As long as the tenderloin is covered, you have enough beer. Drink the other.
Over medium heat, bring mixture to a low boil. Turn temperature down to low and simmer for about 4 hours or until pork can be easily shredded. Let it cool in its juices and then use two forks to shred it. For tacos and nachos you want the mixture dry, so I drain it very well. For other purposes you may want to save some of the liquid and reheat it together.
Pineapple Salsa:
Mix together and put a spoonful on each taco or sprinkle over nachos.
Chipotle Drizzle Sauce
Mix this up in a mixing cup and then pour it into a squeeze jar. If you want it thinner add more lime juice, milk or heavy cream to thin it. Feel free to drizzle to your heart's content!


To assemble tacos:
Take one corn or flour tortilla and top with a few spoonfuls of drained pork. Top with some shredded cabbage and then some salsa and cheese if you like. Drizzle some sauce on top. Keep the portions dainty as it is much easier to eat tacos this way!
For nachos:
I kept this simple. Arrange 1 bag of tortilla chips in a cast iron pan. I stand them up like rose petals and then place the meat and about 2 c of jalapeno jack cheese between the "petals" and on top. Bake at 425 until cheese is melted and chips are crisp. Top with pineapple salsa, extra chopped cilantro and drizzle some sauce. I use a spatula to get these out of the skillet and serve them on plates with forks!
---
Keywords: nachos al pastor, al pastor nachos, tacos al pastor, taco de pastor, tacos al pastor recipe