Pineapple guacamole made with dried pineapple, tequila and chipotle is a great twist on an old classic.
This pineapple, guacamole recipe without tomatoes, has chipotle, tequila and scallions and always has everyone asking for more!
Pineapple guacamole made with dried pineapple, tequila and chipotle is a great twist on an old classic.
Who doesn't love guacamole? As a child my mother would find ripe avocados which wasn't easy to do when living in a small town in Illinois during the 60's.
She often made it for special occasions such as Thanksgiving, which was probably the first time I ate it.
I would never think of serving a guac recipe for Thanksgiving but back then finding a fresh avocado in the grocery was a big deal and so it became a big deal at holidays.
Well, that is until she discovered artichoke dip and then that quickly became our favorite.
Mom's homemade guacamole recipe was made with a hard boiled egg and we happily devoured the bowl like rabid dogs.
No one had ever heard of fresh cilantro or grape tomatoes or even homemade tortilla chips.
So yeah, her guacamole recipe without tomatoes, was perfect…mainly because I hated tomatoes as a child!
We were happy to scoop the luscious green concoction with potato chips or Fritos, as nary a tortilla chip was found on the grocery shelves. My how that has changed.
She didn't even have fresh lime juice. It was always made with that plastic green lime that she squeezed into the mashed avocados.
No food processor was used to make this fresh homemade guacamole, just fresh avocados and a hard boiled egg.
After I left home and moved West, I discovered guacamole in every form.
There were those that claimed they were the authentic guacamole recipe, and those that were supposedly the best guacamole recipe.
My simple guacamole recipe quickly became a good guacamole when I discovered the best way to find a ripe avocado. Not an easy thing to do, but it definitely makes a basic guacamole recipe so much better.
Really it's amazing what some simple ingredients such as chopped onion, a bit of fresh chopped cilantro, lime juice, salt and a generous amount of garlic granules or fresh garlic can do to an avocado.
My guacamole recipe is without tomatoes-because really they are so unnecessary – though I might mix in some fresh chopped jalapenos which are so good.
Then I came up with this next-gen, easy guacamole recipe that always blows everyone away.
Just by adding a few common ingredients such as tequila and chipotle, makes your taste buds sing!
Adding in the dried pineapple, creates texture and really makes this a game changer.
One more thing. No white onion in this. I decided that green onions or scallions really let the perfect avocados shine. Somehow you can really taste the creamy avocados that go into this great recipe.
Want to make a lot of guacamole? This easy recipe is so accommodating. Just double or triple the proportions that are listed. One can never have enough guacamole!
If you happen to get an unripe avocado, as long as it's not hard as a rock and can still be smashed with a fork, feel free to use it. You might have to add a bit more tequila, but it should still turn out OK!
Avocado lovers will be craving this easy appetizer.
I can't say I have ever found anyone that doesn't like guacamole. I'm sure there are those who won't touch the stuff, but here in Colorado I haven't found a one.
Guacamole is what's served everywhere along with salsa and chips as the standby appetizer.
Being so easy to whip up and now with the countless frozen varieties, one literally doesn't have to do a thing but open a container and put out the chips.
Well, I know you now I'm not that type. I only use fresh ingredients, though I 'm not sure where dried pineapple falls!
Like I said, my standard version of whipping up a guacamole dip, generally involved some garlic, some lime, and some cilantro and onions.
(For the record I prefer the flavor of lime over lemon juice, but if you only have lemon on hand, just use it.)
Add some jalapeno for heat and season it up with salt, maybe a dash of black pepper and that is pretty much it.
Some put a little cumin in their guac, but not me. For some reason cumin is not one of my favored spices.
Anyway I often found myself utilizing the avocado as a last minute after thought. Pity the poor avocado!
Well, that is until I decided to take the time and come up with a new version. Still just as simple, but this time with a bit more thought involved.
Don't give up on your old version, but sometimes it is a good thing to break out of your rut.
Enter the pineapple. Pineapple and avocado are both tropical fruits and work really well together.
I decided it was time for them to elope. And what a wedding it was. Filled with sweetness and spice, it is a marriage that I dare say will last a long time!
Each bite contains the velvety texture of the avocado and the magical spiciness of chipotle, mixed with the delicious chewy, sweet taste of dried pineapple.
And don't discount the tiny bit of tequila at work here. It certainly is not necessary to use, but just one teaspoon adds so much zip. Really. It does.
I'm not going to tell you to give up your perfect guacamole recipe, but truly this version might be your new great thing!
I know you know that Cinco de Mayo is around the corner. What better time to try a new version of guacamole?
Feel free to share and pin this recipe. It is a winner!
Need More Avocado Recipes?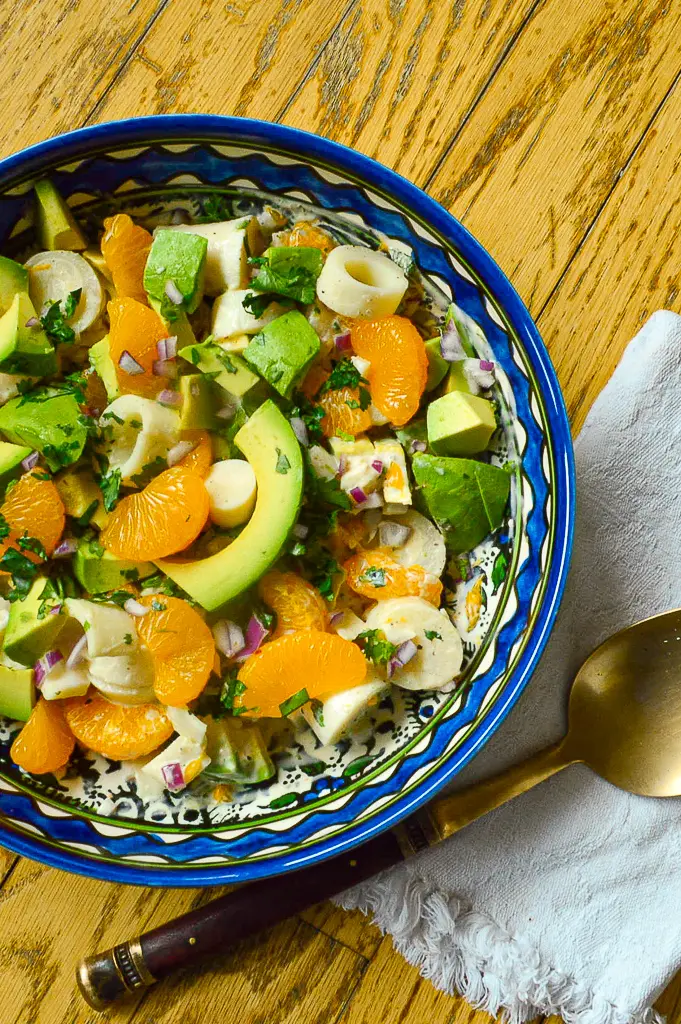 This is an updated post from 2015. This post may contain affiliate links from which I may receive a small commission from qualified purchases, at no cost to you.
One thing I find very helpful when it comes to making guacamole is a molcajete. I use it to make the guacamole and I use it to serve in. Amazingly, it also helps keep the avocado from turning brown!
There are lots of gadgets for avocadoes. I am not a gadget person, but this set did look interesting. However I merely use a spoon to scoop my avocado half from its shell!
Print
Pineapple Guacamole with Chipotle and Tequila
Author:

Abbe Odenwalder

Prep Time:

10 Minutes

Total Time:

10 minutes

Yield:

2

-

4

Servings

1

x

Category:

Appetizers

Cuisine:

Mexican/American
---
Description
This is my favorite guacamole recipe! No tomatoes, but add chipotle, scallions, dried pineapple and tequila for a real crowd pleaser!
---
1 ripe avocado

3 T dried pineapple (I used Mariani, sold in the produce section)

1/4 c finely chopped green onion

2 T chopped cilantro

2–3 t chopped chipotle (I always have these in the fridge.They can be found in the Mexican food section as chipotles in adobo sauce. Transfer to another container and keep in the fridge. They keep indefinitely.)

1/8 t salt or to taste

1 t tequila
---
Instructions
Chop dried pineapple into small pieces. Place in a small mixing bowl.
Add green onion, cilantro, chipotle, salt and tequila.
Mix up and then add your avocado. Mash it well with a fork, into the other ingredients.
I love this with blue corn tortilla chips that are seasoned with chile powder!
---
Keywords: guacamole without tomatoes, easy guacamole recipes, best guacamole recipe, guacamole dip recipe
Other good food:
Artichoke Dip
Corn and Green Chile Quesadillas
New Mexican Chicken Enchiladas
Carne Asada
Shitake Stuffed Hatch Green Chile Enchiladas
Coconut Rum Tres Leches Cake
Overnight Mexican Egg Casserole
Tomatilla Salsa
Pico de Gallo Salsa