Salsa with hominy and blueberries is a fun new way to eat salsa. Adapted from an American Indian recipe, this salsa with hominy and blueberries is really good!
I'm quite pleased with this salsa with hominy and blueberries that is way too easy to eat and so simple to make. …Now if I wanted, I could have added some orange zest-which in actuality would work quite well with this hominy salsa.
Then I would have had Broncos salsa with the blue and orange-well-you can see where my mind is!
It was a lunch at Tocabe that got my creative juices flowing.
The simple journey to Tocabe-not really a diner and certainly not a dive, of Guy Fieri fame-was a fun lunch with some fellow bloggers.
I had been wanting to eat there for some time, but up until now their location was a drive.
The second location is much closer and I can't wait to stop by again for some of their grilled bannocks.
Freshly baked bread grilled over an open flame is my idea of deadly. One might tend to think of Tocabe as another burrito kind of fast food restaurant, but it really is a great outpost that features American Indian food from the Osage nation.
In fact there are just a handful of American Indian restaurants in the entire U.S..
Think fry bread, buffalo ribs, green chile stew, and even Wojapi– a berry jam to eat with their great fry bread or bannocks.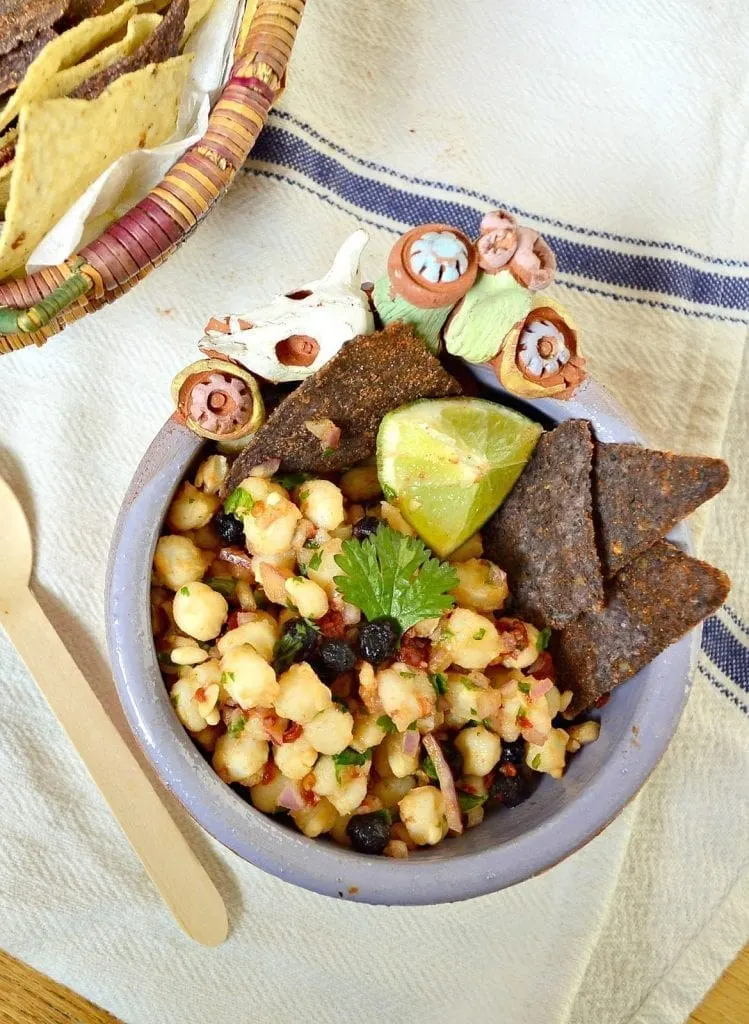 Tocabe, (which means blue and is the owner's mother's favorite color) has salsas that vary with the seasons, to add to your choice of beef, chicken or bison, Indian fry bread.
I gravitated toward the hominy salsa because I'd never had anything like it before.
I could have had fresh green chilies, so that was a hard decision! Hominy is dried field corn which has been cooked in a mixture of lye, slaked lime or wood ash. It is then washed, dried and powdered-just like a baby's butt- and generally made into masa.
Without masa, we wouldn't have those great foods we call tortillas! I love hominy and don't use it enough.
It is great in cheesy green chile casseroles. It is great in soup and mixed with corn. Use it in most recipes in place of beans. Or with beans. I think you got the picture, right?
I love the simplicity of this salsa. Tocabe's contains cranberries, but I had dried blueberries on hand and they worked perfectly.
Leftovers the next day were even better as the blueberries had time to plump up a bit.
We devoured this with some of those lime tortilla chips, that Manservant has been eating by the bag. (I know there was a reason I stopped buying them long ago!)
I also bought some spicy blue corn chips because-well-I love spicy blue corn chips! And they look pretty mixed with the white ones!
I don't actually have Tocabe's recipe so you will have to visit and tell me whose you like better. I won't be offended as long as it is a tie!