I could eat this out of the world salsa roja with a spoon. Yes, this smoky, fresh salsa is truly my favorite.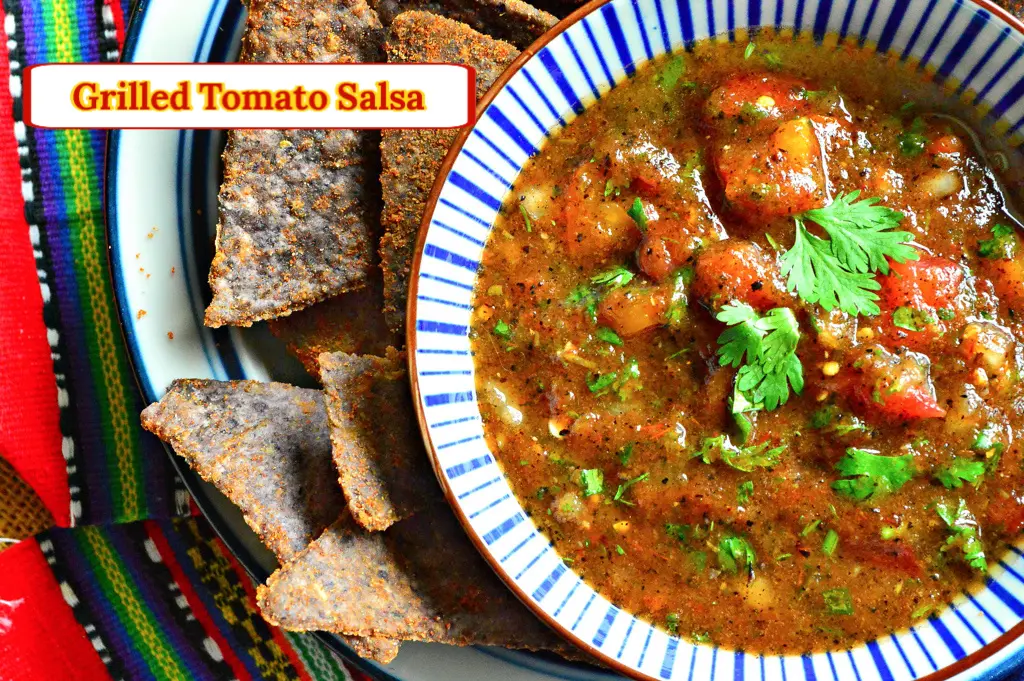 Salsa roja is a cooked red salsa that is standard fare on Mexican tables. Of course, everyone has their own recipe and this one is my favorite.
How do you make salsa?
There are countless ways to make salsa but this is my favorite. If you prefer a green salsa than check out this tomatillo one!
Rather than cooking my tomatoes on the stove top, I choose to grill the tomatoes which gives this red salsa out of this world flavor. Not only are the tomatoes grilled, but the jalapenos are, too.
The best part of this salsa is that there is no need to have ripe tomatoes. Of course if you do, so much the better. I use Romas and admit I often buy them even if they don't look ripe. Grilling them softens them up and helps amp up the flavor.
After everything is good and roasted, the blackened tomatoes and jalapenos are thrown in the blender which makes this salsa super easy to prepare. Throw in some fresh garlic, some water and lime juice. Then it's just about finished.
You do want to make sure that you don't over process this, but that choice is yours. I have some friends that do not like lumps in their food. If that is you, blend this until it is as smooth as you'd like. I prefer it with some texture.
After you get this the way you want stir in some fresh chopped white onion and some cilantro. If you feel like this needs some more tomatoes, then add some fresh diced tomato. The mixture of fresh and roasted tomatoes is really good. Now add some salt and if it needs more spicy, stir in some hot sauce or chile powder to create your own house salsa.
This salsa reminds me of what I've been slurping at Baja Fresh (which is no longer in my neighborhood 🙁 ) Keep in mind salsa roja is not like a pico de gallo, because pico de gallo contains only uncooked ingredients. Sometimes pico de gallo reminds me of really lean gazpacho. Just sayin'!
In my opinion salsa roja is the perfect everything salsa. I used to quiz the guys at Baja Fresh to tell me their secret and they always made me think it was some gourmet chile that made it so extraordinary. Man, did they have me fooled.
Nothing out of the ordinary in this salsa. But ordinary ingredients sure make extraordinary salsa!
Please Pin and Share!
Print
Salsa Roja (Baja Style)
Author:

Abbe Odenwalder

Prep Time:

30 Minutes

Total Time:

30 minutes

Yield:

2

-

3

Cups

1

x

Category:

Sauce/Appetizer

Method:

Grill

Cuisine:

Mexican
---
Description
This red salsa with grilled tomatoes and jalapenos is my favorite. Instead of chips, I often resort to a spoon!
---
14 cold tomatoes (I used Romas and mine weighed out to about 2 lbs) Dice 2 and reserve.

3 jalapenos – remove stem and also seeds if you don't want this to spicy

3 cloves garlic

1 t salt

1 1/2 c water

Juice of 1 lime

6 T finely chopped white onion

5 T chopped fresh cilantro

---
Instructions
Preheat grill to high heat. Place 12 of the tomatoes, stem side down, directly on the grill. Roast the tomatoes over the flame for 10 to 20 minutes or until they are very charred and blackened. Flip over and continue to grill until this side is also charred and blackened. Add jalapenos to grill after you flip the tomatoes for the first time. These will also blacken but make sure to turn them to get all sides charred.
Take the tomatoes and peppers off the grill and place in a large zip lock. Let cool for about 10-15 minutes. When cooled dump tomatoes, peppers, and any liquid into a blender.
Add garlic and salt and blend on high speed until pureed. Be careful not to over puree!
Add the water and lime juice and blend again until mixed. The salsa darkens as it is chopped finer!
Pour mixture into a container and add the remaining two tomatoes. I pureed my mixture a bit too fine, so I added about 4 diced tomatoes to get this to the consistency I wanted.
Add the onions and cilantro-do not be afraid to add more or less, depending on how you like your salsa. Cool in the fridge.
As it cools it will develop even more flavor and the water will absorb into the salsa.
---
Notes
Adapted from Todd Wilbur (Top Secret Recipes)
Keywords: salsa roja, homemade salsa, fire roasted salsa, roasted tomato salsa, salsa, baja fresh salsa recipe
A Few More: