Easy cheese blintz casserole is made from frozen blintzes that I buy in the store. Yes, I roll that way sometimes.
But you won't be sorry. Just beat together a few eggs, some sugar and sour cream and you have a winning brunch or brinner casserole!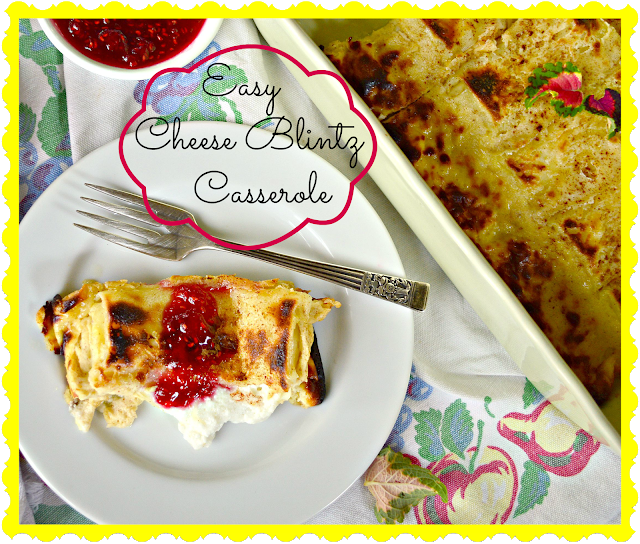 Yes, it took me longer to write that title than it does to make this easy cheese blintz casserole.
This is a super recipe to have in your repertoire because it is fast, simple and satisfying. It is one that I use a prepared product in, so you know I don't cook everything!
A cheese blintz casserole, which some often call souffle, (hence my title for those notorious SEO's that I read about and never understand) is another Jewish dish, that is served at a Jewish dairy meal.
We often break the fast on Yom Kippur with this dish and lox and bagels.
It is traditional, but my famous frozen cheese souffle, that is not, is often on the table, too.
Traditional that it isn't. It is superb and it you want something more savory, rather than sweet, than that is the way to go.
I really should take some new photos of it.
But we are on to blintz souffle. If you wanted you could make your own crepes and filling.
It isn't hard, but why bother? I buy the Golden blintzes in the frozen section of my grocery and Costco is selling some petty good blintzes now, too!
You end up topping the frozen blintzes with a sweet sour cream and egg topping that puffs up over the blintzes. That is why I believe some call this a souffle. Whatever!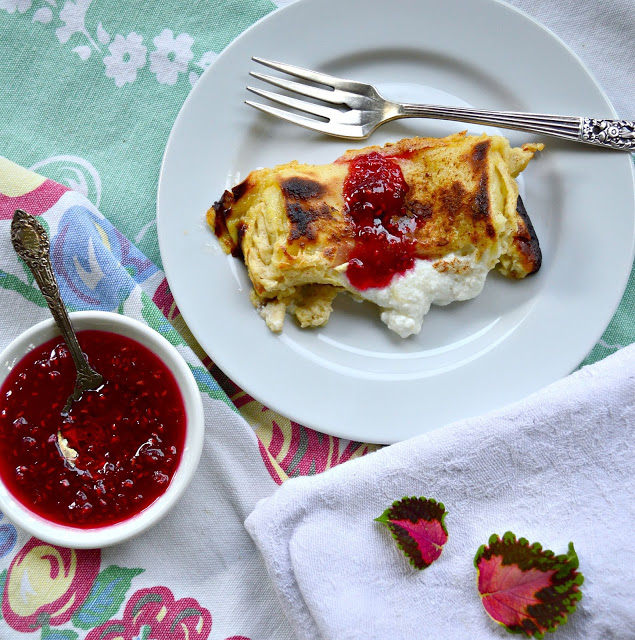 A blintz souffle is perfect for brunch. It comes together quickly.
It is comfort food and I love it even for brinner.
My mother never made it. In fact I'm not sure I even had blintzes when I was a kid.
I think I probably discovered them at a Haddassah luncheon way back when.
The good thing is that I discovered them! They can be served with maple syrup but I like mine with home made jam.
My raspberry rose or strawberry black pepper jam tastes awesome with these.
One can buy fruit filled blintzes, but I prefer the cheese, because that way I can choose my own topping.
So that is it. My mom wanted this recipe and now she has it.
5 stars for this please!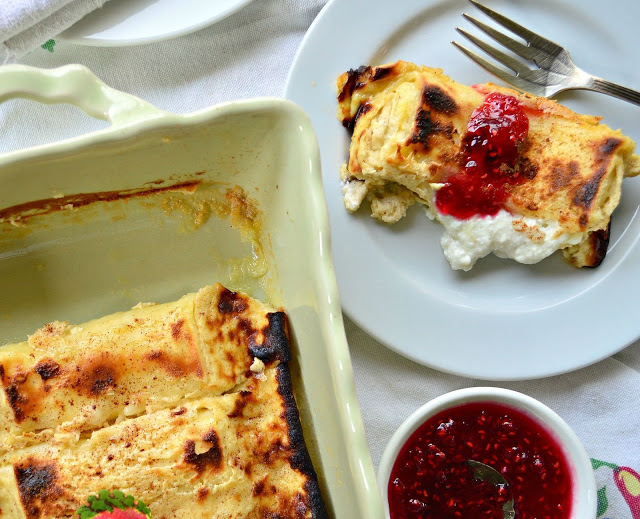 Other Brinner Ideas:
Everything But the Bagel Scrambled Eggs
Frozen Cheese Souffle
Shakshuka in Purgatory
Green Chile Egg Souffle
Print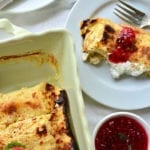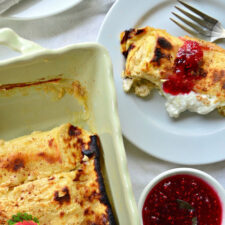 Easy Cheese Blintz Casserole Souffle
Author:

Prep Time:

15 Minutes

Cook Time:

30 - 45 Minutes

Total Time:

60 Minutes

Yield:

3

Servings

1

x

Category:

Main Course

Cuisine:

American
---
Description
This simple cheese blintz casserole made from frozen blintzes is always a crowd pleaser!
---
1 pkg of 6 cheese blintzes (found in the frozen foods section at groceries or in the refrigerated at Costco)
2 T melted butter
1/4 c sugar
3/4 c sour cream
1 t vanilla
2 eggs
Cinnamon
Maple Syrup or jam for serving
---
Instructions
Preheat oven to 350.
Place melted butter in a 7 x 10 casserole dish and then roll each blintz in the butter and place seam side down in pan. Arrange them in one row.
Mix sugar, sour cream, vanilla and eggs together. Whisk well for a few minutes until lightened. Pour over blintzes in pan.
Sprinkle with cinnamon if you desire.
Bake for 30 to 45 minutes until lightly browned or you can place this under the broiler to brown for a few minutes.
Serve with syrup or jam!
---
Notes
We love this for Yom Kippur when we break the fast. I also love serving this for brunch to a crowd. I make 13 x 9 pans and just double or triple the recipe accordingly!
Keywords: blintz souffle, blintz casserole, cheese blintzes, blintz recipe