September may mean fall leaves and back to school for many, but for me it also means a New Year.
The Jewish New Year falls in September and since we follow a lunar calendar, that means this year, Rosh Hashanah begins on the evening of September 13th, which means I better start getting ready.
There really isn't much to do since family is elsewhere, but I do like to have a holiday meal before going to temple.
The day of Rosh Hashanah, for those of us that are lucky enough, is spent in the mountains at 10,000 feet celebrating the New Year.
Our temple has a camp that is located in the most gorgeous spot high in the Rockies, where every year I feel privileged to look over the horizon and see the aspens turning golden, as I sit and pray in front of the rushing stream.
Not every one has the chance to go because there is only room for about 100 people.
We always send in our reservation the minute it is announced because scoring a seat is first come, first served!
It is glorious praying in our jeans and in most cases the weather is glorious, too.
That is not to say that every year is perfect. Some years it has snowed or rained and sitting in a cabin decorated with kid's murals is our only option.
But what do we eat on this holiday? I mean really. Let's cut to the chase!
The holiday 10 days after Rosh Hashanah is Yom Kippur.
That is a very serious holiday where we atone and have to fast for 24 hours.
After that typically a dairy meal is served, much like a breakfast, except for dinner.
We all know about brinner right?
But Rosh Hashanah is easy. And sweet. And I do not say that jokingly.
We are always praying for a sweet new year, so honey plays a big part in many of our recipes.
Serving apples (because of the season) with honey, and saying a prayer thanking God for allowing us to reach this season, is a commandment for us.
It is not taken lightly and always causes me to stop and look around and feel grateful for my family and the world around me.
So yes, apple dishes are important, too. Other than that, traditional Jewish foods are in order.
Passover Potato Kugel
Last April for Passover, I made a new twist on potato kugel.
Now I'm going to tell you flat out that potato kugel should be in everyone's repertoire.
We are basically talking about potatoes, eggs and onion. Nothing wrong with those ingredients.
I have written about another potato kugel recipe that is quite uncommon, which was Ilse's recipe.
It is very unique and tastes like a potato custard with a crisp golden crunchy crust. Thanks be to God.
No, this Passover potato kugel is different than that.
It is still potatoey and has a golden crust, but it isn't as thick as Ilse's.
It is basically a casserole and serves a lot of people. You can take this girl places, know what I mean?
What is a Potato Kugel?
A traditional kugel consists of grated raw potatoes, mixed with eggs and grated onions.
Season it. Throw it in a 13 by 9 pan and bake until done. Nothing wrong with that.
That is the simple version and it can also be baked in muffin cups for individual servings.
Often though I have looked for a bit lighter, more flavorful version, and I think I've found it with this Passover potato kugel recipe.
If you have ever had a knish, well, this new kugel kind of tastes like a knish in a dish, minus the pastry crust.
I love it fresh, not reheated, but that is up to you.
This is a lighter kugel because you are mixing mashed potatoes with the raw potatoes and then adding cooked onions.
I know it is a bit more of a potchke (making more of a fuss) but if you have the time, it is worth it.
Even if you aren't looking for a Jewish recipe, this would suit any holiday buffet.
Serve it with a roast or ham and most folks would think you were really going gourmet, when the truth is that this is pretty much a staple in most Jewish homes every Friday night.
It really is just a casserole, according to Wikipedia, and since most of you know what that is, I'm going to call this a Passover potato kugel casserole.
After all, who knows what a kugel is? Except for maybe 1% of us!
(This is an updated post from September, 2015.)
Print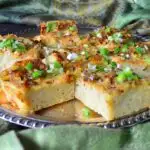 Onion Crusted Potato Kugel Casserole
Author:

Abbe Odenwalder

Prep Time:

45 Minutes*

Cook Time:

60 Minutes

Total Time:

0 hours

Yield:

8

-

12

Servings

1

x

Category:

Side dish

Cuisine:

American
---
Description
This might be considered an onion lovers potato kugel! Perfect for Passover, this gluten-free kugel almost reminds me of a giant knish!
---
2 lbs onions, sliced very thin
Kosher Salt
6 T Olive Oil
2 t minced garlic
Fresh ground black pepper
6 large or 8 medium Russet potates, peeled
4 large eggs
1 t baking powder
1 – 2 T rosemary or thyme leaves chopped, optional
---
Instructions
Separate the onions into rings. To extract moisture sprinkle with 2 t of salt and stirring now and then, let them sit for about 20 minutes. Dry between 2 layers of paper towels.
In a large skillet heat 3 T of olive oil and add the onions. Cook on medium-high heat about 20 minutes until onions are golden and caramelized. Season well with lots of salt and pepper. Set aside.
Cut 2 potatoes into chunks and add to boiling salted water and cook until soft. Drain and place in a large bowl and mash with a large fork or potato masher. Add half of the onions and stir in.
Preheat oven to 400 with one rack in the top position. In a food processor fitted with the shredder or using a grater, shred the rest of the potatoes. Place in a colander and rinse well with cold water to remove the starch. Squeeze out as much liquid as possible and add to the mashed potatoes.
Beat the eggs until thick and light and add the baking powder. Mix well and add to the potato mixture. Check for seasoning because you may need to add more salt and pepper.
Pour 3 T of olive oil into a large oven proof pan-preferably a metal pan or a cast iron. Rub the oil all over and place in the preheated oven for 5 to 10 minutes until sizzling hot, but not smoking. Transfer potato mixture to the pan and spread evenly. Top with the remaining onions. Sprinkle with your choice of herb, if using and then sprinkle with more salt and pepper and a drizzle of olive oil.
Place back in oven on the top rack and bake for 30 minutes. Then turn down oven to 350F and bake for 25 to 40 minutes until the kugel is firm and crispy. Let kugel cool until it is ready to be sliced.
---
Notes
Kugel can be reheated, but I prefer to chop the leftovers up and make a hash with my kugel and leftover brisket. So good!
From: Jewish Holiday Cooking by Jayne Cohen
Keywords: easy potato kugel, jewish potato kugel recipe, potato kugel for passover, potato kugel gluten free