Ilse's potato kugel has a creamy soft interior and a golden crisp exterior. Better than a load of hash browns, this heritage recipe also contains no eggs, unlike a traditional kugel.
It is hard to put into words the truth about this egg-less potato kugel.
Honestly, I wish I knew the truth.
Kugels, usually made from potatoes or noodles, are often served as a side dish on Shabbat.
The word for kugel in German means sphere, globe or ball.
Ilse's kugel recipe is made in a round shape though most kugels now, whether noodle or potato, are usually made in rectangular pans.
Ilse was my grandfather's wife. I've given you several of her recipes before, but it is time to share this one.
Ilse married my grandfather in, I believe, 1968. I was almost 11. They had a whirlwind six month courtship and married.
They had been neighbors. Ilse had lost her husband and my Papa had lost his wife. Ilse was 47 and my Papa, 62.
They both knew a lot about life and a lot about living.
At the time some considered it scandalous, after all, a short courtship it was. And that difference in age? Oh my!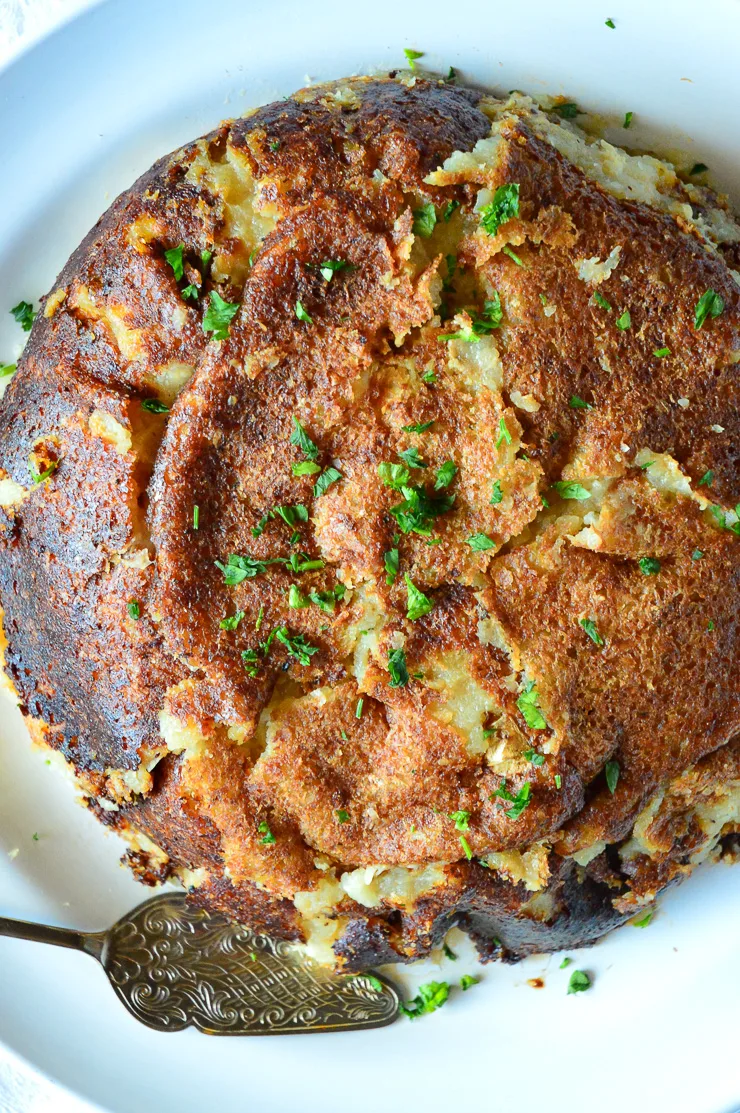 But it wasn't long? before Ilse won over our hearts and our tummies.
I don't really know how they met, other than they were neighbors, but I like to think that Ilse knocked on Papa's door with this kugel to give him.
Or maybe it was her mandel bread or her spritz cookies, or her mocha Passover nut cake.
Possibly her German pancake or maybe it was a steak. My Papa used to tell me that his favorite foods were a good steak, a nice scotch and Ilse's potato kugel.
Yes, this man had his priorities straight.
I'm not sure when Ilse came to this country but I think it was when she was a young teenager. She escaped the war through Portugal and how she got there from Germany, I do not know.
I often imagine her and her red hair, in a long wool navy coat, carrying her cast iron black kugel pot, after she got off the train in dark, rainy, Chicago.
The other hand might have been lugging a sewing machine, but of course, this is the movie version that plays in my head.
In actuality, I really don't know, but I was told the kugel pot came with her.
Ilse was a person to be believed, so I believe it. She was a woman of many talents; one of them being cooking and the other being sewing. She was a remarkable seamstress and knitter.
She married her first husband at 18 and I think he died in his mid thirties. (I know many family members read this blog so it would be nice to have correct info!)
She was married to my Papa longer than she was married to her first husband, that I know.
Fast forward about 25 years to the day I decided I had to get the nut cake and potato kugel recipes.
Calling long distance from Denver to Kankakee with my pencil in hand-I was ready!
Ilse was not one to give out her recipes. I think I'd been asking for at least 15 years.
She always had an excuse. "It won't turn out the same, because you don't have the pot… I don't really know the measurements… You can't make this for Passover…
It won't work in Denver… I've never written it down… I can't show you how fine to make the potatoes…
I used to do it by hand…" On and on. I decided sometimes I'm a lot like Ilse; full of excuses, but somehow I usually get the job done.
And that day, I did. I managed to get THE nut cake recipe and THE crispy potato kugel. Thanks be to GOD!
Ilse was right about a lot of things; the most important being the potato kugel pot. She told me I needed the right pot and that a glass one wouldn't work.
After cracking the glass one I owned in the oven, I can tell you, she was right. (Yes, I'm stubborn, too!)
This recipe requires you to pour water onto the kugel halfway through the cooking process. OKay!
I know that cold water poured into a hot glass dish can cause the glass to crack. I just didn't want to believe it.
So after a few more years I decided I needed to buy a cast iron pot. I went to Ace is the Place, and picked up a very heavy, cast iron, Dutch oven, perfect for no-knead bread and this kugel. Just not at the same time!
I don't remember the dimensions of Ilse's pot but I believe it was smaller in circumference than the one I bought, as I remember Ilse's kugel being taller than mine.
But I was little then, so everything seemed bigger. Right?
This pot does work, though it will never be as seasoned as Ilse's pot, I'm sure.
You see, after the kugel bakes for three hours, it must be flipped out of the pot, so that the golden exterior of the kugel is what you see. This is my favorite part.
Some have told me that she actually had two pots and flipped the kugel from one into the other.
The flipping is not easy given the weight of the Dutch oven and a Dutch oven that is not properly seasoned, like I bet Ilse's was.
I am not sure where to find a smaller size cast iron pot. But, this potato kugel is worthy and it brings Ilse to me, whenever I bake it.
I have heard this potato kugel compares to a potatonik. I have not had a potatonik so I couldn't tell you.
Its interior is light and potato-y while its exterior is crispy and golden.
Not dense like a traditional potato kugel, this one is cut into wedges, just like a pie.
I have been known to use leftover kugel as hashbrowns. I merely chop up the kugel and saute it with extra onions until everything is nice and crispy.
It's almost worth making this recipe just to eat the leftovers!
This is a kugel like no other. I have searched and searched and would love to hear if anyone knows of one like this.
It requires two white bread rolls. Your guess on size is as good as mine, but I used dinner size rolls with a soft crust and interior. Not too soft, though!
Hence the reason this is not a Passover kugel-because it contains bread.
I'm also guessing that it could be made with Passover rolls and turn out just fine.
This potato kugel does not contain eggs, which is a unique feature, because all the kugel recipes I've seen contain eggs.
The best potato kugel recipe that I know of takes three hours to bake. If you've ever baked a kugel, you will know this one is different.
This kugel is light, even without the eggs. It is creamy and potato-ey with hints of onions and a bit of pepper.
The crust? OMG. THE CRUST! Crispy and crunchy and golden.
This is what happens after baking for three hours- an out of the world potato crust. Filled with a mouthwatering, comforting interior of creamy potato goodness.
It is best right out of the oven. Microwaving leftovers is good, but not the same.
Ilse was one of a kind. I know not where she got her recipes.
Was it her mother? I do not know. I know they are good, solid, recipes though and the kind that you remember years later.
Heirlooms they are, and it is important to pass them on. They are gifts that keep on giving, so please accept this gift from me to you, in this new year.
Ilse might not have given you the recipe, but I will. And I think if she knew, she'd be quite pleased.
After all, it's always good to pass on new traditions.
(This is an updated post from 2013.)
This post may contain affiliate links of which I may or may not be paid a small commission at no cost to you.
Onion and Garlic Potato Kugel in Duck Fat
I'd Love it if You'd Follow Me and Pin and Share!
Print
Potato Kugel (Ilse's Passover Kugel)
Author:

Abbe Odenwalder

Prep Time:

20 Minutes

Cook Time:

3 hours

Total Time:

3 hours 20 minutes

Yield:

6

-

8

Servings

1

x

Category:

Side Dish

Cuisine:

Jewish
---
Description
This crispy golden potato kugel, made without eggs, is soft on the inside and crispy on the outside.
---
6 Russets, ( a bit larger than your palm in length) peeled
1 large peeled onion
Salt, Freshly ground pepper, garlic powder, chicken boullion granules
2 soft, but not too soft, white bread rolls, soaked in water and squeezed dry
5 1/2 T Crisco or chicken fat (schmaltz), duck fat or olive oil
---
Instructions
Preheat oven to 350 with 8-10″ cast iron pot inside. Add about 2 T of your chosen fat to the pot. You want the pot, good and hot, so the potatoes sizzle when you pour them in.
Cut your potatoes into chunks and let your food processor do the work. Using the steel blade grind potatoes until they are not quite mush. They should still have some texture. Scrape into a large bowl. There is no need to squeeze the potatoes, but do drain the liquid from them.
Cut onion into chunks and chop it finely in food processor. If there is liquid, pour it out.Mix potatoes and onion together in large bowl. Stir in about 1 t of salt and 1/2 t of pepper, 1/4 t of garlic powder and 1/4 t of chicken granules. (Don't worry if you don't have the granules.) Then stir in the squeezed rolls and your choice of fat. If you have chicken or duck fat, it gives a lot of flavor. Make sure everything is well distributed and mixed well.
At this point, I always take a spoonful of the mixture and put it into a microwaveable bowl and cook for about 20 seconds. This is how I test for seasoning. You may need more salt or pepper, or garlic. Whatever. Make it to your liking.
Pour kugel mixture into hot pot. Bake uncovered at 350 for 90 minutes. Now pour 1 c water over kugel and bake for 90 more minutes.
Take your golden, dark brown, crispy kugel out of the oven. Let it sit about 10 minutes and then take a platter and flip the kugel onto the platter so the bottom of the kugel is facing up. Slice into wedges and serve. Savor the moment. Savor the love.
---
Notes
Please see post above for more about Ilse's unique potato kugel.
Keywords: potato kugel, kugel recipe, potato kugel recipe, crispy potato kugel, best potato kugel recipe