A wonderful side dish, this parve, zucchini kugel recipe, with fine egg noodles can be made with Passover noodles, too. Adding a touch of Worcestershire and mustard, plus a hint of sweetness from apricot jam, makes it perfect for any Jewish holiday!
With Rosh Hashanah quickly approaching I figured it's time to try a new noodle kugel recipe.
I know I just posted a zucchini bread, but it's high time I give you a different kugel recipe than "Not My Mom's Noodle Kugel!"
That is one great recipe and with Rosh Hashanah approaching quickly and so much produce in my garden, this summery, light zucchini noodle kugel recipe makes a great side dish at your holiday meal.
This parve kugel recipe could also be prepared with shredded carrots or squash, in my opinion, and I think it would be equally tasty.
What is parve?
If you follow Jewish dietary laws and keep kosher, than you would know that mixing dairy foods with meat is prohibited.
Therefore many Jewish recipes use margarine or oil instead of butter so they can be served with both meat and fish.
This zucchini kugel recipe is made with olive oil and contains no cheese or butter.
Therefore one could serve this kugel with any main course.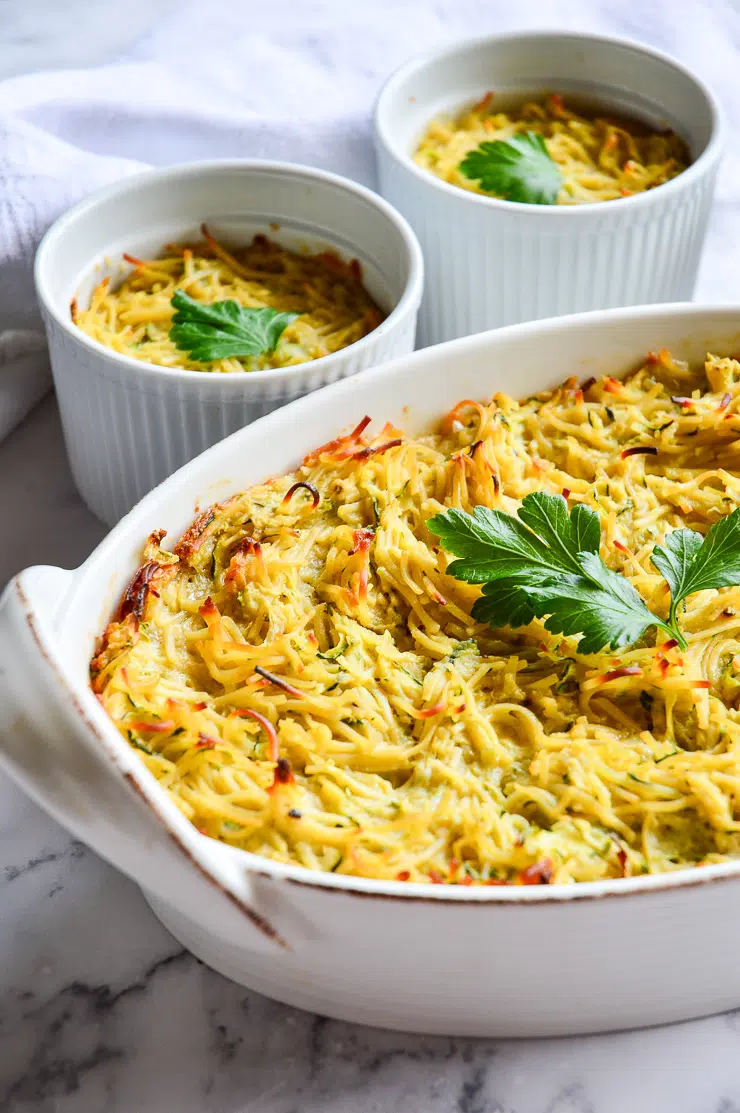 Do you need a Passover zucchini noodle kugel recipe?
This zucchini kugel recipe can easily be made with Passover fine egg noodles which also make this noodle kugel gluten free.
Or you can find these Passover noodles at many grocery stores.
Matzo meal can be substituted for flour in the recipe which makes this zucchini kugel recipe prefect for all Jewish holidays.
What are the different types of kugel?
Kugels are most commonly made with noodles and potatoes.
They can be sweet or savory, served as a side dish or a dessert.
Most kugels are made with wide egg noodles but this one is made with fine noodles, which blend nicely with the zucchini I shredded in my food processor.
Kugels are believed to have originated in Germany and there are many versions.
I have three potato kugels on This Is How I Cook and one sweet-ish noodle kugel that is made with cottage cheese, sour cream and cream cheese.
A vegetable kugel recipe is a great change from potato and this noodle kugel combined with zucchini, is sure to satisfy.
Though kugels are often served as side dishes to the star brisket, they are also superb served with fish or chicken.
Kugels can also easily be the star of the meal when served with several hearty salads on the side or even a cholent.
Believe it or not, a sweet kugel is often served for dessert in many homes.
Think of it- not much different than serving rice pudding!
What to do with leftover kugel?
I have been known to reheat a slice of kugel in the morning and serve it with jam on the side, which makes a kugel one great breakfast.
Serving potato kugel? I often chop leftovers into large chunks, slice up some onion and refry it with oil.
Oh my. What a great breakfast that can be served with a fried egg on top and even a slice of grilled corned beef or pastrami.
The best part about kugels is hoping there are leftovers.
If I don't eat all the leftovers, I often cut the kugel into slices and then freeze.
That way, when it's just Manservant and myself, I always have a great side dish for Friday night.
In my house leftovers are bartered over!
This zucchini kugel caught my eye because Rosh Hashanah seems so early this year.
I'm not quite ready for full on Fall food, so adding zucchini to a noodle pudding seemed perfect!
And yes. Noodle kugel is often called noodle pudding-just to complicate things I'm sure.
I've never had a noodle pudding that is the consistency of pudding, but kugels were originally steamed, just like a pudding, so that might be where the term pudding originated.
This zucchini kugel recipe is a combination of sweet and savory.
The apricot preserves adds a touch of sweetness, but the Worcestershire helps balance it out.
No need for margarine in this zucchini kugel-olive oil works just fine.
Making a kugel:
Making a kugel is really simple.
In a large pot, boil salted water and add the fine egg noodles.
Cook according to package directions but cook the noodles on the lower end of the cooking time.
Remember they will be baking more in the oven, so don't overcook the noodles!
Preheat the oven to 375 degrees F.
Begin by combining large eggs, oil, flour or matzo meal, apricot preserves, Worcestershire sauce, mustard, a pinch of salt and 1/2 teaspoon black pepper in a large bowl. Whisk well.
Stir in the remaining ingredients consisting of 3 shredded medium zucchini, cooked noodles, and 1 medium to large onion grated.
Transfer zucchini mixture to a greased 11 x 14″ baking dish, or 12 4 oz souffle dishes.
Really how simple is that?
Position rack in the middle of the oven.
Bake for 45-55 minutes until the vegetable mixture is crispy and golden brown on the edges and top of the kugel.
I love making kugels as they are such a traditional Jewish dish.
If you have never tried making a kugel, the time is now.
Take your pick from any of mine. They have been tested over many years!
Perfect on any holiday table, this shredded zucchini kugel recipe has wonderful flavors.
And if you love kugel, spice things up a bit.
Adding veggies such as shredded carrots is another way to add fresh flavors to a noodle kugel.
This zucchini kugel was a hit with everyone I served it too!
If it is part of a dairy meal you could also add a layer of shredded hard cheese and make an almost Jewish lasagna!
Though this zucchini kugel is meant to be a hot dish, serving it at room temperature works well also.
It really doesn't matter what occasion you are serving this for, just make this simple zucchini kugel recipe and enjoy!
Need Some More?
Better Than Mom's Noodle Kugel
Print
Zucchini Kugel
Author:

Abbe Odenwalder

Prep Time:

20 Minutes

Cook Time:

30 - 60 Minutes

Total Time:

80 Minutes

Yield:

12

Servings

1

x

Category:

Side Dish

Cuisine:

Jewish
---
Description
This take on noodle kugel is a great change from potato or the standard noodle pudding. I love using end of summer zucchini in this!
---
3 eggs
3/4 c flour
1/2 c olive oil
2 T peach or apricot preserves
1 T Worcestershire sauce
1 T Dijon mustard
1 t kosher salt
1/2 t freshly ground black pepper
3 medium zucchini, grated on the medium holes of a grater
1 medium yellow onion, grated on the medium holes of a grater
12 oz fine egg noodles, cooked according to package directions- but cook to the lower time on the package
---
Instructions
Preheat the oven to 375 degrees. Grease an 11 x 14 dish with olive oil or grease 12 4 ounce ramekins.
In a large bowl whisk eggs, flour, oil, preserves, Worcestershire, mustard, salt and pepper.
Add the zucchini, onion and noodles and mix until noodles are thoroughly coated and combined.
Scrape the mixture into the prepared baking dish. Bake, uncovered for about 1 hour , until crisp and golden. Ramekins should be placed on a baking sheet and baked about 30 minutes or until crisp and golden.
---
Notes
I made an 8 x 10 oval kugel and baked that with 4 ramekins. I served the ramekins and popped the baked, cooled oval out of the dish, wrapped it well in foil, and plan on reheating this thawed, rewarmed kugel back in the dish for Rosh Hashanah.
*Thanks Modern Menu and Kim Kushner for this fun recipe.
Keywords: zucchini kugel recipe, zucchini kugel for Passover, Passover zucchini kugel, zucchini kugel