(This Frozen Cheese Souffle is perfect for Easter brunch. I have made it every year for over 30 years, though for Yom Kippur break the fast! It is marvelously simple and simply divine. I'm reposting this with my original pictures and even though I know photos speak louder than words, you will have to trust me, that in this case, this souffle not only looks better in person, it also tastes outstanding! (It is one of my most requested recipes.)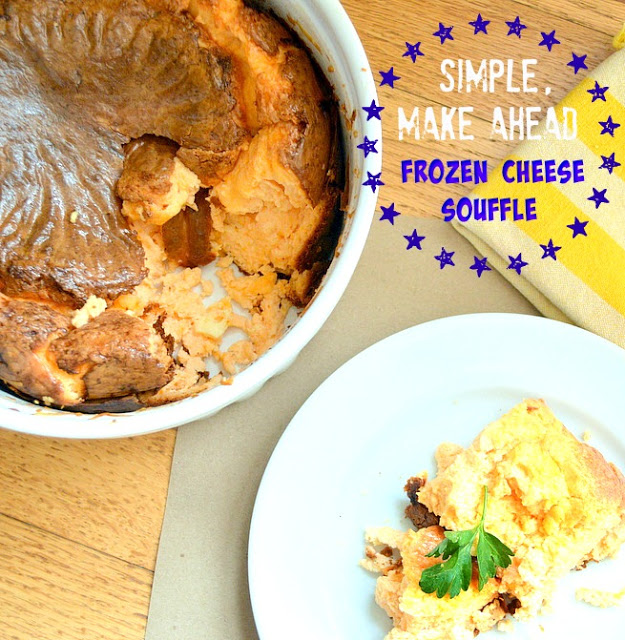 I know. Whoever heard of a frozen cheese soufflé? Trust me, you'll be glad I turned you on. I discovered this recipe in college in a food processor cookbook. The same one I discovered the frozen cranberries in. The book has fallen apart or I would give you the title because this book was worth every penny. It is kind of crazy that I have been making these recipes for over thirty years and they are still as scrumptious as when I made them way back when.
I don't know why I ever made that cheese soufflé way back when, but I suspect it had to do with the Julia Child craze. She made a lot of soufflés and they always seemed to be a lot of work. In actuality they aren't, but when you are in college who wants to go through the trouble of whipping egg whites and then beating yolks? Maybe that is why I was attracted to this soufflé, because it requires nothing but a food processor. No baking and whipping egg whites at the last minute; you can stick it in the freezer and bake it when you want. It never fails to wow guests, and it never disappoints on flavor. Though it isn't as light as Julia's, it is rich and creamy and divinely simple!
Our haverah makes this every year for break the fast on Yom Kippur. Though I love blintz casseroles, this kind of ups the ante so to speak.This is comfort food for me and I decided it would be good to freeze one for Thanksgiving weekend. I wasn't sure if or when I would use it, but I knew eventually it would find a home. Well, it didn't take long. Sunday morning before everyone left me, I put it in the oven. My kids even got out of bed to eat it. Or should I say scarfed it? Unfortunately not many leftovers for me.
I love the crusty, golden, cheesy parts that stick to the side of the soufflé dish. You will see what I mean when you make your own. The only drawback to this recipe is that you need to put it in the oven about 90 minutes before you want to eat it. I kind of look at this as newspaper time. You know-when everyone is still sleeping and you have the paper to yourself? The weekend is here. And though this makes for a satisfying brunch it also makes a superb light dinner. It is perfect for a luncheon, too. In fact, it is just a perfect dish. You will worship me once you try this recipe. Well, I did always want to be a princess.
Print
Frozen Cheese Souffle (A Family Favorite for 30 years)
Author:

Prep Time:

20 Minutes

Cook Time:

60 to 90 Minutes

Total Time:

1 Hour 40 Minutes

Yield:

8

Servings

1

x

Category:

Brunch/Supper

Method:

Baking

Cuisine:

American
---
Description
This cheese souffle can be frozen before baking which makes this a life saver recipe. Rich and simple to prepare in the food processor, this will soon become a favorite!
---
1 T softened butter
¼ c plus 2 T Parmesan cheese (about 1 ¼ oz) room temp
6 eggs
½ c sour cream
½ t dry mustard
½ t salt
8 oz sharp cheddar, cubed and room temp
8 oz cream cheese, cubed and room temp
---
Instructions
Butter the sides and bottom of a 1 to 1 ¼ qt soufflé dish.
Using the steel blade of your processor, grate parmesan finely. Sprinkle 2 T Parmesan over sides and bottom of buttered dish.
To the remaining cheese in the work bowl, add eggs, sour cream, mustard and salt. Combine well.
With motor running, add the cubes of cheddar and cream cheese, a few at a time. When all
are added, blend 20-25 seconds.
Pour mixture into prepared dish, cover well and
freeze.
When ready to serve, bake in a preheated 375 degree oven for up to 1 hour and 30 minutes or until center is set. If you like it crusty you can bake it longer. You may bake it without freezing in a preheated 350 degree oven for about 50 minutes.
Serve immediately. Your guests will feel like royalty.
---
Keywords: Cheese Souffle, Cheese Souffle Recipe, Frozen Cheese Souffle, Cheese souffle recipe easy
More great brunch ideas:
Please Pin and Share: