Grilled Quesadillas are always a favorite. Whether served as an appetizer or for a family supper, these quesadillas are a people pleaser!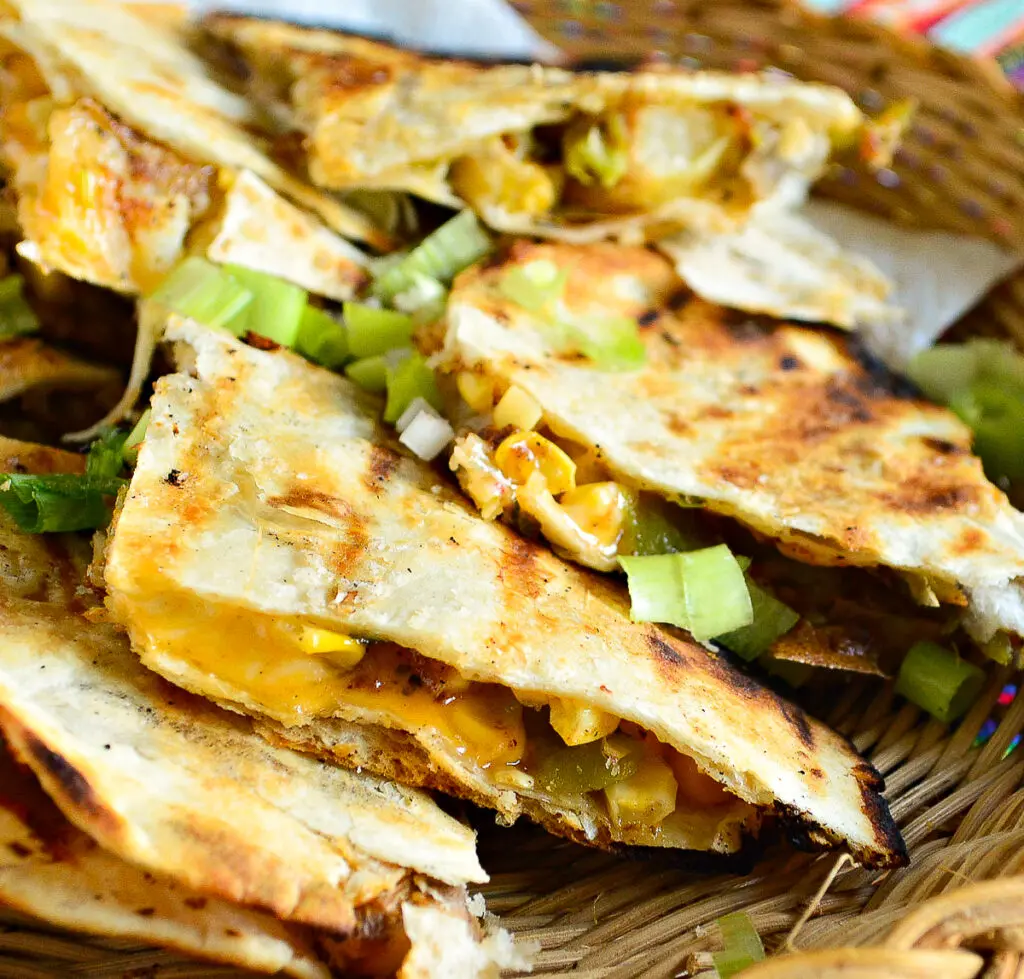 Grilled quesadillas are one of my favorite summer foods.
I love grilled bread and grilled tortillas are part of that equation.
Whether you want to make a simple cheese quesadilla or one with more components, this family favorite is always the perfect party appetizer or a simple supper.
I usually make two big ones to a customer, cut them into wedges, and serve them with some grilled salsa, guacamole, and sour cream on the side.
Add a simple salad and my customers are sure to leave happy.
The best part about making this simple meal is that one can use almost any leftover in the fridge.
In this case I had some leftover roasted potatoes, and a bit of corn, which totally makes a perfect quesadilla when you add cheese.
What kind of cheese works well on a quesadilla?
Any cheese that is a good melting cheese, such as mild Cheddar, Muenster, Gruyere, Fontina, and Monterey Jack.
What toppings are good on a quesadilla?
Honestly, almost anything!
I usually begin with a thin layer of my favorite salsa. No too much though because you don't want a soggy quesadilla.
Pesto is another option is you don't want salsa. Yes, it jazzes a quesadilla right up!
Veggies are awesome. Roasted peppers like poblanos or green chiles are perfect as are roasted red peppers. And don't forget sauteed mushrooms.
Onions, grilled or not, taste great as does a simple sprinkle of scallions. Sometimes I grill big scallions to make my own cebollitas to serve on the side.
Don't forget roasted potatoes or grilled corn-so good!
Proteins besides the cheese? Roasted or braised chicken, beef or pork are good, as is chorizo, but one can easily feast on a vegetarian quesadilla.
Mangoes and pineapple are really amazing also and add some goat cheese for a gourmet experience. I'm getting hungry now!
Usually I set up a quesadilla bar and allow my "customers" to build their own. Kids love this!
And hey! Don't forget the hotdogs. Perfect on a kiddie quesadilla!
Another thing that is quite tasty is adding leftover or stale tortilla chips that have been crushed to your ingredients. These give a nice flavor and some extra added crunch. Try it!
Paper plates came in handy to keep their creations on, until they are ready to fire on the grill. For parties, this is also easily done and trust me when I say these disappear faster than tres leches chocolate cake.
How to Grill a Quesadilla
You can grill these in two ways.
Have your customer's pile their ingredients on one side of the tortilla and the cheese on the other. Place on the grill, close it, and cook for about a minute. Then fold the cheese half to the other side. Press down gently and the cheese will hold everything together.
Let the grill side brown and then flip and give the other side a few grill marks too. Be careful not to overload with toppings and cheese or it will ooze out. Better to make a few more if you are starving!
The second way to grill these is to use one tortilla covered with salsa, toppings and cheese. Close the grill to melt the cheese.
After a minute or so, place a salted and buttered tortilla with buttered side out on top of the tortilla on the grill. Press down and let cook a minute or so and then carefully flip the entire tortilla over and grill that side.
Both methods work well, but some folks don't like flippin'! Cut into wedges with your favorite kitchen scissors when ready to serve.
A Few Extra Tips:
A few things I do…I always butter at least one side of the tortilla and then salt it. So much extra flavor that way! Then stack them-when buttered they peel right off and they are ready to go.
I grill over medium high heat, but watch carefully, because while it is OK to get some scorch marks, you don't want to burn your bread!
Leftovers, if there are any, can easily be reheated in a toaster oven for a few minutes.
Have a quesadilla party!
Quesadillas make dinner a party. Have fun with it.
Give prizes for the best creations! I'd love to know your faves.
My fave is grilled corn, chorizo, poblanos or green chilies, some leftover roasted potatoes, salsa or cilantro pesto, some cheese – either cheddar or jalapeno or goat's cheese and a sprinkle of crushed chips.
I'm not sure why it's taken me so long to share these, but quesadillas are a family favorite. When the kids were still at home-and I must say I miss those days; especially the summer days-I often made these dinner.
Yes, those were the days that Zoe only ordered cheese quesadillas in restaurants and though I'm sure she still does, I know her palate has greatly expanded.
However most restaurants don't do grilled quesadillas and in my humble opinion that is what makes these so good!
Treat yourselves to one of these and check out all my Mexican recipes!
Need A Few More?
Print
Grilled Quesadillas
Author:

Abbe Odenwalder

Prep Time:

10 Minutes

Cook Time:

5 Minutes

Total Time:

25 Minutes

Yield:

1

Serving

1

x

Category:

Main Course/Appetizer

Method:

Grill

Cuisine:

Mexican/American
---
Description
Grilled Quesadillas are the prefect family supper and a great way to use leftovers. Kids love them! Plus they are a great party appetizer. They kind of make the party!
---
Serves 1

Time to Make: About 20 minutes

Please see more notes above!

Ingredients:

Flour Tortillas – I use the snack size but bigger ones work well also.

Butter – 1-2 t per tortilla

Salt – Coarse Salt for sprinkling

Salsa or pesto – About 1-2 T per tortilla. Don't make it to wet.

Veggies – Your choice. Cooked or not.

Chilies – I love roasted poblanos or Anaheims. Jalapenos, pickled or fresh work great.

Fruit – Mangoes or cantaloupe or even peaches.

Meat – Chorizos, Italian sausage, hot dogs, left over chicken, are just a few ideas

Cheese – 1/4 to 1/3 c per quesadilla unless you are a cheese lover in which case, add more! Any cheese works well. I like cheddar and jalapeno, and also goat's cheese.

Crushed tortilla chips – About 1 T per tortilla

These can also be served with guacamole or extra salsa for dipping into after grilling.


---
Instructions
Preheat grill to medium.
Prepare your tortillas by placing a layer of salsa or pesto on the bottom of the tortilla and only on one side, unless you are doing the flipping version-in which case, cover the whole thing.
Add your choice of toppings. about 2 – 4 T total, but this depends on the size of the tortilla being used! Just don't use too much!
Sprinkle on the crushed tortilla chips last, if you are using them. Now sprinkle the cheese on the other half of the tortilla.
Have your creations ready to go. (See notes above).
Place tortillas on grill. Close grill for about 1 minute. Fold the cheese side of the tortilla over to the other side to form a half moon. Press down carefully. Cook until bottom is golden. Flip and cook the other side for a few minutes. Watch carefully so these don't burn.
Remove from grill when cooked and let cool for about a minute. Slice into wedges. Serve with guacamole or extra salsa for dipping.
---
Notes
Please read post for lots of ideas!
Keywords: quesadilla, grilled quesadillas, grilled Mexican food, cheese quesadillas