"Stuffed Poblanos with goat  cheese and fresh corn are rich, spicy and sweet. These are perfect for a vegetarian main course or also as a side dish. Yes, these have been a family favorite for years!"
I just ate the last of the stuffed poblanos that I made when Alex was home. These are so good I can't believe I haven't shared them yet. This batch was made shortly after I received a text message from the top of Vail Mountain. It was quite succinct and only said, "stuffed peppers". And the next text said, "just thought of it." Whenever the kids come home I aim to please and always love suggestions. I detest general terms like chicken or fish or pasta. Tell me how you want it please and this kitchen will please you! In this case I knew he wasn't talking about stuffed green peppers because I've never made those. Poblanos are the only peppers I've stuffed except for the occasional jalapeno stuffed with cream cheese or peanut butter. Yeah, I know it sounds weird but it works!
Manservant and I first ate stuffed poblanos at "Stars" in San Francisco, many years ago. Before kids actually. Stars was wildly successful with Jeremiah Tower at the helm. He cooked with Alice Waters and both are credited with the beginning of California Cuisine. Jeremiah is someone I would have madly fallen in love with, but alas I am not his type. A truly fascinating guy you should check out the Anthony Bourdain produced documentary, "The Last Magnificent." In the 80's, Stars was the place to eat and we were lucky to have dined there several times.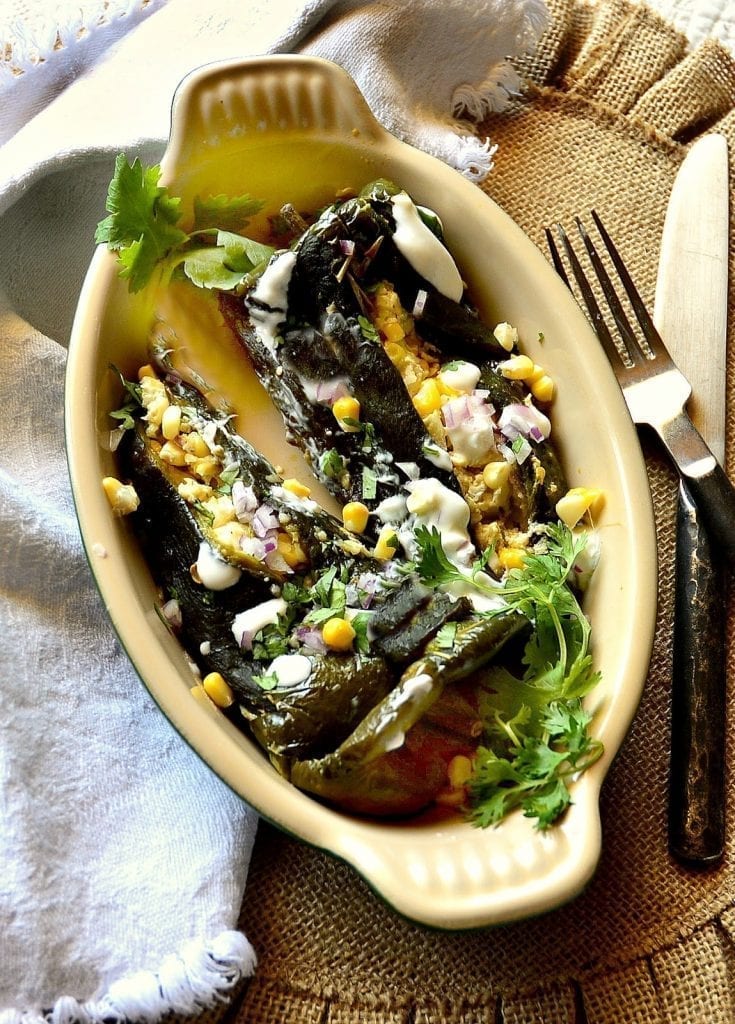 His first cookbook, "New American Classics" has been on my bookshelf forever. I've made the stuffed peppers for years. Everyone loves them. But way back when this was a recipe I had never heard of, as were many from his book. Though lots are based on classics, I do remember thinking I'll never find these ingredients anywhere. I also remember thinking that many of them seemed past my abilities, but now they seem like a piece of cake.  Finding the ingredients is now doable, so I must revisit this book! Anyone up for a dinner party?
This is the original recipe from the book: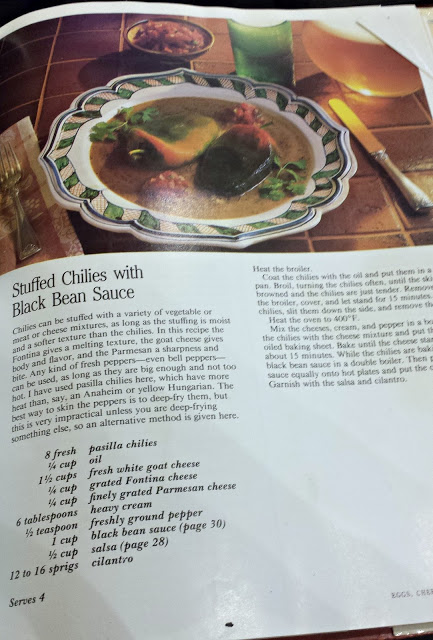 As you will see, mine is similar but not the same. Both are awesome. I must admit that I rarely stuff the peppers the same way twice. I've used rice and beans and also plated them on top of rice and beans, but the one constant has been the use of goat's cheese. I promise that even if you aren't a fan of the goat's cheese you will be after this. The fresh tartness of the cheese goes perfectly with the spiciness of the pepper. And speaking of the peppers… Generally they are not too spicy, however every now and then you encounter one that is. Fair warning! If you are worried, make sure to take out the veins along with the seeds. I can usually tell if one is spicy by slicing one open and taking a whiff. Yes, you can smell the heat!
Though Jeremiah oils his peppers and broils them, I like turning the grill on and blackening them, that way. I do let them sit in a plastic bag to steam a bit and then slowly peel off the outer skin. From there it is a matter of making a slice from the top to the bottom of the pepper and removing the seeds and veins. I try to keep the top and stem on as I think it makes a prettier presentation. His are prettier than mine, but hey-mine does look like a stuffed pepper, right?
I love to serve these with a black bean sauce too. Using a jarred Chinese black bean sauce thinned with some chicken broth and heavy cream works well. The sauce is salty which compliments well with the peppers. I also love sweet chili sauce, too. And of course a bit of sour cream diluted with some lime juice and cream also makes a good drizzle. This is a fun recipe to play with but way better to eat!
So glad my boy thought of these. They are a perfect summer dish to use the fresh corn and peppers that are available right now. And it was a fun time to take out my old cookbook and revisit all the "new classics".
A Few More to Try:
Baja Salsa                                      Poblano Cheese Casserole                                                           Chipotle Shrimp and Corn

Please Pin and Share:
Yield: 6 ServingsAuthor: Abbe OdenwalderPrint Recipe
Stuffed Poblanos with Goat Cheese and Corn
Stuffed Poblanos with goat's cheese and fresh corn are rich, spicy and sweet. They are perfect for a vegetarian main course or also as a side dish. Yes, these have been a family favorite for years!
prep time: 20 MINScook time: 20 MINStotal time: 40 mins
INGREDIENTS:
6 Fresh poblanos, skinned and seeded
4 ounces of goat's cheese (I used the honey variety.)
1/2 c minced onion
2 ears of corn, cooked and sliced from the cob (Grill it if you want)
1/2 c fresh parmigiano
2-3 T sour cream
2 ounces of feta
Oil for greasing baking dish
Black bean sauce, chili sauce, or sour cream and lime for drizzling (See above for ideas.)
INSTRUCTIONS
Preheat oven to 350.Prepare peppers for filling by grilling or broiling.
Combine goat's cheese, onion, corn, parmigiano, sour cream and feta in a bowl. (I felt this was enough to stuff 6 peppers and serve them as a side dish. You may want two peppers of they are a main course, but it really depends on how big the pepper is. Some are big-some not so much.) Mash well with a fork until all is combined.Now stuff your peppers.
Bake at 350 for 20 minutes. Drizzle with your favorite choice or eat as is.
.recipe-inner{text-align:left;max-width:620px;border:6px double #009BFF;padding:20px;background:#f2f2f2;margin: 40px auto;font-family:Lato, sans-serif;}#recipe .recipe-name{font-size: 21px;}#recipe .info{font-size:13px;text-transform:capitalize;border-bottom:2px solid #000;padding-bottom:7px;margin-bottom:20px}.info:after{content:";display:table;clear:both}#recipe .info span:first-child{margin-right:30px}#printbutton{border:0;margin:0;color:#fff;float:right;background:#555; padding:5px;border-radius:3px;cursor:pointer}#recipe .time{text-transform:uppercase;font-size:12px;text-align:center;background:#fff;padding:15px 0;margin-bottom:20px}#recipe .time span:not(:last-child){margin-right:12px}#recipe .time span:not(:last-child):after{content:";display:inline-block;height:10px;width:1px;background:#000;vertical-align:middle;margin-left:12px}#recipe .summary{line-height:1.7;font-style:italic}.ingredients{line-height:1.7;clear:both}.ingredients h3,.instructions h3{font-size:20px !important;margin-bottom:0;color:#000}.ingredients ul{margin:0!important;margin-top:5px !important;}.instructions li{margin-bottom:15px !important;line-height:1.6;text-align:left;}.ingredients li{text-align:left}#recipe .instructions{margin-top: 30px;}#recipe .instructions ol{padding-left:39px;margin:0!important;margin-top:6px !important;}.posturl{border-top:1px solid #ccc;padding-top:10px;}.ing-section{padding-left:20px;margin: 10px 0;}.ing-section > span{font-weight:700}.recipe-credit{display:none;font-size:13px;border-top: 1px solid #ccc;padding:10px;text-align:center;background:#ffffff;margin:-20px;margin-top:15px;}.recipe-credit a{color:blue;text-decoration:none;}.copyright-statement{ font-size: 13px;font-style:italic;border-top: 1px solid #ccc;margin-top:15px;padding-top:15px;line-height:1.6;}#recipe .image{text-align:center;margin-bottom:25px;margin-right:20px;float:left}#recipe .image img{max-width:250px}#recipe .recipe-name{line-height:1.6;text-transform:uppercase;margin-top:0;letter-spacing:1px;text-align:left}#recipe .summary{line-height:1.7;font-style:italic}#recipe .time{background:#fff;clear:both;border:1px solid #d7d7d7}function printDiv(a){var b=document.getElementById(a);newWin=window.open(",'printwin');var c=newWin.document.createElement('style');c.innerHTML='html{font-family:sans-serif}img{display:none;}#printbutton,.recipe-credit{visibility:hidden;display:none;}.info{text-align:center;text-transform:capitalize}.recipe-name{text-align:center}.info span{margin-right:20px}.time{text-align:center;padding:10px;border-top:1px dashed #000;border-bottom:1px dashed #000;}.time span{margin-right:20px}.adunit,.adunitlabel,.adunitwrapper{display:none!important}';newWin.document.getElementsByTagName('head')[0].appendChild(c);newWin.document.getElementsByTagName('body')[0].innerHTML = b.innerHTML;newWin.print();newWin.close()}