Stuffed Mexican peppers with cheese and corn are perfect as a side dish or a main course. Rich and flavorful, these poblanos will soon become a family favorite. Everyone requests them.
I just ate the last of the stuffed Mexican peppers that I made when Alex was home.
These are so good I can't believe I haven't shared them with you yet. This poblano peppers recipe was made shortly after I received a text message from the top of Vail Mountain. It was quite succinct and only said, "stuffed peppers".
And the next text said, "just thought of it." Whenever the kids come home I aim to please and always love menu suggestions. I detest general terms like chicken or fish or pasta.
Tell me how you want it please and this kitchen will try to satisfy!
In this case I knew he wasn't talking about stuffed green peppers because I've never made those.
Poblanos are the only peppers I've stuffed except for the occasional jalapeno stuffed with cream cheese or peanut butter. Yeah, I know it sounds weird but it works!
What are poblano chiles?
Poblanos are mild on the Mexican pepper heat scale.
A jalapeno is considered about 4 levels above, however-just like any pepper, you can encounter a hot one!
Generally your nose will tell you if the chile is hot, so be sure to deseed and devein to be on the safe side.
How to prepare poblano peppers:
First look for big, bright dark green poblano chiles. I have great luck finding them at Trader Joes, but Kroger has them as well.
Some oil the peppers and then broil them, but I like turning the grill on and blackening them.
Removing the skin is essential to this recipe, but it is easily done. First sear your chiles under a hot broiler, or on a grate on a gas grill, or even in an air fryer. Turn them until all sides are wrinkled and blistered.
Place the chiles in a closed plastic bag and let them steam a few minutes.
Remove and then carefully slide off the skin. If all the skin doesn't come off, that is OK.
Now slit open one side of the pepper and open like a book. Leave the stem on. Slide a sharp knife down the inside of the pepper to remove the veins and seeds.
Stuff with your favorite mixture and the fold each side in to reform your pepper shape.
Other options for filling besides this recipe, may be to use your standard stuffed pepper recipe. Using a different pepper just jazzes them up.
Feel free to sub in different cheeses or veggies. And certainly cooked chorizo, chicken or shrimp would make these more "main dish."
Manservant and I first ate stuffed poblano peppers at "Stars" in San Francisco, many years ago. Before kids actually.
Stars was wildly successful with Jeremiah Tower at the helm. He cooked with Alice Waters and both are credited with the beginning of California Cuisine.
Jeremiah is someone I would have madly fallen in love with, but alas I am not his type. A truly fascinating guy you should check out the Anthony Bourdain produced documentary, "The Last Magnificent."
In the 80's, Stars was the place to eat and we were lucky to have dined there several times.
His first cookbook, "New American Classics" has been on my bookshelf forever. I've made the stuffed peppers for years. Everyone loves them. But way back when, this was a recipe I had never heard of, as were many from his book.
Though many are based on classics, I do remember thinking I'll never find these ingredients anywhere. I also remember thinking that many of them seemed past my abilities, but now they seem like a piece of cake.
Finding the ingredients is now easier, so I must revisit this book! Anyone up for a dinner party?
Below is the original recipe from the book:
As you will see, mine is similar, but not the same. Both are awesome. I must admit that I rarely stuff the peppers the same way twice.
I've used rice and beans and also plated them on top of rice and beans, but the one constant has been the use of goat's cheese.
I promise that even if you aren't a fan of the goat's cheese you will be after this.
The fresh tartness of the cheese goes perfectly with the spiciness of the pepper.
I love to serve these with a black bean sauce too. Using a jarred Chinese black bean sauce thinned with some chicken broth and heavy cream works well.
Black bean sauce is salty which compliments well with the peppers.
I also love sweet chili sauce, too. And of course a bit of sour cream diluted with some lime juice and cream also makes a good drizzle.
This is a fun recipe to play with, but way better to eat!
So glad my boy thought of these.
They are a perfect summer dish to use the fresh corn and peppers that are available right now. And it was a fun time to take out my old cookbook and revisit all the "new classics".
Recipes with Poblano Peppers:
Please Pin and Share: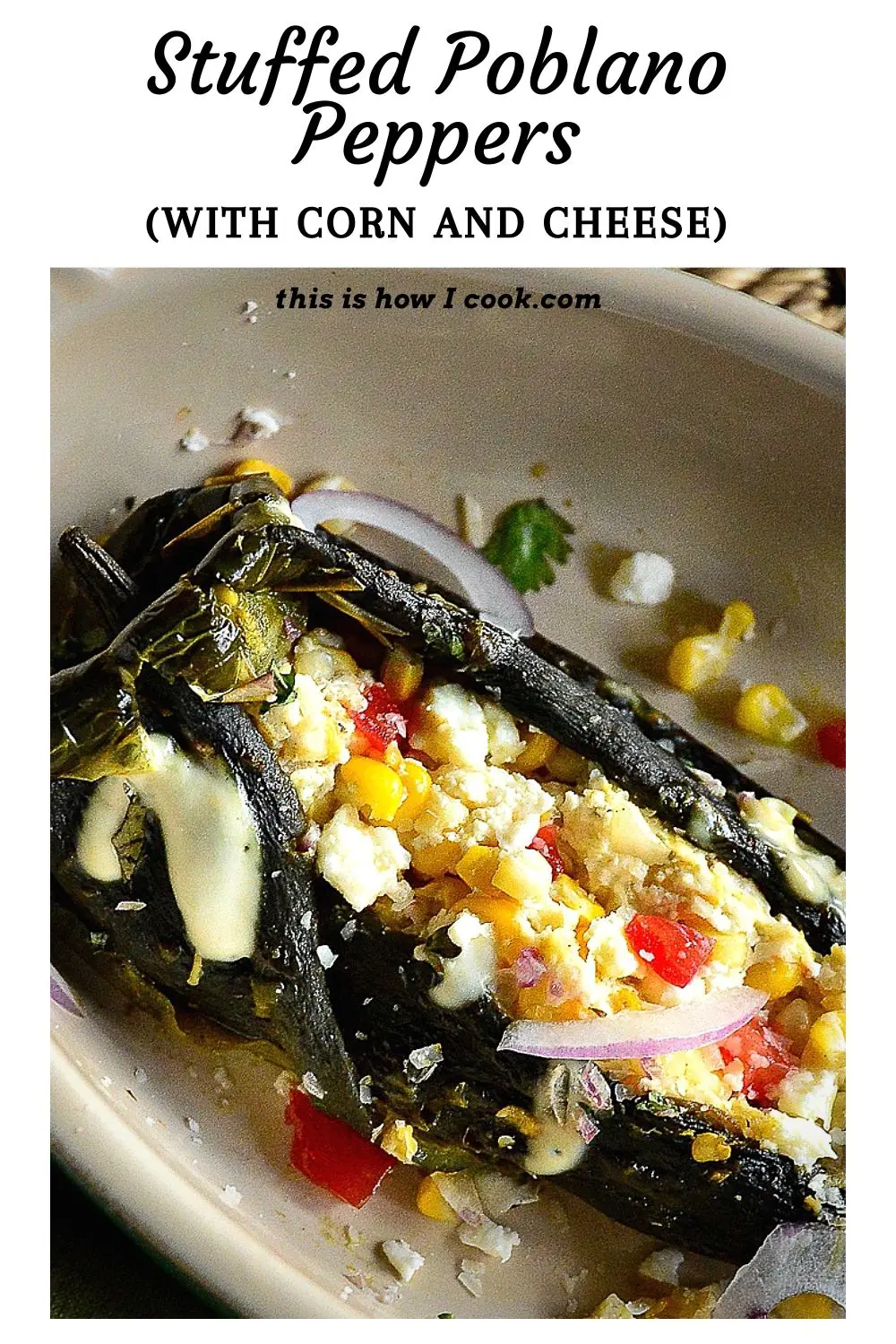 This is an updated post from July, 2017.
Print
Stuffed Mexican Peppers with Cheese and Corn
Author:

Abbe Odenwalder

Prep Time:

20 Minutes

Cook Time:

15 Minutes

Total Time:

35 Minutes

Yield:

4

Servings

1

x

Category:

Main Course/Side Dish

Cuisine:

Mexican/American
---
Description
These stuffed poblano peppers make a great main course or a perfect side dish! This is a family favorite.
---
4 large poblanos, roasted and peeled and seeds removed
4 oz goats cheese
1/4 c shredded Manchego cheese
1/4 c Parmesan
1/4 c diced red onion
1/4 c chopped cilantro
1/2 c roasted corn kernels (thawed, frozen corn works fine)
1 minced garlic clove
Salt and pepper to taste
1 – 2 T heavy cream or half and half
---
Instructions
Preheat oven to 400.
Make a slit on one side of the poblano. This will be where you stuff it.
Combine goat's cheese, Manchego and parmesan together using an immersion blender if your cheese is too cold. Feel free to use your favorite variety of cheese and cream cheese also works in place of the goat's cheese.
Stir in the onion, cilantro, corn and garlic. You may want to season with salt and pepper.
Mix in cream until the cheese mixture is the desired consistency for stuffing.
Divide cheese mixture between the four peppers. Fold up the sides of the pepper to partially enclose.
Bake 15 minutes.
---
Keywords: stuffed poblanos, stuffed Mexican peppers, vegetarian stuffed peppers, poblano peppers recipe, recipes with poblano peppers